Thanksgiving
is coming, be ready, check out our latest
Thanksgiving jokes
and quotes on:
Thanksgiving jokes collection
Please stand up....
One day a college professor of Psychology was greeting his new college class. He stood up in front of the class and said, "Would everyone who thinks he or she is stupid please stand up?"
After a minute or so of silence, a young man stood up.
"Well, good morning. So, you actually think you're a moron?" the professor asked.
The kid replied, "No sir, I just didn't want to see you standing there all by yourself."
#joke
Computers are like air conditi...
Computers are like air conditioners.

They work fine until you start opening windows.

Funny video of the day - Slip N Slide Fail
Wise old man
A wise old gentleman retired and purchased a modest home near a junior high school. He spent the first few weeks of his retirement in peace and contentment. Then the new school year began.
The very next afternoon three young boys, full of youthful after- school enthusiasm, came down his street, beating merrily on every trash can they encountered. The crashing percussion continued day after day, until finally the wise old man decided it was time to take some action.
The following afternoon, he walked out to meet the young percussionists as they banged their way down the street. Stopping them, he said, "You kids are a lot of fun. I like to see you express your exuberance like that. Used to do the same thing when I was your age. Will you do me a favor? I'll give you each a dollar if you'll promise to come around every day and do your thing."
The kids were elated and continued to do a bang-up job on the trash cans.
After a few days, the old-timer greeted the kids again, but this time he had a sad smile on his face. "This recession is really putting a big dent in my income," he told them. "From now on, I'll only be able to pay you 50 cents to beat on the cans."
The noisemakers were obviously displeased, but they did accept his offer and continued their afternoon ruckus.
A few days later, the wily retiree approached them again as they drummed their way down the street. "Look," he said, "I haven't received my Social Security check yet, so I'm not going to be able to give you more than 25 cents. Will that be okay?"
"A lousy quarter?" the drum leader exclaimed. "If you think we're going to waste our time, beating these cans around for a quarter, you're nuts! No way, mister. We quit!"
And the wise old man enjoyed peace and serenity for the rest of his days.
#joke
A sign at Budapest's Zoo reque...
A sign at Budapest's Zoo requests:
PLEASE DO NOT FEED THE ANIMALS.
IF YOU HAVE ANY SUITABLE FOOD GIVE IT TO THE GUARD ON DUTY

Golfing Realities...

...
Golfing Realities...
Golf balls are like eggs. They're white, they're sold by the dozen, and every week you have to buy more.
A pro-shop gets its name from the fact that you have to have the income of a professional golfer to buy anything in there.
It's amazing how a golfer who never helps out around the house will replace his divots, repair his ball marks, and rake his sand traps.
When you stop to think about it, did you ever notice that it's a lot easier to get up at 6:00 a.m. to play golf than at 10:00 to mow the lawn?
It takes longer to learn good golf than it does brain surgery. On the other hand, you seldom get to ride around on a cart, drink beer and eat hot dogs while performing brain surgery.
A good drive on the 18th hole has stopped many a golfer from giving up the game.
Golf is the perfect thing to do on Sunday because you always end up praying a lot.
A good golf partner is one who's always slightly worse than you.
That rake by the sand trap is there for golfers who feel guilty about skipping out on lawn work.
If your opponent has trouble remembering whether he shot a six or a seven, he probably shot an eight.
Robert Schmidt 05
Droughts are because God didn't pay his water bill.
Is "tired old cliche" one?
if you tell a joke in the forest, but nobody laughs, was it a joke?
The sign said "eight items or less". So I changed my name to Les.
Yesterday I told a chicken to cross the road. It said, "what for?"
Yesterday I saw a chicken crossing the road. I asked it why. It told me it was none of my business.
In school, every period ends with a bell. Every sentence ends with a period. Every crime ends with a sentence.
I Xeroxed my watch. Now I have time to spare.
I Xeroxed my watch. Now I can give away free watches.
#joke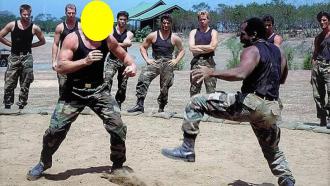 Take a look at the picture of ...
Take a look at the picture of the movie scene and guess the name of the person whose face is not visible. Length of words in solution: 5,6
Banging pussy
There were two prostitutes , one was very beautiful and the other was ugly. The beautiful prostitute used to make around $1,000-$3,000 a month but the ugly one made around $10,000-$13,000.
Confused to why the fuck the ugly one made more money than her, the beautiful prostitute went to the ugly one and asked her.
" Hey girl ! How are you? Looks like you're doing great ,you bought a new car and an apartment, where did you get the money ?".
On this the ugly bitch replied. " Actually I play games with my customer and so I earn a lot, maybe more than you . What I do with my customer is that when we have intercourse I put a small firecracker in my pussy and when it blows up , I start shouting oh you blew up my pussy you bastard, scared that this may put them in trouble my customers end up paying me $500-$800 to get away".
Hearing this, the beautiful blonde prostitute went to the shop
to buy some firecrackers, but as the less power crackers were not available that day she bought a huge powerful firecracker and went to work.
While having intercourse she put the big bomb in her pussy and it went off with a huge bang. Then the prostitute started shouting as planned " You blew up my pussy ...You blew up my pussy".
On this the customer replied ," You bitch, the hell with your pussy, where the fuck is my DICK ".
Submitted by Admin
Edited by Curtis
Church Cake!
Have you ever told a white lie? You are going to love this — especially all the ladies who bake for church events
Alice was to bake a cake for the church ladies' group bake sale, but she forgot to do it until the last minute.
She baked an angel food cake and when she took it from the oven, the center had dropped flat.
She said, "Oh dear, there's no time to bake another cake."
So, she looked around the house for something to build up the center of the cake.
Alice found it in the bathroom … a roll of toilet paper.
She plunked it in and covered it with icing.
The finished product looked beautiful, so she rushed it to the church. Before she left the house, Alice had given her daughter some money and specific instructions to be at the bake sale the minute it opened, and to buy that cake and bring it home.
When the daughter arrived at the sale, the attractive cake had already been sold.
Alice was beside herself.
The next day, Alice was invited to a friend's home where two tables of bridge were to be played that afternoon.
After the game, a fancy lunch was served, and to top it off, the cake in question was presented for dessert.
Alice saw the cake, she started to get out of her chair to rush into the kitchen to tell her hostess all about it, but before she could get to her feet, one of the other ladies said, "What a beautiful cake!"
Alice sat back in her chair when she heard the hostess (who was a prominent church member) say,
"Thank you, I baked it myself."
#joke
Daniel Tosh: Only One Tattoo
I think if youre gonna get a tattoo, just get one: the words, Im dumb. Thats it. That way in 10 years, when you go, Why did I get this?, you can be like, Oh, Im dumb!
A police officer pulls over th...
A police officer pulls over this guy who's been weaving in and out of the lanes. He goes up to the guy's window and says, "Sir, I need you to blow into this breathalyzer tube."
The man says, "Sorry, officer, I can't do that. I am an asthmatic. If I do that, I'll have a really bad asthma attack."
"Okay, fine. I need you to come down to the station to give a blood sample."
I can't do that either. I am a hemophiliac. If I do that, I'll bleed to death."
"Well, then, we need a urine sample."
"I'm sorry, officer, I can't do that either. I am also a diabetic. If I do that, I'll get really low blood sugar."
"All right, then I need you to come out here and walk this white line."
"I can't do that, officer."
"Why not?"
"Because I'm drunk."
#joke
Send the Wine Back
A man enters his favorite ritzy restaurant, and while sitting at his
regular table, he notices a gorgeous woman sitting at a table nearby all alone.
He calls the waiter over and asks for their most expensive bottle of
Merlot to be sent over to her, knowing that if she accepts it, she is his for the night.
The waiter gets the bottle and quickly sends it over to the girl, saying
it is from the gentleman at a nearby table. She looks at the the man,
then at the wine and decides to send a note over to the man.
The note read: "For me to accept this bottle, you need to have a Mercedes in your garage, a million dollars in the bank, and 7 inches in your pants."
The man, after reading this note, sends another note to her. It read:
"Just so you will know, I happen to have a Ferrari Testarosa, a BMW 850iL, and a Mercedes 560SEL in my garage, plus I have over twenty-million dollars in the bank. But, not even for a woman beautiful as you, would I cut three inches off my dick. Just send the wine back."
Submitted by Verlaine
Editted by Curtis
#joke
The doct...
The doctor entered the room and advised his patient that a brain transplant was the only remedy.
"Fortunately" he continued, "this hospital has perfected the procedure,
however, it is not yet available on the National Health and you will
therefore have to pay.
We have two brains in stock at the moment, a female brain costing £30,000 and a male brain at £100,000"
"Why is the male brain so expensive?" asked the patient.
"Oh, that's easy, male brains are hardly used."
Two strands of DNA were walkin...
Two strands of DNA were walking down the street. One says to the other, "Do these genes make me look fat?
The Pious Man and the Atheist
A very religious man lived right next door to an atheist. While the religious one prayed day in, day out, and was constantly on his knees in communion with his Lord, the atheist never even looked twice at a church.
However, the atheist's life was good, he had a well-paying job and a beautiful wife, and his children were healthy and good-natured, whereas the pious man's job was strenuous and his wages were low, his wife was getting fatter every day and his kids wouldn't give him the time of the day.So one day, deep in prayer as usual, the pious man raised his eyes towards heaven and asked: "Oh God, I honor you every day, I ask your advice for every problem and confess to you my every sin. Yet my neighbor, who doesn't even believe in you and certainly never prays, seems blessed with every happiness, while I go poor and suffer many an indignity. Why is this?"
And a great voice was heard from above...
"BECAUSE HE DOESN'T BOTHER ME ALL THE TIME!"
#joke
Mike Vecchione: Look Like a Cop
I was dating this girl; shes like, Mike, you look so much like a cop, why dont you just become a cop? Im like, I respect the police, I just couldnt wear a uniform to work every day. And shes like, Why dont you just become an undercover cop? I was like, Well, I hate to point out the obvious here, but if I look like a cop, chances are I wouldnt be too effective undercover.
#joke