A man was looking to hire a dr...
A man was looking to hire a driver for a bus tour business. Three men applied for the job.
He calls one into his office to interview him. The man says that he can put the wheels right on the edge of a bridge, drive, and not fall off. The employer is very impressed.
He calls another man in. This man says that he can put the wheels halfway off of a bridge, drive, and not fall off. The employer is again very impressed.
He calls the last man in. He says, "I heard what the other two guys said, and I don't think I could match them. I usually drive in the middle of a bridge."
#joke
Shopping cart ad
My father is a skilled CPA, but is not great at self-promotion. So when an advertising company offered to put my father's business placard in the shopping carts of a supermarket, my dad jumped at the chance. Fully a year went by before we got a call that could be traced to those placards.
"Richard Larson, CPA?" the caller asked.
"That's right," my father answered. "May I help you?"
"Yes," the voice said. "One of your shopping carts is in my yard and I want you to come and get it."

#joke
Funny video of the day - Tree Hugger FAIL
A customer sent an order to a ...
A customer sent an order to a distributor for a large amount of goods totaling a great deal of money. The distributor noticed that the previous bill hadn't been paid, so he asked his collections manager to leave a voice-mail for them saying, "We can't ship your new order until you pay for the last one." The next day the collections manager received a collect phone call, "Please cancel the order. We can't wait that long."
#joke
"Vice President Cheney co...
"Vice President Cheney continues his whirlwind 11 --nation middle eastern tour designed to bring America's anti --terror message to the region. That message: Help us fight terror or ...Is that oil?" -- Jon Stewart

Please stand up....
One day a college professor of Psychology was greeting his new college class. He stood up in front of the class and said, "Would everyone who thinks he or she is stupid please stand up?"
After a minute or so of silence, a young man stood up.
"Well, good morning. So, you actually think you're a moron?" the professor asked.
The kid replied, "No sir, I just didn't want to see you standing there all by yourself."
#joke
Password
A female secretary was helping her new boss set up his computer and asked him what word he would like to use as a password to log in with.
Wanting to embarrass his new secretary a bit and let her know where they stood, he smugly told her to enter 'penis.'
Without blinking or saying a word, she entered the password. She then almost died laughing at the computer's response:
PASSWORD REJECTED. NOT LONG ENOUGH!
Submitted by Calamjo
Edited by Curtis
#joke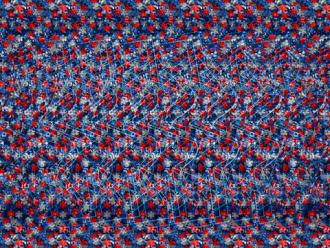 What hides this stereogram?
Stereogram - 3D Image
Dane Cook: Watching The Discovery Channel
Im watching some television tonight. Im watching The Discovery Channel. You know, this channel, you never ever plan on watching this. It just happens. Youre flickin around, all of a sudden -- boom -- youre watching a mole for an hour-and-a-half.
Church Cake!
Have you ever told a white lie? You are going to love this — especially all the ladies who bake for church events
Alice was to bake a cake for the church ladies' group bake sale, but she forgot to do it until the last minute.
She baked an angel food cake and when she took it from the oven, the center had dropped flat.
She said, "Oh dear, there's no time to bake another cake."
So, she looked around the house for something to build up the center of the cake.
Alice found it in the bathroom … a roll of toilet paper.
She plunked it in and covered it with icing.
The finished product looked beautiful, so she rushed it to the church. Before she left the house, Alice had given her daughter some money and specific instructions to be at the bake sale the minute it opened, and to buy that cake and bring it home.
When the daughter arrived at the sale, the attractive cake had already been sold.
Alice was beside herself.
The next day, Alice was invited to a friend's home where two tables of bridge were to be played that afternoon.
After the game, a fancy lunch was served, and to top it off, the cake in question was presented for dessert.
Alice saw the cake, she started to get out of her chair to rush into the kitchen to tell her hostess all about it, but before she could get to her feet, one of the other ladies said, "What a beautiful cake!"
Alice sat back in her chair when she heard the hostess (who was a prominent church member) say,
"Thank you, I baked it myself."
#joke
Hymns By Word Association
A minister decided to do something a little different one Sunday morning.
He said, "Today, in church, I am going to say a single word and you are going to help me preach. Whatever single word I say, I want you to sing whatever hymn comes to your mind."
The pastor shouted out, "Cross!" Immediately the congregation started singing, in unison, "The Old Rugged Cross."
The pastor hollered out, "Grace!" The congregation began to sing "Amazing Grace, how sweet the sound..."
The pastor said, "Power." The congregation sang "There Is Power in the Blood." The Pastor said, "Sex." The congregation fell in total silence. Everyone was in shock.
They all nervously began to look around at each other, afraid to say anything.
Then all of a sudden, way from in the back of the church, a little old 87-year-old grandmother stood up and began to sing "Precious Memories."
#joke
A Guy was staying in a fancy h...
A Guy was staying in a fancy hotel and was enjoying the pool when the manager told him quite bluntly to get out. When asked for the reason, the manager said, "Because you peed in the pool."
"Well," replied the swimmer, "lots of people do that."
"True," answered the manager, "but you did it from the diving board."
#joke
How You Earned It
A young man asked an old rich man how he made his money.
The old guy fingered his worsted wool vest and said, "Well, son, it was 1932. The depth of the Great Depression. I was down to my last nickel."
"I invested that nickel in an apple. I spent the entire day polishing the apple and, at the end of the day, I sold the apple for ten cents."
"The next morning, I invested those ten cents in two apples. I spent the entire day polishing them and sold them at 5:00 pm for 20 cents. I continued this system for a month, by the end of which I'd accumulated a fortune of $1.37."
"Then my wife's father died and left us two million dollars."
#joke
Detective test
A policeman was interrogating 3 SARDARS who were training to become detectives. To test their skills in recognizing a suspect, he shows the first SARDAR a picture for 5 seconds and then hides it.
"This is your suspect, how would you recognize him?"
The first SARDAR answers, "That's easy, we'll catch him fast because he only has one eye!"
The policeman says, "Well...uh...that's because the picture I showed is his side profile."
Slightly flustered by this ridiculous response, he flashes the picture for 5 seconds at the second SARDAR and asks him, "This is your suspect, how would you recognize him?"
The second SARDAR smiles, flips his hair and says, "Ha! He'd be too easy to catch because he only has one ear!"
The policeman angrily responds, "What's the matter with you two?? Of course only one eye and one ear are showing because it's a picture of his side profile! Is that the best answer you can come up with?"
Extremely frustrated at this point, he shows the picture to the third SARDAR and in a very testy voice asks, "This is your suspect, how would you recognize him? He quickly adds, "Think hard before giving me a stupid answer."
The SARDAR looks at the picture intently for a moment and says, "The suspect wears contact lenses."
The policeman is surprised and speechless because he really doesn't know himself if the suspect wears contacts or not. "Well, that's an interesting answer. Wait here for a few minutes while I check his file and I'll get back to you on that."
He leaves the room and goes to his office, checks the suspect's file in his computer, and comes back with a beaming smile on his face.
"Wow! I can't believe it. It's TRUE! The suspect does in fact wear contact lenses. Good work! How were you able to make such an astute observation?"
"That's easy," the SARDAR replied. "He can't wear regular glasses because he only has one eye and one ear."
Submitted by sai1ram
Edited by calamjo
Ten reas...
Ten reasons why alcohol should be served at work:
1 It's an incentive to show up.
2 It encourages car sharing.
3 Increases job satisfaction because you don't care.
4 It makes fellow employees look better.
5 It makes the canteen food taste a lot better.
6 It reduces stress.
7 Salary negotiations are a lot more profitable.
8 You tell management what you think, not what they want to hear.
9 Burping during meetings isn't so embarrassing.
10 Bosses are more likely to hand out raises.
#joke
An Ideal Marriage

Adam and Eve had an ideal marriage. He didn't have to hear about all the men she could have married, and she didn't have to hear about the way his mother cooked.

Misc Women's Rules for Me...
Misc Women's Rules for Men
* Our cooking and menus are excellent - That isn't, however, an excuse for you to avoid cooking
* Buying us something does not constitute foreplay
* Answering "Who was that?" with "Nobody" doesn't end the conversation - Ditto for "Whose lipstick is this?"
* Believe it or not, you're not more sexy when you're all sweaty
* Silence can mean anything and it could change without notice
Other tidbits
* Women are a pain in the ass, men are a pain EVERYWHERE!
* Men are great! Every woman should own one!!!
* Men are just like computers, and a smart woman keeps a backup.
* Men are only good for one thing... two, if they're good at it.
* Men come in three sizes: small, medium, and OOoohhh yesss!
* Men read Playboy for the articles like women go to malls for the music.
#joke