It's all in the punctuation: <...
It's all in the punctuation:
An English professor wrote the words, "Woman without her man is nothing" on the blackboard and directed his students to punctuate it correctly.
The men wrote: "Woman, without her man, is nothing."
The women wrote: "Woman: Without her, man is nothing."
#joke
Chuck Norris is suing Myspace ...
Chuck Norris is suing Myspace for taking the name of what he calls everything around you.
Funny video of the day - Ultimate Batting Practice
Market manners
At the supermarket, a man noticed a woman with four boys and a baby. Her patience was wearing thin as the boys called out, "Mommy! Mommy!" while she tried to shop.
Finally, she blurted out, "I don't want to hear the word mommy for at least 10 minutes!"
The boys fell silent for a few seconds. Then one tugged on his mother's dress and said softly, "Excuse me, miss."
#joke
I was run over by a sports car...
I was run over by a sports car. Now I have Corvetture of the spine.
How Many Motivational Speakers?
Imam Mahdi Funny: Hey, Mahahaharaj.
Swami Mahahaharaj: Yes?
Imam Mahdi Funny:
How many motivational speakers does it take to change a light bulb?
Swami Mahahaharaj: Hmmm...I don't know. How many?
A. One to do it, and every other one on earth to stand around saying that they did it first in the 80s.
#joke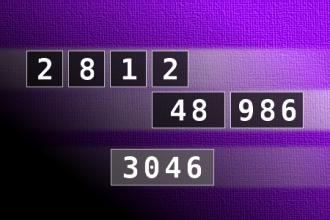 Calculate the number 3046
NUMBERMANIA: Calculate the number 3046 using numbers [2, 8, 1, 2, 48, 986] and basic arithmetic operations (+, -, *, /). Each of the numbers can be used only once.
Walrus and Tupperwar
What do a walrus and Tupperware have in common? They both like a tight seal.
Brendon Walsh: Bathroom Break
Ever been at your job and you get so bored and sick of doing it that you just go to the bathroom to hang out? You dont even need to go. You just want a change of scenery for a little bit.
End of the World Headlines
When the end of the world arrives how will the media report it?
USA Today: WE'RE DEAD
The Wall Street Journal: DOW JONES PLUMMETS AS WORLD ENDS
National Enquirer: JON AND KATE, TOGETHER AGAIN
Microsoft Systems Journal: APPLE LOSES MARKET SHARE
Victoria's Secret Catalog: OUR FINAL SALE
Sports Illustrated: GAME OVER
Wired: THE LAST NEW THING
Rolling Stone: THE GRATEFUL DEAD REUNION TOUR
Readers Digest: 'BYE
Discover Magazine: HOW WILL THE EXTINCTION OF ALL LIFE AS WE KNOW IT AFFECT THE WAY WE VIEW THE COSMOS?
Lady's Home Journal: LOSE 10 LBS BY JUDGMENT DAY WITH OUR NEW "ARMAGEDDON" DIET!
America Online: SYSTEM TEMPORARILY DOWN. TRY CALLING BACK IN 15 MINUTES.
Inc. magazine: TEN WAYS YOU CAN PROFIT FROM THE APOCALYPSE
TIME magazine: RENEW YOUR SUBSCRIPTION FOR ETERNITY
#joke
There was a competition to cro...
There was a competition to cross the English channel doing only the breaststroke, and the three women who entered the race were a brunette, a redhead and a blonde.
After approximately 14 hours, the brunette staggered up on the shore and was declared the fastest. About 40 minutes later, the redhead crawled up on the shore and was declared the second place finisher.
Nearly 4 hours after that, the blonde finally came ashore and promptly collapsed in front of the worried onlookers.
When the reporters asked why it took her so long to complete the race, she replied, "I don't want to sound like I'm a sore loser, but I think those two other girls were using their arms..."
Anytime you see a young man op...
Anytime you see a young man open a car door for his girlfriend, either the car is new or the girlfriend is.
Rosebuds...
The teenage granddaughter comes downstairs for her date with this see-through blouse on and no bra. Her grandmother just has a fit, telling her not to dare go out like that.
The teenager tells her "Loosen up Grams. These are modern times. You gotta let your rosebuds show!" and out she goes.
The next day the teenager comes downstairs, and the grandmother is sitting there with no top on. The teenager wants to die.
She explains to her grandmother that she has friends coming over and that it is just not appropriate.
"Loosen up, sweetie. If you can show off your rosebuds, then I can display my hanging baskets."
#joke
One day, in line at the cafete...
One day, in line at the cafeteria, Bob says to Stanley behind him, "My elbow hurts like hell. I guess I better see a doctor."

"Listen, you don't have to spend that kind of money," Stan replies. "There's a diagnostic computer down at WalMart. Just give it a urine sample and the computer'll tell you what's wrong and what to do about it. It takes ten seconds and costs ten dollars...a lot cheaper than a doctor."

So Bob deposits a urine sample in a small jar and takes it to WalMart.

He deposits ten dollars, and the computer lights up and asks for the urine sample. He pours the sample into the slot and waits.

Ten seconds later, the computer ejects a printout:

"You have tennis elbow. Soak your arm in warm water and avoid heavy activity. It will improve in two weeks."

That evening while thinking how amazing this new technology was, Jack began wondering if the computer could be fooled. He mixed some tap water, a stool sample from his dog, urine samples from his wife and daughter, and masturbated into the mixture for good measure.

Bob hurries back to WalMart, eager to check the results.

He deposits ten dollars, pours in his concoction, and waits.

The computer prints the following:

1. Your tap water is too hard. Get a water softener.
2. Your dog has ringworm. Bathe him with anti-fungal shampoo.
3. Your daughter has a cocaine habit. Get her into rehab...
4. Your wife is pregnant. Twins. They aren't yours. Get a lawyer.
5. If you don't stop playing with yourself, your elbow will never get better.

And, as always, thank you for shopping at Walmart.
On a tropical island
On a beautiful deserted island in the middle of nowhere, the following people are stranded:
Two Italian men and one Italian woman
Two French men and one French woman
Two German men and one German woman
Two Greek men and one Greek woman
Two English men and one English woman
Two Polish men and one Polish woman
Two Japanese men and one Japanese woman
Two American men and one American woman
Two Australian men and one Australian woman
Two New Zealand men and one New Zealand woman
Two Irish men and one Irish woman
One month later the following things have occurred:
One Italian man killed the other Italian man for the Italian woman.
The two French men and the French woman are living an sleeping happily together.
The two German men have a strict weekly schedule of when they alternate with the German woman.
The two Greek men are sleeping with each other and the Greek woman is cleaning and cooking for them.
The two English men are waiting for someone to introduce them to the English woman.
The two Polish men took a long look at the endless ocean and one look at the Polish woman and they started swimming.
The two American men are contemplating the virtues of suicide, while the American woman keeps on bitching about her body being her own, the true nature of feminism, how she can do everything that they can do, about the necessity of fulfillment, the equal division of household chores, how her last boyfriend
respected her opinion and treated her much nicer and how her relationship with her mother is improving - but at least the taxes are low and it's not raining.
The two Japanese men have faxed Tokyo and are waiting for further instructions.
The two Australian men beat each other senseless for the Australian woman, who is checking out all the other men after calling them both 'bloody wankers'.
Both the New Zealand men are searching the island for sheep.
The Irish began by dividing the island into North and South and by setting up a distillery. They do not remember if woman is in the picture because it gets sort of foggy after the first few bottles of coconut whisky, but they are satisfied in that at least the English are not getting any.
#joke

A cocky State Highways em...
A cocky State Highways employee stopped at a farm and talked with an old farmer. He told the farmer, "I need to inspect your farm for a possible new road."
The old farmer said, "OK, but don't go in that field." The Highways employee said, "I have the authority of the State Government to go where I want. See this card? I am allowed to go wherever I wish on farm land."
So the old farmer went about his farm chores.
Later, he heard loud screams and saw the State Highways employee running for the fence and close behind was the farmer's prize bull. The bull was madder than a nest full of hornets and the bull was gaining on the employee at every step!!
The old farmer called out, "Show him your card!!"
#joke
Proud daddy...
A Texan bought a round of drinks for all in the bar and announced that his wife had just produced a typical Texas baby, weighing a whopping twenty pounds.
"WOW!" was the response from everyone at the bar.
A few days later the Texan returned to the bar. The bartender recognized him and asked, "Aren't you the father of the baby that weighed twenty pounds at birth? How much does he weigh now?"
The proud father answered, "10 pounds."
The bartender said, "Why? I know that babies lose some weight after birth, but ten pounds? He did weigh twenty pounds, didn't he? What happened?
The proud Texas father said, "Just had him circumcised!"
#joke
A guy is stranded on a desert ...
A guy is stranded on a desert island all alone for ten years. One day he sees a speck on the horizon. He thinks to himself, "It's not a ship." The speck gets a little closer and he thinks, "It's not a boat." The speck gets even closer and he thinks, It's not a raft. Then, out of the surf comes this gorgeous blonde woman wearing a wet suit and scuba gear.
She comes up to the guy and she says, "How long has it been since you've had a cigarette?"
"Ten years!," he says.
She reaches over, unzips this waterproof pocket on her left sleeve and pulls out a pack of fresh cigarettes. He takes one, lights it, takes a long drag and says, "Man, oh man! Is that good!"
Then she asked, "How long has it been since you've had a drink of whiskey?"
He replies, "Ten years!" She reaches over, unzips her waterproof pocket on the right, pulls out a flask and gives it to him. He takes a long swig and says, "Wow! That's fantasti Then she starts unzipping this long zipper that went down the >front of >her wet suit and she says to him, "And how long has it been since you've had some REAL fun?"
And the man replies, "My God! Don't tell me you've got a computer in there?"
Take Off My Clothes
My wife came home the other night and told me to take off her blouse.
Then she told me to take off her skirt.
Then she told me not to wear her clothes anymore.