Two bachelors, Larry and Frank...
Two bachelors, Larry and Frank, were out to dinner.
The conversation drifted from office, sports to politics and then to cooking.
"I got a cook book once" said Larry. "But I couldn't do anything with it."
"Too much fancy stuff in it, huh?" asked Frank.
"You said it, Larry replied, nodding. "Every one of those recipes began the same way: "Take a clean plate…"
#joke
Chuck Norris once sued Burger ...
Chuck Norris once sued Burger King after they refused to put razor wire in his Whopper Jr, insisting that that actually is "his" way.
Funny video of the day - Hula hoop Turbo Girl
Really funny jokes-FIAT
What does FIAT stand for?
* Fix it again Tony
* Failure in Italian Automotive Technology
* Feeble Italian Attempt at Transportation
* Frenzied Italian At Traffic-lights
Routine physical
A man goes to a doctor for a routine physical. The nurse starts with the basics.
"How much do you weigh?" she asks.
"Oh, about 165." he says.
The nurse puts him on the scale. It turns out that his weight is 187. The nurse asks, "Your height?"
"Oh, about six feet," he says.
The nurse checks and sees that he's only 5 feet 8 3/4 inches. She then takes his blood pressure, and it's very high.
"High!" The man explains, "Of course it's high. When I came in here, I was tall and lanky. Now, I'm short and fat!"
Bridal Registry
My sister, went to the department store to check out the bridal registry of our niece whose wedding was coming up soon. When my sister returned from the store, she tossed the gift list on a table and declared, "I think she's too young to get married."
"Why do you say that?" I asked.
"Because," she said, "they registered for Nintendo games."
#joke
Bicyclists are always pedallin...
Bicyclists are always pedalling their wheres.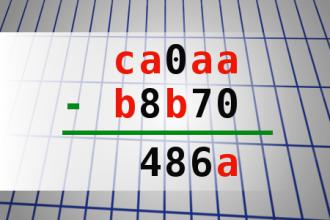 Find number abc
If ca0aa - b8b70 = 486a find number abc. Multiple solutions may exist.
Two bachelors, Larry and Frank...
Two bachelors, Larry and Frank were out to dinner. The conversation drifted from office, sports to politics and then to cooking. "I got a cook book once" said Larry. "But I couldn't do anything with it." "Too much fancy stuff in it, huh?" asked Frank. "You said it, Larry replied, nodding. "Every one of those recipes began the same way: "Take a clean plate…"
#joke
Three Wishes from a Genie
The pastoral associate, the associate pastor, and the pastor are taking a shortcut to a meeting. As they walk through a vacant lot, the trio stumbles on an ancient oil lamp. On a lark they rub it, and to their amazement a genie appears and offers to grant them each one wish.
The pastoral associate cries out, "I want to be on an island paradise, lolling in the sun without a care!" The genie waves his hand and she disappears in a puff of smoke.
The associate pastor jumps up and says, "I want to be walking through the halls of the Vatican, marveling at all the artwork and never have to go to another meeting as long as I live." He too disappears.
Scowling, the pastor says to the genie," I want t hose two back in time for the meeting."
This joke was reprinted from "The Book of Catholic Jokes" by Deacon Tom Sheridan, with permission of ACTA Publications. Copyright 2008. All rights reserved.
#joke
Hang on to any of the new Stat...
Hang on to any of the new State of Alabama quarters. If you have them; they may be worth much more than 25 cents.
The U.S. Treasury announced today that it is recalling all of the Alabama quarters that are part of its program featuring quarters from each state.
"We are recalling all the new Alabama quarters that were recently issued," Treasury Undersecretary Jack Shackleford said Monday. "This action is being taken after numerous reports that the new quarters will not work in parking meters, toll booths, vending machines, pay phones, or other coin-operated devices."
The quarters were issued in the order in which the various states joined the U.S. and have been a tremendous success among coin collectors worldwide.
"The problem lies in the unique design of the Alabama quarter, which was created by an Auburn University graduate," Shackleford said. "Apparently, the duct tape holding the two dimes and the nickel together keeps jamming the coin-operated devices."
The golf challange...
The Pope met with his Cardinals to discuss a proposal from Benjamin Netanyahu, the leader of Israel. "Your Holiness", said one of his Cardinals, Mr. Netanyahu wants to challenge you to a game of golf to show the friendship and ecumenical spirit shared by the Jewish and Catholic faiths."
The Pope thought this was a good idea, but he had never held a golf club in his hand. "Don't we have a Cardinal to represent me?" he asked.
"None that plays very well," a Cardinal replied. "But," he added, "there is a man named Jack Nicklaus, an American golfer who is a devout Catholic. We can offer to make him a Cardinal, then ask him to play Mr. Netanyahu as your personal representative. In addition, to showing our spirit of cooperation, we'll also win the match."
Everyone agreed it was a good idea. The call was made. Of course, Nicklaus was honored and agreed to play. The day after the match, Nicklaus reported to the Vatican to inform the Pope of the result. "I have some good news and some bad news, your Holiness, " said the golfer.
"Tell me the good news first, Cardinal Nicklaus," said the Pope.
"Well, your Holiness, I don't like to brag, but even though I've played some pretty terrific rounds of golf in my life, this was the best I have ever played, by far. I must have been inspired from above. My drives were long and true, my irons were accurate and purposeful, and my putting was perfect. With all due respect, my play was truly miraculous.
"There's bad news?", the Pope asked.
"Yes," Nicklaus sighed. "I lost to Rabbi Tiger Woods by seven strokes."
#joke
The Family Of Potatoes
One night, the Potato family sat down to dinner--Mother Potato and her three daughters. Midway through the meal, the eldest daughter spoke up. "Mother Potato?" she said. "I have an announcement to make."
"And what might that be?" said Mother, seeing the obvious excitement in her eldest daughter's eyes.
"Well," replied the daughter, with a proud but sheepish grin, "I'm getting married!"
The other daughters squealed with surprise as Mother Potato exclaimed, "Married! That's wonderful! And who are you marrying, Eldest daughter?"
"I'm marrying a Russet!"
"A Russet!" replied Mother Potato with pride.
"Oh, a Russet is a fine tater, a fine tater indeed!"
As the family shared in the eldest daughter's joy, the middle daughter spoke up. "Mother? I, too, have an announcement."
"And what might that be?" encouraged Mother Potato.
Not knowing quite how to begin, the middle daughter paused, then said with conviction, "I, too, am getting married!"
"You, too!" Mother Potato said with joy. "That's wonderful! Twice the good news in one evening! And who are you marrying, Middle Daughter?"
"I'm marrying an Idaho!" beamed the middle daughter.
"An Idaho!" said Mother Potato with joy. "Oh, an Idaho is a fine tater, a fine tater indeed!"
Once again, the room came alive with laughter and excited plan for the future, when the youngest Potato daughter interrupted. "Mother? Mother Potato? Um, I, too, have an announcement to make."
"Yes?" said Mother Potato with great anticipation.
"Well," began the youngest Potato daughter with the same sheepish grin as her eldest sister before her, "I hope this doesn't come as a shock to you, but I am getting married, as well!"
"Really?" said Mother Potato with sincere excitement. "All of my lovely daughters married! What wonderful news! And who, pray tell, are you marrying, Youngest Daughter?"
"I'm marrying Peter Jennings!"
"Peter Jennings?!" Mother Potato scowled suddenly. "But he's just a common tater!"
#joke
Lavell Crawford: Get to Heaven
If I get to Heaven and God is white, Id be like, I knew it all along. Show me to the hood. But if I get to Heaven and God is black, thats going to piss me off a little bit. Id be like, Aint this a bitch? Youve been black all along? Aint you been seeing what the hells going on down there?
It seems a farm boy accide...
It seems a farm boy accidentally overturned his wagon-load of corn. The farmer who lived nearby heard the noise. "Hey Wilmer!" the farmer yelled. "Forget your troubles. Come in and have a bite with us. Then I'll help you get the wagon up."
"That's mighty nice of you," Wilmer answered. "But I don't think Pa would like me to."
"Aw, come on." the farmer insisted.
"Well okay," the boy finally agreed, and added, "But Pa won't like it."
After a hearty dinner, Wilmer thanked his host. "I feel a lot better now, but I know Pa is going to be real upset."
"Don't be foolish!" the neighbor said with a smile. "By the way, where is your Pa?"
Wilmer replied, "Under the wagon."
#joke
Let him believe
One day in the Garden of Eden, Eve called out to God... "Lord, I have a problem!"
"What's the problem, Eve?"
"Lord, I know you've created me and have provided this beautiful garden and all of these wonderful animals, and that hilarious comedic snake, but I'm just not happy."
"Why is that, Eve?" came the reply from above.
"Lord, I am lonely. And I'm sick to death of apples."
"Well, Eve, in that case, I have a solution. I shall create a man for you."
"What's a 'man,' Lord?"
"This man will be a flawed creature, with aggressive tendencies, an enormous ego and an inability to empathize or listen to you properly. All in all, he'll give you a hard time.
But, he'll be bigger, faster and more muscular than you. He'll also need your advice to think properly. He'll be really good at fighting and kicking a ball about, hunting fleet-footed ruminants, and not altogether bad in the sack."
"Sounds great," says Eve, with an ironically raised eyebrow. "What's the catch, Lord?"
"Yeah, well.... you can have him on one condition."
"What's that, Lord?"
"You'll have to let him believe that I made him first."
Submitted by Calamjo
Edited by Yisman
#joke
Blondes kids
A blonde was with her husband shopping and she decided that they would shop in different parts of the mall.
They meet in the middle 2 hours later and she announces, "I just got kids."
The husband stares amazed, looking at the kids he says, "Those are 2 baby goats!"
Submitted by bomberman255
Edited by Calamjo, Curtis and yisman
Sister Mary Ann
Sister Mary Ann, who worked for a home health agency, was making her rounds. She was visiting homebound patients when she ran out of gas.
As luck would have it, a gas station was just a block away. She walked to the station to borrow a gas can and buy some gas. The attendant told her that the only gas can he owned had been loaned out, but she could wait until it was returned
Since Sister Mary Ann was on the way to see a patient, she decided not to wait and walked back to her car. She looked for something in her car that she could fill with gas and spotted the bedpan she was taking to the patient. Always resourceful, Sister Mary Ann carried the bedpan to the station, filled it with gasoline, and carried the full bedpan back to her car.
As she was pouring the gas into her tank, two Baptists watched from across the street. One of them turned to the other and said, "If it starts, I'm becoming Catholic."
#joke
Auctions and golf...
A wife and husband both talked in their sleep. She loved auctions; his hobby was golf.
The other night, as they slept, the golfer yelled, "Fore!"
His wife yelled back, "Four and a quarter !"
Got Milk?
A man walks into a T-Shirt store and on the walls there
where three t-shirts on display for sale.
The first row had the picture of Richard Nixon with a thin
white mustache and below the picture it was titled: GOT MILK
The second row of shirts were the picture of Ronald Reagan
with the white mustache and it was titled: FORGOT MILK
And the third was of Monica Lewinsky with a white mustache
and under her it was titled: NOT MILK
#joke
How to give a cat a pill
<...
How to give a cat a pill

1. Pick up the cat and cradle it in the crook of your left arm as if holding a baby. Position right forefinger and thumb on either side of cat's mouth and gently apply pressure to cheeks while holding pill in right hand. As cat opens mouth pop pill into mouth. Allow cat to close mouth and swallow.

2. Retrieve pill from floor and cat from behind sofa. Cradle cat in left Arm and repeat process.

3. Take new pill from foil wrap, cradle cat in left arm, holding rear paws tightly with left hand. Force jaws open and push pill to back of mouth with right forefinger. Hold mouth shut for a count of ten.

4. Kneel on floor with cat wedged firmly between knees, hold front and rear paws, ignore growls emitted by cat. Get spouse to hold cat's head firmly with one hand while forcing wooden ruler into mouth. Drop pill down ruler and rub cat's throat vigorously.

5. Retrieve cat from curtain rail, get another pill from foil wrap. Make note to buy new ruler and repair curtains. Carefully sweep shattered figurines and vases from hearth and set to one side for gluing later.

6. Wrap cat in a large towel and get spouse to lie on cat with cat's head just visible from below armpit. Put pill in end of a drinking straw, force cat's mouth open with pencil and blow down straw.

7. Check label to make sure pill is not harmful to humans, drink a beer to take away the taste. Apply Band-Aid to spouse's forearm and remove blood from the carpet with soap and water.

8. Tie the little angel's front paws to rear paws with garden twine and bind tightly to leg of the dining table. Find heavy pruning gloves from shed. Push pill into mouth followed by large piece of fillet steak. Be rough about it. Hold head vertical and pour 2 pints of water down cat's throat to wash down pill.

9. Consume remainder of scotch. Get spouse to drive you to the A&E, sit quietly while doctor stitches fingers and forearm and removes pill from your eye. Call furniture shop on way home to order a new table.

10. Arrange for RSPCA to collect the mutant cat from hell and ring local pet shop to see whether they have any hamsters.