Be rady for Thanksgiving
, check out our latest
Thanksgiving jokes of 2021
on:
Thanksgiving jokes collection
Reaching the end of a job inte...
Reaching the end of a job interview, the Human Resources Officer asked a young Engineer fresh out of MIT, "And what starting salary were you looking for?"
The Engineer replies, "In the region of $125,000 a year, depending on the benefits package."
The interviewer inquires, "Well, what would you say to a package of 5-weeks vacation, 14 paid holidays, full medical and dental, company matching retirement fund to 50% of salary, and a company car leased every 2 years say, a red Corvette?"
The Engineer sits up straight and says, "Wow! Are you kidding?"
And the interviewer replies, "Yeah, but you started it."
#joke
Chuck Norris is currently suin...
Chuck Norris is currently suing NBC, claiming Law and Order are trademarked names for his left and right legs.
Funny video of the day - Worlds Largest Water Balloon Fight 2011
Really funny jokes-Thousands at home
A Cuban, a Scot, a Spaniard, and an Irishman are sharing a carriage on a train to Belfast.
The Cuban lights up this enormous Cuban cigar, takes one short drag from it and flings the cigar out the window.
The other three look at him in amazement and ask why he just threw out a full Cuban cigar.
He says, "I'm from Cuba, we have thousands of those things back home."
The Scot pulls out a litre bottle of Bells Whiskey, a 50 year-old bottle, takes a short measure glass, half fills it, knocks it back and flings the remainder of the bottle out the window.
The other three are in shock, ask him why he just threw away a near full bottle of fine malt Scottish whiskey??!!
He replies, "I'm Scottish, we have thousands of those things at home."
The Spaniard pulls out a flagon of red wine, a 100 year-old classic. He takes a couple of sips, licks his lips, and flings the remainder of the wine out the window.
The other three ask him why he just threw away a near full bottle of classic wine, he replies, "I'm Spanish, I have thousands of those things back home."
The Irish then grabs the Spaniard and throws him out of the window.
#joke
Old Grey Mare
A buyer was considering purchasing an old thoroughbred horse but wanted a veterinarian's opinion of the horse before finalizing the deal. When the vet had completed his examination the potential buyer asked, "Will I be able to race him?"
The veterinarian looked at the buyer, then at the horse.
"Sure," he replied, "and you would probably win!"
#joke
An employee comes into her man...
An employee comes into her manager's office to take a day off from work. The manager replies, So you want a day off. Let's take a look at what you are asking for. There are 365 days per year available for work. There are 52 weeks per year in which you already have 2 days off per week, leaving 261 days available for work. Since you spend 16 hours each day away from work, you have used up 170 days, leaving only 91 days available. You spend 30 minutes each day on coffee break, which counts for 23 days each year, leaving only 68 days available. With a 1-hour lunch each day, you used up another 46 days, leaving only 22 days available for work. You normally spend 2 days per year on sick leave. This leaves you only 20 days per year available for work. We are off 5 holidays per year, so your available working time is down to 15 days. We generously give 14 days vacation per year which leaves only 1 day available for work and I'll be darned if you are going to take that day off!
#joke
A lawyer was on his cell phone...
A lawyer was on his cell phone, calling a locksmith.
'I locked my keys in my sports car!' said the nervous lawyer.
'No problem, I should be there in about an hour,' replied the locksmith.
'Do you think you can make it a little sooner?' pleaded the lawyer. 'My top is down and it's starting to rain.'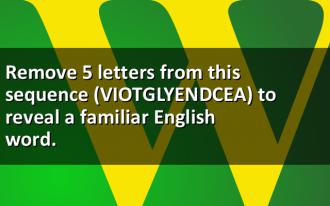 Remove 5 letters from this seq...
Remove 5 letters from this sequence (VIOTGLYENDCEA) to reveal a familiar English word.
Life choices...
An older man was married to a younger woman. After several years of a very happy marriage, he had a heart attack. The doctor advised him that in order to prolong his life, they should cut out sex.
He and his wife discussed the matter and decided that he should sleep in the family room downstairs to save them both from temptation.
One night, after several weeks of this, he decided that life without sex wasn't worth living. So he headed upstairs. He met his wife on the staircase and said, "I was coming to die."
She laughed and replied, "I was just coming down to kill you!"
Signs You Have a Han
1. You'd rather have a pencil driven through your retina than be exposed to sunlight.
2. Trying to gain control of the situation, you continue to tell your room to "stay still."
3. Looking at yourself in the mirror induces the same reaction as chugging a glass of fresh paint. 4. You're convinced that chirping birds are Satan's pets.
5. You set aside an entire morning to spend some quality time with your toilet.
6. You replaced the traditional praying on your knees with the more feasible praying in a fetal position.
7. The bathroom reminds you of a carnival barker shouting, "Step right up and give it whirl!" 8. All day long your motto is, "Never again."
9. You could purchase a new bike just by recycling the bottles around your bed.
10. Your natural response to "Good morning," is "Shut up!"
#joke
Nate Bargatze: Big Business
A lot of people dont like Wal-Mart, they say its big business; like it kills the Mom-and-Pop shops. But really Wal-Mart, they were a Mom-and-Pop shop at some point and then they got their act together and became unbelievable.
Broken Window
There was a knock at the door. It was a small boy, about six years old. Something of his had found its way into my garage, he said, and he wanted it back.
Upon opening the garage door, I noticed two additions: a base- ball and a broken window sporting a baseball-sized hole. "How do you suppose this ball got in here?" I asked the boy.
Taking one look at the ball, one look at the window, and one look at me, the boy exclaimed, "Wow! I must have thrown it right through that hole!"
#joke
Any plans to float a common cu...
Any plans to float a common currency are eurozoneous.
The Bronze Statues
A tourist wanders into a back-alley antique shop in San Francisco's Chinatown. Picking through the objects on display he discovers a detailed, life-sized bronze sculpture of a rat. The sculpture is so interesting and unique that he picks it up and asks the shop owner what it costs.
"Twelve dollars for the rat, sir," says the shop owner, "and a thousand dollars more for the story behind it."
"You can keep the story, old man," he replies, "but I'll take the rat."
The transaction complete, the tourist leaves the store with the bronze rat under his arm. As he crosses the street in front of the store, two live rats emerge from a sewer drain and fall into step behind him. Nervously looking over his shoulder, he begins to walk faster, but every time he passes another sewer drain, more rats come out and follow him. By the time he's walked two blocks, at least a hundred rats are at his heels, and people begin to point and shout. He walks even faster, and soon breaks into a trot as multitudes of rats swarm from sewers, basements, vacant lots, and abandoned cars. Rats by the thousands are at his heels, and as he sees the waterfront at the bottom of the hill, he panics and starts to run full tilt.
No matter how fast he runs, the rats keep up, squealing hideously, now not just thousands but millions, so that by the time he comes rushing up to the water's edge a trail of rats twelve city blocks long is behind him. Making a mighty leap, he jumps up onto a light post, grasping it with one arm while he hurls the bronze rat into San Francisco Bay with the other, as far as he can heave it. Pulling his legs up and clinging to the light post, he watches in amazement as the seething tide of rats surges over the breakwater into the sea, where they drown.
Shaken and mumbling, he makes his way back to the antique shop.
"Ah, so you've come back for the rest of the story," says the owner.
"No," says the tourist, "I was wondering if you have a bronze lawyer."
A blonde was hard up for money...
A blonde was hard up for money, so she walked around her neighborhood, trying to find a job.
She met a nice man who said he would give her work. All she had to do was paint his porch white. He gave her a bucket of paint and left.
He walked into his house, laughing. He told his brunette wife what he had done. "Frank, our porch covers half of the house! You're so mean." his wife replied. Three hours later, the blonde went in the house, and gave the bucket of white paint back to the man.
The astonished man handed her a $100 bill, and asked how she finished it so quickly.
"It takes time, but it was easy." was her reply. "Oh, and it's a Ferrari, not a Porsche."
Two Kinds of People
There are two kinds of people. Those who wake up in the morning and say, "Good morning, Lord," and those who wake up in the morning and say, "Good Lord, it's morning."

Lynne Koplitz: Size Zero Roommate
She actually asked me for four grapes once. She counted grapes. What kind of mental patient counts grapes? Do you know anyone who does that? Thats the weirdest thing. I was like, Four grapes... To me grapes arent even a food. Theyre like a palate cleanser. Thats what I eat to get the Big Mac taste out of my mouth.
#joke
Church Bulletin Bloopers: Weddings and Babies
Irving Benson and Jessie Carter were married on October 24 in the church. So ends a friendship that began in their school days.
The Honeymooners are now having bile studies each Tuesday evening at 7:30 p.m.
The rosebud on the altar this morning is to announce the birth of David Alan Belzer, the sin of Rev. and Mrs. Julius Belzer.
Please join us as we show our support for Amy and Alan who are preparing for the girth of their first child.
Thursday at 5:00 pm, there will be a meeting of the Little Mothers Club. All ladies wishing to be "Little Mothers" will meet with the Pastor in his private study.
(For the group of ladies called Moms Who Care and pray for the children in school). When their meeting was cancelled one week: "There will be no Moms who care this week."
- Joke shared on Beliefnet's Religious Humor page
#joke
Hole in One
There was this preacher who was an avid golfer. Every chance he could get, he could be found on the golf course swinging away. It was an obsession. One Sunday was a picture perfect day for golfing. The sun was out, no clouds in the sky, and the temperature was just right. The preacher was in a quandary as to what to do, and shortly, the urge to play golf overcame him. He called an assistant to tell him that he was sick and could not do church, packed the car up, and drove three hours to a golf course where no one would recognize him. Happily, he began to play the course.
An angel up above was watching the preacher and was quite perturbed. He went to God and said, "Look at the preacher. He should be punished for what he is doing." God nodded in agreement.
The preacher teed up on the first hole. He swung at the ball, and it sailed effortlessly through the air and landed right in the cup three hundred and fifty yards away (as they say in basketball, nothing but net). A picture perfect hole-in-one. He was amazed and excited.
The angel was a little shocked. He turned to God and said, "Begging Your pardon, but I thought you were going to punish him."
God smiled. "Think about it -- who can he tell?"
#joke