Little Pete came home from the...
Little Pete came home from the playground with a bloody nose, black eye, and torn clothing. It was obvious he'd been in a bad fight and lost. While his father was patching him up, he asked his son what happened.
"Well, Dad," said Pete, " I challenged Larry to a duel. And, you know, I gave him his choice of weapons."
"Uh-huh," said the father, "that seems fair."
"I know, but I never thought he'd choose his sister!"
#joke
Chuck Norris invented the spoo...
Chuck Norris invented the spoon because killing somebody with a knife is too easy.
Funny video of the day - Girls Fails Compilation
Really funny jokes-American soldier
A battle weary American soldier boarded a crowded train in in London during the early days of post-WWII, only to discover he was unable to find a place to sit.
As he walked the length of the train, he noticed a small white dog curled up on one of the seats.
A large, well dressed woman sat in the seat next to the dog.
The man hovered near the seat, hoping the woman would take the hint, but she pointedly ignored him.
"Excuse me, Ma'am," the soldier finally spoke, "Is this your dog?
Would you mind holding it on your lap so that I may sit down?"
The woman raised her icy gaze to the young man and said in a haughty British accent, "Oh! You Americans. You are so rude. Fluffy is in that seat, and I see no reason why she should give up her comfort for you."
The exhausted soldier nodded, picked up the small dog ... leaned over ... opened the window of the moving train and tossed the dog out.
The woman gaped and spluttered in horrified indignation, and the man sitting across from her lowered his newspaper.
"You Americans", he said, "You drive on the wrong side of the road ... You eat with the wrong fork ... and you just threw the wrong b*tch out the window."
#joke
Choosing a Pet
A man wanted a pet for his daughter. She had been getting good grades at school, and was helping out around the house without protest. He went to the local pet shop to see what they had.
He looked at a baby rabbit, a baby chick and a baby duck. They were all very cute, but he decided to buy the baby chick.
Do you know why?
It was a little cheeper!
#joke
The Boomer government reports ...
The Boomer government reports that Depends spending is on the rise, especially incontinents with European forces or near the Pissific Ocean.
Little Pete came home from the...
Little Pete came home from the playground with a bloody nose, black eye, and torn clothing. It was obvious he'd been in a bad fight and lost. While his father was patching him up, he asked his son what happened.
"Well, Dad," said Pete, " I challenged Larry to a duel. And, you know, I gave him his choice of weapons."
"Uh-huh," said the father, "that seems fair."
"I know, but I never thought he'd choose his sister!"
#joke
FLEX WORDLE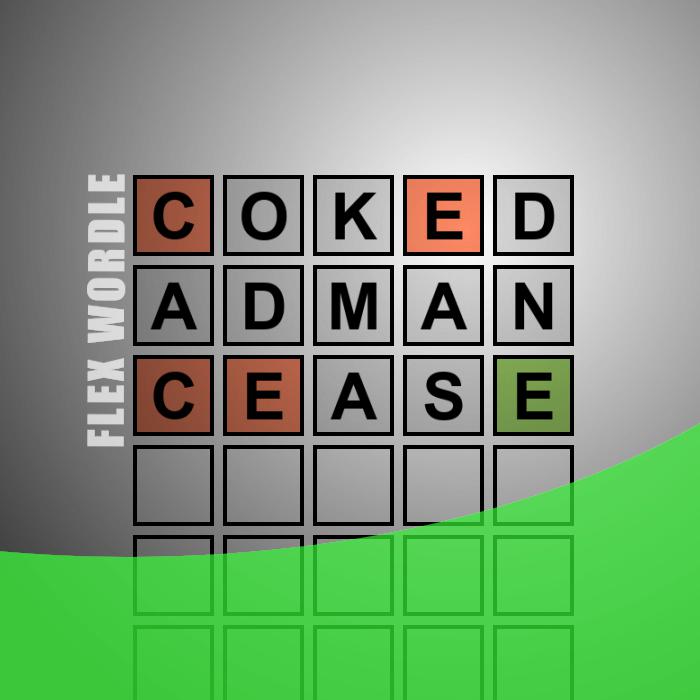 Guess the
WORDLE
in 3 tries. After each guess, the color of the tiles will change to show how close your guess was to the solution.
Odd signs...
These signs have allegedly been spotted in public use.
Sign in a London department store: Bargain basement upstairs.
In an office: Would the person who took the step ladder yesterday please bring it back or further steps will be taken.
In an office: After tea break, staff should empty the teapot and stand upside down on the draining board.
English sign in a German cafe: Mothers, please wash your hans before eating.
Outside a secondhand shop: We exchange anything--bicycles, washing machines, etc. Why not bring your wife along and get a wonderful bargain.
Sign outside a new town hall to be opened by the Prince of Wales: The town hall is closed until opening. It will remain closed after being opened. Open tomorrow.
Outside a photographer's studio: Out to lunch: if not back by five, out for dinner also.
Seen at the side of a Sussex road: Slow cattle crossing, no overtaking for the next 100 yrs.
Outside a disco: Smart is the most exclusive disco in town, everyone welcome.
Sign warning of quicksand: Quicksand, any person passing this point will be drowned, by order of the district council.
Notice sent to residents of a Wiltshire parish: Due to increasing problems with the letter louts and vandals, we must ask anyone with relatives buried in the graveyard to do their best to keep them in order.
Notice in a dry cleaner's window: Anyone leaving their garments here for more than 30 days will be disposed of.
Sign on motorway garage: Please do not smoke near our petrol pumps. Your life may not be worth much but our petrol is.
Spotted in a safari park: Elephants, please stay in your car.
Seen during a conference: For anyone who has children and doesn't know it, there is a day care on the first floor.
Notice in a field: The farmer allows walkers to cross the field for free, but the bull charges.
Message on a leaflet: If you cannot read, this leaflet will tell you how to get lessons.
Sign on a repair shop door: We can repair anything (Please knock hard on the door, the bell doesn't work.)
Spotted in a toilet in a London office block: Toilet out of order please use floor below.
#joke
Expert Advice
A doctor and a lawyer were talking at a party. Their conversation was constantly interrupted by people describing their ailments and asking the doctor for free medical advice. After an hour of this, the exasperated doctor asked the lawyer, "What do you do to stop people from asking you for legal advice when you're out of the office?"
"I give it to them," replied the lawyer, "and then I send them a bill."
The doctor was shocked, but agreed to give it a try. The next day, still feeling slightly guilty, the doctor prepared the bills. When he went to place them in his mailbox, he found a bill from the lawyer.
Deon Cole: Getting Fit
When I moved out to LA they told me I had to work out. I was like, I dont wanna do that. They gave me this trainer, and the dude was like... The most important thing is, you cant eat late at night or youll get fat. And Im like, Forget that, you supposed to eat late at night. He was like, No you not. Im like, Well, why they put a light in the refrigerator?
#joke
Borrowed the Car
After shopping for most of the day, a couple returns to find their car has been stolen. They go to the police station to make a full report. Then, a detective drives them back to the parking lot to see if any evidence can be found at the scene of the crime. To their amazement, the car has been returned.
There is an envelope on the windshield with a note of apology and two tickets to a music concert. The note reads, "I apologize for taking your car, but my wife was having a baby and I had to hot-wire your ignition to rush her to the hospital. Please forgive the inconvenience. Here are two tickets for tonight's concert of Garth Brooks, the country-and-western music star."
Their faith in humanity restored, the couple attend the concert and return home late. They find their house has been robbed. Valuable goods have been taken from thoughout the house, from basement to attic. And, there is a note on the door reading, "Well, you still have your car. I have to put my newly born kid through college somehow, don't I?"
#joke
A Collection Of Insults
A brief synopsis... When you're at a loss for words but want to tell someone that he or she is stupid, remember some these quips from our collection here at Aha! Jokes.
---
Missing a layer of insulation in his attic.
Monorail doesn't go all the way to Tomorrowland.
Mooring lines don't reach the dock.
More marbles in a spray-paint can than brains in his head.
Mouth is in gear, brain is in neutral.
Moves his lips to pretend he's reading.
Must have ignored a knock-down pitch.
Nearly on a higher plane, but lost his boarding pass.
Needs another brain to make half-wit.
Needs both hands to wipe his behind.
Needs front end alignment.
Needs his disk checked/reformatted.
Needs his sleeves lengthened by a couple of feet so they can be tied in the back.
Network constantly loses packets.
Neurons are firing non-sequentially.
#joke
A doctor at an insane asylum d...
A doctor at an insane asylum decided to take his inmates to a baseball game. For weeks in advance, he coached his patients to respond to his commands. When the day of the game arrived, everything seemed to be going well.
As the national anthem started, the doctor yelled, "Up nuts!" And the inmates complied by standing up. After the anthem he yelled, "Down Nuts!" And they all sat. After a home run he yelled, "Cheer nuts!" And they all broke into applause and cheers.
Thinking things were going well, he decides to go get a beer and a hot dog, leaving his assistant in charge. When he returned there was a riot in progress. Finding his assistant, he asked what happened.
The assistant replied, "Well, everything was fine until some guy walked by and yelled, PEANUTS!'"
A lawyer walks into a bar and ...
A lawyer walks into a bar and sits down next to a drunk who is closely examining something held in his fingers. The lawyer watches the drunk for a while till he finally gets curious enough to ask what it is.
"Well," said the drunk, "it looks like plastic and feels like rubber."
"Let me have it," said the lawyer. Taking it, he began to roll it between his thumb and forefinger, examining it closely. "Yes," he finally said, "it does look like plastic and feel like rubber, but i don't know what it is. Where did you get it?"
"From my nose," the drunk replied.
Fear of Flying
There was a religious woman who had to do a lot of traveling for her business. Flying made her very nervous, so she always took her Bible along with her.
One time, she was sitting next to a man. When he saw her pull out her Bible, he gave a little chuckle and smirk and went back to what he was doing.
After awhile, he turned to her and asked, "You don't really believe all that stuff in there do you?"
The woman replied, "Of course I do. It is the Bible."
He said, "Well, what about that guy that was swallowed by that whale?"
She replied, "Oh, Jonah. Yes, I believe that, it is in the Bible."
He asked, "Well, how do you suppose he survived all that time inside the whale?"
The woman said, "Well, I don't really know. I guess when I get to heaven, I will ask him."
"What if he isn't in heaven?" the man asked sarcastically.
"Then you can ask him," replied the woman.
#joke
Twins
A man was driving along the highway, and saw a rabbit hopping across the middle of the road. He swerved to avoid hitting the rabbit, but unfortunately the rabbit jumped in front of the car and was hit. The driver, being a sensitive man as well as an animal lover, pulled over to the side of the road and got out to see what had become of the rabbit. Much to his dismay, the rabbit was dead. The driver felt so awful he began to cry.
A woman driving down the highway saw the man crying on the side of the road and pulled over. She stepped out of her car and asked the man what was wrong.
"I feel terrible," he explained. "I accidently hit this rabbit and killed it."
The woman told the man not to worry. She knew what to do. She went to her car trunk and pulled out a spray can. She walked over to the limp, dead rabbit, and sprayed the contents of the can onto the rabbit. Miraculously, the rabbit came to life, jumped up, waved its paw at the two humans and hopped down the road. 50 feet away the rabbit stopped, turned around, waved at the two again, hopped down the road another 50 feet, turned, waved, and hopped another 50 feet. The man was astonished. He couldn't figure out what substance could be in the woman's spray can! He ran over to the woman and demanded, " What was in your spray can? What did you spray onto that rabbit?" The woman turned the can around so that the man could read the label. It said:
"'Hare Spray' Restores Life to Dead Hare. Adds Permanent Wave."
#joke
Dog Steals Roast
A lawyer's dog, running about unleashed, beelines for a butcher shop and steals a roast. Butcher goes to lawyer's office and asks, "if a dog running unleashed steals a piece of meat from my store, do I have a right to demand payment for the meat from the dog's owner?"
The lawyer answers, "Absolutely."
"Then you owe me $8.50. Your dog was loose and stole a roast from me today."
The lawyer, without a word, writes the butcher a check for $8.50 Several days later the butcher opens the mail and finds a bill from the lawyer: $20 due for a consultation.
50-50 partners...
A very successful businessman had a meeting with his new son-in-law. "I love my daughter, and now I welcome you into the family," said the man. "To show you how much we care for you, I'm making you a 50-50 partner in my business. All you have to do is go to the factory every day and learn the operations."
The son-in-law interrupted. "I hate factories. I can't stand the noise."
"I see," replied the father-in-law. "Well then you'll work in the office and take charge of some of the operations."
"I hate office work," said the son-on-law. "I can't stand being stuck behind a desk all day."
"Wait a minute," said the father-in-law. "I just make you half- owner of a moneymaking organization, but you don't like factories and won't work in a office. What am I going to do with you?"
"Easy," said the young man. "Buy me out."
#joke
Writing letters to son
The following is supposedly a true story. To be included, besides being true, the story is most likely strange, weird, surprising, or funny.
One student fell into a cycle of classes, studying, working and sleeping.
Didn't realize how long he had neglected writing home until he received the following note:
"Dear Son, Your mother and I enjoyed your last letter. Of course, we were much younger then, and more impressionable. Love, Dad."
#joke
Join us on WhatsApp