Really funny jokes-Robbery foiled
A robbery at a school in Providencia, Chile was foiled when the pupils laughed at the perpetrator of the crime reports the newspaper Las Ultimas Noticias.
The teachers, pupils and parents had been watching the rehearsal of a play which began with the words, 'This is a robbery'.
The criminal used these words and the audience collapsed in fits of laughter. So taken aback, the robber snatched the registration money and fled from the school into the arms of the police who were on their way having been alerted to the robbery.

#joke
A man was walking on the beach...
A man was walking on the beach one day, and he found a bottle half buried in the sand.
He decided to open it.
Inside was a genie.
The genie said, "I will grant you three wishes and three wishes only."
The man thought about his first wish and decided, "I think I want 1 million dollars transferred to a Swiss bank account.
POOF!
Next he wished for a Ferrari red in color.
POOF! There was the car sitting in front of him.
He asked for his final wish... "I wish I was irresistible to women."
POOF! He turned into a box of chocolates.
#joke
Funny video of the day - Cool Hand Made Motorized Wheelbarrow
Chuck Norris sold his soul to ...
Chuck Norris sold his soul to the devil for his rugged good looks and unparalleled martial arts ability. Shortly after the transaction was finalized, Chuck roundhouse-kicked the devil in the face and took his soul back. The devil, who appreciates irony, couldn't stay mad and admitted he should have seen it coming. They now play poker every second Wednesday of the month.
The Tie
Contributed by Jack McClung
A fleeing Taliban, desperate for water, was plodding through the Afghan desert when he saw something far off in the distance.

Hoping to find water, he hurried toward the oasis, only to find a little old Jewish man at a small stand, selling ties.

The Taliban asked, "Do you have water?"

The Jewish man replied, "I have no water. Would you like to buy a tie? They are only $5."

The Taliban shouted, "You Idiot! I do not need an over-priced tie. I need water! I should kill you, but I must find water first!"

"OK," said the little old Jewish man, "It does not matter that you do not want to buy a tie and that you hate me. I will show you that I am bigger than that. If you continue over that hill to the east for about two miles, you will find a lovely restaurant. It has all the ice cold water you need. Shalom."

Cursing, the Taliban staggered away over the hill.

Several hours later he staggered back, almost dead, and said, "You little prick, your brother won't let me in without a tie..."
October 3, 2011
Water You Say
Contributed by Betty Marshall
TEACHER: Donald, what is the chemical formula for water?

DONALD: H I J K L M N O.

TEACHER: What are you talking about?

DONALD: Yesterday you said it's H to O.
#joke
Bad day at the range
A guy is at the driving range having a heck of a day.
Everything thing he tries to hit he tops, balls only going about 20′ and burning worms the whole way. Finally disgusted, he turns to the pro on the range and mutters," If I don't connect with this one, I'm gonna jump in that lake and drown myself!"
Pro looks at him and says" I don't think you can do it."
"Why not" He asks.
Pro says "I don't think you can keep your head down that long!"
Source: GolfJokes.com
#joke
A man was walking on the beach...
A man was walking on the beach one day and he found a bottle half buried in the sand. He decided to open it. Inside was a genie. The genie said," I will grant you three wishes and three wishes only." The man thought about his first wish and decided, "I think I want 1 million dollars transferred to a Swiss bank account. POOF! Next he wished for a Ferrari red in color. POOF! There was the car sitting in front of him. He asked for his final wish, " I wish I was irresistible to women." POOF! He turned into a box of chocolates.
#joke
FLEX WORDLE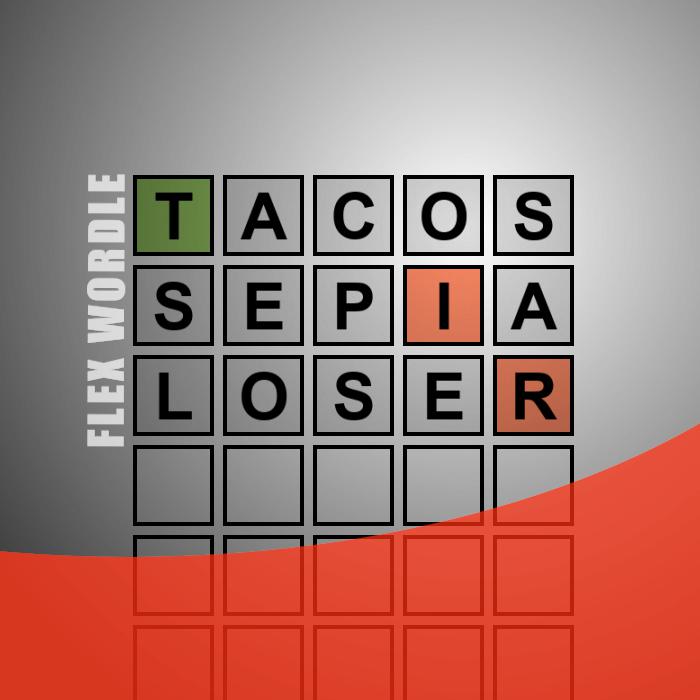 Guess the
WORDLE
in 3 tries. After each guess, the color of the tiles will change to show how close your guess was to the solution.
After five years of toil at a ...
After five years of toil at a Wall Street law firm, an associate was burning the midnight oil at his office.
Suddenly, there was a flash of light, and a tower of smoke burst from the floor. Satan stepped out of the smoke, and addressed the lawyer. "I understand you'd give absolutely anything to make partner," said the devil, "So I've come here to make you an offer. I'll make you a partner, but in return I will take the souls of your wife, your parents, your children, your grandchildren, and all of your friends."
The lawyer looked strangely puzzled, and thought hard for several minutes. Finally, he turned to Satan and asked, "What's the catch?"
Exchange
What do you do with a bachelor who thinks he's God's gift to women?
Exchange him.
Submitted by Calamjo
Edited by Yisman
Texas
At the urging of his doctor, Bill moved to Texas.
After settling in, he met a neighbor who was also an older man.
"Say, is this really a healthy place?"
"It sure is," the man replied.
"When I first arrived here I couldn't say one word. I had hardly any hair on my head. I didn't have the strength to walk across a room and I had to be lifted out of bed."
"That's wonderful!" said Bill. "How long have you been here?"
"I was born here."
A Letter Addressed to God
A letter written in a childish scrawl came to the post office addressed to "God". A postal employee, not knowing exactly what to do with the letter, opened it and read: "Dear God, my name is Jimmy. I am 6 years old. My father is dead and my Mom is having a hard time raising me and my sister. Would you please send us $500?" The postal employee was touched. He showed the letter to his fellow workers and all decided to kick in a few dollars each and send it to the family. They were able to raise $300.A couple of weeks later the same post office received a second letter addressed to God. The boy thanked God for the recent infusion of cash, but ended with this request: "Next time would you send the money directly to us? If you send it through the post office they deduct $200."
#joke
Gabriel Iglesias: The Only Big Friend Argument
When you have nothing but big friends, you never get into arguments -- except one. And that is, who is the biggest? Ill let you know right now, theres only one way to settle this. We all get in a bus and we go to Disney and we get on a roller coaster -- whoever gets the least amount of clicks on the safety bar is the big one.
#joke
A burglar broke into a house o...
A burglar broke into a house one night. He shone his flashlight around looking for valuables, and when he picked up a CD player to place in his sack, a strange, disembodied voice echoed from the dark saying, "Jesus is watching you."
He nearly jumped out of his skin, clicked his flashlight off and froze. When he heard nothing more after a bit, he shook his head, promised himself a vacation after the next big score, then clicked the light back on and began searching more valuables. Just as he pulled the stereo out so he could disconnect the wires, clear as a bell he heard, "Jesus is watching you."
Totally rattled, he shone his light around frantically, looking for the source of the voice. Finally, in the corner of the room, his flashlight beam came to rest on a parrot. "Did you say that?" He hissed at the parrot.
"Yes," the parrot confessed, then squawked, "I'm just trying to warn you."
The burglar relaxed. "Warn me, huh? Who do you think you are any way?"
"Moses," replied the bird.
"Moses," the burglar laughed. "What kind of stupid people would name a parrot 'Moses'?"
The bird promptly answered: "The same kind of people that would name a Rottweiler 'Jesus'!"
#joke
Dad Will Never Say
Top Ten Things You'll Never Hear a Dad Say
10. Well, how 'bout that?... I'm lost! Looks like we'll have to stop and ask for directions.
9. You know Pumpkin, now that you're thirteen, you'll be ready for unchaperoned car dates. Won't that be fun?
8. I noticed that all your friends have a certain "up yours" attitude ... I like that.
7. Here's a credit card and the keys to my new car -- GO CRAZY.
6. What do you mean you wanna play football? Figure skating not good enough for you, son?
5. Your Mother and I are going away for the weekend ... you might want to consider throwing a party.
4. Well, I don't know what's wrong with your car. Probably one of those doo-hickey thingies -- you know -- that makes it run or something. Just have it towed to a mechanic and pay whatever he asks.
3. No son of mine is going to live under this roof without an earring -- now quit your belly-aching, and let's go to the mall.
2. Whaddya wanna go and get a job for? I make plenty of money for you to spend.
1. Father's Day? aahh -- don't worry about that -- it's no big deal.
#joke
Famous Mothers Quotes
MONA LISA'S MOTHER: "After all that money your father and I spent on braces, that's the biggest smile you can give us?"
COLUMBUS' MOTHER: "I don't care what you've discovered, you still could have written!"
MICHELANGELO'S MOTHER: "Can't you paint on walls like other children? Do you have any idea how hard it is to get that stuff off the ceiling?"
NAPOLEON'S MOTHER: "All right, if you aren't hiding your report card inside your jacket, take your hand out of there and show me."
ABRAHAM LINCOLN'S MOTHER: "Again with the stovepipe hat? Can't you just wear a baseball cap like the other kids?"
ALBERT EINSTEIN'S MOTHER: "But it's your senior picture. Can't you do something about your hair? Styling gel, mousse, something…?"
GEORGE WASHINGTON'S MOTHER: "The next time I catch you throwing money across the Potomac, you can kiss your allowance good-bye!"
JONAH'S MOTHER: "That's a nice story. Now tell me where you've really been for the last forty years."
THOMAS EDISON'S MOTHER: "Of course I'm proud that you invented the electric light bulb. Now turn it off and get to bed!"
PAUL REVERE'S MOTHER: "I don't care where you think you have to go, young man, midnight is past your curfew."
#joke
Two guys were riding in a car,...
Two guys were riding in a car, arguing about how to say the name of the city that they were in. One said "Louieville" and the other "Louiseville." They went on arguing and arguing, until they came upon a fast-food restaurant. The one guy goes inside and says to the waitress, "Tell me the name of the place where I am right now really, really, really slowly." The waitress goes, "Bur-ger-King."
#joke
Jamie Lissow: Unrealistic Goals
I think people need to think more before they speak. The other day I was walking along the street, and this gorgeous girl rides by on a bicycle. And the guy in the group ahead of me says, Man, look at her. Wish I could be that bicycle seat. Im like, what? Dont you think thats a little bit of an unrealistic goal? Besides, if youre going for it, why dont you just aim to be the guy thats sleeping with her? Maybe something that doesnt require sorcery.
#joke
Top secret....
You've all heard of the Air Force's ultra-high-security, super- secret base in Nevada, known simply as "Area 51?"
Well, late one afternoon, the Air Force folks out at Area 51 were very surprised to see a Cessna landing at their "secret" base. They immediately impounded the aircraft and hauled the pilot into an interrogation room.
The pilot's story was that he took off from Vegas, got lost, and spotted the Base just as he was about to run out of fuel. The Air Force started a full FBI background check on the pilot and held him overnight during the investigation.
By the next day, they were finally convinced that the pilot really was lost and wasn't a spy. They gassed up his airplane, gave him a terrifying "you-did-not-see-a-base" briefing, complete with threats of spending the rest of his life in prison, told him Vegas was that-a-way on such-and-such a heading, and sent him on his way.
The next day, to the total disbelief of the Air Force, the same Cessna showed up again. Once again, the MP's surrounded the plane...only this time there were two people in the plane.
The same pilot jumped out and said, "Do anything you want to me, but my wife is in the plane and you have to tell her where I was last night!"
#joke
Because he was going to inheri...
Because he was going to inherit a fortune when his sickly widowed father died, Charles decided he needed a woman to enjoy it with. Going to a singles' bar, he spotted a woman whose beauty took his breath away.
"I'm just an ordinary man," he said, walking up to her, "but in just a week or two, my father will die and I'll inherit 20 million dollars and would like to have someone to share it with."
The woman went home with Charles, and the next day she became his stepmother.
Men will never learn.
#joke
Join us on WhatsApp