Jokes of the day for Thursday, 13 October 2011
Funny jokes, funny photo and funny video collected from the internet on Thursday, 13 October 2011
Hilarious jokes-Retiring Accountant
A young accountant spends a week at his new office with the retiring accountant he is replacing. Each and every morning as the more experienced accountant begins the day, he opens his desk drawer, takes out a worn envelope, removes a yellowing sheet of paper, reads it, nods his head, looks around the room with renewed vigor, returns the envelope to the drawer, and then begins his day's work. After he retires, the new accountant can hardly wait to read for himself the message contained in the envelope in the drawer, particularly since he feels so inadequate in replacing the far wiser and more highly esteemed accountant. Surely, he thinks to himself, it must contain the great secret to his success, a wondrous treasure of inspiration and motivation. His fingers tremble anxiously as he removes the mysterious envelope from the drawer and reads the following message: "Debits in the column toward the file cabinet. Credits in the column toward the window."
#joke
A sign posted in a Dentist's o...
A sign posted in a Dentist's office said:

"Please be nice to our dentists. They have fillings too."

Funny video of the day - The Way to Get Free Drinks in The Club
Time waits for no man. Unless ...
Time waits for no man. Unless that man is Chuck Norris.
What Do You Like Best About Me
Contributed by The Florida Dude
I asked the Dudette the other day what she liked best about me....

"Is it my firm, trim, athletic, body? Or, rather, is it my astounding intellect?"

She replied....

"Your sense of humor, dear."
#joke
Spousal photos
Hubby – You always carry my photo in your handbag to the office. Why?
Wife – When there is a problem, no matter how impossible, I look at your picture and the problem disappears.
Hubby – You see, how miraculous and powerful I am for you?
Wife – Yes, I see your picture and say to myself, "What other problem can there be greater than this one?"
Source: AHAJokes.com
#joke
Amazing Talking Cow
A man's car stalled on a country road one morning. When the man got out to fix it, a cow came along and stopped beside him. "Your trouble is probably in the carburetor," said the cow.
Startled, the man jumped back and ran down the road until he met a farmer. The amazed man told the farmer his story.
"Was it a large red cow with a brown spot over the right eye?" asked the farmer. "Yes, yes," the man replied.
"Oh! I wouldn't listen to Bessie," said the farmer. "She doesn't know a thing about cars."
#joke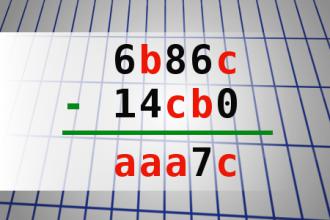 Find number abc
If 6b86c - 14cb0 = aaa7c find number abc. Multiple solutions may exist.
Pukeing drunk
Two notorious drunks are sitting at the bar. One is crying. The other asks what's wrong.
"I've puked all over myself again and my wife is gonna kill me."
The other drunk says "do what I do pal. Explain to your wife that some other drunk puked on you. Put a ten spot in your shirt pocket and tell her that the drunk was sorry and gave you ten dollars to have your clothes cleaned."
"Sounds like a great idea" says drunk number 1.
When he gets home, sure enough his wife is fuming and begins yelling at him about his clothes and how disgusting he is. The drunk starts spinning the lie and says " look for yourself, there's ten bucks in my shirt pocket."
His wife looks in the pocket and finds twenty dollars.
"Wait a minute, I thought you said the guy gave you ten for puking on you," says the wife.
"He did," says the drunk.
"But he shit in my pants too."
#joke
Ways To Get Rid Of Telemarketers
An old one, but a good one…
1. If they want to loan you money, tell them you just filed for Bankruptcy and you could sure use some money.
2. If they start out with, "How are you today?" say, "Why do you want to know?" Or you can say, "I'm so glad you asked, because no one seems to care these days and I have all these problems, my sciatica is acting up, my eyelashes are sore, my dog just died…" When they get try to get back to the sell, just continue your problems.
3. If they say they're Joe Doe from the XYZ Company, ask them to spell their name, then ask them to spell the company name, then ask them where it located. Continue asking them personal questions or questions about their company for as long as necessary.
4. This one works better if you are male: Telemarketer: "Hi, my name is Judy and I'm with Canter and Siegel services…. You: "Hang on a second." (few seconds pause) "Okay, (in a really husky voice) what are you wearing?"
5. Crying out, in well-simulated tones of pleasure and surprise, "Judy!! Is this really you? Oh, my gosh! Judy, how have you BEEN?" Hopefully, this will give Judy a few brief moments of terror as she tries to figure out where the hell she could know you from.
6. Say, "No", over and over. Be sure to vary the sound of each no, and keep an even tempo even as they're trying to speak. This is the most fun if you can keep going until they hang up.
7. If MCI calls trying to get you to sign up with their Family and Friends plan, reply, in a sinister a voice as you can muster, "I don't have any friends…would you be my friend?"
8. If they clean rugs: "Can you get blood out, you can? Well, how about goat blood or HUMAN blood.
9. Let the person go through their spiel, providing minimal but necessary feedback in the form of an occasional "Uh- huh, really, or "That's fascinating." Finally, when they ask you to buy, ask them to marry you. They get all flustered, but just tell them you couldn't give your credit card number to someone that's a complete stranger.
10. Tell them you work for the same company they work for. Example: Telemarketer: "This is Bill from Watertronics." You: "Watertronics!! Hey I work for them too. Where are you calling from?" Telemarketer: "Uh, Dallas, Texas." You: "Great, they have a group there too? How's business/the weather? Too bad the company has a policy against selling to employees! Oh well, see ya."
11. Answer the phone. As soon as you realize it is a telemarketer, set the receiver down, shout or scream, "Oh, my goodness!!!" and then hang up.
12. Tell the Telemarketer you are busy and if they will give you their phone number you will call them back. If they say they are not allow to give out their number, then ask them for their home number and tell them you will call them at home. (This is usually the most effective method of getting rid of Telemarketers)
#joke
I Dare You
At a church meeting, a very wealthy man rose to tell the rest of those present about his Christian faith.
"I'm a millionaire," he said, "and I attribute it all to the rich blessings of God in my life. I remember that turning point in my faith. I had just earned my first dollar and I went to a church meeting that night. The speaker was a missionary who told about his work. I knew that I only had a dollar bill and I had to either give it all to God's work or give nothing at all. So at that moment, I decided to give my whole dollar to God. I believe that God blessed that decision, and that is why I am a rich man today."
When he finished and moved toward his seat, there was an awed silence As he sat down, a little old lady sitting in the same pew leaned over and said to him, "I dare you to do it again."
#joke
A woman was out golfing one da...
A woman was out golfing one day when she hit her ball into the woods. She went into the woods to look for it and found a frog in a trap.
The frog said to her, "If you release me from this trap, I will grant you 3 wishes."
The woman freed the frog and the frog said, "Thank you, but I failed to mention that there was a condition to your wishes - that whatever you wish for, your husband will get 10 times more or better!"
The woman said, "That would be okay," and for her first wish, she wanted to be the most beautiful woman in the world.
The frog warrned her, "You do realize that this wish will also make your husband the most handsome man in the world, an Adonis, that women will flock to."
The woman replied, "That will be okay because I will be the most beautiful woman and he will only have eyes for me."
So, KAZAM - she's the most beautiful woman in the world!
For her second wish, she wanted to be the richest woman in the world.
The frog said, "That will make your husband the richest man in the world, and he will be ten times richer than you."
The woman said, "That will be okay because what is mine is his and what is his is mine."
So, KAZAM she's the richest woman in the world!
The frog inquired about her third wish, and she answered, "I'd like a mild heart attack."
#joke
Gabriel Iglesias: Tear It Up
Im a big boy, but I can get jiggy with it. Ladies, I will go to dance clubs, and I will tear it up hardcore for a good 30 seconds.
Two girlfriends were speeding ...
Two girlfriends were speeding down the highway at well over 90 mph.
"Hey," asked the brunette at the wheel, "see any cops following us?"
The blonde turned around for a long look. "As a matter of fact, I do."
"Fuck!" cursed the brunette. "Are his flashers on?
The blonde turned around again. "Yup...nope...yup...nope....yup....."
A salesman telephone a househo...
A salesman telephone a household, and a four-year-old answered.
Salesman: May I speak to your mother?
Child: She is not here.
Salesman: Well, is anyone else there?
Child: My sister
Salesman: O.K., fine. May I speak to her?
Child: I guess so.
There was a long silence on the other phone. Then;
Child: Hello?
Salesman: It's you. I thought you were going to call your sister.
Child: I did. The trouble is: I can't get her out of the playpen.
#joke
What do you like best about me....
I asked my wife the other day what she liked best about me....
"Is it my firm, trim, athletic, body? Or, rather, is it my astounding intellect?"
She replied....
"Your sense of humor, dear."
A psychiatrist was conducting ...
A psychiatrist was conducting a group therapy session with four young mothers and their small children.
"You all have obsessions," he observed.
To the first mother, he said, "You are obsessed with eating. You've even named your daughter Candy."
He turned to the second Mom. "Your obsession is with money. Again, it manifests itself in your child's name, Penny."
He turns to the third Mom. "Your obsession is alcohol. This too manifests itself in your child's name, Brandy."
At this point, the fourth mother gets up, takes her little boy by the hand and whispers, "Come on, Dick, we're leaving."
#joke
Lengthy sermons...
A pastor, known for his lengthy sermons, noticed a man get up and leave during the middle of his message. The man returned just before the conclusion of the service. Afterwards the pastor asked the man where he had gone.
"I went to get a haircut," was the reply.
"But," said the pastor, "why didn't you do that before the service?"
"Because," the gentleman said, "I didn't need one then."
#joke
A Collection Of Insults
A brief synopsis... When you're at a loss for words but want to tell someone that he or she is stupid, remember some these quips from our collection here at Aha! Jokes.
---
Doesn't have his belt through all the loops.
Doesn't have sixteen annas to the rupee.
Doesn't have the brain power to toast a crouton.
Doesn't have the sense God gave an animal cracker.
Doesn't have two neurons to rub together.
Doesn't just know nothing; doesn't even suspect much.
Doesn't know much, but leads the league in nostril hair. -- Billing
Doesn't know which side the toast is buttered on.
Doesn't put the cross-hairs on the target.
Doesn't quite sample at the Nyquist rate.
Doesn't suffer from ear pressure when flying at altitude.
Donated her body to scientists... Before she was done using it.
Downhill skiing in Iowa.
Driveway doesn't quite reach the garage.
Driving at night with the lights off.
#joke
Kristian Vallee: Disgruntled Student
I had a kid who threatened to kill me one year because I gave him an F. Another teacher caught one of my students writing Kill Mr. Vallee in his weekly planner in the section labeled Weekly Goals and Objectives. And the school was freakin out. They didnt know what to do about it. They kept asking me if I felt threatened, and Im like, Why? This kid hasnt met any goals in his objectives all year.
#joke