Hilarious jokes-Poison Ivy and Harley Quinn
Poison Ivy and Harley Quinn decide to go rob a bank.
"Now, remember the plan," Ivy tells Harley.
"Yeah, yeah, no problem!" She says, and walks into the bank. Ivy waits in the getaway car.
Time passes. Five minutes...ten...Ivy starts getting worried...fifteen...
Suddenly Harley comes rushing out of the bank, dragging a safe behind her all tied up in rope. Behind her, the guard comes running out...with his pants down!
Ivy groans. "Harley, you idiot! I said to tie up the guard and blow the safe! NOT THE OTHER WAY AROUND!!!"

#joke
The grass is always greener on...
The grass is always greener on the other side, unless Chuck Norris has been there. In that case the grass is most likely soaked in blood and tears.
Funny video of the day - Funny Fail compilation November 2011
What does Santa say in Novembe...
What does Santa say in November? Mo Mo Mo.
Things to do @ Wal-Mart w...
Things to do @ Wal-Mart while the significant other is taking his/her sweet time:
1. Look right into the security camera, and use it as a mirror while you pick your nose.
2. Take up an entire aisle in Toys by setting up a full scale battlefield with G. I. Joe's vs. the X-Men.
3. Ask other customers if they have any Grey Poupon.
4. Switch the men's and women's signs on the doors of the restroom.
5. Dart around suspiciously while humming the theme from "Mission Impossible."
6. Set up a "Valet Parking" sign in front of the store.
7. Hide in the clothing racks and when people browse through, say things like "pick me! pick me!!"
8. If the store has a food court, buy a soft drink; explain that you don't get out much, and ask if they can put a little umbrella in it.
#joke
A secretary walked into her bo...
A secretary walked into her boss's office & said, "I'm afraid I've got some bad news for you."
"Why do you always have to give me bad news?" he complained.
"Tell me some good news for once."
"Alright, here's some good news," said the secretary.
"You're not sterile."
#joke
A broom wedding...
Two brooms were hanging in the closet, and after they got to know each other a bit, decided to get married.
The bride broom looked very beautiful in her white dress. The groom broom was handsome and suave in his tuxedo. The wedding was lovely and attended by all the push brooms and dust mops.
After the wedding, at the wedding dinner, the bride broom leaned over and whispered to the groom broom, "We're soon going to have a little whisk broom!"
"Impossible!" said the groom broom, indignantly. "We haven't even swept together yet!!!"
#joke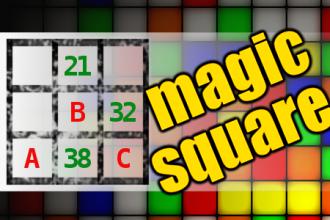 MAGIC SQUARE: Calculate A+B*C
The aim is to place the some numbers from the list (12, 13, 19, 20, 21, 27, 31, 32, 38, 61) into the empty squares and squares marked with A, B an C. Sum of each row and column should be equal. All the numbers of the magic square must be different. Find values for A, B, and C. Solution is A+B*C.
Stuck Under A Bridge
A truck driver was driving along on the freeway. A sign comes up that reads "low bridge ahead." Before he knows it the bridge is right ahead of him and he gets stuck under the bridge.
Cars are backed up for miles.
Finally, a police car comes up. The cop gets out of his car and walks around to the truck driver, puts his hands on his hips and says, "Got stuck, huh?"
The truck driver says, "No, I was delivering this bridge and ran out of gas."
#joke
Hypothetically Speaking
A little boy goes up to his father and asks: "Dad, what's the difference between hypothetical and reality?"
The father replies: "Well son, I could give you the book definitions, but I feel it could be best to show you by example. Go upstairs and ask your mother if she'd have sex with the mailman for $500,000."
The boy goes and asks his mother: "Mom, would you have sex with the mailman for $500,000?" The mother replies: "Hell yes I would!"
The little boy returns to his father: "Dad, she said 'Hell yes I would!'"
The father then says: "Okay, now go and ask your older sister if she'd have sex with her principal for $500,000."
The boy asks his sister: "Would you have sex with your principal for $500,000?" The sister replies: "Hell yes I would!"
He returns to his father: "Dad, she said 'Hell yes I would!'"
The father answers: "Okay son, here's the deal: Hypothetically, we're millionaires, but in reality, we're just living with a couple of whores."
#joke
Tom Papa: Friends Over 30
Ask anybody over 30 -- if they tell you they have more than 10 friends, you know theyre counting co-workers.
The female dormitory will be o...
The female dormitory will be out-of-bounds for all male students, and the male dormitory will be off-limits to the female students.
Anybody caught breaking this rule will be fined $20 the first time.
Anybody caught breaking this rule the second time will be fined $60.
Being caught a third time will incur a hefty fine of $180. Are there any questions?"
At this, a male student in the crowd inquires, "Er... How much for a season pass?"
#joke
Warning: Pun Ahead
Some friars needed to raise more money for books for the school, so they opened up a small florist shop to raise funds.
Since everyone liked to buy flowers from the men of God, a rival florist across town thought the competition was unfair. He asked the good brothers to close down, but they would not. He went back and begged the friars to close. They ignored him.So, the rival florist hired Hugh MacTaggart, the roughest and most vicious thug in town to "persuade" them to close. Hugh beat up the friars and trashed their store, saying he'd be back if they didn't close up shop.
Terrified, they did so, thereby proving that "Only Hugh can prevent florist friars."
#joke
One night, as a couple lay ...
One night, as a couple lay down for bed, the husband gently tapped his wife on the shoulder and started rubbing her arm. His wife turned over and said, "I'm sorry honey, I've got a gynecologist appointment tomorrow and I want to stay fresh." Her husband, rejected, turned over and tried to sleep. A few minutes later, he rolled back over and tapped his wife again. This time he whispered in her ear, "Do you have a dentist appointment tomorrow too?"
#joke
A man was walking down the bea...
A man was walking down the beach when he noticed a cave. He walked in and looked around only to discover a magic lamp buried in the sand.
He rubbed it and a genie came out and said, " You may have 3 wishes but whatever u wish for all the lawyers in the world will get double." The man agreed and said, " i want a million dollers." He got that and the lawyers got 2 million.
Next he said, " i want a ferrari." So he got one and all the lawyers got 2. Next, being his last wish, he took a minute and thought about it carefully.
Finnally he said," Well i've allways wanted to give a kidney."
Business one-liners 46
The value of a program is proportional to the weight of its output.
The workbench is always untidier than last time.
The worse your line is tangled, the better is the fishing around you.
The yoo-hoo you you-hew into the forest is the yoo-hoo you get back.
There are no rules around here. We're trying to accomplish something. - Thomas Edison, remarking about his laboratory
There are no winners in life...only survivors.
There are only two forces that unite men, fear and self-interest...Napoleon
There are three ways to get things done: do it yourself, hire someone to do it, or forbid your kids to do it.
There are two kinds of people who don't say much: those who are quiet and those who talk a lot.
There are two rules for success in life: Rule 1 - Don't tell people everything you know.
There is nothing so small that it can't be blown out of proportion.
#joke
Undercover Detective
A tourist asks a man in uniform, "Are you a policeman?"
"No, I am an undercover detective."
"So why are you in uniform?"
"Today is my day off."
Dear Son,

Your Pa has...
Dear Son,
Your Pa has a new job. The first in 48 years. We are a little better, off now, getting $17.96 every Thursday. So we up and thought we'd do a little fixin' up. We sent to Rosemont and Seasbuck for one of them there bathrooms you hear so much about and it took a plumber to put it in shape.
On one side of the room is a great big long thing, something like the hogs drink out of, only you get in it and wash all over. Over on the other side is a little white thing called a sink, this is for light washing, like face and hands, but over in the other corner we really got something.
There you put one foot in, wash it clean, pull a chain and get fresh water for the other foot. Two lids come with the darn thing and we ain't had any use for them in the bathroom, so I'm using one for a bread board and the other we framed grandmother's picture in.
They were awful nice people to deal with and they sent us a roll of writing paper with it.
Take care of yourself son.
Your Maw
#joke
The loan....
Before going to Europe on business, a man drove his Rolls-Royce to a downtown New York City bank and went in to ask for an immediate loan of $5,000.
The bank officer says the bank will need some kind of security for such a loan. So the businessman hands over the keys to a Rolls-Royce parked on the street in front of the bank. Everything checks out, and the bank agrees to accept the car as collateral for the loan. An employee drives the Rolls into the bank's underground garage and parks it there.
Two weeks later, the businessman returns, repays the $5,000 and the interest, which comes to $15.40. The loan officer says, "We are very happy to have had your business, and this transaction has worked out very nicely, but we are a little puzzled. While you were away, we checked you out and found that you are a multimillionaire. What puzzles us is: why would you bother to borrow $5,000?"
The man smiled. "Where else could I park my Rolls-Royce in Manhattan for two weeks and pay only $15.40?"
#joke