Happy New Year 2021!!
Lady, this vacuum cleaner will...
Lady, this vacuum cleaner will cut your work in half.

Good. I'll take two of them.

Gifts For A Teacher #joke #humor
A Stanford Medical research group advertised for participants in a study of obsessive-compulsive disorder. They were looking for therapy clients who had been diagnosed with this disorder.
The response was gratifying; they got 300 responses the day after the ad came out.
All from the same person.
#joke
Funny video of the day - High Chair Bicycle
Celebrity jokes-Hit with a guitar
Q: What do call it when Eric Clapton hits your car with his guitar?
A: A FENDER BENDER!
In a fight between Batman and ...
In a fight between Batman and Darth Vader, the winner would be Chuck Norris.
Was Helen Keller born without ...
Was Helen Keller born without hearing? Deaf innately not.
This was one of my dad's favor...
This was one of my dad's favorite jokes:
Emmitt Smith died and went to heaven. When he got to the pearly gates, St. Peter was waiting for him and issued Emmitt an invitation to play for the HFL- the heaven football league. Emmitt thought about it for a minute and said, "Sure!"
As they walked out to the field, there was a game in progress. Emmitt was stunned. There were a lot of ex-NFL players out on that field. But what he found to be strange was that the jerseys didn't have any numbers. Instead they had letters on them. So he turned around and questioned St. Peter about the numbers. St. Peter chuckled and told him, "Up here we don't need numbers. The letters stand for the position they are playing, QB is for quarterback, WR is for wide receiver and so on." Emmitt smile and nodded his head. But as he gazed around the sidelines, he got a perplexed look on his face. On the other side of the field, there was a man wearing a jersey that had the letters TL. "St. Peter, as you know, I played football many years with the Dallas Cowboys and I am familiar with all the positions. But in all my years I have never seen the position of TL." St. Peter laughed and said, "Oh yeah, I forgot. That's just God, he likes to pretend that he is Tom Landry."
#joke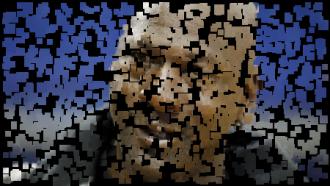 Who is the mysterious person i...
Who is the mysterious person in the picture?
Aries Spears: Not a Millionaire
Im at a very frustrating point in my career because Im not a millionaire. Like, people assume because youre in movies or TV, youre rich. Im not rich, but Im far from broke. Im what you call a thousandaire.
English School
Donald MacDonald from Scotland went to study at an English university and was living in the hall of residence with all the other students there. After he had been there a month, his mother came to visit him (no doubt carrying reinforcements of tatties, salt herring, oatmeal and whisky).
"And how do you find the English students, Donald?" she asked.
"Mother," he replied, "they're such terrible, noisy people. The one on that side keeps banging his head on the wall and won't stop. The one on the other side screams and screams all night."
"Oh Donald! How do you manage to put up with these awful noisy English neighbors?"
"Mother, I do nothing. I just ignore them. I just stay here quietly, playing my bagpipes."
#joke
Absolutely naked woman enters ...
Absolutely naked woman enters the pub. Barman looks at her very attentively.
Woman: Hey, what's up? Haven't you ever seen naked woman?

Barman: Well, yes I have... I'm only interested - where will you take your cash from?
A sweet little boy surprised h...
A sweet little boy surprised his grandmother one morning and brought her a cup of coffee. He made it himself and he was so proud. Anxiously, he waited to hear the verdict. The grandmother in all her life had never had such a bad cup of coffee. As she forced down the last sip, his grandmother noticed three of those little green army guys were in the bottom of the cup.
She asked, "Honey, why would three of your little army men be in the bottom of my cup?"
Her grandson replied, "You know grandma, it's like on TV. 'The best part of waking up is soldiers in your cup'."
#joke
Feline Heaven
A cat dies and goes to Heaven.
God meets him at the gate and says, "You have been a good cat all of these years. Anything you desire is yours, all you have to do is ask."
The cats says, "Well, I lived all my life with a poor family on a farm and had to sleep on hardwood floors."
God says, "Say no more." And instantly, a fluffy pillow appears.
A few days later, 6 mice are killed in a tragic accident and they go to Heaven. God meets them at the gate with the same offer that He made the cat.
The mice said, "All our lives we've had to run. Cats, dogs and even women with brooms have chased us. If we could only have a pair of roller skates, we wouldn't have to run anymore."
God says, "Say no more." And instantly, each mouse is fitted with a beautiful pair of tiny roller skates.
About a week later, God decides to check and see how the cat is doing. The cat is sound asleep on his new pillow. God gently wakes him and asks, "How are you doing? Are you happy here?"
The cat yawns and stretches and says, "Oh, I've never been happier in my life. And those Meals on Wheels you've been sending over are the best!"
#joke
Paper shredder...
The new employee stood before the paper shredder looking confused.
"Need some help?" a secretary asked.
"Yes," he replied. "How does this thing work?"
"Simple," she said, taking the fat report from his hand and feeding it into the shredder.
"Thanks, but where do the copies come out?"
#joke
A man phones home from his off...
A man phones home from his office and says to his wife, "I have the chance to go fishing for a week. It's the opportunity of a lifetime. I have to leave right away. Pack my clothes, my fishing equipment, and my blue silk pajamas. I'll be home in an hour to pick them up."
The man rushes home to grab everything. He hugs his wife, apologizes for the short notice, and then hurries off.
A week later, the man returns and his wife asks, "Did you have a good trip, dear?"
The man replies, "Yep, the fishing was great...but you forgot to pack my blue silk pajamas."
His wife smiles and says, "Oh, no I didn't...I put them in your tackle box.
#joke
The Top Ten Reasons Men Prefer Guns Over Women
#10. You can trade an old 44 for a new 22.
#9. You can keep one gun at home and have another for when you are on the road.
#8. If you admire a friend's gun and tell him so, he will probably let you try it out a few times.
#7. Your primary gun does not mind if you keep another gun for a backup.
#6. Your gun will stay with you even if you run out of ammo.
#5. A gun does not take up a lot of closet space.
#4. Guns function normally every day of the month.
#3. A gun does not ask, "Do these new grips make me look fat?"
#2. A gun does not mind if you go to sleep after you use it.
And the number one reason a gun is favored over a woman...
#1. YOU CAN BUY A SILENCER FOR A GUN
#joke