Whitney Cummings: Problem With Vampires
The problem with vampires is they look like theyre 20, but theyre actually 100 years old. So youll be dating this hot, young guy who grew up in the Great Depression and hates Irish people. And then you take him out to a nightclub, and hes doing the Charleston. Or you think hes cheating on you, so you go through his journal. Youre like, Who the hell is this slut? Harriet Tubman? Who the f**k is that?
#joke
Really funny jokes-Museum of Natural History
Some tourists in the Chicago Museum of Natural History are marveling at the dinosaur bones. One of them asks the guard,"Can you tell me how old the dinosaur bones are?"
The guard replies, "They are three million, four years, and six months old."
"That's an awfully exact number," says the tourist. "How do you know their age so precisely?"
The guard answers, "Well, the dinosaur bones were three million years old when I started working here, and that was four and a half years ago!"
#joke
Funny video of the day - Interspecies True Love
A man appeared before St. Pete...
A man appeared before St. Peter at the pearly gates. "Have you ever done anything of particular merit?" St. Peter asked.
Well, I can think of one thing," the man offered. " On a trip to the Black Hills out in South Dakota, I came upon a gang of high-testosterone bikers, who were threatening a young woman. I directed them to leave her alone, but they wouldn't listen. "So, I approached the largest and most heavily tattooed biker and smacked him on the head, kicked his bike over, ripped out his nose ring, and threw it on the ground." I yelled, "Now, back off!! Or you'll answer to me!"
St. Peter was impressed: "When did this happen?"
"Just a couple of minutes ago."
#joke
Church Etiquette
A Sunday school teacher asked her little children, as they were on the way to church service,
"And why is it necessary to be quiet in church?"
One bright little girl replied, "Because people are sleeping."
Anyone who measures their caff...
Anyone who measures their caffeine intake is a tea-totaller.
This fellow comes to confessio...
This fellow comes to confession. "Father, he said, forgive me for I have sinned."
The priest asked, "What did you do, my son?"
"I lusted," the fellow replied.
"Tell me about it," the priest said.
The fellow then related his story. "Father, I am a deliveryman for UPS. Yesterday I was making a delivery in the affluent section of the city. When I rang the bell, the door opened and there stood the most beautiful woman I have ever seen. She had long blonde hair and eyes like emeralds. She was dressed in a sheer dressing gown that showed her perfect figure. And, she asked if I would like to come in."
"And, what did you do, my son?" asked the priest.
"Father, I did not go in the house but I lusted. Oh, how I lusted," replied the man.
"Your sin has been forgiven," replied the priest. "You will get your reward in heaven, my son."
"A reward, father? What do you think my reward might be?" the fellow asked.
The priest replied, "I think a bale of hay would be appropriate, you jackass."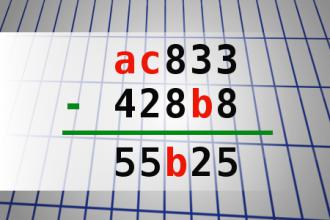 Find number abc
If ac833 - 428b8 = 55b25 find number abc. Multiple solutions may exist.
Chuck Norris can win a game of...
Chuck Norris can win a game of Connect Four in only three moves.
A blonde was hard up for money...
A blonde was hard up for money, so she walked around her neighborhood, trying to find a job.
She met a nice man who said he would give her work. All she had to do was paint his porch white. He gave her a bucket of paint and left.
He walked into his house, laughing. He told his brunette wife what he had done. "Frank, our porch covers half of the house! You're so mean." his wife replied. Three hours later, the blonde went in the house, and gave the bucket of white paint back to the man.
The astonished man handed her a $100 bill, and asked how she finished it so quickly.
"It takes time, but it was easy." was her reply. "Oh, and it's a Ferrari, not a Porsche."
There was a little old lady wh...
There was a little old lady who was nearly blind. She had three sons and they wanted to prove which one was the best son to her.
So son #1 bought her a 15-room mansion thinking this would surely be the best any of them could offer her.
Son #2 bought her a beautiful Mercedes with a chauffeur included thinking he would surely win her approval.
Son #3 had to do something even better than these so he bought her a trained parrot. This parrot had been trained for 15 years to memorize the entire Bible. You could mention any verse in the Bible and the parrot could quote it word for word. How useful his nearly blind mother would find that!
Well, the old lady went to the first son and said, "Son, the house is just gorgeous but it's really much too big for me. I only live in one room, and it's much too large for me to clean and take care of. I really don't need the house, but thank you anyway."
Then she explained to her second son, "Son, the car is beautiful, it has everything you could ever want on it, but I don't drive and I really don't like that driver, so please return the car."
Next, she went to son number three and said, "Son, I just want to thank you for that thoughtful gift. The chicken was small, but delicious."
#joke
Undercover Clergy
A minister, a priest and a rabbi went for a hike one day. It was very hot. They were sweating and exhausted when they came upon a small lake. Since it was fairly secluded, they took off all their clothes and jumped in the water.
Feeling refreshed, the trio decided to pick a few berries while enjoying their "freedom." As they were crossing an open area, who should come along but a group of ladies from town. Unable to get to their clothes in time, the minister and the priest covered their privates and the rabbi covered his face while they ran for cover.After the ladies had left and the men got their clothes back on, the minister and the priest asked the rabbi why he covered his face rather than his privates. The rabbi replied, "I don't know about you, but in MY congregation, it's my face they would recognize."
#joke
Where are we?
Two tourists were driving through Louisiana. As they were approaching Natchitoches, they started arguing about the pronunciation of the town. They argued back and forth until they stopped for lunch. As they stood at the counter, one tourist asked the employee,
"Before we order, could you please settle an argument for us? Would you please pronounce where we are...very slowly?"
The employee leaned over the counter and said, "Burrrrrrrr, gerrrrrrr, Kiiiiing."
#joke
Pupil: Please Miss, would you...
Pupil: Please Miss, would you punish someone for something they didn't do?
Teacher: No, Of course not!!
Pupil: Oh good, Because i haven't done my homework!!!
A woman was out golfing one da...
A woman was out golfing one day when she hit her ball into the woods. She went into the woods to look for it and found a frog in a trap.
The frog said to her, "If you release me from this trap, I will grant you 3 wishes."
The woman freed the frog and the frog said, "Thank you, but I failed to mention that there was a condition to your wishes - that whatever you wish for, your husband will get 10 times more or better!"
The woman said, "That would be okay," and for her first wish, she wanted to be the most beautiful woman in the world.
The frog warrned her, "You do realize that this wish will also make your husband the most handsome man in the world, an Adonis, that women will flock to."
The woman replied, "That will be okay because I will be the most beautiful woman and he will only have eyes for me."
So, KAZAM - she's the most beautiful woman in the world!
For her second wish, she wanted to be the richest woman in the world.
The frog said, "That will make your husband the richest man in the world, and he will be ten times richer than you."
The woman said, "That will be okay because what is mine is his and what is his is mine."
So, KAZAM she's the richest woman in the world!
The frog inquired about her third wish, and she answered, "I'd like a mild heart attack."
#joke
Entrance Exam
A Christian, a Muslim and a Buddhist die and arrive at the Gate of Heaven. An angel (or deva) stops them and asks, "Why do you come here? Can you tell me the reasons why you are allowed to enter Heaven?"
The Christian replies, "My ancestors disobeyed God, and I sinned all my life: I killed, I lied, I cheated my wife and I was greedy. However, Jesus died for me and all my sins are forgiven. So I deserve to enter Heaven."
"OK," replies the Angel. "Sounds good, but I must give you an entrance examination before you can enter." The Christian promptly agrees and the Angel asks him: "How do you spell God?" It is an easy question, and the Christian passes through the Gate.
Next came the Muslim, who says, "I did not do any especially good or evil things during my life but I was very devout. I prayed to God five times a day. So, I too should enter Heaven." The Angel replies, "It sounds OK to me, but I have to give you a test also. How do you spell Allah?" The Muslim passes the test and enters Heaven.
Finally, it is the Buddhist's turn. He tells the Angel, "I've done all the good things in my life and I followed Buddha's five precepts: I never killed, I donated to charities, I meditated every day, and I never cheated my boss nor my customers." The Angel replies, "That is very good, but there are no exceptions. You must pass the entrance test also in order to get in." Thinking that the test should be simple, the Buddhist happily agrees.
The Angel then asks him: "How do you spell Avalokitesvara Bodhisattva?"
#joke
Groups of Americans were trave...
Groups of Americans were traveling by tour bus through
Holland. As they stopped at a cheese farm, a young guide led them
through the process of cheese making, explaining that goat's milk was
used. She showed the group a lovely hillside where many goats were
grazing. 'These' she explained, 'Are the older goats put out to pasture
when they no longer produce.' She then asked, 'What do you do in
America with your old goats?' A spry old gentleman answered, 'They send
us on bus tours!
#joke