Office jokes-Committee Rules
Committee Rules
Never arrive on time, or you will be stamped a beginner.
Don't say anything until the meeting is half over; this stamps you as being wise.
Be as vague as possible; this prevents irritating the others.
When in doubt, suggest that a subcommittee be appointed.
Be the first to move for adjournment; this will make you popular - it's what everyone is waiting for.
#joke
A tourist in Vienna goes throu...
A tourist in Vienna goes through a graveyard and all of a sudden he hears some music. No one is around, so he starts searching for the source. He finally locates the origin and finds it is coming from a grave with a headstone that reads: "Ludwig van Beethoven, 1770-1827."
Then he realizes that the music is the Ninth Symphony, and it is being played backward! Puzzled, he leaves the graveyard and persuades a friend to return with him.
By the time they arrive back at the grave, the music has changed. This time it is the Seventh Symphony, but like the previous piece, it is being played backward. Curious, the men agree to consult a music scholar.
When they return with the expert, the Fifth Symphony is playing, again backward. The expert notices that the symphonies are being played in the reverse order in which they were composed, the 9th, then the 7th, then the 5th.
By the next day the word has spread and a throng has gathered around the grave. They are all listening to the Second Symphony being played backward.
Just then the graveyard's caretaker ambles up to the group. Someone in the group asks him if he has an explanation for the music.
"Don't you get it?" the caretaker says incredulously. "He's decomposing."
#joke
Funny video of the day - AFV Part 129 (NEW!) Americas Funniest Home Videos 2012
A skydiver is enjoying his fre...
A skydiver is enjoying his free-fall, when he realizes that he has reached the altitude where he must open his parachute, he pulls the ripcord, but nothing happens. "No problem," he says to himself, "I still have my emergency chute." So he pulls the ripcord on his emergency parachute, and once again, nothing happens. Now the man begins to panic. "What am I going to do?" He thinks. "I'm a goner."
Just then, he sees a man flying up from the earth toward him. He can't figure out where this man is coming from or what he's doing, but he says to himself, "I hope he can help me. If he can't, then I'm in real trouble." When the man gets close enough to him, the skydiver cups his hands and shouts, "Hey, do you know anything about parachutes?"
The man coming up cups his hands and yells back, "No! Do you know anything about gas stoves?"
#joke
The National Transportation Sa...
The National Transportation Safety Board recently divulged they had covertly funded a project with the US auto makers for the past five years, whereby the auto makers were installing black boxes in four-wheel drive pickup trucks in an effort to determine, in fatal accidents, the circumstances in the last 15 seconds before the crash. They were surprised to find in 47 of the 50 states the last words of drivers in 61.2 percent of fatal crashes were, "Oh, Shit!"
Only the states of South Carolina, West Virginia and Arkansas were different, where over 89.3 percent of the final words were: "Hold my beer and watch this!"
Myq Kaplan: Long Distance Relationship
The best part about dating someone who is overweight is, if its long distance, the distance is slightly less long. And gravity pulls you even closer. So, science really working for you.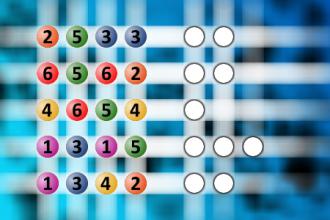 Find the right combination
The computer chose a secret code (sequence of 4 digits from 1 to 6). Your goal is to find that code. Black circles indicate the number of hits on the right spot. White circles indicate the number of hits on the wrong spot.
Dumber Child
There were these two professors arguing over which one had the dumber child. Each professor thought his was the bigger idiot. The first professor yells "There is no way that your son is dumber. My son has to be THE stupidest kid on Earth."
The second professor says "No way, Jose. My son is the bigger idiot."
The first professor says "Let me prove it to you. Hey Jake! (Jake runs to his father) I don't know if I left myself at the office or not. Would you run there and find out. If I'm there then tell me to come home and eat dinner."
The son says, gleefully, "Sure dad" and runs off.
The second professor not to be outdone says "Oh Yea! Watch this! Hey Sam! Come here! (Sam runs to his father) Here are two pennies. With one penny buy a car and the other buy a microwave."
Sam says "OK." and leaves. The professors keep arguing.
Jay and Sam meet in the street. And they start arguing which one has the dumber father. Jay says, "Well listen. My father told me to find out if he is at the office or not. Well all he had to do was to call the office and find out himself. Two minutes and he would be done. That is stupid if I've ever heard it."
Sam says "Well that is nothing. My dad told me to buy a car with one penny and a microwave with the other. But he didn't tell me which penny was for the car and which one is for the microwave."
#joke
Chuck Norris does not go hunti...
Chuck Norris does not go hunting. Chuck Norris goes killing.
Q. Why is it so hard for women...
Q. Why is it so hard for women to find men that are sensitive, caring, and good-looking?
A. Because those men already have boyfriends.
Top 10 Mom Scoldings in the Bible
10. Sampson, get your hands off of that lion, you don't know where it's been!
9. David, I told you not to play in the house with that string! Go practice your harp. We pay good money for those lessons.
8. Abraham! Stop wandering around the countryside and get home for supper!
7. Shadrach, Meschach and Abendeco! I told you, never play with fire!
6. Cain! Get off your brother! You're going to kill him some day!
5. Noah, no you can' t help them. Don't bring home any strays.
4. Gideon! Have you been hiding in that wine press again? Look at my clothes.
3. James and John! No more burping at the dinner table, please. People are going to call you sons of thunder.
2. Judas! Have you been in my purse again?
1. Jesus! Close the door! You think you were born in a barn.
- Joke shared by Beliefnet member Jalus
#joke
Computer humor...
The tech asked her if she was 'running it under Windows.' The woman then responded, 'No, my desk is next to the door. But that is a good point. The man sitting in the cubicle next to me is under a window, and his is working fine.'
**********************************************************************
Tech Support: 'How much free space do you have on your hard drive?'
Customer: 'Well, my wife likes to get up there on that Internet, and she downloaded ten hours of free space. Is that enough?'
**********************************************************************
Tech Support: 'Ok Bob, let's press the control and escape keys at the same time. That brings up a task list in the middle of the screen.
Now type the letter 'P' to bring up the Program Manager.'
Customer: 'I don't have a 'P'.'
Tech Support: 'On your keyboard, Bob.'
Customer: 'What do you mean?'
Tech Support: ''P' on your keyboard, Bob.'
Customer: 'I'm not going to do that!'
******************************************************************
Overheard in a computer shop:
Customer: 'I'd like a mouse pad, please.'
Salesperson: 'Certainly sir, we've got a large variety.'
Customer: 'But will they be compatible with my computer?'
**********************************************************************
I once received a fax with a note on the bottom to fax the document back to the sender when I was finished with it, because he needed to keep it.
**********************************************************************
Customer: 'Can you copy the Internet for me on this diskette?'
**********************************************************************
I work for a local ISP. Frequently we receive phone calls that go something like this:
Customer: 'Hi. Is this the Internet?'
*********************************************************************
Some people pay for their online services with checks made payable to 'The Internet.'
**********************************************************************
Customer: 'So that'll get me connected to the Internet, right?'
Tech Support: 'Yeah.'
Customer: 'And that's the latest version of the Internet, right?
Tech Support: 'Uhh...uh...uh...yeah.'
**********************************************************************
Tech Support: 'All right...now double-click on the File Manager Icon.'
Customer: 'That's why I hate this Windows...because of the icons. I'm a Protestant, and I don't believe in icons.'
Tech Support: 'Well, that's just an industry term sir. I don't believe it was meant to-'
Customer: 'I don't care about any 'Industry Terms'. I don't believe in icons.'
Tech Support: 'Well...why don't you click on the 'little picture' of a file cabinet...is 'little picture' ok?'
Customer: [click]
**********************************************************************
Customer: 'My computer crashed!'
Tech Support: 'It crashed?'
Customer: 'Yeah, it won't let me play my game.'
Tech Support: 'All right, hit Control-Alt-Delete to reboot.'
Customer: 'No, it didn't crash-it crashed.'
Tech Support: 'Huh?'
Customer: 'I crashed my game. That's what I said before. Now it doesn't work.'
(Turned out, the user was playing Lunar Lander and crashed his spaceship.)
Tech Support: 'Click on 'File,' then 'New Game.''
Customer: [pause] 'Wow! How'd you learn how to do that?'
#joke
The Marriage of Miss Bad Breath and Mr. Smelly Feet
A young couple, madly in love, decided to get married. But as the wedding day neared, both grew increasingly nervous over secret problems they had never shared with anyone. Privately, the groom-to-be approached his minister.
"I'm really concerned about this marriage," the young man said.
"Don't you love her?" the pastor asked in surprise.
"Of course," the groom said. "But I have unbelievably smelly feet—and I'm afraid my fiancée won't be able to stand them."
"Oh, is that all?" the pastor replied. "Look, all you need to do is wash your feet twice a day and wear socks all the time."
The groom thought it over and decided it just might work.
Meanwhile, the nervous bride had privately approached the minister's wife. "I'm so worried," she sobbed. "I have really bad breath when I wake up each day!"
"Oh, dear," the pastor's wife replied," everyone has bad breath in the morning. Don't worry about it."
"No, you don't understand," the bride implored. "My morning breath is so awful, my fiancé won't even want to be near me!"
"Well, I have an idea," the pastor's wife said soothingly. "Set your alarm just a few minutes before your husband wakes up. Run to the bathroom, brush your teeth, and gargle with mouthwash before he gets out of bed. The key is not to say anything until you've taken care of your breath."
The bride thought it over and decided it just might work.
In time, a beautiful wedding was held and the bride and groom enjoyed the day without once worrying about their secret problems. For several months they managed to keep their issues to themselves.
They one morning, the husband awoke before dawn to find that one of his socks had come off in the night. Frantic, he searched the bed, afraid of what might happen if he didn't find his sock soon. His bride woke with a start, and, without thinking, blurted out, "What in the world are you doing?"
"Oh, dear!" the young man wailed. "You swallowed my sock!"
From "The Book of Church Jokes," published by Barbour Publishing, Inc., Uhrichsville, Ohio. Copyright 2009. Used by permission of Barbour Publishing, Inc.
#joke
During a terrible storm, all t...
During a terrible storm, all the highway signs were covered with snow. The following spring, the state decided to raise all the signs twelve inches at a cost of six million dollars. "That's an outrageous price!" said a local farmer, "but I guess we're lucky the state handled it instead of the federal government." "Why's that?"
"Because knowing the federal government, they'd decided to lower the highways."
#joke
Mom Would Never Say
Things Mom Would Never Say


"How on earth can you see the TV sitting so far back?"

"Yeah, I used to skip school a lot, too"

"Just leave all the lights on ... it makes the house look more cheery"

"Let me smell that shirt -- Yeah, it's good for another week"

"Go ahead and keep that stray dog, honey. I'll be glad to feed and walk him every day"

"Well, if Timmy's mom says it's OK, that's good enough for me."

"The curfew is just a general time to shoot for. It's not like I'm running a prison around here."

"I don't have a tissue with me ... just use your sleeve"

"Don't bother wearing a jacket - the wind-chill is bound to improve"

#joke
This guy goes into a doctor's ...
This guy goes into a doctor's office. The doctor says, "Oh, Mr. Jones! We have the results of your test. Do you want the bad news first or the very bad news?" The guy shrugs and says, "Well I guess I'll have the bad news first." "Well the bad news is, you have 24 hours to live," the doctor replies. The man is distraught, "24 hours to live? That's horrible! What could be worse than that? What's the VERY bad news?" The doctor folds his hands and sighs, "The very bad news is...I've been trying to contact you since yesterday."
Sperm Count
How does a guy know if he has a high sperm count? If the girl has to chew, before she swallows.