SMS jokes-Talent test
A Question asked in a Talent Test:
If You Are Married To 1 Of The Twin Sisters, How wud You Recognize Your WIFE?
The Best Answer
- Why d Hell Should I recognize?
Why do seagulls fly over the s...
Why do seagulls fly over the sea?

If they flew over the bay, they'd by bagels!

Funny video of the day - COOL VIDEOS OF THE DAY 26-03-2012
Sitting down is something I Sitting down is something I chairish.
Mo Mandel: Just No Way
Have you ever been in the position where youre dating somebody and she tells you shes an anorexic, but theres just no way? I was dating this girl who told me shes an anorexic. I was like, Well, keep working on it because -- did you just start right now?
School Report
Our 15-year-old daughter, Melanie, had to write a report for school about World War II, specifically D-Day and the invasion of Normandy.
"Isn't there a movie about that?" she asked.
I told her there was, but I couldn't think of the name.
Then it came to her, "Oh, I remember! Isn't it something like 'Finding Private Nemo'?"
#joke
Guns don't kill people. Chuck ...
Guns don't kill people. Chuck Norris kills people.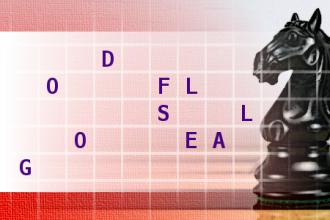 Chess Knight Move
Find the title of movie, using the move of a chess knight. First letter is G. Length of words in solution: 10.
John received a free ticket to...
John received a free ticket to the Super Bowl. Unfortunately. John's seat was in the last row in the corner of the stadium. He was closer to the Goodyear Blimp than the stadium. He noticed an empty seat 10 rows up from the 50-yard line. He decides to make his way to the empty seat. As he sits down he asks the man next to him if anyone is sitting there. The man told him no, it was empty. John is very excited to have a seat like this at a Super Bowl and asks why in the world no one is using it? The man replied that it was his wife's seat but she passed away. He said this was the first Super Bowl that they have not attended together since they were married in 1968. John said that it was really sad and asked if he couldn't find someone, a relative or a close friend to take the seat?
"No" replied the man, "They're at her funeral!"
#joke
Two Irishmen, Patrick & Michae...
Two Irishmen, Patrick & Michael, were adrift in a lifeboat following a dramatic escape from a burning freighter. While rummaging through the boat's provisions, Patrick stumbled across an old lamp. Secretly hoping that a genie would appear, he rubbed the lamp vigorously. To the amazement of Patrick, a genie came forth.r>r> This particular genie, however, stated that he could only deliver one wish, not the standard three. Without giving much thought to the matter, Patrick blurted out, "Make the entire ocean into Guinness!" The genie clapped his hands with a deafening crash, and immediately the entire sea turned into the finest brew ever sampled by mortals. Simultaneously, the genie vanished. r>r> Only the gentle lapping of Guinness on the hull broke the stillness as the two men considered their circumstances. Michael looked disgustedly at Patrick whose wish had been granted. After a long, tension-filled moment, he spoke: r>r> "Nice going Patrick! Now we're going to have to pee in the boat."
#joke
Religious Symbols on the Rocks
Three children were talking about their religions.
"I'm a Catholic," said one, "And our symbol is the cross."
"I'm Jewish," said the second, "And our symbol is the Star of David."
The third child said, "I'm a Unitarian Universalist and our symbol is a candle in a cocktail glass!"
#joke
Silver lining...
There was a married couple who were in a terrible accident. The woman's face was burned severely. The Doctor told the husband they couldn't graft any skin from her body because she was too skinny.
The husband then donated some of his skin ..... however, the only place suitable to the Doctor was from his buttocks.
The husband requested that no one be told of this, because after all this was a very delicate matter!
After the surgery was completed, everyone was astounded at the woman's new beauty. She looked more beautiful than she ever did before!
All her friends and relatives just ranted and raved at her youthful beauty.
She was alone with her husband one day and she wanted to thank him for what he did. She said, "Dear, I just want to thank you for everything you did for me! There is no way I could ever repay you!"
He replied, "Oh, don't worry, Honey, I get plenty of thanks every time your Mother comes over and kisses you on your cheek!!"
Jessi Klein: Sexy Librarian
I have brown hair and I wear these glasses, and I usually have my hair up in a bun, so the other thing guys have often said to me is, Youre like a sexy librarian. Youre like a sexy librarian type. Youre a sexy librarian. And Im like, Ive always thought of myself as more of a bookish whore. Sort of, you know, less of a nerd, more of a slut.
#joke
TWO tigers are walking through...
TWO tigers are walking through the jungle when the one at the back licks the behind of the one in front. The lead tiger turns and says: "Hey, cut it out." The other tiger says sorry and they continue on their way. Five minutes later the rear tiger licks the other's backside again. The front tiger gets angry, but the other tiger just apologises.
After another five minutes, he does it again. The front tiger turns and says: "What is it with you? I told you to stop." The other tiger says: "I really am sorry but I just ate a lawyer and I'm just trying to get the taste out of my mouth."
Never criticize someone unless...
Never criticize someone unless you walk a mile in his or her shoes, and then when you criticize them you'll be a mile away and have their shoes!
The Sklar Brothers: Andrew Dice Clay
Jason Sklar: After Dice performs for an hour its no longer a comedy room. Its a disaster area.
Randy Sklar: I dont want to say it was a disaster area, but FEMA showed up three weeks late.