Be rady for Thanksgiving
, check out our latest
Thanksgiving jokes of 2021
on:
Thanksgiving jokes collection
The boss was concerned that hi...
The boss was concerned that his employees weren't giving him enough respect, so he tried an old fashioned method of persuasion: He brought in a sign that said, "I'm the Boss" and taped it to his door.
After lunch, he noticed someone had taped another note under his. "Your wife called. She wants her sign back!"
#joke
Hilarious jokes-Donald MacDonald
Donald MacDonald from the Isle of Skye was admitted to Oxford University, and was now living in his first year of residence there. His clan was very excited that one of their own had made it into the upper class of education, but were concerned how he'd do in "that strange land." After the first month, his mother came to visit, with reinforcements of whiskey and oatmeal.
"And how do you find the English students, Donald?" she asked.
"Oh, Mother," he replied, shaking his head sadly, "they're such terrible, noisy people: The one on that side keeps banging his head against the wall, and won't stop; and the one on the other side screams and screams and screams away into the night."
"But Donald! How do you manage with those dreadful noisy English neighbors?"
"Well, mother, I just ignore 'em. I just stay here quietly, playing my bagpipes..."
#joke
Funny video of the day - Girls Fails Compilation
Clean St. Patrick's Day Jokes
An Irish priest and a Rabbi get into a car accident. They both get out of their cars and stumble over to the side of the road. The Rabbi says, "Oy vey! What a wreck!" The priest asks him, "Are you all right, Rabbi?" The Rabbi responds, "Just a little shaken." The priest pulls a flask of whiskey from his coat and says, "Here, drink some of this it will calm your nerves." The Rabbi takes the flask and drinks it down and says, "Well, what are we going to tell the police?" "Well," the priest says, "I don't know what your aft' to be tellin' them. But I'll be tellin' them I wasn't the one drinkin'."
Casey and Riley agreed to settle their dispute by a fight, and it was understood that whoever wanted to quit should say "Enough." Casey got Riley down and was hammering him unmercifully when Riley called out several times, "Enough!" As Casey paid no attention, but kept on administering punishment, a bystander said, "Why don't you let him up? Don't you hear him say that he's had enough?" "I do," says Casey, "but he's such a liar, you can't believe him.
#joke
Dumb Instructions
"Warning: May contain nuts." — On a package of peanuts.
"Do not eat." — On a slip of paper in a stereo box, referring to the styrofoam packing.
"Access hole only — not intended for use in lifting box." — On the sides of a shipping carton, just above cut-out openings which one would assume were handholds.
"Warning: May cause drowsiness." — On a bottle of Nytol, a brand of sleeping pills.
"Warning: Misuse may cause injury or death." — Stamped on the metal barrel of a .22 calibre rifle.
"Do not use orally after using rectally." — In the instructions for an electric thermometer.
"Turn off motor before using this product." — On the packaging for a chain saw file, used to sharpen the cutting teeth on the chain.
"Not to be used as a personal flotation device." — On a 6×10 inch inflatable picture frame.
"Do not put in mouth." — On a box of bottle rockets.
"Please remove before driving." — On the back of a cardboard windshield (for keeping the car from getting too hot when parked).
"Remove plastic before eating." — On the wrapper of a Fruit Roll-Up snack.
"Not dishwasher safe." — On a remote control for a TV.
"For lifting purposes only." — On the box for a car jack.
"Do not put lit candles on phone." — On the instructions for a cordless phone.
"Warning! This is not underwear! Do not attempt to put in pants." — On the packaging for a wristwatch.
"Do not recharge, put in backwards, or use." — On a battery.
#joke
1000 Points to Get Into Heaven
A man dies and goes to heaven when Peter meets him at the Pearly Gates. Peter says, "You need 1000 points to make it into heaven. You tell me all of the good things you've done, and I give you a certain number of points for each item. When you reach 1000 points, you get in."
"Okay," the man says, "I was happily married to the same woman for fifty years and never cheated on her, not even in my mind."
"That's wonderful," says Peter, "that's worth two points!"
"Two points?" he says. "Well, I attended church all my life and gave my ten percent tithe faithfully."
"Terrific!" says Peter. "That's definitely worth a point."
"One point? My goodness! Well, what about this: I started a soup kitchen in my city and worked in a shelter for the homeless?"
"Fantastic, that's good for two more points," he says.
"TWO POINTS!" the man cries. "At this rate the only way I can get into heaven is by the grace of God!"
"Now that's what we're looking for! Come on in!"
From "The Book of Church Jokes," published by Barbour Publishing, Inc., Uhrichsville, Ohio. Copyright 2009. Used by permission of Barbour Publishing, Inc.
#joke
Some kids play Kick the can. C...
Some kids play Kick the can. Chuck Norris played Kick the keg.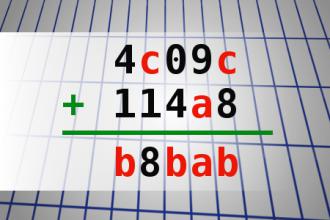 Find number abc
If 4c09c + 114a8 = b8bab find number abc. Multiple solutions may exist.
The boss was concerned that hi...
The boss was concerned that his employees weren't giving him enough respect, so he tried and old fashioned method of persuasion: He brought in a sign that said "I'm the Boss" and taped it to his door. After lunch, he noticed someone had taped another note under his. "Your wife called. She wants her sign back!"
#joke
Adam Ferrara: Easter Lesson
My favorite Catholic holiday is Easter. For those of you that dont know, Easter is the day we celebrate Jesus rising from the grave and coming back to Earth as a rabbit that hides colored eggs.
A man was walking down the bea...
A man was walking down the beach when he noticed a cave. He walked in and looked around only to discover a magic lamp buried in the sand.
He rubbed it and a genie came out and said, " You may have 3 wishes but whatever u wish for all the lawyers in the world will get double." The man agreed and said, " i want a million dollers." He got that and the lawyers got 2 million.
Next he said, " i want a ferrari." So he got one and all the lawyers got 2. Next, being his last wish, he took a minute and thought about it carefully.
Finnally he said," Well i've allways wanted to give a kidney."
The penny....
After tucking their three-year-old child Sammy in for bed one night, his parents heard sobbing coming from his room. Rushing back in, they found him crying hysterically. He managed to tell them that he had swallowed a penny and he was sure he was going to die.
No amount of talking was helping. His father, in an attempt to calm him down, palmed a penny from his pocket and pretended to pull it from Sammy's ear. Sammy was delighted.
In a flash, he snatched it from his father's hand, swallowed it, then cheerfully demanded, "Do it again, Daddy, do it again!!!"
#joke
The children were lined up in ...
The children were lined up in the cafeteria of a Catholic elementary school for lunch.
At the head of the table was a large pile of apples.
The nun made a note, and posted on the apple tray:
"Take only ONE. God is watching."
Moving further along the lunch line, at the other end of the table was a large pile of chocolate chip cookies.
A child had written a note, "Take all you want. God is watching the apples.
#joke
True Story
WANTED FOR ATTEMPTED MURDER (actual AP headline) Linda Burnett, 23, a resident of San Diego, was visiting her inlaws, and while there, she went to a nearby supermarket to pick up some groceries.
Several people noticed her sitting in her car with the windows rolled up and with her eyes closed, with both hands behind the back of her head. One customer who had been at the store for a while became concerned and walked over to the car.
He noticed that Linda's eyes were now open, and she looked very strange. He asked her if she was okay, and Linda replied that she'd been shot in the back of the head, and had been holding her brains in for over an hour.
The man called the paramedics, who broke into the car because the doors were locked and Linda refused to remove her hands from her head. When they finally got in, they found that Linda had a wad of bread dough on the back of her head.
A Pillsbury biscuit canister had exploded from the heat, making a loud noise that sounded like a gunshot, and the wad of dough hit her in the back of her head. When she reached back to find out what it was, she felt the dough and thought it was her brains. She initially passed out, but quickly recovered and tried to hold her brains in for over an hour until someone noticed and came to her aid. And, yes, Linda is a blonde.
Who gets the present....
The father of five children had won a toy at a raffle. He called his kids together to ask which one should have the present.
"Who is the most obedient?" he asked. "Who never talks back to Mother? Who does everything she says?"
Five small voices answered in union. "Okay, Dad. You get the toy."
#joke
Deep heat
A guy walks into a pharmacy and says to the pharmacist, "Listen, I have three girls coming over tonight. I've never had three girls at once, I need something to keep me horny....keep me potent."
The pharmacist reaches under the counter, unlocks the bottom drawer and takes out a small cardboard box marked with a label, "Viagra Extra Strength" and says, "Here, if you eat this, you'll go nuts for twelve hours."
The guy says, "Gimme three boxes."
The next day, the guy walks into the same pharmacy, limps up to the pharmacist and pulls down his pants.
The pharmacist looks in horror as he notices the man's penis is black and blue, and skin is hanging off in some places.
In a paired voice, the man moans out, "Gimme a bottle of Deep Heat."
The pharmacist replies in horror, "You can't put deep heat on that."
The man replies, "No, it's for my arms, the girls didn't show up."
Submitted by Calamjo
Edited by Curtis
#joke
You CAN take it with you?
There once was a rich man who was near death. He was very grieved because he had worked so hard for his money and he wanted to be able to take it with him to heaven. So he began to pray that he might be able to take some of his wealth with him.
An angel hears his plea and appears to him. "Sorry, but you can't take your wealth with you." The man implores the angel to speak to God to see if He might bend the rules.
The man continues to pray that his wealth could follow him. The angel reappears and informs the man that God has decided to allow him to take one suitcase with him. Overjoyed, the man gathers his largest suitcase and fills it with pure gold bars and places it beside his bed.
Soon afterward the man dies and shows up at the Gates of Heaven to greet St. Peter. St. Peter seeing the suitcase says, "Hold on, you can't bring that in here!"
But the man explains to St. Peter that he has permission and asks him to verify his story with the Lord. Sure enough, St. Peter checks and comes back saying, "You're right. You are allowed one carry-on bag, but I'm supposed to check its contents before letting it through."
St. Peter opens the suitcase to inspect the worldly items that the man found too precious to leave behind and exclaims, "You brought pavement?!!!"
#joke