Have a great time for
Christmas
, check out our latest
Christmas jokes of 2021
on:
Christmas jokes collection
Really funny jokes-Menacing
Wayne was returning home from a business trip... bags in hand ... and slowly making his way to his vehicle in the crowded airport garage.
Suddenly a large dark car screeched to a stop in front of Wayne, and the driver pointed menacingly at him. "Get in," the driver ordered. "I'll take you to your car."
Startled, Wayne took a step backward. "Ah ... no thanks," he answered." I can get there myself."
"No," the man barked back as he threw open his passenger side door. "Get In !"
Wayne's eyes now darted around the garage, hoping to find a security guard.
Just then, the driver's face softened ..... "Please," he said, "I've been driving up and down for two hours. I can't find a space to park and I want yours.
#joke
Funny video of the day - Best Fails Of The Week 1 April 2012
"Will you love me when I'm old...
"Will you love me when I'm old and ugly?"
"Darling, of course I do."

Business one-liners 49
Acheson's Rule Of The Bureaucracy: A memorandum is written not to inform the reader, but to protect the writer. - Dean Acheson
Action's Law: Power tends to corrupt; absolute power corrupts absolutely.
Adler's Distinction: Language is all that separates us from the lower animals, and from the bureaucrats.
Advertising Rule: In writing a patent-medicine advertisement, first convince the reader that he has the disease he is reading about; secondly, that it is curable.
Air Force Inertia Axiom: Consistency is always easier to defend than correctness.
Allen's Distinction: The lion and the calf shall lie down together but the calf won't get much sleep. - Woody Allen
Albrecht's Law: Social innovations tend to the level of minimum tolerable well-being.
Alden's Laws: (1) Giving away baby clothes and furniture is the major cause of pregnancy. (2) Always be backlit. (3) Sit down whenever possible.
Andrea's Admonition: Never bestow profanity upon a driver who has wronged you. If you think his window is closed and he can't hear you, it isn't and he can.
Churchill's Commentary on Man: Man will occasionally stumble over the truth, but most of the time he will pick himself up and continue on.
#joke
Shane Mauss: Crazy Expressions
Expressions are crazy. How about the one, What crawled up your ass and died? Thats a strange one; it means a persons in a bad mood or whatever. It doesnt make any sense. I think that one would be in a worse mood if said thing were still alive.
Dumb Instructions
"Warning: May contain nuts." — On a package of peanuts.
"Do not eat." — On a slip of paper in a stereo box, referring to the styrofoam packing.
"Access hole only — not intended for use in lifting box." — On the sides of a shipping carton, just above cut-out openings which one would assume were handholds.
"Warning: May cause drowsiness." — On a bottle of Nytol, a brand of sleeping pills.
"Warning: Misuse may cause injury or death." — Stamped on the metal barrel of a .22 calibre rifle.
"Do not use orally after using rectally." — In the instructions for an electric thermometer.
"Turn off motor before using this product." — On the packaging for a chain saw file, used to sharpen the cutting teeth on the chain.
"Not to be used as a personal flotation device." — On a 6×10 inch inflatable picture frame.
"Do not put in mouth." — On a box of bottle rockets.
"Please remove before driving." — On the back of a cardboard windshield (for keeping the car from getting too hot when parked).
"Remove plastic before eating." — On the wrapper of a Fruit Roll-Up snack.
"Not dishwasher safe." — On a remote control for a TV.
"For lifting purposes only." — On the box for a car jack.
"Do not put lit candles on phone." — On the instructions for a cordless phone.
"Warning! This is not underwear! Do not attempt to put in pants." — On the packaging for a wristwatch.
"Do not recharge, put in backwards, or use." — On a battery.
#joke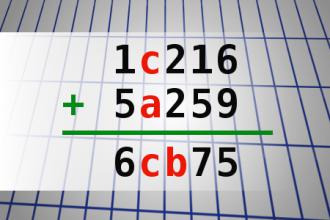 Find number abc
If 1c216 + 5a259 = 6cb75 find number abc. Multiple solutions may exist.
When Chuck Norris plays Monopo...
When Chuck Norris plays Monopoly, it affects the actual world economy.
Recently a teacher, a garbage ...
Recently a teacher, a garbage collector, and a lawyer wound up together at the Pearly Gates. St. Peter informed them that in order to get into Heaven, they would each have to answer one question. St. Peter addressed the teacher and asked, "What was the name of the ship that crashed into the iceberg? They just made a movie about it."
The teacher answered quickly, "That would be the Titanic." St. Peter let him through the gate. St. Peter turned to the garbage man and, figuring Heaven didn't REALLY need all the odors that this guy would bring with him, decided to make the question a little harder: "How many people died on the ship?"
Fortunately for him, the trash man had just seen the movie and answered, "about 1,500." "That's right! You may enter." St. Peter then turned to the lawyer. "Name them."
Who Wants To Be a Millionaire....
A husband and wife are watching "Who Wants To Be a Millionaire," and the husband winks and says, "Honey, let's go upstairs..."
The wife says no, so the husband asks again. Again she says no.
So the husband says, "Is that your final answer?" The wife says yes.
The husband says, "Well, can I phone a friend?"
#joke
Reasonable doubt...
Scene: A court room in Oklahoma where a person is on trial for murder.
There is strong evidence indicating guilt; however, there is no corpse. In the defense's closing statement the lawyer, knowing that his client is guilty and that it looks like he'll probably be convicted, resorts to a clever trick. "Ladies and gentlemen of the jury, I have a surprise for you all," the lawyer says as he looks at his watch. "Within 1 minute, the person presumed dead in this case will walk into this court room," he says and he looks toward the courtroom door.
The jury, somewhat stunned, all look on eagerly. A minute passes. Nothing happens. Finally the lawyer says: 'Actually, I made up the previous statement. But you all looked on with anticipation. I, therefore, put it to you that there is reasonable doubt in this case as to whether anyone was killed and insist that you return a verdict of not guilty."
The jury, clearly confused, retires to deliberate. A very few minutes later, the jury returns and a representative pronounces a verdict of guilty.
"But how?" inquires the lawyer. "You must have had some doubt; I saw all of you stare at the door."
Answers the representative: "Oh, we did look. But your client didn't."
A plus
A college girl was supposed to write a short story in as few words as possible for her English class and the instructions were that it had to include Religion, Sexuality and Mystery.
She was the only one who received an A+ and this is what she wrote:
"Good God, I'm pregnant, I wonder who did it."
Submitted by Curtis
#joke
Did You Make A Donation?
At the United Way in a fairly small town a volunteer worker noticed that the most successful lawyer in the whole town hadn't made a contribution. This guy was making about $600,000 a year so the volunteer thought, "Why not call him up?"
He calls up the lawyer.
"Sir, according to our research you haven't made a contribution to the United Way, would you like to do so?"
The lawyer responds, "A contribution? Does your research show that I have an invalid mother who requires expensive surgery once a year just to stay alive?"
The worker is feeling a bit embarrassed and says, "Well, no sir, I'm..."
"Does your research show that my sister's husband was killed in a car accident? She has three kids and no means of support!"
The worker is feeling quite embarrassed at this point. "I'm terribly sorry..."
"Does your research show that my brother broke his neck on the job and now requires a full time nurse to have any kind of normal life?"
The worker is completely humiliated at this point. "I am sorry sir, please forgive me..."
"The gall of you people! I don't give them anything, so why should I give it to you!"
A motorist caught by a speed c...
A motorist caught by a speed camera received notification of a fine in the mail, plus a picture of his vehicle. Duly impressed, he sent back the notification along with a photo of a $100 note to pay the fine.