Twenty inflexible rules in the office
Twenty inflexible Rules in the office
1. Never challenge the boss. He is always right.
2. If the Boss is mistaken, see rule # 1.
3. Those who work hard always get more work. Others enjoy pay, perks, and promotions.
4. Ph.D. denotes "Pull Him Down". The more capable, hardworking and dedicated you are, the more number of people will be involved in pulling you down.
5. If you are good, you will get a lot of work. If you are very good, you will get out of it.
6. When the Boss talks about improving productivity, he never includes his own self.
7. What you do in not important, what matters is what you say you have done and what you will be doing.
8. A pat on the back is only inches away from a kick in the behind.
9. Don't be indispensable. If you cannot be dispensed with, you cannot be promoted.
10. The more crap you take, the more you are going to get.
11. If at first you don't succeed, try again. Then quit. No use being a damn fool about it.
12. When you don't know what is to be done, walk fast and look concerned.
13. You cannot get work done by following rules.
14. If it weren't for the last minute, nothing would ever get done.
15. A lot can be filed under "Miscellaneous".
16. No matter how much you do, it is never enough.
17. You can do any amount of work provided it isn't the work you are meant to be doing.
18. It is not essential to know your job in order to get promoted.
19. You only need to pretend that you know your job to get promoted.
20. All the blame for any situation can be put on the last person who resigned or was fired.

#joke
Q: Why did the chicken cross t...
Q: Why did the chicken cross the playground?

A: To get to the other slide.

Funny video of the day - water wheelie gone wrong
Ransom
A Yuppie was sent a ransom note saying that he was to bring $50,000 to the 17th hole of the country club at 10 o'clock the next day if he ever wanted to see his wife alive again.
He didn't arrive until almost 12:30. A masked man stepped out from behind some bushes and growled, "What the hell took ya so long ? You're over two hours late."
"Hey ! Give me a break." whined the Yuppie. "I have a 27 handicap."
#joke
I was prescribed bed rest, aft...
I was prescribed bed rest, after I underwent Lay Sick surgery.
Lessons from Comp 4
I recently finished up teaching Comp 4, the computer literacy course here at UNC, during a compressed summer session. Comp 4 is an introductory class that assumes NO knowledge of computers among its students, and believe me when I say that this was often the case. The class was great fun to teach, and one of the facets that made it interesting (day-in and day-out) was the wealth of new knowledge that the students imparted to me on tests and examinations. I thought that I'd share some of these nuggets with you. My comments are in the standard C delimiters (/* and */). *Your* comments are encouraged. Here goes:
Bacchus invented FORTRAN. /* I knew FORTRAN was old, and that it may have been designed under the influence of alcohol, but... */
There are three kinds of program statements: sequence, repetition, and seduction.
There are two types of graphics: vector and rascal. /* Otay... */
Programming languages have specifictions. /* Obviously this student has dealt with a few standards. */
Macs are compatible with each other. /* Imagine the alternative: "What's your Mac's serial number? We'll go back to the warehouse and get your software."
*/
Doctors use computers to create a three demential picture of a person's brain. /* Is this classic, or what? */
One kind of a hostile computer program is a Trojan.
C is a logical programming language. /* */
Heuristics (from the French heure, "hour") limit the amount of time spent executing something. [When using heuristics] it shouldn't take longer than an hour to do something. /* An absolutely terrific "false cognate". */
Having the computer automatically fill in images for animation is called "spleening". /* Derivation: most likely "splines" + "tweening". */
One method of computer security is a phone line. /* She qualified it later by adding, "You have to know the number."
*/
Video games are examples of fault-tolerant systems.
On one test, I gave the students some abbreviations and asked them to tell me what they stood for. You won't believe the creativity of a student in a test situation. For example, one of the abbreviations was "fax", which *really* stands for "facsimile". However, various Comp 4'ers said it stood for: Fiber-optic Aided Xeroxing Frequency Automatic X-rays
/* and my favorite... */
Fast A** Xeroxing
The students also had to hand in term papers, and these were rife with interesting tidbits. I've clipped a few, quoted verbatim:
"The worst thing the Mac has to offer, is that cooperative multitasking is not available to be used."
"... footnotes present an interesting problem, which may be solvable by Hypercad."
/* I assume the last term is the newest rage -- a free-form database for designers. */
"...Linda, a blind girl, was able to attend public school due to the aid of a speaking computer that taught her the basic fundmamentals [sic] of grammar and spelling."
/* Linda may want to lend her computer out... */
"The program is manufactured by Quantel, a Silicon Valley company located in Clearwater, Florida."
/* A *long* valley, as my roommate put it. */
"At the beginning of each season [Edwin] Moses teats himself on computerized weight machines..."
/* Ouch! */
Todd Barry: Book Lights
They sell book lights now, a little spotlight you attach to your book. You know, I actually thought about buying one of these, and then I remembered, I own a lamp.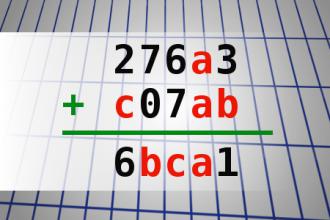 Find number abc
If 276a3 + c07ab = 6bca1 find number abc. Multiple solutions may exist.
Chuck Norris can drink an enti...
Chuck Norris can drink an entire gallon of milk in thirty-seven seconds.
Catholic Definitions
Choir: A group of people whose singing allows the rest of the congregation to lip-sync.
Holy Water: A liquid whose chemical formula is H2OLY.
Hymn: A song of praise, usually sung in a key three octaves higher than that of the congregation's range.
Incense: Holy Smoke!
Jesuits: An order of priests known for their ability to found colleges with good basketball teams.
Jonah: The original "Jaws" story.
Justice: When your children have kids of their own.
Kyrie Eleison: The only Greek words that most Catholics an recognize besides gyros and baklava.
Magi: The most famous trio to attend a baby shower.
Manger:
1- Where Mary gave birth to Jesus because Joseph wasn't covered by an HMO.
2- The Bible's way of showing us that holiday travel has always been rough.
Pew: A medieval torture device still found in Catholic Churches.
Procession: The ceremonial formation at the beginning of Mass, consisting of altar servers, the celebrant, and late parishioners looking for seats.
Recessional: The ceremonial procession at the conclusion of Mass—lead by parishioners trying to beat the crowd to the parking lot.
Relics: People who have been going to Mass for so long that they actually know when to sit, kneel, and stand.
Ten Commandments: The most important Top Ten list not produced by David Letterman.
Ushers: The only people in the parish who don't know the seating capacity of a pew.
This joke was reprinted from "The Book of Catholic Jokes" by Deacon Tom Sheridan, with permission of ACTA Publications. Copyright 2008. All rights reserved.
#joke
A businessman boarded a fli...
A businessman boarded a flight and was lucky enough to be seated next to an absolutely gorgeous woman...... They exchange brief hellos and he noticed she is reading a manual about sexual statistics. He asks her about it and she replied, "This is a very interesting book about sexual statistics. It identifies that American Indians have the longest average penis and Polish men have the biggest average diameter. By the way, my name is Jill. What's yours?" "Tonto Kawalski, nice to meet you."
#joke
This young man was elated when...
This young man was elated when he turned eighteen in a state where curfew is 11:00 p.m. for any one under seventeen years of age. He told his Dad how happy he was that now he could stay out until 3:00 a.m. if he wanted. "Yes you can stay out as late as you want, but the car is under seventeen and it has to be in the garage by eleven." His father said.
#joke
Cinderella...
Cinderella was now 75 years old. After a fulfilling life with the now dead Prince, she happily sat upon her rocking chair, watching the world go by from her front porch, with a cat called Alan for companionship.
One sunny afternoon, out of nowhere, appeared the Fairy Godmother. Cinderella said "Fairy Godmother, what are you doing here after all these years?" The Fairy Godmother replied "Well Cinderella, since you have lived a good, wholesome life since we last met, I have decided to grant you 3 wishes. Is there anything for which your heart still yearns?"
Cinderella is taken aback, overjoyed and after some thoughtful consideration and almost under her breath she uttered her first wish "I wish I was wealthy beyond comprehension."
Instantly, her rocking chair was turned into solid gold. Cinderella was stunned. Alan, her old faithful cat, jumped off her lap and scampered to the edge of the porch, quivering with fear. Cinderella said "Oh thank you, Fairy Godmother". The Fairy Godmother replied "It is the least I can do. What does your heart wish for your second wish?"
Cinderella looked down at her frail body, and said "I wish I was young and full of the beauty of youth again".
At once, her wish having been desired, became reality, and her beautiful youthful visage had returned. Cinderella felt stirrings inside her that had been dormant for years and long forgotten vigour and vitality began to course through her very soul.
Then the Fairy Godmother again spoke "You have one more wish, what shall you have?" Cinderella looked over to the frightened cat in the corner and said "I wish you to transform Alan my old cat into a beautiful and handsome young man".
Magically, Alan suddenly underwent so fundamental a change in his biological make-up, that when complete he stood before her, a boy, so beautiful the like of which she nor the world had ever seen, so fair indeed that birds begun to fall from the sky at his feet. The Fairy Godmother again spoke "Congratulations, Cinderella. Enjoy your new life." And, with a blazing shock of bright blue electricity,she was gone.
For a few eerie moments, Alan and Cinderella looked into each other's eyes. Cinderella sat, breathless, gazing at the most stunningly perfect boy she had ever seen. Then Alan walked over to Cinderella, who sat transfixed in her rocking chair, and held her close in his young muscular arms.
He leant in close to her ear, and into her ear breathed as much as whispered, blowing her golden hair with his warm breath, "I bet you regret having me neutered now, don't you?"
#joke
blonde getting a haircut
A blond was rollerblading with her headphones on. she stopped in the hair salon and asked for a hair cut. she instructed that the hair stylist could not take off the headphones.
the stylist replied "no" so the blond left. she went to a different hair salon and said the same thing. the stylist replied "ok".
after a while, the blond fell asleep in the chair. the stylist took off the headphones and the blonde died on the spot. confused at what happened, the stylist put on the headphones. they were saying, "breath in, breath out"
God offered Chuck Norris the g...
God offered Chuck Norris the gift to fly, which he swiftly declined for super strength roundhouse ability.
During a political debate the ...
During a political debate the politicians were asked to use the word "fascinate" in a sentence.
The first one, a democrat, came up with an answer right away. He said, "One of my hobbies is painting, and no matter if I paint with water colors, or oils I always fascinate people with my work."
The second politician, the republican, said "My grandfather was a magician, and when ever he performed a trick be it with cards, or hoops, or magic balls he would always fascinate us."
The third politician, an independent, said "I don't know if I can do that."
The MC of the debate said, "Go ahead take a couple of minutes then give it your best."
The third politician thought for a while then said, "I know this gal, one time she went to the store to buy a new blouse. The blouse had ten buttons on it, but when she went to button it her boobs were so big that she could only fasten eight."
#joke
Fighting Irish Humor
McNally was taking his first plane ride, flying over the Rocky Mountains. The stewardess handed him a piece of chewing gum. "It's to keep your ears from popping at high altitudes," she explains.
When the plane landed McNally rushed up to her. "Miss," he said,
"I'm meetin' me wife right away. How do I get the gum out of me ears?"

Kelly was standing in front of Cohan's Tavern when he saw a driverless car rolling slowly down the street. He ran to the car, jumped in, and pulled on the emergency brake with a jerk.
Kelly got out and very proudly said to the man approaching him, "I stopped it!"
"I know, you idiot!" said the man. "I was pushing it!"



#joke