A guy walks in to the Barbersh...
A guy walks in to the Barbershop. Barber says, "What will it be today?" Guy says, "well I want it going with my waves on top, faded on one side, plug the other, and just make it all out of shape and messed up." Barber says, "Now why in the world do you want your hair cut like that."
Guy says, "That's how you cut it last time"
#joke
Funny video of the day - Nitro Circus Live - Sydney Highlights
One line jokes-No shortage
There will never be a shortage of Arithmetic teachers as they are always multiplying.

A couple walking in the park n...
A couple walking in the park noticed a young man and woman sitting on a bench, passionately kissing.

"Why don't you do that?" said the wife.

"Honey," replied her husband, "I don't even know that woman!"



Jordan Rubin: German Porno
I got a German porno movie the other day. It has subtitles, which is great cause, otherwise, I would have had no idea what was going on.
Deserted Island
A man and his wife had been stranded on a deserted island for many years. The morning following a bad storm, a new guy washes up on the shore.
The new guy and the wife are VERY attracted to each other right away, but they realize that certain protocols will have to be observed. The husband, oblivious to the new chemistry floating around, is very glad to see the second man there.
"This is wonderful! Now we'll be able to have three people doing 8-hour shifts in the watchtower instead of two people doing 12-hour shifts."
The new man is only too happy to help, and in fact volunteers to do the first shift. He climbs up the tall tower and stands watch, scanning the ocean horizon for any ships. Soon the husband and wife start placing stones in a circle in order to make a fire to cook supper. The new man yells down: "Hey, no screwing!"
They look at each other and yell back: "We're not screwing!"
A few minutes later, they start to put driftwood into the stone circle. Again the new man yells down: "Heeey, no screwing!"
Again they yell back, "We're not screwing!"
Later they are putting palm leaves on the roof of the shack to patch leaks. Once again the new man yells down from high above:
"Hey, I said no screwing!!"
They yell back, "And we said we're not screwing!!"
Finally the shift is over and the new man climbs down from the tower and the husband starts to climb up. By the time he gets half-way up, his wife and the new man are already screwing their brains out. Once at the top, the husband turns around and looks down and says to himself:
"Son-of-a-gun. From up here it DOES look like they're screwing.
#joke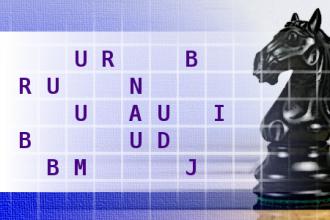 Chess Knight Move
Find the country and its capital city, using the move of a chess knight. First letter is B. Length of words in solution: 7,9.
I wasted millions invent...
I wasted millions inventing the Sleeveless Mouthwash: it was a foolish in-vest mint.
Chuck Norris doesnt wear a wat...
Chuck Norris doesnt wear a watch, HE decides what time it is.
A young woman said to her d...
A young woman said to her doctor, 'You have to help me, I hurt all over.' 'What do you mean?' said the doctor. The woman touched her right knee with her index finger and yelled,'Ow, that hurts.' Then she touched her left cheek and again yelled, 'Ouch! That hurts, too.' Then she touched her right earlobe. 'Ow, even THAT hurts.' The doctor asked the woman, 'Are you a natural blonde?' 'Why yes,' she said. 'I thought so,' said the doctor. 'You have a sprained finger.'
Just like dad...
The bride, upon her engagement, went to her mother and said, "I've found a man just like Dad!"
Her mother replied, "So what you want from me, sympathy?"
First Time in Church
Mrs. Harrison took her three-year-old daughter, Jenny, to church for the first time.
After arriving, the church lights were lowered, and then the choir came down the aisle, carrying lighted candles.There was silence in the entire sanctuary until Jenny's voice was suddenly heard, loudly singing: "Happy birthday to you! Happy birthday to you..."

#joke
Chuck Norris sleeps with a pil...
Chuck Norris sleeps with a pillow under his gun.
AOL Support Call
AOL: America Online, this is Sue speaking.
Caller: Hi, I have some questions about American Online
before I join.
AOL: Okay, ma'am, what's your question?
Caller: Well, some of my friends who have AOL say they get
something called "cybersex". Does this cost extra?
AOL: :::quiet laugh in the background::: Well ma'am... I
don't know how to explain this, but cybersex is not part of
America Online.
Caller: Oh really? My friends said they got it from AOL.
AOL: Well it's something members typically do when they go
to a chat room.
Caller: Hmmmm . . . I don't understand, what is cybersex??
AOL: I'm sorry, I really don't know how to explain it.
Caller: Hmmm . . . well, have you ever had cybersex?
AOL: Ma'am, I don't think that's an appropriate question to
be asking me. Is there anything else you need?
Caller: Sorry, like I said I don't even know what it is.
AOL: That's okay ma'am, anything else?
Caller: Yes, I have one more question.
AOL: Go ahead . . .
Caller: What are you wearing?
AOL:
#joke
Talking Dog For Sale
This guy sees a sign in front of a house "Talking Dog for Sale." He rings the bell and the owner tells him the dog is in the back yard. The guy goes into the back yard and sees a mutt sitting there."You talk?" he asks."Yep," the mutt replies."So, what's your story?"The mutt looks up and says "Well, I discovered this gift pretty young and I wanted to help the government, so I told the CIA about my gift, and in no time they had me jetting from country to country, sitting in rooms with spies and world leader, cause no one figured a dog would be eavesdropping. I was one of their most valuable spies eight years running. The jetting around really tired me out, and I knew I wasn't getting any younger and I wanted to settle down. So I signed up for a job at the airport to do some undercover security work, mostly wandering near suspicious characters and listening in. I uncovered some incredible dealings there and was awarded a batch of medals.Had a wife, a mess of puppies, and now I'm just retired."The guy is amazed. He goes back in and asks the owner what hewants for the dog. The owner says "Ten dollars." The guy says he'll buy him but asks the owner, "This dog is amazing. Why on earth are you selling him?" The owner replies, "He's such a fucking liar."
#joke
Diaper change...
After a young couple brought their new baby home, the wife suggested that her husband should try his hand at changing diapers.
"I'm busy," he said, "I'll do the next one."
The next time came around and she asked again. The husband looked puzzled, "Oh! I didn't mean the next diaper. I meant the next baby...!"
#joke