Really funny jokes- Classified classics
A compilation of hilarious classified classics!!!
** A superb and economical restaurant. Fine food, expertly served by waitresses in appetizing forms.
** No matter what your topcoat is made of, this miracle spray will make it really repellent.
** Sale! Sale! An antique desk suitable for lady with thick legs and large drawers.
** We don't tear your clothing with machinery. We do it carefully by hand.
** Great chance to have your ears pierced and get an extra pair to take home, too.
** Toaster: A gift that every member of the family appreciates. Automatically burns toast.
** Dinner Special - Turkey $2.75; Chicken or Beef $2.50; Children $2.00.
** Have several very old dresses from grandmother in beautiful condition.
#joke
A guy goes to a girl's house f...
A guy goes to a girl's house for the first time, and she shows him into the living room. She excuses herself to go to the kitchen to make them a few drinks, and as he's standing there alone, he notices a cute little vase on the mantel.
He picks it up, and as he's looking at it, she walks back in. He says "What's this?"
She says, "Oh, my father's ashes are in there."
He goes, "Geez...oooh....I..."
She says, "Yeah, he's too lazy to go to the kitchen to get an ashtray."
#joke
Funny video of the day - Adorable Hamster gets Shot and pretends to be dead
When ghosts go camping, they s...
When ghosts go camping, they sit around the fire and tell Chuck Norris stories.
My friend said he used to go t...
My friend said he used to go to strip clubs. He has fondle mammaries of that time.
Psychologists have discovered ...
Psychologists have discovered that the manner in which people eat Oreo cookies provides great insight into their personalities. Choose which method best describes your favorite method of eating Oreos:
1. The whole thing all at once.
2. One bite at a time
3. Slow and methodical nibbles examining the results of each bite afterwards.
4. In little feverous nibbles.
5. Dunked in some liquid (milk, coffee...).
6. Twisted apart, the inside, then the cookie.
7. Twisted apart, the inside, and toss the cookie.
8. Just the cookie, not the inside.
9. I just like to lick them, not eat them.
10.I don't have a favorite way because I don't like Oreos.
Your Personality:
1. The whole thing:
This means you consume life with abandon, you are fun to be with, exciting, carefree with some hint of recklessness. You are totally irresponsible. No one should trust you with his or her children.
2. One bite at a time:
You are lucky to be one of the 5.4 billion other people who eat their Oreos this very same way. Just like them, you lack imagination, but that's okay, not to worry, you're normal.
3. Slow and Methodical:
You follow the rules. You're very tidy and orderly. You're very meticulous in every detail with every thing you do to the point of being anal retentive and irritating to others. Stay out of the fast lane if you're only going to go the speed limit.
4. Feverous Nibbles:
Your boss likes you because you get your work done quickly. You always have a million things to do and never enough time to do them. Mental breakdowns and suicides run in your family. Valium and Ritalin would do you good.
5. Dunked:
Every one likes you because you are always up beat. You like to sugar coat unpleasant experiences and rationalize bad situations into good ones. You are in total denial about the shambles you call a life. You have a propensity towards narcotic addiction.
6. Twisted apart, the inside, and then the cookie:
You have a highly curious nature. You take pleasure in breaking things apart to find out how they work, though not always able to put them back together, so you destroy all the evidence of your activities. You deny your involvement when things go wrong. You are a compulsive liar and exhibit deviant, if not criminal, behavior.
7. Twisted apart, the inside, and then toss the cookie:
You are good at business and take risk that pay off. You take what you want and throw the rest away. You are greedy, selfish, mean, and lack feelings for others. You should be ashamed of yourself. But that's ok, you don't care, you got yours.
8. Just the cookie, not the inside:
You enjoy pain.
9. I just like to lick them, not eat them:
Stay away from small furry animals and seek professional medical help - immediately.
10. I don't have a favorite way, I don't like Oreos:
You probably come from a rich family, and like to wear nice things, and go to upscale restaurants. You are particular and fussy about the things you buy, own, and wear. Things have to be just right. You like to be pampered. You are a prissy.
#joke
Two Lions
Once upon a time, long, long ago there were two unique lions in the jungles of Africa. Both, it seems, had human-like qualities that made them claim territory, daring the other to cross over the line. Strange as it seems, the boundary between their turf was a well traveled trail through the jungle.
All day every day, both lions lay in the brush staring across the trail at their compatriot, daring him to cross into their territory.
The local natives knew of this animal feud, but all this was unbeknown to African Jack, a well-known and must publicized guide who did not speak Lionese and was unfamiliar with the territory.
While he was leading a safari through the jungle, walking all day and cutting vines with their machetes, all this constant hacking brush had them worn to a frazzle. After seeing two or three of his safari drop from exhaustion, African Jack decided to stop on the trail between these two lions and camp for the night.
After sitting up camp, eating, and getting his safari settled African Jack sat on a stump and began reading. While he was busily engaged in the printed page, the two lions, simultaneously, pounced on African Jack and ate him on the spot.
When the 6 o'clock news heard of the tragedy, they reported, "African Jack killed this evening. The motive is unclear, but it is reported he was reading between the lions."
#joke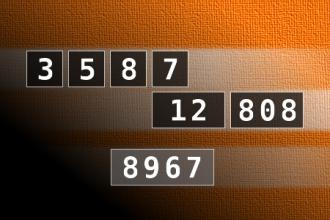 Calculate the number 8967
NUMBERMANIA: Calculate the number 8967 using numbers [3, 5, 8, 7, 12, 808] and basic arithmetic operations (+, -, *, /). Each of the numbers can be used only once.
Nick Kroll: Same Perfume
My mother and my girlfriend are wearing the same perfume, which is weird because, all of a sudden, Im attracted to my girlfriend.
Q. Why is it so hard for women...
Q. Why is it so hard for women to find men that are sensitive, caring, and good-looking?
A. Because those men already have boyfriends.
New savings account...
Mother decided that 10-year-old Cathy should get something 'practical' for her birthday.
"Suppose we open a savings account for you?" mother suggested. Cathy was delighted.
"It's your account, Darling," mother said as they arrived at the bank, "so you fill out the application."
Cathy was doing fine until she came to the space for 'Name of your former bank.' After a slight hesitation, she put down, 'Piggy.'
#joke
Burglar and an Elderly Woman
An elderly woman had just returned to her home from an evening of church services when she was startled by an intruder. She caught the man in the act of robbing her home of its valuables and yelled, "Stop! Acts 2:38!" (Repent and be baptized, in the name of Jesus Christ so that your sins may be forgiven.)
The burglar stopped in his tracks. The woman calmly called the police and explained what she had done.
As the officer cuffed the man to take him in, he asked the burglar, "Why did you just stand there? All the old lady did was yell a scripture to you."
"Scripture?" replied the burglar. "She said she had an ax and two 38's!"
#joke
Behind every successful man, t...
Behind every successful man, there is a woman. Behind every dead man, there is Chuck Norris.
Can I take his place?
An attorney telephoned the governor just after midnight, insisting that he talk to him regarding a matter of utmost urgency.
An aide eventually agreed to wake up the governor.
"So, what is it?" grumbled the governor.
"Judge Garber has just died" said the attorney, "and I want to take his place."
The governor replied: "Well, it's OK with me if it's OK with the undertaker."
#joke
Will Of Americans
Tired of his low approval ratings, President Clinton called up the head of the CIA and said, "I want your very best agent over here first thing in the morning."
Moments later, a call went out to the Middle East, and the most gifted American agent was headed back to Washington.
The next morning, the agent was escorted into the Oval Office. The President said, "I hear you're the best in the business. I can't trust what my staff tells me.
So I want you to visit every state in the union, every major city. I want you to stay out on the road until you have an idea of what the vast majority of Americans would like to see happen in the Oval Office. Understand?"
The CIA agent responded affirmatively. He left the White House and wasn't heard from for nearly four months. Finally, he showed up early on a Saturday morning, and the President saw him immediately.
The President said, "Did you find out what an overwhelming majority of Americans want done here in this office?"
"Yes, sir."
"Well, then, express the will of the people," Clinton ordered.
So the agent stood up, pulled out a gun, and shot him.
#joke
A lady about 8 months pregnant...
A lady about 8 months pregnant got on a bus. She noticed the man opposite her was smiling at her. She immediately moved to another seat. This time the smile turned into a grin, so she moved again. The man seemed more amused when on the fourth move, the man burst out laughing, she complained to the driver and he had the man arrested. The case came up in court. The judge asked the man (about 20 years old) what he had to say for himself.
The man replied, "Well your Honor, it was like this: When the lady got on the bus, I couldn't help but notice her condition. She sat under a sweets sign that said: "The Double Mint Twins are Coming" and I grinned. Then she moved and sat under a sign that said: "Logan's Liniment will reduce the swelling", and I had to smile. Then she placed herself under a deodorant sign that said, "William's Big Stick Did the Trick", and I could hardly contain myself. BUT, your Honor, when she moved the fourth time and sat under a sign that said, "Goodyear Rubber could have prevented this Accident".. I just lost it."
#joke
Princess & a frog
Once upon a time, in a land far away, a beautiful, independent, self-assured princess happened upon a frog as she sat contemplating ecological issues on the shores of an
unpolluted pond in a verdant meadow near her castle.
The frog hopped into the princess' lap and said, "Elegant lady, I was once a handsome prince until an evil witch cast a spell upon me."
"One kiss from you, however, and I will turn back into the dapper, young Prince that I am, and then my sweet, we can marry and setup housekeeping in yon castle with my mother, where you can prepare my meals, clean my
clothes, bear my children, and forever feel grateful and happy doing so."
That night, on a meal of lightly sauteed frogs legs seasoned in a white wine and onion cream sauce, she chuckled to herself and thought, "I don't fu#ken think so!"
#joke
Join us on WhatsApp