Clean jokes-Bald eagle
Jack: How will you recognize a bald eagle?
Jill: All his feathers will be combed over to one side.
Tired of having to balance his...
Tired of having to balance his wife Lucy's checkbook, Bob made a deal with her; he would only look at it after she had spent a few hours trying to wrestle it into shape. Only then would he lend his expertise.
The following night, after spending hours poring over stubs and figures, the woman said proudly, "There! I've done it! I made it balance!"
Impressed, Bob came over to take a look.
"Let's see … mortgage 550.00…electricity 70.50…phone 35.00." His brow wrinkled as he read the last entry. "It says here ESP, 615.00. What the heck is that?"
"Oh," she said, "That means, Error Some Place."
#joke
Funny video of the day - English Bulldog Wants Inside...
Chuck Norris knows Victoria's ...
Chuck Norris knows Victoria's Secret.
I just learned how to fart. I&...
I just learned how to fart. I'm a do it your sulfur.
One day, a Mechanical Engineer...
One day, a Mechanical Engineer, Electrical Engineer, Chemical Engineer and Computer Engineer were driving down the street in the same car. All of a sudden, the car broke down. 
The Mechanical Engineer said, "I think a rod broke." 
The Chemical Engineer said, "The way it sputtered at the end, I don't think it's getting gas." 
The Electrical Engineer said, "I think there was a spark and something is wrong with the electrical system." 
All three turned to the computer engineer and said, "What do you think?" 
The Computer Engineer said, "I think we should all get out and get back in."
#joke
Two Lions
Once upon a time, long, long ago there were two unique lions in the jungles of Africa. Both, it seems, had human-like qualities that made them claim territory, daring the other to cross over the line. Strange as it seems, the boundary between their turf was a well traveled trail through the jungle.
All day every day, both lions lay in the brush staring across the trail at their compatriot, daring him to cross into their territory.
The local natives knew of this animal feud, but all this was unbeknown to African Jack, a well-known and must publicized guide who did not speak Lionese and was unfamiliar with the territory.
While he was leading a safari through the jungle, walking all day and cutting vines with their machetes, all this constant hacking brush had them worn to a frazzle. After seeing two or three of his safari drop from exhaustion, African Jack decided to stop on the trail between these two lions and camp for the night.
After sitting up camp, eating, and getting his safari settled African Jack sat on a stump and began reading. While he was busily engaged in the printed page, the two lions, simultaneously, pounced on African Jack and ate him on the spot.
When the 6 o'clock news heard of the tragedy, they reported, "African Jack killed this evening. The motive is unclear, but it is reported he was reading between the lions."
#joke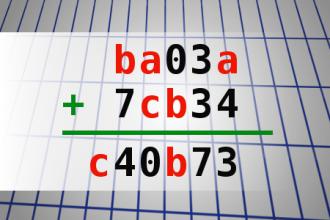 Find number abc
If ba03a + 7cb34 = c40b73 find number abc. Multiple solutions may exist.
You might be a redneck if ...
You might be a redneck if...
You think you are an entrepreneur because of the "Dirt for Sale" sign in the front yard.
You're still scalping tickets after the concert is over.
You don't think Jeff's jokes are funny.
Your house has a kickstand.
You drive around a parking lot for fun.
Your girlfriend has ever called YOUR parents "Ma and Pa".
You have to duct tape your gloves on.
You've ever pruned your trees with a shotgun.
Someone says they spotted Bigfoot and you go buy tickets to the tractor pull.
You think that Marlboro is a cologne.
#joke
A funeral service is being hel...
A funeral service is being held for a woman who has just passed away. At the end of the service the pall bearers are carrying the casket out when they accidentally bump into a wall, jarring the casket. They hear a faint moan.
They open the casket to find that the woman is actually alive. She lives for ten more years and then dies. A ceremony is again held at the same church and at the end of the ceremony the pall bearers are again carrying out the casket. As they are walking the husband cries out,
"WATCH OUT FOR THE WALL"
#joke
Hot Horseradish
A minister who was very fond of pure, hot horseradish always kept a bottle of it on his dining room table. Once, at dinner, he offered some to a guest, who took a big spoonful.The guest let out a huge gasp. When he was finally able to speak, he choked out, "I've heard many ministers preach hellfire, but you are the first one I've met who passes out a sample of it."

#joke
Jury selection...
An important and very well publicized murder trial was soon to begin. In preparation for the trial, the tiresome jury selection process took place, each side hotly contesting and dismissing potential jurors.
One prospective juror, Dan O'Keefe, was called for his question session.
He was asked, "Property holder?"
Dan replied, "Yes, I am, Your Honor."
Then he was asked, "Married or single?"
Dan responded, "Married for twenty years, Your Honor."
Then the judge asked, "Formed or expressed an opinion?"
Dan stated with certainty, "Not in twenty years, Your Honor."
#joke
Writing letters to son
The following is supposedly a true story. To be included, besides being true, the story is most likely strange, weird, surprising, or funny.
One student fell into a cycle of classes, studying, working and sleeping.
Didn't realize how long he had neglected writing home until he received the following note:
"Dear Son, Your mother and I enjoyed your last letter. Of course, we were much younger then, and more impressionable. Love, Dad."
#joke
You Might Be A Redneck If 50
You might be a redneck if...
You think cur is a breed of dog.
People hear your car long before they see it.
Your four-year-old is a member of the NRA.
Your satellite dish payment delays buying school clothes for the kids.
Your most expensive shoes have numbers on the heels.
Your wife has ever burned out an electric razor.
Your birth announcement included the word "rug rat".
You've ever hitchhiked naked.
You're turned on by a woman who can field dress a deer.
Your wife keeps a can of Vienna sausage in her purse.
#joke
Dan St. Germain: Video Game Nuptials
A friend of mine had a Super Mario Brothers-themed wedding two years ago. Then, a year after that, he had a regular-themed divorce.
The First Law of Thermodynamic...
The First Law of Thermodynamics states that energy can neither be created nor destroyed... unless it meets Chuck Norris.