Be rady for Thanksgiving
, check out our latest
Thanksgiving jokes of 2021
on:
Thanksgiving jokes collection
Hilarious Lawyer jokes
Lance, the lawyer: Have you lived in this town all your life?
Vinnie, the witness
: Not yet.
----

Lance, the lawyer: Any suggestions as to what prevented this from being a murder trial instead of an attempted murder trial?

Vinnie, the witness: The victim lived.

----
Lance, the lawyer: Are you qualified to give a urine sample?

Vinnie, the witness
: Yes, I have been since early childhood.

----

Lance, the lawyer: Did you tell your lawyer that your husband had offered you indignities?
Vinnie, the witness
: He didn't offer me anything; he just said I could have the furniture.
A Sunday school teacher was di...
A Sunday school teacher was discussing the Ten Commandments with her five and six year olds. After explaining the commandment to "honor thy father and thy mother," she asked, "Is there a commandment that teaches us how to treat our brothers and sisters?"
Without missing a beat one little boy answered, "Thou shall not kill."
#joke
Funny video of the day - Le Zap de Spi0n no119
I drink a lot, on Thur...
I drink a lot, on Thursdays.
Maurice an 82 year-old man wen...
Maurice an 82 year-old man went to the doctor for his physical.
A few days later the doctor saw Maurice walking down the street with a gorgeous young lady on his arm.
A couple of days later do doctor spoke to Maurice and said, "You're really dong great, aren't you?"
Maurice replied, "Just doing what you said, Doc: "Get a hot mamma and be cheerful."
The doctor said, "I did not say that. I said, "You got a heart murmur. Be careful."
Trivial Pursuit
A blonde was playing Trivial Pursuit one night. When it was her turn, she rolled the dice and she landed on "Science & Nature".
Her question was, "If you are in a vacuum and someone calls your name, can you hear it?
She thought for some time and then asked, "Is it on or off?"
Sheng Wang: Man With a Comb Over
If you can show me a man with a comb over, I can show you a man who thinks that by crushing a bag of chips, you make more chips.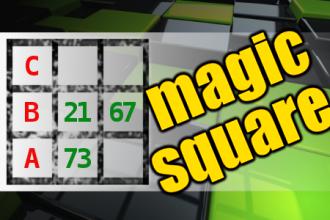 MAGIC SQUARE: Calculate A-B-C
The aim is to place the some numbers from the list (5, 8, 11, 18, 21, 24, 31, 67, 70, 73, 84, 95) into the empty squares and squares marked with A, B an C. Sum of each row and column should be equal. All the numbers of the magic square must be different. Find values for A, B, and C. Solution is A-B-C.
Two Lions
Once upon a time, long, long ago there were two unique lions in the jungles of Africa. Both, it seems, had human-like qualities that made them claim territory, daring the other to cross over the line. Strange as it seems, the boundary between their turf was a well traveled trail through the jungle.
All day every day, both lions lay in the brush staring across the trail at their compatriot, daring him to cross into their territory.
The local natives knew of this animal feud, but all this was unbeknown to African Jack, a well-known and must publicized guide who did not speak Lionese and was unfamiliar with the territory.
While he was leading a safari through the jungle, walking all day and cutting vines with their machetes, all this constant hacking brush had them worn to a frazzle. After seeing two or three of his safari drop from exhaustion, African Jack decided to stop on the trail between these two lions and camp for the night.
After sitting up camp, eating, and getting his safari settled African Jack sat on a stump and began reading. While he was busily engaged in the printed page, the two lions, simultaneously, pounced on African Jack and ate him on the spot.
When the 6 o'clock news heard of the tragedy, they reported, "African Jack killed this evening. The motive is unclear, but it is reported he was reading between the lions."
#joke
God offered Chuck Norris the g...
God offered Chuck Norris the gift to fly, which he swiftly declined for super strength roundhouse ability.
Leaves of the Book
A little boy opened the big Bible. He was fascinated as he fingered through the old pages. Suddenly, something fell out of the Bible. He picked up the object and looked at it. What he saw was an old leaf that had been pressed in between the pages. "Mama, look what I found!" the boy called out.
"What have you got there, dear?"
With astonishment in the young boy's voice, he answered, "I think it's Adam's underwear!"
#joke
Sherlock Holmes and Dr. Watson
Sherlock Holmes and Dr. Watson go on a camping trip, set up their tent, and fall asleep.
Some hours later, Holmes wakes his faithful friend. "Watson, look up at the sky and tell me what you see."
Watson replies, "I see millions of stars."
"What does that tell you?"
Watson ponders for a minute. "Astronomically speaking, it tells me that there are millions of galaxies and potentially billions of planets. Astrologically, it tells me that Saturn is in Leo. Timewise, it appears to be approximately a quarter past three. Theologically, it's evident the Lord is all-powerful and we are small and insignificant. Meteorologically, it seems we will have a beautiful day tomorrow. What does it tell you?"
Holmes is silent for a moment, then speaks. "Watson, you idiot, someone has stolen our tent."
#joke
Free meat....
It was many years ago since the embarrassing day when a young woman, with a baby in her arms, entered his butcher shop and confronted the butcher with the news that the baby was his and asked what was he going to do about it?
Finally he offered to provide her with free meat until the boy was 16. She agreed.
He had been counting the years off on his calender, and one day the teenager who had been collecting the meat each week, came into the shop and said, "I'll be 16 tomorrow."
"I know," said the butcher with a smile, "I've been counting too, tell your mother, when you take this parcel of meat home, that it is the last free meat she'll get, and watch the expression on her face."
When the boy arrived home he told his mother. The woman nodded and said, "Son, go back to the butcher and tell him I have also had free bread, free milk, and free groceries for the last 16 years and watch the expression on HIS face!"
#joke
The Shopping Criminal
It was Christmas and the judge was in a merry mood as he asked the prisoner,"What are you charged with?"
"Doing my Christmas shopping early", replied the defendant.
"That's no offense", said the judge. "How early were you doing this shopping?"
"Before the store opened."
Dan St. Germain: Too Lazy to Kill
I could never be a serial killer because Im way too lazy to follow a pattern. I used to murder women that look like Grandmother but now -- mostly delivery men.
The sun sets from fear of Chuc...
The sun sets from fear of Chuck Norris.