Short funny jokes-Afford
The economy is so bad, if you go to a McDonald's joint now, the counter person is most likely to ask you, "Can you afford fries with that"?
"I saw you kissing my sister l...
"I saw you kissing my sister last night!" jeered the brat to the embarrassed teenager.
"All right, all right! Not so loud," said the youth. "Here's fifty cents to keep your mouth shut."
"Gee, thanks! Wait a minute, and I'll give you twenty cents change."
"Twenty cents change? What for?"
"I like to be fair," said the youngster, "and it's the same price for everybody!"
#joke
Funny video of the day - Crane Lifting A Crane FAIL!
Chuck Norris doesn't worry abo...
Chuck Norris doesn't worry about changing his clock twice a year for daylight savings time. The sun rises and sets when Chuck tells it to.
Temperature
A CEO-type was in the hospital, being treated for a minor deal. For a week he'd made a complete nuisance of himself, irritating all the staff, shouting orders and demanding attention, complaining about the food, the bed, the temperature, the weather. Typical big shot.
One morning a nurse's helper entered the room, saying, "Time to take your temperature, sir."
After growling that she was disturbing his nap, the guy finally opened his mouth for the thermometer.
"Sorry, sir," said the nurse, "but for this test we need your temperature from the other end."
After bitching about the embarrassment and inconvenience, the guy finally rolled over and bared his butt. After the nurse finished, she said, "Stay exactly like that and don't move. I'll be back in five minutes to check up on you."
The nurse left, leaving the door ajar. The guy's back is to the door, and for over an hour, he hears people wandering up and down the hall, laughing. At length the guy's doctor entered the room, saw the guy with his bare butt in the air and gawked. Finally, he asks, "What's going on here?"
The guy barks, "Haven't you ever seen someone having their temperature taken?"
"Not with a daffodil."
During a simulated attack, the...
During a simulated attack, the troops have to defend themselves against an imaginary enemy, as the sergeant calls it. Bawling out orders, he notices that one recruit shows little response. "You there," the sergeant shouts, "the imaginary enemy is advancing, and your are caught in the crossfire. Action!" The recruit takes two steps to one side.
"What are you doing, man?" Yells the sergeant, purple with fury. "I'm taking shelter behind an imaginary tree, Sergeant," answers the recruit calmly.
#joke
Business one-liners 74
If you want to get along, go along.
If you want to make an enemy, do someone a favor.
If your next pot of chili tastes better, it probably is because of something left out, rather than added.
Ignorance is bliss. No wonder I'm so depressed.
Illegitimus non Carborundem: "Don't let the scum bags grind you down"
In a hierarchical organization, the higher the level, the greater the confusion.
In any calculation, any error which can creep in will do so.
In any hierarchy, each individual rises to his own level of incompetence, and then remains there.
In any household, junk accumulates to the the space available for its storage.
In case of doubt, make it sound convincing.
It takes a big man to admit when he's wrong, and an even bigger one to keep his mouth shut when he's right.
#joke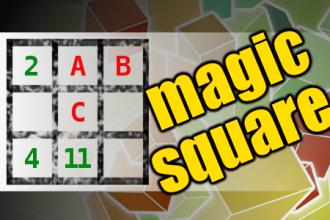 MAGIC SQUARE: Calculate A+B+C
The aim is to place the some numbers from the list (1, 2, 4, 5, 9, 11, 14, 15, 16, 25, 83) into the empty squares and squares marked with A, B an C. Sum of each row and column should be equal. All the numbers of the magic square must be different. Find values for A, B, and C. Solution is A+B+C.
Greg Giraldo: High Self-Esteem
If everyone grows up with high self-esteem, whos gonna dance in our strip clubs?
The Yiddish Parrot
Meyer, a lonely widower, was walking home one day. He was wishing something wonderful would happen to his life when he passed a pet store and heard a squawking voice shouting out in Yiddish: "Quawwwwk...vus macht du...!"
Meyer rubbed his eyes and ears. He couldn't believe it! Meyer stood in front of an African Grey that cocked his little head and said: "Vus? Kenst reddin Yiddish?"
In a matter of moments, Meyer purchased the bird and carried the parrot home. All night long he talked with the parrot...in Yiddish. The parrot listened while sharing some walnuts.
The next morning, Meyer began saying his prayers. The parrot wanted to pray, too. Meyer hand made a miniature yamulke for the parrot. The parrot also wanted to read Hebrew, so Meyer spent months teaching him the Torah.

On Rosh Hashanah, Meyer rose, got dressed, and was about to leave when the parrot demanded to go with him. Meyer explained that a synagogue was not a place for a bird, but the parrot pleaded and was carried to the synagogue on Meyer's shoulder.
Meyer was questioned by everyone, including the rabbi. At first, the rabbi refused to allow a bird into the building on the High Holy Days, but Meyer convinced him that the parrot could pray. Wagers were made on whether the parrot could speak Yiddish or not.
All eyes were on the two of them during services. The parrot was still perched on Meyer's shoulder as one prayer and song passed...but the parrot didn't say a word. Annoyed, Meyer said "Pray, parrot! You can pray...do it now while everybody's looking at you!" The parrot said nothing.
After services were over, Meyer realized he owed the synagogue over four thousand dollars. He marched home, saying nothing. Finally, several blocks from the temple, the bird began to sing an old Yiddish song.
Meyer stopped and looked at him. "You miserable bird...you cost me over four thousand dollars today. Why? After I taught you the morning prayers, taught you to read Hebrew and the Torah. And, after you begged me to bring you to a synagogue on Rosh Hashanah...Why did you do this to me?"
"Don't be an idiot," the parrot replied. "Think of the odds we'll get on Yom Kippur!"
#joke
A young boy had just gotten hi...
A young boy had just gotten his driving permit. He asked his father, who was a minister, if they could discuss the use of the car. His father took him to his study & said to him, "I'll make a deal with you. You bring your grades up, study your bible a little & get your hair cut, & we'll talk about it."
After about a month, the boy came back & again asked his father if they could discuss use of the car. They again went to the father's study where his father said, "Son, I've been real proud of you. You have brought your grades up, you've studied your bible diligently, but you didn't get your hair cut!" The young man waited a moment & replied, "You know Dad, I've been thinking about that. You know, Samson had long hair, Moses had long hair, Noah had long hair, & even Jesus had long hair ..." To which his father replied, "Yes, & they WALKED every where they went too!"
#joke
Bean soup
When the waitress in a New York City restaurant brought him the soup du jour, the Englishman was a bit dismayed. "Good heavens," he said, "what is this?" "Why, it's bean soup," she replied. "I don't care what it has been," he sputtered. "What is it now?"
Nick Kroll: Same Perfume
My mother and my girlfriend are wearing the same perfume, which is weird because, all of a sudden, Im attracted to my girlfriend.
Chuck Norris can slam a revolv...
Chuck Norris can slam a revolving door.
Priests uniform
A priest was walking along the corridor of the parochial school near the preschool wing when a group of little ones were trotting by on the way to the cafeteria.
One little lad of about three or four stopped and looked at him in his clerical clothes and asked, "Why do you dress funny?"
He told him he was a priest and this is the uniform priests wear.
Then the boy pointed to the priest's plastic collar tab and asked, "Do you have an owie?"
The priest was perplexed till he realized that to him the collar tab looked like a band aid. So the priest took it out and handed it to the boy to show him.
On the back of the tab are raised letters giving the name of the manufacturer.
The little guy felt the letters, and the priest asked, "Do you know what those words say?"
"Yes I do," said the lad who was not old enough to read. Peering intently at the letters he said, "Kills ticks and fleas up to six months!"
#joke
Uses of Vaseline
Joe wanted to buy a motorbike. He doesn't have much luck until, one day, he comes across a Harley with a 'for sale' sign on it.
The bike seems even better than a new one, although it is 10 years old. It is shiny and in absolute mint condition.
He immediately buys it, and asks the seller how he kept it in such great condition for 10 years.
"Well, it's quite simple, really," says the seller, "whenever the bike is outside and it's going to rain, rub Vaseline on the chrome. It protects it from the rain."
And he hands Joe a jar of Vaseline.
That night, his girlfriend, Sandra, invites him over to meet her parents. Naturally, they take the bike there.
But just before they enter the house, Sandra stops him and says, "I have to tell you something about my family before we go in."
"When we eat dinner, we don't talk. In fact, the first person who says anything during dinner has to do the dishes."
"No problem," he says. And in they go.
Joe is shocked. Right smack in the middle of the living room is a huge stack of dirty dishes.
In the kitchen is another huge stack of dishes. Piled up on the stairs, in the corridor, everywhere he looks, dirty dishes.
They sit down to dinner and, sure enough, no one says a word.
As dinner progresses, Joe decides to take advantage of the situation.
So he leans over and kisses Sandra.
No one says a word.
So he reaches over and fondles her breasts.
Still, nobody says a word.
So he stands up, grabs her, rips her clothes off, throws her on the table, and screws her right there, in front of her parents.
His girlfriend is a little flustered, her dad is obviously livid, and her mom horrified when he sits back down, but no one says a word.
He looks at her mom. "She's got a great body," he thinks. So he grabs the mom, bends her over the dinner table, and has his way with her every which way right there on the dinner table.
Now his girlfriend is furious and her dad is boiling, but still, total silence.
All of a sudden there is a loud clap of thunder, and it starts to rain.
Joe remembers his bike, so he pulls the jar of Vaseline from his pocket.
Suddenly the father backs away from the table and shouts, "All right, thats enough, I'll do the fucking dishes!"
Submitted by sai1ram
Edited by Curtis, yisman and Calamjo
#joke
Maine Crazy Law
Shotguns are required to be taken to church in the event of a Native American attack.

You may not step out of a plane in flight.

After January 14th you will be charged a fine for having your Christmas decorations still up.

Augusta

To stroll down the street playing a violin is against the law.

Portland

Shoelaces must be tied while walking down the street.