Short funny jokes-Drunk chicken
Tom : What do drunk chicken give?
Jerry: Scotch eggs!
Banking Error…
A true story out of San Francisco…
A man, wanting to rob a downtown Bank of America, walked into the branch & wrote "this iz a stikkup. Put all your muny in this bag."
While standing in line, waiting to give his note to the teller, he began to worry that someone had seen him write the note and might call the police before he reached the teller's window. So he left the Bank of America and crossed the street to Wells Fargo.
After waiting a few minutes in line, he handed his note to the Wells Fargo teller. She read it and surmising from his spelling errors that he wasn't the brightest light in the harbor, told him that she could not accept his stickup note because it was written on a Bank of America deposit slip and that he would either have to fill out a Wells Fargo deposit slip or go back to Bank of America.
Looking somewhat defeated, the man said, "OK" and left. He was arrested a few minutes later, as he was waiting in line back at Bank of America.
#joke
Funny video of the day - Oops, Boom, FAIL
A man and his girlfriend were ...
A man and his girlfriend were out to dinner one night. The waiter tells them the night's special is chicken almondine and fresh fish.
"The chicken sounds good; I'll have that," the woman says.
The waiter nods. "And the vegetable?" he asks.
"Oh, he'll have the fish," she replies.
Big John
A bar owner in the Old West has just hired a timid new bartender. The owner of the establishment is giving his new hire some instructions on running the place. He tells the timid man, "If you ever hear that Big John is coming to town, drop everything and run for the hills!! He's the meanest, biggest, nastiest outlaw who ever lived!!"
A few weeks pass uneventfully. But one afternoon, a local cowhand comes running through town yelling, "Big John is coming to town!! Run for your lives!!!" When the bartender exits the saloon to start running, he's knocked to the ground by several townspeople scurrying out of town. As he's picking himself up, he sees a large man approaching the saloon, probably about 7 feet tall, muscular, grunting and growling as he walks. He stomps up to the door, orders the poor barkeep inside, and demands, "I want a beer NOW!!" He pounds his heavy fist on the bar, splitting it in half. The bartender nervously hands the big man a beer, hands shaking. He takes the beer, rips the top of the bottle off with his teeth, and downs the beer in one gulp. As the poor timid bartender cowers behind the bar, the big man gets up to leave. "Do you want another beer?" the bartender calls out. "Dang it, I don't have time!!" the big man yells. "I gotta get out of town!!! Didn't ya hear Big John is a-comin??"
Charles Manson
Charles Manson has released a statement from prison on hearing Jackson was acquitted, "Thank God we won't be in the same cell together, that guy is nuts."
Demetri Martin: Employee of the Month
I think Employee of the Month is a good example of when a person can be a winner and a loser at the same time.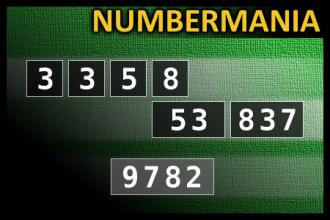 Calculate the number 9782
NUMBERMANIA: Calculate the number 9782 using numbers [3, 3, 5, 8, 53, 837] and basic arithmetic operations (+, -, *, /). Each of the numbers can be used only once.
"I saw you kissing my sister l...
"I saw you kissing my sister last night!" jeered the brat to the embarrassed teenager.
"All right, all right! Not so loud," said the youth. "Here's fifty cents to keep your mouth shut."
"Gee, thanks! Wait a minute, and I'll give you twenty cents change."
"Twenty cents change? What for?"
"I like to be fair," said the youngster, "and it's the same price for everybody!"
#joke
Chuck Norris was originally ca...
Chuck Norris was originally cast as Jack Bauer in 24, but was replaced by the producers when he managed to kill every terrorist and save the day in 12 minutes and 37 seconds.
Biblical Theme Songs
Noah: "Raindrops Keep Falling on My Head"
Adam and Eve: "Strangers in Paradise"
Lazarus: "The Second Time Around"
Esther: "I Feel Pretty"
Job: "I've Got a Right to Sing the Blues"
Moses: "The Wanderer"
Jezebel: "The Lady is a Tramp"
Samson: "Hair"Salome: "I Could Have Danced All Night"
Daniel: "The Lion Sleeps Tonight"
Esau: "Born To Be Wild"
Shadrach, Meshach, and Abednego: "Great Balls of Fire!"
The Three Kings: "When You Wish Upon a Star"
Jonah: "Got a Whale of a Tale"
Elijah: "Up, Up, and Away"
Methuselah: "Stayin' Alive"
Nebuchadnezzar: "Crazy"
#joke
What does the starship enterpr...
What does the starship enterprise and tiolet paper have in common?
They both circle around uranus and wipe out klingons.
Life is like a box of chocolat...
Life is like a box of chocolates. You never know when Chuck Norris is going to kill you.
A woman meets a gorgeous man i...
A woman meets a gorgeous man in a bar. They talk, they connect, they end up leaving together.
They get back to his place, and as he shows her around his apartment, she notices that his bedroom is completely packed with sweet cuddly teddy bears.
Hundreds of cute small bears on a shelf all the way along the floor, cuddly medium-sized ones on a shelf a little higher, and huge, enormous bears on the top shelf along the wall. The woman is kind of surprised that this guy would have a collection of teddy bears, especially one that's so extensive, but she decides not to mention this to him, and is quite impressed by his sensitive side.
She turns to him... they kiss... and then they rip each other's clothes off and make hot steamy love. After an intense night of passion with this sensitive guy, they are lying there together in the afterglow, the woman rolls over and asks, smiling, 'Well, how was it?'
The man says, 'You can have any prize from the bottom shelf.'
#joke
Stephen Rannazzisi: Slow Pitch Softball
I joined a softball team, which I thought was a great idea... but the guys on my team are crazy. These guys show up to games -- slow pitch softball games -- with cleats, stirrups, the Barry Bonds arm guards on, the black crap under their eyes. Im like, Fellas, the ball is this big. If you cant see it, you probably shouldnt have driven to the game today.
#joke
Its A Waist?
Why is the space between a women's tits and hips called a waist?
Because you could put another pair of tits there.