Be rady for Thanksgiving
, check out our latest
Thanksgiving jokes of 2021
on:
Thanksgiving jokes collection
Short funny jokes-Side effects
Jill asks the pharmacist: "Why does my prescribed medication have 30 side effects?"
The Pharmacist replies: "well, that's all we've documented so far."
The almonds....
A priest decides one day to visit one of his elderly parishoners, Mrs. Smith. He rings the door bell and Mrs. Smith appears. "Good day, Mrs. Smith. I just thought I would drop by and see how you are doing."
"Oh just fine Father, come on in, and we'll have some tea."
While sitting a the coffee table, the priest notices a bowl of almonds on the table. "Mind if I have one?" the priest says.
"Not at all, have as many as you like."
After a few hours, the priest looks at his watch and alarmed at how long he has been visting, says to Mrs. Smith, "Oh my goodness, look at the time. I must be going. Oh, but dear me, I have eaten all your alomonds. I'll have to replace them the next time I visit."
Mrs. Smith replied, "Oh don't bother Father. Ever since I lost all my teeth, it's all I can do just to lick the chocolate off them."
#joke
Funny video of the day - ATV Jump Funny Landing FAIL
Shooting The Bull
Two hunters went moose hunting every winter without success. Finally, they came up with a foolproof plan. They got a very authentic female moose costume and learned the mating call of a female moose. The plan was to hide in the costume, lure the bull, then come out of the costume and shoot the bull. They set themselves up on the edge of a clearing, donned their costume and began to give the moose love call. Before long, their call was answered as a bull came crashing out of the forest and into the clearing. When the bull was close enough, the guy in front said, "Okay, let's get out and get him." After a moment that seemed like an eternity, the guy in the back shouted, "The zipper is stuck! What are we going to do?" The guy in the front says, "Well, I'm going to start nibbling grass, but you'd better brace yourself."
#joke
Jeff Dye: Mom and Electronics
She doesnt know how to use anything electronic. Anything that requires technology she doesnt know how to use -- except the e-mail forward. I dont know what it is about moms and the e-mail forward, but they get it immediately. My mom cant even use the dishwasher, yet every morning I have 75 new e-mails, all from my mom. Oh great, what cat dressed like a human today? What couldnt wait til never?
#joke
Little Johnny returns from sch...
Little Johnny returns from school and says he got an "F" in arithmetic.
"Why?" asks the father.
"The teacher asked 'How much is 2x3?' I said 6.'"
"But that's right!" The father replied.
"Then she asked me 'How much is 3x2?'"
"What the heck's the stupid difference?" asked the father.
"That's what I said!"
#joke
What Men Call their Women
What's in a name? Apparently, a lot more than you (or I) ever thought there was. Here's what his pet name for you really means…..
Darling — Depends on how he says it. If he stresses the first syllable, then he's probably done something wrong or wants money.
Dear — Probably a leftover from his parents. Expect him to wear woolly cardigans, smoke a pipe and prefer a mug of Ovaltine to lager.
Sweetheart — If it's said patronizingly, it's not so sweet. But when uttered in earnest, it may send your own sweet heart aflutter.
Babe — Not to be confused with the film of the same name. Check for flares or signs that he's a 70s throwback. He's a bit of a medallion man. Chances are he's got his initials on his chunky ring. Leave immediately if he tries to sell you a second-hand car.
Baby doll — This type of man will probably require you to wear transparent frilly nighties even in the dead of winter. He doesn't want you to grow up, and obviously can't deal with real women.
Princess — Never trust a man who calls you princess. You may think you're being treated like royalty, but beware of Prince Charmings – they may be secretly plotting your over- throw.
Sexy — Fine if you're sexy. If you're not, who cares? He probably thinks you are anyway!!
My girlfriend — He's honest, open and probably glad to have you around. The next thing you know he'll be using your name!
The wife — If you're married then he probably thinks he owns you. If you're not, he probably thinks you act like his wife, in which case, he thinks he owns you.
My other half — You complete the set – he's only half a man without you. But it may make you feel as though you are losing your identity somewhere.
The missus — See The Wife.
My partner — He's right on. Probably likes eating tofu and hugging trees.
My significant other — He's even more right on. Probably thinks it's cruel to eat tofu and that trees need their own space.
She who must be obeyed — He thinks you're a nag, but probably doesn't lift a finger around the house.
#joke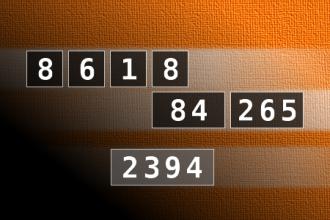 Calculate the number 2394
NUMBERMANIA: Calculate the number 2394 using numbers [8, 6, 1, 8, 84, 265] and basic arithmetic operations (+, -, *, /). Each of the numbers can be used only once.
Chuck Norris does, in fact, li...
Chuck Norris does, in fact, live in a round house.
A local business was looking f...
A local business was looking for office help. They put a sign in the window saying:
"HELP WANTED. Must be able to type, must be good with a computer and must be bilingual. We are an Equal Opportunity Employer."
A short time afterwards, a dog trotted up to the window, saw the sign and went inside. He looked at the receptionist and wagged his tail, then walked over to the sign, looked at it and whined.
Getting the idea, the receptionist got the office manager. The office manager looked at the dog and was surprised, to say the least. However, the dog looked determined, so he led him into the office. Inside, the dog jumped up on the chair and stared at the manager.
The manager said, "I can't hire you. The sign says you have to be able to type."
The dog jumped down, went to the typewriter and proceeded to type out a perfect letter. He took out the page and trotted over to the manager and gave it to him, then jumped back on the chair.
The manager was stunned, but then told the dog, "The sign says you have to be good with a computer."
The dog jumped down again and went to the computer. The dog proceeded to demonstrate his expertise with various programs and produced a sample spreadsheet and database and presented them to the manager.
By this time the manager was totally dumbfounded! He looked at the dog and said, "I realize that you are a very intelligent dog and have some interesting abilities. However, I still can't give you the job."
The dog jumped down and went to a copy of the sign and put his paw on the part about being an Equal Opportunity Employer.
The manager said, "Yes, but the sign also says that you have to be bilingual."
The dog looked at him straight in the face and said, "Meow."
#joke
Macgyver can build an airplane...
Macgyver can build an airplane out of gum and paper clips, but Chuck Norris can kill him and take it.
Jonathan Corbett: Retired Father
My dad is retired now, and he moved to Florida. And its really great to be able to finally go down and visit him now that hes finally able to do those things in life that hes always wanted to do, which apparently is start drinking at noon and then head on out to buy me ugly shirts.
Vic Henley: Soccer Heckling
All the British fans start singing to the German fans, If you won the war, stand up! Right, I think this is the greatest thing Ive ever heard at a sporting event because theres no snappy comeback for that, is there?
Recalled Chrstimas Toys
Recalled Christmas Toys


Broken Bag-O-Glass


Dr. Kevorkian First Aid Kit


Jeffrey Domhers Easy Bake oven and cookbook


Timothy McVays home Chemistry set


Switchblade Barney


Pork-n-Beany Babies


Make your own moonshine kit


Mike Tyson Doll (with ear biting action)


Golfing Toward Confession
A man went to the confessional. "Forgive me, Father, for I have sinned."
"What is your sin, my son?" the priest asked.
"Well," the man started, "I used some horrible language this week, and I feel absolutely terrible."
"When did you use this awful language?" asked the priest.
"I was golfing and hit an incredible drive that looked like it was going to go over 250 yards, but it struck a power line that was hanging over the fairway and fell straight down to the ground after going only about a hundred yards."
"Is that when you swore?"
"No, Father. After that, a squirrel ran out of the bushes and grabbed my ball in his mouth and began to run away."
"Is that when you swore?"
"Well, no. You see, as the squirrel was running, an eagle came down out of the sky, grabbed the squirrel in his talons, and flew away!"
"Is that when you swore?" asked the amazed priest.
"No, not yet. As the eagle carried the squirrel away in his claws, it flew toward the green. And as it passed over a bit of forest near the green, the squirrel dropped my ball."
"Did you swear then?"
"No, because as the ball felt it struck a tree, bounced through some bushes, careened off a big rock, and rolled through a sand trap onto the green and stopped within six inches of the hole."
The priest signed, "You missed the putt, didn't you?"
This joke was reprinted from "Laugh Yourself Healthy" by Charles and Frances Hunter, with permission of Strang Communications. Copyright 2008. All rights reserved.
#joke