Chemical formula for Ice
Teacher: What is the chemical formula for Water?
Little Johnny: It's H2O
Teacher: Good! Can you tell me the chemical formula for ice?
Little Johnny: It's H2O cubed.
Why Dogs Are Better Than Kids
It doesn't take 45 minutes to get a dog ready to go outside in the winter.
Dogs cannot lie.
Dogs never resist nap time.
You don't need to get extra phone lines for a dog.
Dogs don't pester you about getting a kid.
Dogs don't care if the peas have been touched by the mashed potatoes.
Dogs are housebroken by the time they are 12 weeks old.
Your dog is not embarrassed if you sing in public.
Average cost of sending a dog to school: $42
Average cost of sending a kid: $103,000
#joke
Funny video of the day - Noahs first Root Beer!
Vatican Fried Chicken
During a Papal audience, a business man approached the Pope and made this offer: Change the last line of the Lord's prayer from "Give us this day our daily bread" to "Give us this day our daily chicken," and Kentucky Fried Chicken will donate $10,000,000 to Catholic charities. The Pope declined.
Two weeks later, the man approached the Pope again - this time with a $50,000,000 offer. Again, the Pope declined. A month later, the man upped the price to $100,000,000, and this time the Pope accepted.
At a meeting of the Cardinals, the Pope announced his decision in the good news/bad news format. "The good news is: We have $100,000,000 for charities. The bad news: We lost the Wonder Bread account."
#joke
Doctor....
One day an old lady walked into the doctor's office and was shown into a room. When the doctor came in and asked what the problem was, she answered, "I have awful gas, but it doesn't bother me. You see, it's completely silent and doesn't smell at all."
The doctor, after examining her thoroughly, gave her some pills and told her to take one everyday and come back in a week. The lady returned, and when the doctor asked if her problem was any better she replied, "Well I don't know what you gave me, but now my gas smells terrible!"
The doctor replied, "Well, now that we've got your sinuses cleared up let's work on your hearing!"
Old actors
Old actors never die, they just drop apart.
Natasha Leggero: Sex With a Prostitute
Bragging to me you had sex with a prostitute is like bragging that you got some chips from a vending machine.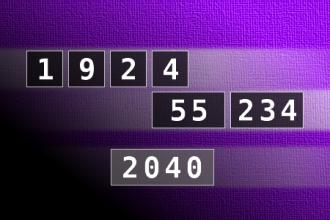 Calculate the number 2040
NUMBERMANIA: Calculate the number 2040 using numbers [1, 9, 2, 4, 55, 234] and basic arithmetic operations (+, -, *, /). Each of the numbers can be used only once.
Two elderly couples were enjoy...
Two elderly couples were enjoying friendly conversation when one of the men asked the other, "Fred, how was the memory clinic you went to last month?"
"Outstanding," Fred replied. "They taught us all the latest psychological techniques: visualization, association, etc. It was great."
"That's great! And what was the name of the clinic?"
Fred went blank. He thought and thought, but couldn't remember. Then a smile broke across his face, and he asked, "What do you call that flower with the long stem and thorns?"
"You mean a rose?"
"Yes, that's it!"
He turned to his wife, "Rose, what was the name of that memory clinic?"
#joke
Chuck Norris' first job was as...
Chuck Norris' first job was as a paperboy. There were no survivors.
CAT DIARY, 7 entries
DAY 752 - My captors continue to taunt me with bizarre little dangling objects. They dine lavishly on fresh meat, while I am forced to eat dry cereal. The only thing that keeps me going is the hope of escape, and the mild satisfaction I get from ruining the occasional piece of furniture. Tomorrow I may eat another houseplant.
---------
DAY 761 - Today my attempt to kill my captors by weaving around their feet while they were walking almost succeeded, must try this at the top of the stairs. In an attempt to disgust and repulse these vile oppressors, I once again induced myself to vomit on their favorite chair...must try this on their bed.
---------
DAY 762 - Slept all day so that I could annoy my captors with sleep depriving, incessant pleas for food at ungodly hours of the night.
---------
DAY 765 - Decapitated a mouse and brought them the headless body, in attempt to make them aware of what I am capable of, and to try to strike fear into their hearts. They only cooed and condescended about what a good little cat I was...Hmmm. Not working according to plan.
---------
DAY 768 - I am finally aware of how sadistic they are. For no good reason I was chosen for the water torture. This time however it included a burning foamy chemical called "shampoo." What sick minds could invent such a liquid. My only
---------
DAY 771 - There was some sort of gathering of their accomplices. I was placed in solitary throughout the event. However, I could hear the noise and smell the foul odor of the glass tubes they call "beer." More importantly I overheard that my confinement was due to MY power of "allergies." Must learn what this is and how to use it to my advantage.
---------
DAY 774 - I am convinced the other captives are flunkies and maybe snitches. The dog is routinely released and seems more than happy to return. He is obviously a half-wit. The Bird on the other hand has got to be an informant. He has mastered their frightful tongue. (something akin to mole speak) and speaks with them regularly. I am certain he reports my every move. Due to his current placement in the metal room his safety is assured.
But I can wait; it is only a matter of time.
He who lives by the sword, die...
He who lives by the sword, dies by the sword. He who lives by Chuck Norris, dies by the roundhouse kick.
Death In The Family
One day, a blonde's neighbor goes over to her house, sees the blonde crying, and asks her what happened.
The blonde said that her mother had passed away.
The neighbor made her some coffee and calmed her down a little and then left.
The next day the neighbor went back over to the house and found the blonde crying again.
She asked her why she was crying this time.
The blonde said, "I just got off of the phone with my sister. Her mother died too!"
A Heavenly Welcome
A contractor dies in a car accident on his 40th birthday and finds himself at the Pearly Gates. A brass band is playing, the angels are singing a beautiful hymn, there is a huge crowd cheering and shouting his name, and absolutely everyone wants to shake his hand.
Just when he thinks things can't possibly get any better, Saint Peter himself runs over, apologizes for not greeting him personally at the Pearly Gates, shakes his hand, and says, "Congratulations son, we've been waiting a long time for you."
Totally confused and a little embarrassed, the contractor sheepishly looks at Saint Peter and says "Saint Peter, I tried to lead a God-fearing life, I loved my family, I tried to obey the 10 Commandments, but congratulations for what? I honestly don't remember doing anything really special when I was alive.""Congratulations for what?" says Saint Peter, totally amazed at the man's modesty. "We're celebrating the fact that you lived to be 160 years old! God himself wants to see you!" The contractor is awestruck and can only look at Saint Peter with his mouth wide open. When he regains his power of speech, he looks up at Saint Peter and says "Saint Peter, I lived my life in the eternal hope that when I died I would be judged by God and be found to be worthy, but I only lived to be forty."
"That's simply impossible son," says Saint Peter. "We've added up your time sheets."

#joke
A student received a software ...
A student received a software package from his friend. But, he didn't have a computer.
The label on the package said that the software required "Windows 3.1 or better."
So, he bought a Macintosh.
Good news and bad news...
A doctor enters into a patient's room and informs the patient that he has good news and bad news. He then asks the patient which news he would like to hear.
The patient responds, "Doctor, give me the good news."
The doctor says, "Well we are gonna name a disease after you."