Doctor jokes-Some consolation
Fred was admitted to a hospital for a cerebral aneurysm surgery. Just before the operation, a worried Fred asked the doctor, "I heard this operation is highly risky. What are my chances of survival?"


The Surgeon replied: "I'm absolutely positive that you will survive the operation."
Fred, a little relieved, but still in doubt, asked, "How can you be so sure?"
The Surgeon said, "Four out of five patients die in this operation, and last week, my fourth patient died."
Two eggs, a sausage, and a pan...
Two eggs, a sausage, and a pancake walk into a bar.

The bartender says, "Sorry, we don't serve breakfast."

Funny video of the day - Turf Blister
Things Women Want to Hear, but Never Do
Wow, I just don't know what to do with this money we won in the lottery, so why don't you take it to the mall and see if you can find something to buy with it.
Hey, how about inviting your mother to spend the summer with us.
Oh, go ahead and eat that third piece of chocolate cream pie. If it's one thing I hate it's skinny women.
What luck, they had a special rental rate at the video store on romance movies.
You know, that Pam Anderson just doesn't seem to have the brain power that I find so attractive in a woman.
What a break, I won a prize on the radio station…. tickets to either the super bowl or the opening of the New York Ballet. I got first choice so pack your bags for New York, we get to go to the ballet!!!
Who wants to play golf when I can get to see how good the lawn looks when it's freshly mowed.
Shoot, there's nothing on TV but football games. Let's go furniture shopping.
Man I tell you, nothing feels better than getting all spruced up in a suit and tie.
I'm getting a little tired of steak on the grill. How about a nice quiche?
You know, I think I'd really prefer the four-door sedan to that impractical Corvette.
Golly I think we're lost. Let me find a gas station to ask for directions.
My golf clubs are only 30 years old. Why don't you use the money my parents gave us to get something nice for the house.
If the guys call and want me to go to that new sports club with them, tell them I'm busy. I really want to get the living room painted tonight.
Sports cars are just such stupid little toys for men who have never really grown up.
If you're looking for me later, I'll be over there looking at the home decorating magazines.
You know, we really don't visit your relatives enough.
Why don't you relax this weekend. I'll take care of the cooking and housework.
#joke
Every Saturday morning Grandpa...
Every Saturday morning Grandpa Walt found himself babysitting his three grandchildren...all boys. The kids always wanted to play ''war,'' and Grandpa somehow always got coaxed into the game.
His daughter came to pick up the kids early one Saturday and witnessed Grandpa take a fake shot as Jason pointed a toy gun and yelled, "Bang!''
Grandpa slumped to the floor and stayed there motionless. The daughter rushed over to see if he was all right. Grandpa opened one eye and whispered, ''Sh-h-h, I always do this. It's the only chance I get to rest.''
#joke
Beer Troubleshooting
Beer Troubleshooting ********************
SYMPTOM: Feet cold and wet. FAULT: Glass being held at incorrect angle. ACTION: Rotate glass so that open end points toward ceiling.
SYMPTOM: Feet warm and wet. FAULT: Improper bladder control. ACTION: Stand next to nearest dog, complain about house training.
SYMPTOM: Beer unusually pale and tasteless. FAULT: Glass empty. ACTION: Get someone to buy you another beer.
SYMPTOM: Opposite wall covered with fluorescent lights. FAULT: You have fallen over backward. ACTION: Have yourself lashed to bar.
SYMPTOM: Mouth contains cigarette butts. FAULT: You have fallen forward. ACTION: See above.
SYMPTOM: Beer tasteless, front of your shirt is wet. FAULT: Mouth not open, or glass applied to wrong part of face. ACTION: Retire to restroom, practice in mirror.
SYMPTOM: Floor blurred. FAULT: You are looking through bottom of empty glass. ACTION: Get someone to buy you another beer.
SYMPTOM: Floor moving. FAULT: You are being carried out. ACTION: Find out if you are being taken to another bar.
SYMPTOM: Room seems unusually dark. FAULT: Bar has closed. ACTION: Confirm home address with bartender.
SYMPTOM: Taxi suddenly takes on colourful aspect and textures. FAULT: Beer consumption has exceeded personal limitations. ACTION: Cover mouth.
Mellowing mother...
I have five siblings . . . three sisters and two brothers.
One night I was chatting with my mom about how she had changed as a mother from her first child to her last.
She told me she really had mellowed quite a lot over the years . . .
"When your oldest sister coughed or sneezed, I called the ambulance. When your youngest brother swallowed a dime, I just told him it was coming out of his allowance."
#joke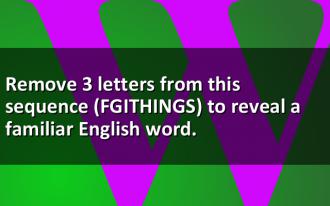 Remove 3 letters from this seq...
Remove 3 letters from this sequence (FGITHINGS) to reveal a familiar English word.
Bill Burr: What Cubicles Say
You know what a cubicle basically says? It basically says, like, You know what? We dont think youre smart enough for an office, but we dont want you to look at anybody.
Chuck Norris is Luke Skywalker...
Chuck Norris is Luke Skywalker's real father.
Two hikers were walking throug...
Two hikers were walking through central Pennsylvania when they came upon a 6 foot wide hole in the ground. They figured it must be the opening for a vertical air shaft from an old abandoned coal mine. Curious as to the depth of the hole, the first hiker picked up a nearby rock and tossed it into the opening. They listened... and heard nothing.
The second hiker picked up an even larger rock and tossed it into the opening. They listened... and still heard nothing. Then they both picked up an old railroad tie, dragged it to the edge of the shaft, and hurled it down. Seconds later a dog came running up between the two men and jumped straight into the hole. Bewildered, the two men just looked at each other, trying to figure out why a dog would do such a thing.
Soon a young boy ambled onto the scene and asked if either man had seen a dog around here. The hikers told him about the dog that had just jumped into the hole.
The young boy laughed and said, "That couldn't be my dog. My dog was tied to a railroad tie!"
#joke
Every time an Indian walks int...
Every time an Indian walks into the chief's teepee he sees that the chief is masturbating. They finally realize this is a serious problem, so they fix him up with a nice woman, and she starts living with him in his teepee.
One day, one of the Indians walks into to chief's teepee and there's the chief masturbating again. He says, "Chief, what are you doing? We fix you up with a beautiful woman."
The chief says, "Her arm get tired."
#joke
Chuck Norris can win at solita...
Chuck Norris can win at solitaire with only 18 cards.
12- Pack
A father and his son go into the grocery store when they happen upon the condom aisle. The son asks his father why there are so many different boxes of condoms. The father replies, ''Well, you see that 3-pack? That's for when you're in high school. You have 2 for Friday night and 1 for Saturday night.'' The son then asks his father, ''What's the 6-pack for?'' The father replies, ''Well, that's for when you're in college. You have 2 for Friday night, 2 for Saturday night, and 2 for Sunday morning.'' Then the son asks his father what the 12-pack is for. The father replies, ''Well, that's for when you're married. You have one for January, one for February, one for March, one for.....''
vampire lesbians
What did one lesbian vampire say to the other?. Same time next month?.
The strong young man at the co...
The strong young man at the construction site was bragging that he could outdo anyone in a feat of strength. He made a special case of making fun of one of the older workmen. After several minutes, the older worker had had enough. "Why don't you put your money where your mouth is," he said. "I will bet a week's wages that I can haul something in a wheelbarrow over to that outbuilding that you won't be able to wheel back." "You're on, old man," the braggart replied. "Let's see what you got." The old man reached out and grabbed the wheelbarrow by the handles. Then, nodding to the young man, he said, "All right. Get in."
#joke