One line jokes-Biology
Biology is the only science in which multiplication means the same thing as division.
Chuck Norris frequently donate...
Chuck Norris frequently donates blood to the Red Cross. Just never his own.
Funny video of the day - Pedestrian Dog
Ponder These
1. Does a clean house indicate that there is a broken computer in it?
2. Why is it that no matter what color of bubble bath you use the bubbles are always white?
3. Is there ever a day that mattresses are not on sale?
4. Why do people constantly return to the refrigerator with hopes that something new to eat will have materialized?
5. On electric toasters, why do they engrave the message "oneslice"? How many pieces of bread do they think people are really gonna try to stuff in that slot?
6. Why do people keep running over a string a dozen times with their vacuum cleaner, then reach down, pick it up, examine it, then put it down to give the vacuum one more chance?
7. Why is it that no plastic garbage bag will open from the end you first try?
8. How do those dead bugs get into those closed light fixtures?
9. Considering all the lint you get in your dryer, if you kept drying your clothes would they eventually just disappear?
10. When we are in the supermarket and someone rams our ankle with a shopping cart than apologizes for doing so, why do we say, "It's all right?" When, it isn't all right.
11. Why is it that whenever you attempt to catch something that's falling off the table you always manage to knock something else over?
12. Is it true that the only difference between a yard sale and a trash pickup is how close to the road the stuff is placed?
13. In winter why do we try to keep the house as warm as it was in summer when we complained about the heat?
14. How come we never hear father-in-law jokes?
15. If at first you don't succeed, shouldn't you try doing it like your wife told you to do it?
16. The statistics on sanity are that one out of every four Americans is suffering from sort of mental illness. Think of your three best friends, if they're okay, then it's you.
#joke
A three-year-old had been told...
A three-year-old had been told several times to get ready for bed. The last time his mom told him, she was every insistent. His response was, "Yes, Sir!" Since he was talking to his mother (and she is a woman), it was not expected of him to call her "Sir".
"You would say, 'yes sir,' to a man, I am a lady, and you would say 'Yes Ma'am,' to a lady," Mom said. To quiz him on is lesson; she then asked him, "What would you say to Daddy?"
"Yes Sir!" was the reply
"Then what would you say to Mama?"
"Yes, Ma'am!" he proudly answered.
"Good boy! Now what would you say to Grandma?"
He lit up and said, "Can I have a cookie?"
#joke
The Old Preacher
An old preacher was dying. He sent a message for his IRS agent and his lawyer, both church members, to come to his home. When they arrived, they were ushered up to his bedroom. As they entered the room, the preacher held out his hands and motioned for them to sit on each side of the bed. The preacher grasped their hands, sighed contentedly, smiled and stared at the ceiling. For a time, no one said anything. Both the IRS agent and the attorney were touched and flattered that the old preacher would ask them to be with him during his final moment. They were also puzzled because the preacher had never given any indication that he particularly liked either one of them.
Finally, the lawyer asked, "Preacher, why did you ask the two of us to come?"
The old preacher mustered up some strength, then said weakly, "Jesus died between two thieves, and that's how I want to go, too."
Skydiving for the first time
A man is going skydiving for the first time. After listening to the instructor for what seems like days, he is ready to go.
The man goes up in the airplane and waits to get to the proper altitude. Excited, he jumps out of the airplane. After a bit, he pulls the ripcord. Nothing happens. He tries again. Still nothing. He starts to panic, but remembers his back-up chute. He pulls that cord. Nothing happens. He frantically begins pulling both cords, but to no avail.
Suddenly, he looks down and he can't believe his eyes. Another man is in the air with him, but this guy is going up! Just as the other guy passes by, the skydiver, by this time scared out of his wits, yells, "Hey, do you know anything about skydiving?" The other guy yells back, "No! Do you know anything about gas stoves?"
#joke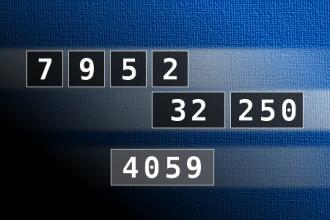 Calculate the number 4059
NUMBERMANIA: Calculate the number 4059 using numbers [7, 9, 5, 2, 32, 250] and basic arithmetic operations (+, -, *, /). Each of the numbers can be used only once.
Two eggs, a sausage, and a pan...
Two eggs, a sausage, and a pancake walk into a bar.

The bartender says, "Sorry, we don't serve breakfast."

Mike Vecchione: Favorite Place to Taser
My favorite place to taser people: the Renaissance Fair. The Renaissance Fair cause it makes me feel like an evil wizard from the future.
Rising to the Occasion
A bunch of girls had become upset at an anthropology
professor who had a knack of offending women. They decided
the next time he did something offensive, they would all
stand up and walk out of his class. Sure enough, at the very
next class meeting while discussing a tribe of African
natives. The professor leered and said, "You'll be
interested to know the average tribal warrior there has a
cock twelve inches long."
The girls all rose in a large mass and headed for the door.
The prof sneered and said, "What's your hurry, girls? The
next flight to there isn't until Saturday!"
#joke
A little boy opened the big an...
A little boy opened the big and old family Bible with fascination, he looked at the old pages as he turned them. Then something fell out of the Bible and he picked up and looked at it closely. It was an old leaf from a tree that has been pressed in between pages.
"Momma, look what I found," the boy called out. "What have you got there, dear?" his mother asked. With astonishment in the young boy's voice he answered:
"It's Adam's suit!!!!!"
#joke
Computer Problem Report Form
Describe your problem:
Now, describe the problem accurately:
Speculate wildly about the cause of the problem:
Problem Severity:
A. Minor
B. Minor
C. Minor
D. Trivial
Nature of the problem:
A. Locked Up
B. Frozen
C. Hung
D. Shot
Is your computer plugged in? Yes No
Is it turned on? Yes No
Have you tried to fix it yourself? Yes No
Have you made it worse? Yes
Have you read the manual? Yes No
Are you sure you've read the manual? Yes No
Are you absolutely certain you've read the manual? No
Do you think you understood it? Yes No
If `Yes' then why can't you fix the problem yourself?
How tall are you? Are you above this line?
What were you doing with your computer at the time the problem occurred?
If `nothing' explain why you were logged in.
Are you sure you aren't imagining the problem? Yes No
How does this problem make you feel?
Tell me about your childhood
Do you have any independent witnesses of the problem? Yes No
Can't you do something else, instead of bothering me? Yes
#joke
Some kids play Kick the can. C...
Some kids play Kick the can. Chuck Norris played Kick the keg.
Fred & Saddam
Q: How is Saddam like Fred Flintstone?
A: Both look out their windows and see Rubble.
Juston McKinney: Parking Tickets in New York
The first ticket I got in Manhattan I thought was a misprint. Im like, No, this has got to be a mistake. You put a quarter in the meter out there and it runs out, its a $55 fine. Thats a little excessive. Now, I could see it if you parked in a handicapped persons living room, but not for the meter running out. It goes from 25 cents to $55. Thats a 22,000% increase.
#joke

A mechanic was removing a...
A mechanic was removing a cylinder head from the motor of a Harley
motorcycle when he spotted a well-known heart surgeon in his shop.
The surgeon was there, waiting for the service manager to come and take a look at his bike.
The mechanic shouted across the garage, "Hey, Doc, can I ask you a question?"
The surgeon a bit surprised, walked over to the mechanic working on the motorcycle. The mechanic straightened up, wiped his hands on a rag and asked, "So Doc, look at this engine. I open its heart, take valves out, fix 'em, put 'em back in, and when I finish, it works just like new. So how come I get such a small salary and you get the really big bucks, when you and I are doing basically the same work?"
The surgeon paused, smiled and leaned over, and whispered to the mechanic...
"Try doing it with the engine running."
#joke