An experiment in science
Abdul Qadeer Khan, the famous Pakistani scientist decided to conduct an experiment to determine how rapidly a thermometer falls down.
So he took thermometer and a lit candle to the 7rd floor of a building, dropped them and observed that they both touched the ground at the same time. The famous Pakistani scientist concluded in his book: "A thermometer falls with the speed of light."

#joke
Two strands of DNA were walkin...
Two strands of DNA were walking down the street. One says to the other, "Do these genes make me look fat?

Funny video of the day - Daily Fails Compilation 39
1. Another flight attendant's ...
1. Another flight attendant's comment on a less than perfect
landing: "We ask you to please remain seated as Captain Kangaroo
bounces us to the terminal."
2. After a real crusher of a landing in Phoenix, the Flight Attendant came
on with, "Ladies and Gentlemen, please remain in your seats until Capt. Crash
and the Crew have brought the aircraft to a screeching halt against the gate.
And, once the tire smoke has cleared and the warning bells are silenced, we'll open
the door and you can pick your way through the wreckage to the terminal."
3. Part of a flight attendant's arrival announcement: "We'd like
to thank you folks for flying with us today. And, the next time you
get the insane urge to go blasting through the skies in a pressurized
metal tube, we hope you'll think of US Airways."
#joke
Facts of life...
A man walks into a drug store with his 8-year old son. They happen to walk by the condom display, and the boy asks, "What are these, Dad?" To which the man matter-of-factly replies, "Those are called condoms, son.... Men use them to have safe sex."
"Oh I see," replied the boys pensively. "Yes, I've heard of that in health class at school." He looks over the display and picks up a package of 3 and asks, "Why are there 3 in this package."
The dad replies, "Those are for high school boys. One for Friday, one for Saturday, and one for Sunday."
"Cool!" says the boy. He notices a 6 pack and asks, "Then who are these for?" "Those are for college men." the dad answers, "TWO for Friday, TWO for Saturday, and TWO for Sunday."
"WOW!" exclaimed the boy, "then who uses THESE?" he asks, picking up a 12 pack. With a sigh, the dad replied, "Those are for married men. One for January, one for February, one for March........"
Your momma is so fat...
Your momma is so far that when she walks outside with a yellow shirt on everyone yells "Taxi"
Kyle Kinane: Always a Miracle
Im in my 30s; everybodys having kids or miracles. Oh, its a miracle. Its always a miracle. Im like, You had sex, right? Yeah? Then no, thats exactly whats supposed to happen from that. I spend all my time preventing miracles; that is whats happening. I call it a miracle when the girl doesnt get pregnant. Thats when I start getting spiritual.
#joke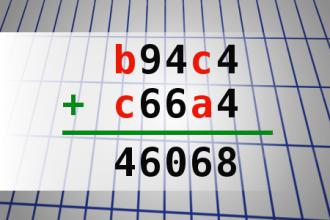 Find number abc
If b94c4 + c66a4 = 46068 find number abc. Multiple solutions may exist.
How To Know You're Ready For Parenthood
MESS TEST: Smear peanut butter on the sofa and curtains. Now rub your hands in the wet flower bed and rub on the walls. Cover the stains with crayons. Place a fish stick behind the couch and leave it there all summer.
TOY TEST: Obtain a 55-gallon box of Legos. (If Legos are not available, you may substitute roofing tacks or broken bottles.) Have a friend spread them all over the house. Put on a blindfold. Try to walk to the bathroom or kitchen. Do not scream (this could wake a child at night).
GROCERY STORE TEST: Borrow one or two small animals (goats are best) and take them with you as you shop at the grocery store. Always keep them in sight and pay for anything they eat or damage.
DRESSING TEST: Obtain one large, unhappy, live octopus. Stuff it into a small net bag making sure that all arms stay inside.
FEEDING TEST: Obtain a large plastic milk jug. Fill it halfway with water. Suspend from the ceiling with a stout cord. Get the jug swinging. Try to insert spoonfuls of soggy cereal (such as Fruit Loops or Cheerios) into the mouth of the jug while pretending to be an airplane. Now dump the contents of the jug on the floor.
NIGHT TEST: Prepare by obtaining a small cloth bag and fill it with 8 to 12 pounds of sand. Soak it thoroughly in water. At 8 PM begin to waltz and hum with the bag until 9 PM. Lay down your bag and set your alarm for 10:00 PM. Get up, pick up your bag, and sing every song you have ever heard. Make up about a dozen more and sing them until 4:00 AM. Set alarm for 5:00 AM. Get up and make breakfast. Keep this up for 5 years. Look cheerful.
PHYSICAL TEST (WOMEN): Obtain a large bean-bag chair and attach it to the front of your clothes. Leave it there for 9 mo. Now remove 10% of the beans.
PHYSICAL TEST (MEN): Go to the nearest drug store. Set your wallet on the counter. Ask the clerk to help himself. Now proceed to the nearest food store. Go to the head office and arrange for your paycheck to be directly deposited to the store. Purchase a newspaper. Go home and read it quietly for the last time.
FINAL ASSIGNMENT: Find a couple who already has a small child. Lecture them on how they can improve their child's discipline, patience, tolerance, toilet training, and table manners. Suggest many things they can improve as well. Emphasize to them that they should never allow their children to run riot. Enjoy this experience. It will be the last time you'll have all the answers
#joke
Chuck Norris is not his full n...
Chuck Norris is not his full name, there's a silent "fist".
This duck walks into a conveni...
This duck walks into a convenience store and asks the clerk, "Do you have any grapes?"
The clerk says no, and the duck leaves. The next day, the duck returns and asks, "Do you have any grapes?" The clerk again says no, and the duck leaves.
The day after that, the duck walks in the store again and asks "Do you have any grapes?" The clerk screams at the duck, "You've come in here the past two days and asked if we had any grapes. I told you no every time that we don't have any grapes!
I swear if you come back in here again, and ask for grapes, I'll nail your webbed feet to the floor!!" The duck left, and returned the next day. This time he asked, "Do you have any nails?"
The clerk replied, "No," and the duck said, "Good! Got any grapes?"
#joke
Before he forgot a gift for Ch...
Before he forgot a gift for Chuck Norris, Santa Claus was real.
Jim Gaffigan: Bottled Water
How did we get to the point where were paying for bottled water? That must have been some weird marketing meeting over in France. Some French guys sitting there, like, How dumb do I think the Americans are? I bet you we could sell those idiots water.
God Takes a Holiday
Chuckling, God remarked, "Are you kidding? Two thousand years ago I went there, had an affair with some nice Jewish girl, and they're STILL talking about it!"
Sue Over The Property
Did you know that heaven and hell are actually right next to each other? They are seperated by a big chain-link fence. Well, one day hell was having a big party and it got a little out of hand. God heard the ruckus and arrived to find his fence completely smashed by the wild partiers. He called the devil over and said "Look, Satan, you have to rebuild this fence." Satan agreed. The next day God noticed that the devil had completely rebuilt the fence...but it was 2 feet further into heaven than before.
"Satan!" beckoned God. "You have to take that fence down and put it back where it belongs!"
"Yeah? What if I don't?" replied the devil.
"I'll sue you if I have to," answered God.
"Sure," laughed Satan. "Where are you going to find a lawyer?"
No ball room
Q. What do tight pants and a cheap motel have in common?
A. No ball room