Cheapest Meat
Q. What is the cheapest meat?
A. Deer balls, there under a buck.
Really funny jokes-Police Story
Bret, who committed a bank robber in Canberra, Australia, stuffed the loot down the front of his slacks and made a dash for the door. He got a nasty shock soon when a dye pack intended to mark stolen money exploded in his slacks.
A police spokesperson shared the following information:
"Witnesses saw him hopping, skipping and jumping around with a blast taking place inside his pants."
Bret was arrested soon after, and Police have kept his charred slacks securely in custody.
#joke
Funny video of the day - Car grab
Like an olympic sprinter
Three women were sitting around talking about their sex lives.
The first said, "I think my husband's like a championship golfer. He's spent the last ten years perfecting his stroke."
The second woman said, "My husband's like the winner of the Indy 500. Every time we get into bed he gives me several hundred exciting laps."
The third woman was silent until she was asked, "Tell us about your husband."
She thought for a moment and said, "My husband's like an Olympic sprinter."
"He's got his time down to under 11 seconds."
#joke
Steven Spielberg was busy disc...
Steven Spielberg was busy discussing his new action adventure about famous classical composers. Bruce Willis, Sylvester Stallone and Arnold Schwarzenegger were in the room.
"Who do you want to play?" Spielberg asked Bruce Willis. "I've always been a big fan of Chopin," said Bruce. "I'll play him."
"And you, Sylvester?" asked Spielberg. "Mozart's the one for me!" said Sly.
"And what about you?" Spielberg asked Arnold Schwarzenegger.
"I'll be Bach," said Arnie.
#joke
A little boy wanted $100....
A little boy wanted $100.00 badly and prayed for two weeks but nothing happened. Then he decided to write GOD a letter requesting the $100. When the postal authorities received the letter addressed to GOD USA, they decided to send it to President Clinton. the President was so impressed, touched, and amused that he instructed his secretary to send the little boy a $5.00 bill. President Clinton thought this would appear to be a lot of money to a little boy. The little boy was delighted with the $5.00 and sat down to write a thank you note to GOD, which read: Dear GOD, Thank you very much for sending the money, however, I noticed that for some reason you had to send it through Washington D.C. and, as usual, those jerks deducted $95.00.
#joke
If Restaurants Functioned Like Tech Support
Patron: Waiter!
Waiter: Hi, my name is Bill, and I'll be your Support. What seems to be the problem?
Patron: There's a fly in my soup!
Waiter: Try again, maybe the fly won't be there this time.
Patron: No, it's still there.
Waiter: Maybe it's the way you're using the soup. Try eating it with a fork instead.
Patron: Even when I use the fork, the fly is still there.
Waiter: Maybe the soup is incompatible with the bowl. What kind of bowl are you using?
Patron: A SOUP bowl!
Waiter: Hmmm, that should work. Maybe it's a configuration problem. How was the bowl set up?
Patron: You brought it to me on a saucer. What has that to do with the fly in my soup?!
Waiter: Can you remember everything you did before you noticed the fly in your soup?
Patron: I sat down and ordered the Soup of the Day!
Waiter: Have you considered upgrading to the latest Soup of the Day?
Patron: You have more than one Soup of the Day each day??
Waiter: Yes, the Soup of the Day is changed every hour.
Patron: Well, what is the Soup of the Day now?
Waiter: The current Soup of the Day is tomato.
Patron: Fine. Bring me the tomato soup, and the check. I'm running late now.
[waiter leaves and returns with another bowl of soup and the check]
Waiter: Here you are, Sir. The soup and your check.
Patron: This is potato soup.
Waiter: Yes, the tomato soup wasn't ready yet.
Patron: Well, I'm so hungry now, I'll eat anything.
[waiter leaves.]
Patron: Waiter! There's a gnat in my soup!
The check:
Soup of the Day . . . . . . . $5.00
Upgrade to newer Soup of the Day. . $2.50
Access to support . . . . . . $1.00
#joke
FLEX WORDLE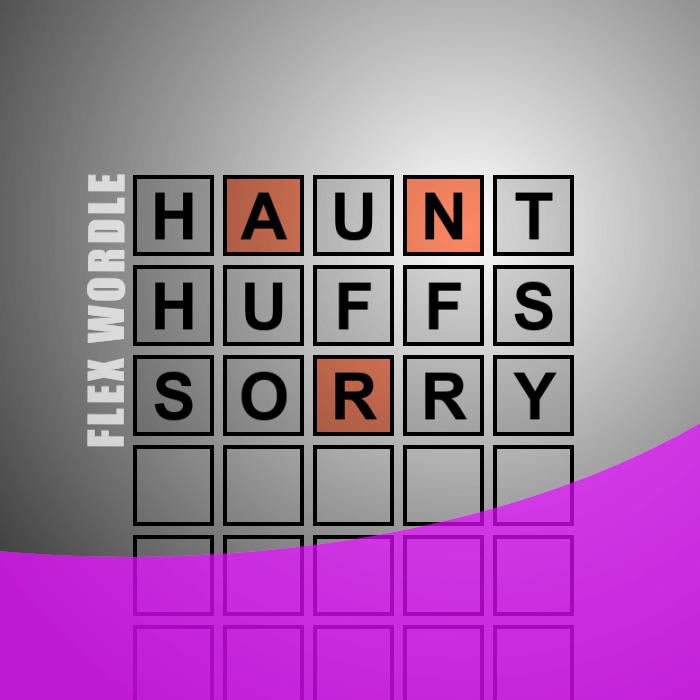 Guess the
WORDLE
in 3 tries. After each guess, the color of the tiles will change to show how close your guess was to the solution.
State workers...
A fellow stopped at a rural gas station and, after filling his tank, he paid the bill and bought a soft drink. He stood by his car to drink his cola, and he watched a couple of men working along the roadside.
One man would dig a hole two or three feet deep and then move on. The other man came along behind and filled in the hole. While one was digging a new hole, the other was 25 feet behind filling in the old.
The men worked right past the fellow with the soft drink and went on down the road.
"I can't stand this," said the man, tossing the can into a trash container and headed down the road toward the men.
"Hold it, hold it," he said to the men. "Can you tell me what's going on here with this digging?"
"Well, we work for the government," one of the men said.
"But one of you is digging a hole and the other fills it up. You're not accomplishing anything. Aren't you wasting the taxpayers' money?"
"You don't understand, mister," one of the men said, leaning on his shovel and wiping his brow. "Normally there's three of us: me, Rodney, and Mike. I dig the hole, Rodney sticks in the tree, and Mike here puts the dirt back.
Now just because Rodney's sick, that don't mean that Mike and me can't work."
#joke
Ralphie May - Dora the Explorer
Have you seen this show? If you havent, its about a five-year-old little Mexican girl thats always lost. It should be called Dora the Amber Alert.
Sticks and stones may break yo...
Sticks and stones may break your bones, but a Chuck Norris glare will liquify your kidneys.
A Birthday Wish
Little Sonia was shouting her prayers. "Please God send me a new doll for my birthday."
Her mother, overhearing this, said, "Don't shout dear, God isn't deaf."
"No, but Grandad is, and he's in the next room," Sonia replied.
John Oliver: Falling in Love with America
It was like falling in love with a girl who was just throwing up all over herself -- softly holding her hair back and whispering to her that everything was going to be alright. To me, thats what the last eight years were like, here in America: projectile vomiting all over yourself as the rest of the world rubbed your back, saying, Sssshhh, thats it. Let it all out.
#joke
French fries
There was once a sheep farmer who had a French farmhand working with him to help castrate his sheep.
As the farmer castrated the first sheep, the French farmhand took the parts and was about to throw them into the trash.
"No!" yelled the farmer, "Don't throw those away! My wife fries them up, and we eat them, they're delicious! They're called Sheep Fries!"
The farmhand saved the parts and took them to the farmer's wife who cooked them up for supper. This went on for three days....and each evening they had Sheep Fries for supper.
On the fourth night the farmer came in to the house for supper.
He asked his wife where the farmhand was, and she replied, "It's the strangest thing! When he came in and asked what was for supper, I told him French Fries, and he ran like hell!"
Submitted by Calamjo
EDited by Tanilazing
#joke
Rudolph the Red Nosed Reindeer
A Russian couple was walking down the street in St. Petersburg the other night, when the man felt a drop hit his nose. "I think it's raining," he said to his wife.
"No, that felt more like snow to me," she replied. "No, I'm sure it was just rain, he said." Well, as these things go, they were about to have a major argument about whether it was raining or snowing. Just then they saw a minor communist party official walking toward them. "Let's not fight about it," the man said, "let's ask Comrade Rudolph whether it's officially raining or snowing."
As the official approached, the man said, "Tell us, Comrade Rudolph, is it officially raining or snowing?"
"It's raining, of course," he answered and walked on. But the woman insisted: "I know that felt like snow!" To which the man quietly replied: "Rudolph the Red knows rain, dear!"
#joke
Christopher Titus: Post-Weiner Politics
Im thinking of a presidential bid; currently indexing and cross-referencing everyone Ive tweeted my junk to. 8x10s available.
Chuck Norris doesn't stub his ...
Chuck Norris doesn't stub his toes. He accidentally destroys chairs, bedframes, and sidewalks.