Happy New Year 2021!!
Equal partners
Overheard at the Maonyesho Saba Saba Fair in Tanzania, "If a husband claims that he and his wife are equal partners, then he is talking about either a law firm or a hand of bridge."

Mess Maker
A woman said to her friend, "I don't know what to do. My husband is such a mess maker that you can't imagine. He doesn't put anything in its place, I am always going around the house organizing things."
The friend says, "Take a tip from me. The first week after we were married I told my husband firmly, 'Every glass and plate that you take, wash when you are done and put back in its place.'"
The first woman asked, "Did it help?"
Her friend said, "I don't know. I haven't seen him since."
#joke
Funny video of the day - Good accessory for the car
Normal sex life...
When the good Lord was making the world, he called Man aside and bestowed upon him 20 years of normal sex life. Man was horrified, but the Creator refused to budge. Then the Lord called the Monkey and gave him 20 years.
"But I don't need 20 years," said the Monkey. "Ten years is plenty."
"May I have the other 10 years?" asked Man. The Monkey agreed.
The Lord called the Lion next and also gave him 20 good years. The Lion also only wanted 10, so again Man asked for the remaining ten. Then came the Donkey, who was also granted 20 years. Like the others, 10 was more than enough. Man again asked for the spare ten years and got them.
This explains why Man has 20 years of normal sex life, 10 years of monkeying around, 10 years of lion 'bout it, and 10 years of making an ass out of himself.
#joke
Lawyer Vacancy
There was a job opening in the country's most prestigious law firm and it finally comes down to Robert and Paul.
Both graduated magna cum laude from law school. Both come from good families. Both are equally attractive and well spoken. It's up to the senior partner to choose one, so he takes each aside and asks, "Why did you become a lawyer?"
In seconds, he chooses Paul.
Baffled, Robert takes Paul aside.
"I don't understand why I was rejected. When Mr. Armstrong asked me why I became a lawyer, I said that I had the greatest respect for the law, that I'd lay down my life for the Constitution and that all I wanted was to do right by my clients. What in the world did you tell him?"
"I said I became a lawyer because of my hands," Robert replies.
"Your hands? What do you mean?"
"Well, I took a look one day and there wasn't any money in either of them!"
Serious Sergent
An old Marine Sergeant Major found himself at a gala event hosted by a local liberal arts college. There was no shortage of extremely young idealistic liberal ladies in attendance, one of whom approached the Sergeant Major for conversation.
.
"Excuse me, Sergeant Major, but you seem to be a very serious man.. Is something bothering you?"
"Negative, ma'am. Just serious by nature." .
The young lady looked at his awards and decorations and said,
"It looks like you have seen a lot of action."
"Yes, ma'am, a lot of action." .
The young lady, tiring of trying to start up a conversation, said,
"You know, you should lighten up a little. Relax and enjoy yourself."
The Sergeant Major just stared at her in his serious manner. .
Finally the young lady said,
"You know, I hope you don't take this the wrong way, but when was the last time you had sex?"
"1955, ma'am."
"Well, there you are. No wonder you're so serious. You really need to chill out and relax! I mean, no sex since 1955! Come with me. .
She took his hand and led him to a private room where she proceeded to "relax" him several times. Afterwards, panting for breath, she leaned against his grizzled bare chest and said,
"Wow, you sure didn't forget much since 1955."

#joke
A man was sent to prison for 2...
A man was sent to prison for 20 years. He was so bored while in there he found an ant and decided to teach it tricks - like beg, play dead, roll over, jump hair etc.
He served his time and was released. He took his ant with him in a matchbox.
The first place he went was to a bar. He sat down, took out the matchbox and emptied out the ant.
He then said to the guy beside him, "you are not gonna believe what this ant can do." He showed him all the tricks, and the guy was impressed.
He told him that he could make a fortune with the ant.
The guy with the ant was excited and called the bartender over and said "you see that ant?"
The bartender put his finger on the ant, twisted it and said "sorry sir it won't happen again."
#joke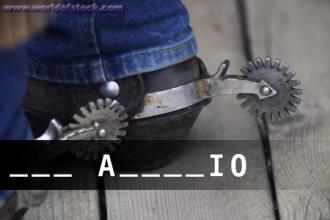 Find the missing text [*** A****IO]
Background picture associated with the solution.
4 out of 5 doctors fail to rec...
4 out of 5 doctors fail to recommend Chuck Norris as a solution to most problems. 80% of doctors die unexplained, needlessly brutal deaths.
Brian Posehn: Quitting Meat
Quitting pot? It was actually easier for me to become a vegetarian -- you know, quitting meat -- because your friends never show up at your house with a sack of meat.
One day an engineer dies.He wa...
One day an engineer dies.He was kind that built lots of things, like air conditioners.When he went to heaven he met God. God says "Go to hell, you're not on my list."
So after going 30,255,391 stairs to hell, he lets the devil know who he is and so the devil says "Hey, come on in!"
In hell the engineer built airplanes, buildings, cars, etc. God sees this and says "Hey devil, you know that engineer guy. He needs to come back to heaven."
The devil says "Are you crazy, I'm not gonna let you have him." To which God says "If you dont let me have him, I'll sue."
Devil says "You can't sue! You dont even have lawyers up there!"
Waking Up for Church
One Sunday morning, a mother went in to wake her son and tell him it was time to get ready for church, to which he replied, "I'm not going."

"Why not?" she asked."I'll give you two good reasons," he said. "One, they don't like me, and two, I don't like them."
His mother replied, "I'll give YOU two good reasons why you SHOULD go to church. One, you're 54 years old, and two, you're the pastor!"
#joke
Mitch Hedberg: Fore!
I never got a hole in one -- but I did hit a guy, and thats way more satisfying. Youre supposed to yell Fore, but I was too busy mumbling There aint no way thats gonna hit him.
Son : Mom, when I was on the b...
Son : Mom, when I was on the bus with Dad this morning, he told me to give up my seat to a lady.

Mom : Well, you have done the right thing.

Son : But Mom, I was sitting on Daddy's lap!
What she Really Means...
What she Really Means
I need = I want
We need = I want
It's your decision = The correct decision should be obvious by now
Do whatever you want = You are going to pay for this later
We need to talk = I need to complain
Sure...go ahead = I don't want you to
I'm not upset = Of course I'm upset, you moron!
You're so manly = You need a shave and you sweat a lot
You're certainly attentive tonight = Is sex all you ever think about?
I'm not emotional! And I'm not overreacting! = I have a severe case of PMS
Be romantic, turn out the lights = I have flabby thighs
This kitchen is so inconvenient = I want a new house
I want new curtains = I want new curtains, new carpeting, new furniture, new wallpaper...
I need new shoes = the other 40 pairs are simply the wrong shade
I heard a noise = I noticed you were almost asleep
Do you love me? = I'm going to ask for something expensive
How much do you love me? = I did something today you're really going to hate
I'll be ready in a minute = Kick off your shoes and find a good game on T.V.
Is my butt fat? = Tell me I'm beautiful
You have to learn to communicate = Just agree with me
Are you listening to me? = Too late, you're dead
Yes = No
No = No
Maybe = No
I'm sorry = You'll be sorry
I was wrong = Not as wrong as you
Do you like this recipe? = It's easy to fix, so you'd better get used to it
Was that the baby? = Why don't you get out of bed and walk him until he goes to sleep
I'm not yelling! = Of course I'm yelling, this is important!
#joke
History Teacher:
History Teacher: "Why was George Washington standing in the bow of the boat as the army crossed the Delaware?"
Student: "Because he knew if he sat down, he would have to row."