Happy New Year 2021!!
Captain Bravo
Long ago lived a seaman named Captain Bravo. He was a manly man who showed no fear in facing his enemies.
One day, while sailing the seven seas, a lookout spotted a pirate ship and the crew became frantic. Captain Bravo bellowed, ''Bring me my red shirt!'' The first mate quickly retrieved the captain's red shirt and whilst wearing the bright red frock Bravo led his men into battle and defeated the pirates.
Later on that day, the lookout spotted not one, but two pirate ships. The captain again called for his red shirt and once again, though the fighting was fierce, they was victorious over the two ships.
That evening, all the men sat around on the deck recounting the day's triumphs and one of them asked the captain, ''Sir, why do you call for your red shirt before battle? The captain replied, ''If I am wounded in the attack, the shirt will not show my blood and thus, you men will continue to fight, unafraid.''
All of the men sat in silence and marveled at the courage of such a manly man as Captain Bravo.
As dawn came the next morning, the lookout spotted not one, not two, but TEN pirates ships approaching from the horizon. The first mate asked, "Shall I bring your red shirt?"
Captain Bravo calmly replied, ''No. Get me my brown pants.''
#joke
This man comes through a door ...
This man comes through a door to the bar and slipped on a pile of crap, he mumbles and brushes himself off. He orders a drink and sits down. A few minutes later a younger man walks through the door yelling and screaming, and he slips on the pile of crap. He gets up and looks around, and then he sits down next to the older guy. The older man says, "I did that!" The younger man punches the old man and leaves.
#joke
Funny video of the day - Funny Swimming Pool Accidents
Is that a dog in the back seat?
It was the end of the day when I parked my police car in front of the station. As I gathered my equipment, my K-9 partner, Jake, was barking, and I saw a little boy staring in at me.
"Is that a dog you got in the back seat there?" he asked. "It sure is," I replied.
Puzzled, the boy looked at me and then towards the back of the car. Finally he said, "What'd he do?"
#joke
To jump or not to jump
A blonde and a brunette were watching the news and they had someone on who was about to jump off a building.
The brunette says "I bet u he will jump."
The blonde says "ok".
Later on he jumps.
When the brunette is leaving she says "I can't take your money, I saw it happen already on the 5 o'clock news."
The blonde says "I did too but i didn't think he would jump again."
Michael Palascak: Buying an SUV
I wanted to buy a car that was really good for the environment but I also wanted to buy an SUV -- so I could see the environment before its destroyed by SUVs.
Unlucky Parachutist
A man is skydiving, enjoying his free-fall, when he realizes that he has reached the altitude where he must open his parachute. So he pulls on the rip cord, but nothing happens.
"No problem," he says to himself, "I still have my emergency chute." So he pulls the rip cord on his emergency parachute, and once again, nothing happens.
Now the man begins to panic. "What am I going to do?" he thinks, "I'm a goner!"
Just then he sees a man flying up from the earth toward him. He can't figure out where this man is coming from, or what he's doing, but he thinks to himself, "Maybe he can help me. If he can't, then I'm done for."
When the man gets close enough to him, the skydiver cups his hands and shouts down, "Hey, do you know anything about parachutes?"
The other man replies, "No! Do you know anything about gas stoves?"
#joke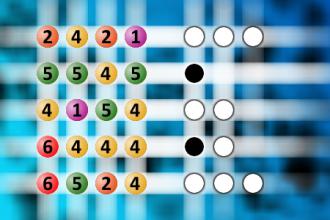 Find the right combination
The computer chose a secret code (sequence of 4 digits from 1 to 6). Your goal is to find that code. Black circles indicate the number of hits on the right spot. White circles indicate the number of hits on the wrong spot.
Chuck Norris on a pogo stick p...
Chuck Norris on a pogo stick presents a danger to low flying aircraft.
Improvements in Hell
An engineer died and ended up in Hell. He was not pleased with the level of comfort in Hell, and began to redesign and build improvements. After awhile, they had toilets that flush, air conditioning, and escalators. Everyone grew very fond of him.
One day God called to Satan to mock him, "So, how's it going down there in Hell?"
Satan replied, "Hey, things are great. We've got air conditioning and flush toilets and escalators, and there's no telling what this engineer is going to come up with next." God was surprised, "What? You've got an engineer? That's a mistake. He should never have gotten down there in the first place. Send him back up here."
"No way," replied Satan. "I like having an engineer, and I'm keeping him."
God threatened, "Send him back up here now or I'll sue!"
Satan laughed and answered, "Yeah, right. And just where are YOU going to get a lawyer?"
There was once a great actor, ...
There was once a great actor, who had a problem. He could no longer remember his lines. Finally after many years he finds a theatre where they are prepared to give him a chance to shine again. The director says,"This is the most important part, and it has only one line. You must walk onto the stage carrying a rose, you must hold the rose with just one finger and your thumb to your nose, sniff the rose deeply and then say the line... 'Ah, the sweet aroma of my mistress.'" The actor is thrilled.All day long before the play he's practicing his line, over and over again. Finally the time came.
The curtain went up, the actor walked onto the stage, and with great passion, he delivered the line; "Ah, the sweet aroma of my mistress".
The theatre erupted, the audience screamed with laughter... and the director was steaming! "You bloody fool!" he cried, "You have ruined me!"
The actor, quite bewildered, asked, "What happened, did I forget my line?" he asked.
"No!" the director screamed.... "You forgot the bloody rose!"
#joke
Chuck Norris let the dogs out....
Chuck Norris let the dogs out.
Dane Cook: In the Year 3000
In the year 3000, everything will be instant... but the DMV will still take, like, nine f**king seconds.
Touring guide for North
Northerners visiting the South Information for Northerners Visiting the Southern States
If you are from the northern states and planning on visiting or moving to the south, there are a few things you should know that will help you adapt to the difference in life styles:
1. If you run your car into a ditch, don't panic. Four men in a four-wheel-drive pickup truck with a 12-pack of beer and a towchain will be along shortly. Don't try to help them, just stay out of their way. This is what they live for.
2. Don't be surprised to find movie rentals and bait in the same store. Do not buy food at this store.
3. Remember: "Y'all" is singular, "All y'all" is plural, and "All y'alls'" is plural possessive.
4. Get used to hearing "You ain't from around here, are ya?"
5. You may hear a Southerner say "Oughta!" to a dog or child. This is short for "Y'all oughta not do that!" and is the equivalent of saying "No!"
6. Don't be worried about not understanding what people are saying; they can't understand you, either.
7. The first Southern expression to creep into a transplanted Northerner's vocabulary is the adjective "big ol'," as in "big ol' truck " or "big ol' boy." Most Northerners begin their new Southern-influenced dialect this way. All of them are in denial about it.
8. The proper pronunciation you learned in school is no longer proper.
9. Be advised that "He needed killin'" is a valid defense here.
10. If you hear a Southerner exclaim "Hey, y'all, watch this," stay out of the way. These are likely to be the last words he'll ever say.
11. If there is the prediction of the slightest chance of even the smallest accumulation of snow, your presence is required at the local grocery store. It doesn't matter whether you need anything or not. You just have to go there.
12. When you come upon a person driving 15 mph down the middle of the road, remember that most folks here learn to drive on a John Deere, and that this is the proper speed and position for that vehicle.
Dealing With A Lawyer
A new York Divorce Lawyer died and arrived at the pearly gates. Saint Peter asks him "What have you done to merit entrance into Heaven?" The Lawyer thought a moment, then said, "A week ago, I gave a quarter to a homeless person on the street." Saint Peter asked Gabriel to check this out in the record, and after a moment Gabriel affirmed that this was true.
Saint Peter said, "Well , that's fine, but it's not really quite enough to get you into Heaven." The Lawyer said, "Wait Wait! There's more! Three years ago I also gave a homeless person a quarter." Saint Peter nodded to Gabriel, who after a moment nodded back, affirming this, too, had been verified.
Saint Peter then whispered to Gabriel, "Well, what do you suggest we do with this fellow?"
Gabriel gave the Lawyer a sidelong glance, then said to Saint Peter,
"Let's give him back his 50 cents and tell him to go to Hell."
Blonde and computers
Yesterday I came back to my office from Court. There was a new secretary (a very attractive blonde, of course?) in the office down the hall from me. She flagged me down and asked for help. "My floppy drive won't work, can you help me ?" she asked.
I told her I'd take a look and proceeded over to her machine, where I found shredded up clear plastic Baggie-like stuff hanging out of her 3.5" floppy drive. While I spent the next 20 minutes getting out her disk and digging out the plastic, I noticed two guys, John and Dave, in the hall trying awfully hard to keep straight faces. Suspecting some mischief, I asked her how the plastic got into the drive.
"Oh, you mean the condom!", she said.
"Condom???", I asked.
"Yes, John & Dave over there told me to always put a condom on my disk before inserting it, to prevent catching viruses."
By this point, John & Dave were roaring, and it was all I could do to keep from joining them. The "condom" turned out to be a standard 3.5" plastic sleeve. I delicately explained to her that a practical joke had been played, and she shouldn't do that anymore, when she asked (as serious as one could be):
"Does that mean I don't have to stroke it ten times or blow on it either???"