Really funny jokes-Cowboy in Theatre
A lazy cowboy went to the movies. As the usher guided him to his seat, he noticed that the cowboy sprawled across three entire seats in the theater.
He whispered to the cowboy, "Sorry, sir, but you're only allowed one seat." The cowboy moaned but didn't move. The usher warned again. "Sir, if you don't get up from there, I'll have no choice but to call the manager."
The cowboy just moaned.
The usher marched briskly back up the aisle and returned with the manager. Together the two of them tried repeatedly to move the cowboy, but with no success. Finally, they summoned the security. The security guy surveyed the situation briefly then asked, "All right fella, what's you're name?"
"Tex," the cowboy moaned.
"Where ya from, Tex?"
With pain in his voice Tex replied.... "The balcony."

#joke
Funny video of the day - Going for Gold FAIL
There were 11 people hanging o...
There were 11 people hanging onto a rope that came down from a plane.
Ten were Antartians, and one was a university professor. They all decided that one person should get off because if they didn't then the rope would break and everyone would die. No one could decide who should go, so finally the professor said, "I'll get off." After a really touching speech from the professor saying she would get off, all of the Antartians started clapping.
#joke
A Blonde walks into a Restarau...
A Blonde walks into a Restaraunt, and she goes straight to the bulletin board in the back. The blonde is looking at the bulletin board and she sees a piece of paper that sais "Ocean Cruise Only 5$" She pulls the piece of paper off the wall and goes to the address listed on the back of paper. She walks into the building and hands the secretary the piece of paper. The secretary nods and asks if she had the five dollars. The blonde nods and pulls five dollars out of her pocket and hands it to the secretary. The secretary looks over to a burly black guy reading a news paper. She nods to the black guy. He stood up and nocks the blonde unconcious. When the blonde wakes up she's tied to a log and is floating down river. She started to think that this was a bad idea. When she sees one of her freinds (who is also blonde) tied to a log floating right next to her. In a Joking manner blonde she looks at her freind and says "So do you think they're going to serve us some food on this trip?"
The other blonde replies "They didn't serve any last year."
Bumper Stickers in Heaven
Honk if you ARE Jesus
Ask Me About My Previous Lives
I Brake For Celestial Choirs
I Died and Went To Heaven and All I Got Was This Lousy Halo
Polar Bear
2 polarbers are walking around in the artic. a father and son pair. The son looks at the father and says, " Dad i got a question, are u sure I am 100% polarbear?". The father looks at his son and says, "Yes son your 100% polar bear"
"OK" the son says
They keep walking and about 20 min later the son again says: "Are you sure I am 100% polarbear?" The father again says, "Yes son you're 100% polar bear"
"OK" the son says
Then about 30 min later the son says, "OK dad be serious are you sure I am 100% polarbear are You sure there is no blackbear or grizzly bar in me??" "Yes son your 100% polarbear, I am 100% polarbear and so is your monther. Why do u keep asking son?" The son says, "Well I dont know about u but I am freezing"
#joke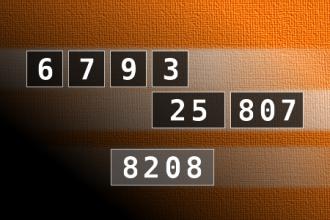 Calculate the number 8208
NUMBERMANIA: Calculate the number 8208 using numbers [6, 7, 9, 3, 25, 807] and basic arithmetic operations (+, -, *, /). Each of the numbers can be used only once.
A collection of insults!
If you were orphaned when you were a child, I feel sorry for you, but not for your parents.
If you don't want to give people a bad name, you will have your children illegitimately.
Is your name Laryngitis? You're a pain in the neck.
Is your name Dan Druff? You get into people's hair.
I hear you pick your friends -- to pieces!!
I bet your brain feels as good as new, seeing that you've never used it.
They say that two heads are better than one. In your case, one would have been better than none.
You should toss out more of your funny remarks; that's all they're good for.
People can't say that you have absolutely nothing! After all, you have inferiority!
You must have a low opinion of people if you think they're your equals.
I wish you were all here. I don't like to think there is more!
If we were to kill everybody who hates you, it wouldn't be murder; it would be genocide!
#joke
Santa is a Woman
I hate to be the one to defy sacred myth, but I believe he's a she.
Think about it. Christmas is a big, organized, warm, fuzzy, nurturing social deal, and I have a tough time believing a guy could possibly pull it all off!
For starters, the vast majority of men don't even think about selecting gifts until Christmas Eve. It's as if they are all frozen in some kind of Ebenezerian Time Warp until 3 p.m. on Dec. 24th, when they – with amazing calm – call other errant men and plan for a last-minute shopping spree.
Once at the mall, they always seem surprised to find only Ronco products, socket wrench sets and mood rings left on the shelves. (You might think this would send them into a fit of panic and guilt, but my husband tells me it's an enormous relief because it lessens the 11th-hour decision-making burden.) On this count alone, I'm convinced Santa is a woman.
Surely, if he were a man, everyone in the universe would wake up Christmas morning to find a rotating musical Chia Pet under the tree, still in the bag.
Another problem for a he-Santa would be getting there. First of all, there would be no reindeer because they would all be dead, gutted, and strapped on to the rear bumper of the sleigh, amid wide-eyed, desperate claims that buck season had been extended. Blitzen's rack would already be on the way to the taxidermist.
Even if the male Santa did have reindeer, he'd still have transportation problems because he would inevitably get lost in the snow and clouds, and then refuse to stop and ask for directions.
Add to this the fact that there would be unavoidable delays in the chimney, where the Bob Vila-like Santa would stop to inspect and repoint bricks in the flue. He would also need to check for carbon monoxide fumes in every gas fireplace, and get under every Christmas tree that is crooked to straighten it to a perfectly upright 90-degree angle.
Other reasons why Santa can't possibly be a man:
- Men can't pack a bag.
- Men would rather be dead than caught wearing red velvet.
- Men would feel their masculinity is threatened, having to be seen with all those elves.
- Men don't answer their mail.
- Men would refuse to allow their physique to be described, even in jest, as anything remotely resembling a "bowlful of jelly."
- Finally, being responsible for Christmas would require a commitment.
I can buy the fact that other mythical holiday characters are men. Father Time shows up once a year unshaven and looking ominous. Definite guy. Cupid flies around carrying weapons. Uncle Sam is a politician who likes to point fingers. Any one of these individuals could pass the testosterone screening test. But not St. Nick. Not a chance.
Filming on location for Walker...
Filming on location for Walker: Texas Ranger, Chuck Norris brought a stillborn baby lamb back to life by giving it a prolonged beard rub. Shortly after the farm animal sprang back to life and a crowd had gathered, Chuck Norris roundhouse kicked the animal, breaking its neck, to remind the crew once more that Chuck giveth, and the good Chuck, he taketh away.
Rachel Feinstein: Whore Friends
Were at this bar, and Im talking to this guy. Hes kind of leaning in like maybe hes intrigued by me, or something. All of a sudden, I look up and I notice, out of the corner of my eye, my friend that I came there with is doing some sort of a titty dance on the bar, right above us. And you cant really compete with that. Cause I think that every man hopes and prays that a titty jig is just going to erupt at any moment in their lives.
#joke
Church Cake!
Have you ever told a white lie? You are going to love this — especially all the ladies who bake for church events
Alice was to bake a cake for the church ladies' group bake sale, but she forgot to do it until the last minute.
She baked an angel food cake and when she took it from the oven, the center had dropped flat.
She said, "Oh dear, there's no time to bake another cake."
So, she looked around the house for something to build up the center of the cake.
Alice found it in the bathroom … a roll of toilet paper.
She plunked it in and covered it with icing.
The finished product looked beautiful, so she rushed it to the church. Before she left the house, Alice had given her daughter some money and specific instructions to be at the bake sale the minute it opened, and to buy that cake and bring it home.
When the daughter arrived at the sale, the attractive cake had already been sold.
Alice was beside herself.
The next day, Alice was invited to a friend's home where two tables of bridge were to be played that afternoon.
After the game, a fancy lunch was served, and to top it off, the cake in question was presented for dessert.
Alice saw the cake, she started to get out of her chair to rush into the kitchen to tell her hostess all about it, but before she could get to her feet, one of the other ladies said, "What a beautiful cake!"
Alice sat back in her chair when she heard the hostess (who was a prominent church member) say,
"Thank you, I baked it myself."
#joke
Answering Machine Message 97
"Camptown Races":
I can't come to the telephone; doo-dah, doo-dah.
Leave your message when you hear the tone; oh, de doo-dah day.
Might be gone all night... Might be gone all day...
So leave a message when you hear the tone.
I'll call you back someday...
#joke
How good was I?
A guy meets a girl out at a nightclub and she invites him back to her place for the night, her parents are out of town and this is the perfect opportunity.
They get back to her house and they go into her bedroom, and when the guy walks in the door he notices all these fluffy toys.
There's hundreds of them, fluffy toys on top of the wardrobe, fluffy toys on the bookshelf and window sill, there's more on the floor, and of course fluffy toys all over the bed.
Later, after they've had sex, he turns to her and asks, "So, how was I?"
She says, "Well, you can take anything from the bottom shelf."
#joke
New Secretary
The real estate boss got a hot new secretary. Afraid of sexual harrassment issues he held himself off for a week, but finally overcome with lust, he decided to put some moves on her. But within a few weeks, he is feeling displeased at the way she is working, not caring, coming to work late, and so on. So, he pulls her aside, and has a little talk with her. "Listen, baby, we may have gone to bed together a few times, but who said you could start coming in late and slacking off?" Looking him in the eyes, she replied, "My lawyer!"