Good jokes-Borrow the book
Bennett asks his friend Ernest, "Hey, can you lend me your book titled 'How To Become A Billionaire'?"
Ernest says, "Wait a minute, I'll get it for you".
When Ernest gives him the book, Bennett comments, "Thank you, buddy, but half the pages are missing!!"
Ernest replies, "So what? Isn't half a billion enough for you?"
#joke
R.I.P. Seamus
This joke is really just an excuse to use a ridiculous Irish accent.
Mary Mcready was at home boiling potatoes for dinner, and one of her neighbors came up to the window.
"Mary," he said, "I've got horrible news about your husband Seamus. He's dead."
"Oh lord, my Seamus, how did it happen?" said Mary.
"Well," the neighbor said, "we went on a tour of the Guinness brewery, and Seamus fell into one of the vats and drowned".
"Did he at least go quickly?" asked Mary, looking for some degree of solace.
"I'm afraid not, Mary. He got out three times to pee"
#joke
Funny video of the day - Wooden Motorcycle
Hymn #365
A southern Baptist minister was completing a temperance sermon.
With great emphasis he said, "If I had all the beer in the world, I'd take it and pour it into the river."With even greater emphasis he said, "And if I had all the wine in the world, I'd take it and pour it into the river."
And then finally, shaking his fist in the air, he said, "And if I had all the whiskey in the world, I'd take it and pour it into the river."
Sermon complete, he then sat down.
The song leader stood very cautiously and announced with a smile, "For our closing song, let us sing Hymn #365, Shall We Gather at the River."
A couple of puns...
Not too long ago a scientist tried to clone himself. However, his clone was very obnoxious and lewd, while the scientist was well received and respected. Finally fed up with his experiment gone wrong, he threw his clone off the roof of the laboratory; killing the clone. He was arrested by the local police for... making an obscene clone fall.
--------------------
Two Eskimos sitting in a kayak were chilly, but when they lit a fire in the craft it sank-proving once and for all that you can't have your kayak and heat it, too.
#joke
Results of a Tornado
Q: What do a tornado, a hurricane and a redneck divorce
have in common?
A: In the end, someone is going to loose a house trailer.
Early one morning, a mother we...
Early one morning, a mother went in to wake up her son. "Wake up, son. It's time to go to school!"
"But why, Mom? I don't want to go."
"Give me two reasons why you don't want to go."
"Well, the kids hate me for one, and the teachers hate me, too!"
"Oh, that's no reason not to go to school. Come on now and get ready."
"Give me two reasons why I should go to school."
"Well, for one, you're 52 years old. And for another, you're the Principal!"
#joke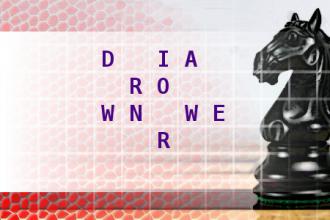 Chess Knight Move
Find the title of movie, using the move of a chess knight. First letter is R. Length of words in solution: 4,6.
Santa is a Woman
I hate to be the one to defy sacred myth, but I believe he's a she.
Think about it. Christmas is a big, organized, warm, fuzzy, nurturing social deal, and I have a tough time believing a guy could possibly pull it all off!
For starters, the vast majority of men don't even think about selecting gifts until Christmas Eve. It's as if they are all frozen in some kind of Ebenezerian Time Warp until 3 p.m. on Dec. 24th, when they – with amazing calm – call other errant men and plan for a last-minute shopping spree.
Once at the mall, they always seem surprised to find only Ronco products, socket wrench sets and mood rings left on the shelves. (You might think this would send them into a fit of panic and guilt, but my husband tells me it's an enormous relief because it lessens the 11th-hour decision-making burden.) On this count alone, I'm convinced Santa is a woman.
Surely, if he were a man, everyone in the universe would wake up Christmas morning to find a rotating musical Chia Pet under the tree, still in the bag.
Another problem for a he-Santa would be getting there. First of all, there would be no reindeer because they would all be dead, gutted, and strapped on to the rear bumper of the sleigh, amid wide-eyed, desperate claims that buck season had been extended. Blitzen's rack would already be on the way to the taxidermist.
Even if the male Santa did have reindeer, he'd still have transportation problems because he would inevitably get lost in the snow and clouds, and then refuse to stop and ask for directions.
Add to this the fact that there would be unavoidable delays in the chimney, where the Bob Vila-like Santa would stop to inspect and repoint bricks in the flue. He would also need to check for carbon monoxide fumes in every gas fireplace, and get under every Christmas tree that is crooked to straighten it to a perfectly upright 90-degree angle.
Other reasons why Santa can't possibly be a man:
- Men can't pack a bag.
- Men would rather be dead than caught wearing red velvet.
- Men would feel their masculinity is threatened, having to be seen with all those elves.
- Men don't answer their mail.
- Men would refuse to allow their physique to be described, even in jest, as anything remotely resembling a "bowlful of jelly."
- Finally, being responsible for Christmas would require a commitment.
I can buy the fact that other mythical holiday characters are men. Father Time shows up once a year unshaven and looking ominous. Definite guy. Cupid flies around carrying weapons. Uncle Sam is a politician who likes to point fingers. Any one of these individuals could pass the testosterone screening test. But not St. Nick. Not a chance.
Maria Bamford: Fulfilling Potential
Im afraid that fulfilling my potential would really cut into my sitting around time.
Chuck Norris is the reason why...
Chuck Norris is the reason why Waldo is hiding.
A guy is sitting at a bar ...
A guy is sitting at a bar in a skyscraper restaurant high above the city. He's slamming tequila left and right. He grabs one, drinks it, goes over to a window and jumps out. The guy who was sitting next to him couldn't believe that the guy had just done that. He was more surprised when, ten minutes later, the same guy, unscathed, comes walking back into the bar and sits back down next to him. The astonished guy asks "How did you do that? I just saw you jump out that window and we're hundreds of feet above the GROUND!!!". The jumper responds by slurring, "Well, I don't get it either. I slam a shot of tequila and when I jump out the window, the tequila makes me slow down right before I hit the ground. Watch." He takes a shot, slams it down, goes to the window and jumps out. The other guy runs to the window and watches as the guy falls until right before the ground, slows down and lands softly on his feet. A few minutes later, the guy walks back into the bar. The other guy has to try it too, so he orders a shot of tequila. He drinks it and goes to the window and jumps. As he reaches the bottom, he doesn't slow down at all....SPLAT!!!!!! The first guy orders another shot of tequila and the bartender says to him, "You're really an jerk when you're drunk, Superman."
#joke
3 little boys
Three little black boys sitting on a porch. The first
little black boy says, "What would you do with a million
dollars?" The second boy said, "I'd buy that blue Cadillac
over there." The third little boy said, "I'd buy the pink
Cadillac siiting over there." Then the third little boy
asked the first what he'd do with the money. The first boy
replied, "I'd cover myself in hair." The other two asked
"why?" and he said because my sister has a(2" x 2") patch of
hair and she owns both those Cadillacs!
#joke
Mark Gross: Can You Help?
A couple days ago, I was crossing this bridge, and there was this character standing there with a cup in his hand. He goes, Hey, can you help out my wife and family? I said, Sure. And I pushed him off the bridge.
The maids revenge
Just after the maid had been fired. She took five bucks from her purse, she threw it to Fido, the family dog. When asked why by her former employer, she answered, "I never forget a friend. This was for helping me clean the dishes all the time!
You might be a redneck if 28
You might be a redneck if...
Motel 6 turns off the lights when they see you coming.
There are more dishes in your sink than in your cabinets.
You think a turtleneck is a key ingredient in soup.
You've ever stood in line to get your picture taken with a freak of nature.
Your anniversary present was getting the septic tank pumped.
Your local ambulance has a trailer hitch.
You watch cartoons long after your kids get bored.
You think the French Riviera is a foreign car.
You think you are an entrepreneur because of the "Dirt for Sale" sign in the front yard.
You're still scalping tickets after the concert is over.
#joke
Pet names....
There once was a man who was so proud of the fact that he had six kids that he insisted on calling his wife "mother of six."
His wife hated this name and asked him repeatedly not to call her that, but he was a stubborn man and was very proud that he had six kids.
One evening they were at a dinner party for his company and it was getting close to the time that they should be leaving. The husband yelled from across the room over to his wife, "mother of six, are you ready to go?"
Annoyed with his question, she responded, "In a minute, Father of four."
#joke