Tour Bus Driver
A tour bus driver is driving with a bus full of old aged pensioners when he is tapped on his shoulder by a little old lady.
She offers him a handful of peanuts, which he gratefully munches up.
After about 15 minutes, she taps him on the shoulder again and she hands the driver another handful of peanuts.
When she is about to hand him another batch again, he asks her "Why don't you eat the peanuts?"
"We can't chew them because we have no teeth", she replied.
"We just love the chocolate around them."


#joke
Hillbilly jokes-Smart son
Audrey-Anne, the hillbilly said to her friend, "You know, my boy's real smart!" He's only five but already spell his name backwards and forwards!"
"What's his name?" asked the friend.
Audrey-Anne replied ,"Bob."
Funny video of the day - Top 5 Whacked in The Wild
Chair Man of the Board
Resolving to surprise her husband, an executive''s wife stopped by his office. When she opened the door, she found him with his secretary sitting in his lap.
Without hesitating, he dictated, "...and in conclusion, gentlemen, budget cuts or no budget cuts, I cannot continue to operate this office with just one chair."
#joke
A**hole
While nursing a drink at a bar, a young woman was distressed to see a drunken unkept man sit down next to her.
"Say, honey-baby ... I'd really like to get into those pants of yours."
"Thanks," she shot back, "But I've already got an a**hole in there."
Submitted by Clark Kent
Edited by Yisman
#joke
Michael Kosta: Braille Tattoo
I once convinced a blind woman that I had a Braille tattoo on my penis. Thank god shes a slow reader.
"Well," snarled the tough old ...
"Well," snarled the tough old sergeant to the bewildered private. "I suppose after you get discharged from the Army, you'll just be waiting for me to die so you can come and spit on my grave."
"Not me, Sarge!" the private replied. "Once I get out of the Army, I'm never going to stand in line again!"
#joke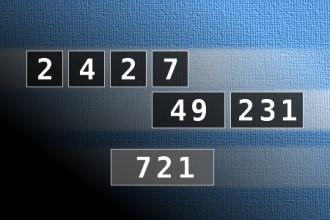 Calculate the number 721
NUMBERMANIA: Calculate the number 721 using numbers [2, 4, 2, 7, 49, 231] and basic arithmetic operations (+, -, *, /). Each of the numbers can be used only once.
Veterinary Clinic
Glenn took his dog to the veterinary clinic, and laid its limp body on the table. The doctor pulled out his stethoscope, listened to the dog's chest for a moment, then shook his head sadly. "I'm sorry, but your dog has passed away."
"What?" Glenn screamed. "You haven't even done any tests! I want another opinion."
The vet left the room and returned in a few moments with a Labrador Retriever. The Retriever sniffed the dog on the table carefully from head to toe. Finally, the Retriever shook it's head and barked once (meaning "dead and gone").
The vet took the Labrador away and returned a few minutes later with a cat, which also sniffed carefully over the dog on the table before shaking its head and saying, "Meow" (meaning "he's gone").
After the cat jumped off the table, the vet handed Glenn a bill for $600. The man shook the bill at the vet. "$600!!!! Just to tell me my dog is dead?!!! That's outrageous!"
The vet explained. "If you had taken my word for it, the charge would have been $50, but with the Lab work and the cat scan…."
In a fight between Batman and ...
In a fight between Batman and Darth Vader, the winner would be Chuck Norris.
In 1945, Adolf Hitler was real...
In 1945, Adolf Hitler was really kicked to death by a five year old Chuck Norris.
Low Bridge
A truck driver was driving along on the freeway. He passed a sign that said "low bridge ahead."
Before he knew it, the bridge was right ahead of him and he could not avoid getting stuck under the bridge. You could say that he got a "Truck Wedgie."
Cars were backed up for miles.
Finally, a police car pulled up. The cop got out of his car and walked around to the truck driver, put his hands on his hips and said, "Got stuck, huh?"
The gutsy truck driver said, "No officer, I was delivering this bridge and ran out of gas!"
#joke
Little Johnny was sitting in c...
Little Johnny was sitting in class doing math problems when his teacher picked him to answer a question:
"Johnny, if there were five birds sitting on a fence and you shot one with your gun, how many would be left ?"
"None.", replied Johnny. "'cause the rest would fly off."
"The correct answer is four," said the teacher. "But I like your thinking."
Little Johnny said, "I have a question for you now. If there were three women eating ice cream cones in a shop, one licking her cone, the second biting her cone, and the third one sucking her cone, which one is married ?
"Well," said the teacher nervously, "I guess the one sucking her cone?"
"No," said Little Johnny, "The one with the wedding ring on her finger. But I like the way you think!"
#joke
Dancing duck
A circus owner walked into a bar to see everyone crowded about a table watching a little show. On the table was an upside down pot and a duck tap dancing on it. The circus owner was so impressed that he offered to buy the duck from its owner. After some wheeling and dealing, they settled for $10,000 for the duck and the pot.
Three days later the circus owner runs back to the bar in anger, "Your duck is a ripoff! I put him on the pot before a whole audience, and he didn't dance a single step!"
"So?" asked the ducks former owner, "did you remember to light the candle under the pot?"
#joke