Clean jokes-Bald head
Luke, who lived in a small town, was teased everywhere he went as he had a completely bald head! Having put up with it for years, he decided to would not take it any more. So he climbed a tall tower and shouted for everyone to hear: "I am not bald, it just so happens that I'm taller than my hair!"
#joke
Operating Room
Two little kids are in a hospital, lying on stretchers next to each other outside the operating room.

The first kid leans over and asks, "What are you in here for?"
The second kid says, "I'm in here to get my tonsils out and I'm a little nervous."
The first kid says, "You've got nothing to worry about. I had that done when I was four. They put you to sleep, and when you wake up they give you lots of Jell-O and ice cream. It's a breeze."
The second kid then asks, "What are you here for?"
The first kid says, "A circumcision."
"Whoa!" the second kid replies. "Good luck, buddy. I had that done when I was born. Couldn't walk for a year."
#joke
Funny video of the day - 11 Month Old Twins Dancing
Mr. Marlow was strolling...
Mr. Marlow was strolling through the country when he saw a stable with the most beautiful horse he ever laid eyes on. It was seventeen hands high and white, with rippling muscles and a fine, flowing mane. Mr. Marlow struck a deal to buy it from the owner who did, however, pass on one key piece of information.
"We are a religious family, Mr.Marlow, and we've instilled those values in our horse. To get him to gallop you must say 'Thanks God' to get him to stop you must say 'Our Father Who Art in Heaven," Settling into the saddle, Marlow said " Thanks God," and the animal took off. They rode for miles; suddenly they were coming up to a cliff. Unfortunately, Marlow couldn't remember the phrase to make the animal stop and tried every Biblical passage he could think of until, just a few feet from the edge of the cliff, he shouted, " Our Father Who Art in Heaven! The animal stopped instantly. Shaking and perspiring, Marlow reached into his pocket and pulled out a handkerchief. "Thanks God," he said as he mopped his brow...
#joke
Delivery....
In the back woods, Mr. Stewart's wife went into labor in the middle of the night, and the doctor was called out to assist in the delivery.
To keep the nervous father-to-be busy, the doctor handed him a lantern and said, "Here, you hold this high so I can see what I'm doing." Soon, a wee baby boy was brought into the world.
"Whoa there Scotty!" said the doctor. "Don't be in a rush to put the lantern down... I think there's yet another wee one to come." Sure enough, within minutes he had delivered another little baby.
"No, no, don't be in a great hurry to be putting down that lantern, young man... It seems there's yet another one besides!" cried the doctor.
The new father scratched his head in bewilderment, and asked the doctor. "Do ye think it's the light that's attractin' them?"
Poor Old Lady
This old lady walks into the Doctor's office and says,
"Doctor, please help me. I have a terrible problem with
farting. It's not really a social problem, because you can't
smell it or hear it, but I must have farted 20 times since
talking to you." The Doctor nods his head and says, "Take
this bottle of pills and use them all. When they are all
gone in about 2 weeks, come back to see me." The old lady
comes back 2 weeks later and is angry. She says "What was in
those pills? I fart just as much. You still can't hear
them, but now they smell horrible!" The Doctor again nods
his head and says, "Great, that takes care of your sinus
problem, now let's work on your hearing."
I had plastic surgery last wee...
I had plastic surgery last week. My wife cut up my credit cards!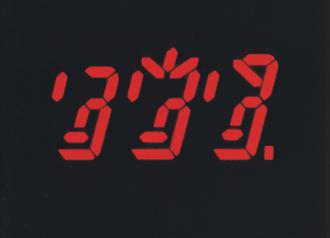 Guess the Band Name
Which musician band has an album with a cover as in the picture?
Flustered
As an instructor in driver education at the local area High School, I've learned that even the brightest students can become flustered behind the wheel.
One day I had three beginners in the car, each scheduled to drive for 30 minutes.
When the first student had completed his time, I asked him to change places with one of the others.
Gripping the wheel tightly and staring straight ahead, he asked in a shaky voice, "Should I stop the car first?"
#joke
A blonde and a lawyer are seat...
A blonde and a lawyer are seated next to each other on a flight from LA to NY. The lawyer asks if she would like to play a fun game?
The blonde, tired, just wants to take a nap, politely declines and rolls over to the window to catch a few winks. The lawyer persists and explains that the game is easy and a lot of fun. He explains, I ask you a question, and if you don't know the answer, you pay me $5.00, and vise versa.
Again, she declines and tries to get some sleep. The lawyer, now agitated, says, "Okay, if you don't know the answer you pay me $5.00, and, if I don't know the answer, I will pay you $500.00."
This catches the blonde's attention and, figuring there will be no end to this torment unless she plays, agrees to the game.
The lawyer asks the first question. "What's the distance from the earth to the moon?" The blonde doesn't say a word, reaches into her purse, pulls out a $5.00 bill and hands it to the lawyer.
Okay says the lawyer, your turn. She asks the lawyer, "What goes up a hill with three legs and comes down with four legs?" The lawyer, puzzled, takes out his laptop computer and searches all his references, no answer. He taps into the air phone with his modem and searches the net and the library of congress, no answer. Frustrated, he sends e-mails to all his friends and coworkers, to no avail.
After an hour, he wakes the blonde, and hands her $500.00. The blonde says, "Thank you," and turns back to get some more sleep.
The lawyer, who is more than a little miffed, wakes the blonde and asks, "Well, what's the answer? "Without a word, the blonde reaches into her purse, hands the lawyer $5.00, and goes back to sleep.
If, by some incredible space-t...
If, by some incredible space-time paradox, Chuck Norris would ever fight himself, he'd win. Period.
Loni Love: All the Holidays
I used to work in an office, and when I worked in an office, I celebrated all the holidays -- Cesar Chavez Day, Labor Day -- just to get a day off of work. It could be KKK Day -- Do I get a day off of work?
Drawing God
A kindergarten teacher was observing her classroom of children while they drew. She would occasionally walk around to see each child's artwork. As she got to one little girl who was working diligently, she asked what the drawing was.
The girl replied, "I'm drawing God." The teacher paused and said, "But no one knows what God looks like."
Without missing a beat, or looking up from her drawing the girl replied, "They will in a minute."

#joke
Chuck Norris is currently suin...
Chuck Norris is currently suing NBC, claiming Law and Order are trademarked names for his left and right legs.
Signs You Have a Han
1. You'd rather have a pencil driven through your retina than be exposed to sunlight.
2. Trying to gain control of the situation, you continue to tell your room to "stay still."
3. Looking at yourself in the mirror induces the same reaction as chugging a glass of fresh paint. 4. You're convinced that chirping birds are Satan's pets.
5. You set aside an entire morning to spend some quality time with your toilet.
6. You replaced the traditional praying on your knees with the more feasible praying in a fetal position.
7. The bathroom reminds you of a carnival barker shouting, "Step right up and give it whirl!" 8. All day long your motto is, "Never again."
9. You could purchase a new bike just by recycling the bottles around your bed.
10. Your natural response to "Good morning," is "Shut up!"
#joke
Lynne Koplitz: Size Zero Roommate
She actually asked me for four grapes once. She counted grapes. What kind of mental patient counts grapes? Do you know anyone who does that? Thats the weirdest thing. I was like, Four grapes... To me grapes arent even a food. Theyre like a palate cleanser. Thats what I eat to get the Big Mac taste out of my mouth.
#joke
Church Bulletin Bloopers: Weddings and Babies
Irving Benson and Jessie Carter were married on October 24 in the church. So ends a friendship that began in their school days.
The Honeymooners are now having bile studies each Tuesday evening at 7:30 p.m.
The rosebud on the altar this morning is to announce the birth of David Alan Belzer, the sin of Rev. and Mrs. Julius Belzer.
Please join us as we show our support for Amy and Alan who are preparing for the girth of their first child.
Thursday at 5:00 pm, there will be a meeting of the Little Mothers Club. All ladies wishing to be "Little Mothers" will meet with the Pastor in his private study.
(For the group of ladies called Moms Who Care and pray for the children in school). When their meeting was cancelled one week: "There will be no Moms who care this week."
- Joke shared on Beliefnet's Religious Humor page
#joke