Camel Questions
A mother and baby camel are talking one day when the baby camel asks, "Mom, why have I got these huge three toed feet?"

The mother replies, "Well son, when we trek across the desert your toes will help you to stay on top of the soft sand."
"Okay," says the son.
A few minutes later the son asks, "Mom, why have I got these great long eyelashes?"
"They are there to keep the sand out of your eyes on the trips through the desert."
"Thanks Mom," replies the son.
After a short while, the son returns and asks, "Mom, why have I got these great big humps on my back??"
His mother replies impatiently, "They are there to help us store water for our long treks across the desert."
"That's great Mom. So we have huge feet to stop us sinking, and long eyelashes to keep the sand from our eyes, and these humps to store water, but Mom..."
"Yes, son?"
"Do we really need all of these in the zoo?"

#joke
Funny jokes-Charity
Tony had gathered a lot of cash from trick-or-treating, so he headed for candy store to buy some goodies.
"You should donate that money to charity," said the sales girl.
Tony thought for a moment and said, "No, I'll buy the chocolate. You give the money to charity."
#joke
Funny video of the day - Crazy Lady Wreaking Havoc in NYC Streets
What do romantic vampires do? ...
What do romantic vampires do?
Neck!
The following 15 Police Commen...
The following 15 Police Comments were taken from actual police car videos around the country. Count down to #1...
#15 "Relax, the handcuffs are tight because they're new. They'll stretch after you wear them a while."
# 14 "If you take your hands off the car, I'll make your birth certificate a worthless document."
#13 "If you run, you'll only go to jail tired."
#12 "Can you run faster than 1200 feet per second? Because that's the
speed of the bullet that'll be chasing you."
#11 "You don't know how fast you were going? I guess that means I can
write anything I want to on the ticket, huh?"
#10 "Yes, sir, you can talk to the shift supervisor, but I don't think
it will help. Oh, did I mention that I'm the shift supervisor?"
#9 "Warning! You want a warning? O. K., I'm warning you not to do that
again or I'll give you another ticket."
#8 "The answer to this last question will determine whether you are
drunk or not. Was Mickey Mouse a cat or a dog?"
#7 "Fair? You want me to be fair? Listen, fair is a place where you go
to ride on rides, eat cotton candy, and corn dogs and step in monkey poo. "
#6 "Yeah, we have a quota. Two more tickets and my wife gets a toaster oven."
#5 "In God we trust, all others we run through NCIC."
#4 "How big were those 'Just two beers' you say you had?"
#3 "No sir, we don't have quotas anymore. We used to, but now we're allowed to write as many tickets as we can."
#2 "I'm glad to hear that chief (of Police) Hawker is a personal friend
of yours. So you know someone who can post your bail."
The envelope please.....................
AND THE WINNER IS ...
#1 "You didn't think we give pretty women tickets? You're right, we don't. Sign here."
How Much is a Sermon Worth?
One beautiful Sunday morning, a minister announced to his congregation: "My good people, I have here in my hands three sermons... a $100 sermon that lasts five minutes, a $50 sermon that lasts fifteen minutes, and a $10 sermon that lasts a full hour. Now, we'll take the collection and see which one I'll deliver."
#joke
The trick...
A little boy greeted his grandmother with a hug and said, "I'm so happy to see you, Grandma. Now maybe Daddy will do the trick he has been promising us."
The grandmother was curious. "What trick is that my dear?" she asked.
The little boy replied, "I heard Daddy tell Mommy that he would climb the walls if you came to visit us again."
#joke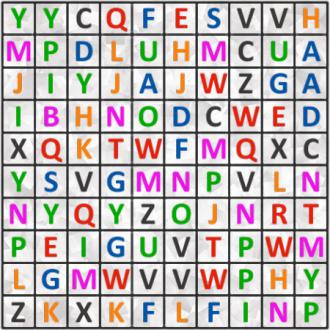 Find a famous person
Find the first and the last name of a famous person. Text may go in all 8 directions. Length of words in solution: 3,5.
Can You Tell Me the Time?
"Excuse me, could you tell me the time?" asked the blonde of
a man on the street corner.
"Sure....it's three
fifteen,"he replied with a smile.
"Thanks," she said, a
puzzled look crossing her face."You know, it's the weirdest
thing-I've been asking that question all day long, and each
time I get a different answer."
Flustered
As an instructor in driver education at the local area High School, I've learned that even the brightest students can become flustered behind the wheel.
One day I had three beginners in the car, each scheduled to drive for 30 minutes.
When the first student had completed his time, I asked him to change places with one of the others.
Gripping the wheel tightly and staring straight ahead, he asked in a shaky voice, "Should I stop the car first?"
#joke
Godzilla is a Japanese renditi...
Godzilla is a Japanese rendition of Chuck Norris' first visit to Tokyo.
Kevin Hart: When You Lost a Fight to Your Woman
One time, she got me so mad, we got into a fist fight. You know how you know when you lost a fight to your woman? When the cops come to your house and ask you do you want to press charges. Thats how you know it didnt go as you planned.
A lady is walking down the str...
A lady is walking down the street to work and see's a parrot in a pet store. She stops to admire the bird. The parrot says to her, "hey lady, you are really ugly."
Well, the lady is furious! She storms past the store to her work.
On the way home she saw the same parrot in the window and the parrot upon seeing her says, "hey lady, you are really ugly."
She was incredibly ticked now. The next day on the way to work she saw the same parrot and once again it said, "hey lady, you are really ugly."
The lady was so furious that she stormed into the store and threatened to sue the store and have the bird killed. The store manager appologized profusely and promised the bird wouldn't say it again.
When the lady walked past the store after work the parrot said to her, "hey lady."
She paused and said," yes?"
The bird said, "you know."
#joke
Kissing a Nun
A cabbie picks up a nun. She gets into the cab, and the cab driver won't stop staring at her. She asks him why is he staring and he replies, "I have a question to ask you but I don't want to offend you."
She answers, "My dear son, you cannot offend me. When you're as old as I am and have been a nun a long as I have, you get a chance to see and hear just about everything. I'm sure that there's nothing you could say or ask that I would find offensive."
"Well, I've always had a fantasy to have a nun kiss me."
She responds, "Well, let's see if you qualify. #1, you have to be single and #2 you must be Catholic."
The cab driver is very excited and says, "Yes, I am single and I'm Catholic too!"
The nun says "OK, pull into the next alley."
He does and the nun fulfills his fantasy. But when they get back on the road, the cab driver starts crying.
"My dear child, said the nun, why are you crying?"
"Forgive me sister, but I have sinned. I lied, I must confess, I'm married and I'm Jewish."
The nun says, "That's OK, my name is Kevin and I'm on my way to a costume party."
- Joke shared by Beliefnet member socaliflady
#joke
Dan Naturman: Airplane Movie Safety
Last time I was on JetBlue, there was a dude next to me who looked a little suspicious. I was nervous. He was watching a movie, though; so Im thinking, Would a hijacker watch a movie? Probably not, right?... But you know its a good movie if you land, and hes like, Oh my God, I forgot to hijack the plane.
#joke
Starting At 8:05
A friend and I were golfing one day when at the 18th hole this guy comes out of nowhere and asks if he could join us. I tell him, "Well, we're just about done but if you want to join us tomorrow you can. We start at 8 o'clock."
He said, "Great! I'll be here at 8 o'clock, maybe 8:05..."
So next day he shows up at 8 o'clock and plays scratch golf; he was good. We were going to play again the next day and we invited him to join us. He said, "Great! I'll be here at 8 o'clock, maybe 8:05..."
So the next day he shows up at 8 o'clock, plays with his opposite hand, and shoots under par! I'm a bit amazed with this guy so I ask him, "You're a pretty good golfer, beating us with scratch golf and then showing-off by playing just as good with your opposite hand. Just what is you secret?"
He said, "Well...when I wake up in the morning and my wife is lying on her left side, I play left-handed. Or when I wake up in the morning and my wife is laying on her right side, I play right-handed."
So I ask, "what if she is laying on her back?"
"That's when I get here at 8:05."
#joke
Who drives you?
Two elderly ladies are sitting on the front porch, doing nothing.
One old lady turns to the other and asks, "Do you still get horny?"
The other replies, "Oh sure I do."
The first old lady asks, "What do you do about It?"
The second old lady replies, "I suck a lifesaver."
After a few moments, the first old lady asks, "Who drives you to the beach?"
#joke