Really funny jokes-Just a drill!
Nicholas and Brenda had been married long. They had a luxurious fishing boat which they often used together, but it was Nicholas who was always behind the wheel operating the boat. He was concerned about what might happen if there was an emergency.
So one day out on the lake, Nicholas suddenly announced to Brenda, "Ok sweetheart, this is an emergency drill. Pretend that I am having a cardiac arrest. You must get the boat safely to shore."
Brenda was initially taken aback, but she soon composed herself and managed to safely drive the boat to shore.
Later that evening, Brenda walked into the living room where Nicholas was watching tv. She sat down next to him, snatched the remote control, switched the channel, and said to him,"OK sweetheart, this is a drill. Pretend I'm having a cardiac arrest. You must set the table, cook dinner, and wash the dishes."
#joke
Actual newspaper headlines....
Police Begin Campaign to Run Down Jaywalkers
Safety Experts Say School Bus Passengers Should Be Belted
Drunk Gets Nine Months in Violin Case
Survivor of Siamese Twins Joins Parents
Farmer Bill Dies in House
Iraqi Head Seeks Arms
Is There a Ring of Debris around Uranus?
Stud Tires Out
Panda Mating Fails; Veterinarian Takes Over
Soviet Virgin Lands Short of Goal Again
Reagan Wins on Budget, But More Lies Ahead
Squad Helps Dog Bite Victim
Shot Off Woman's Leg Helps Nicklaus to 66
Enraged Cow Injures Farmer with Ax
Miners Refuse to Work after Death
Juvenile Court to Try Shooting Defendant
Stolen Painting Found by Tree
Two Soviet Ships Collide, One Dies
Two Sisters Reunited after 18 Years in Checkout Counter
Killer Sentenced to Die for Second Time in 10 Years
Never Withhold Herpes Infection from Loved One
Drunken Drivers Paid $1000 in `84
War Dims Hope for Peace
If Strike isn't Settled Quickly, It May Last a While
Cold Wave Linked to Temperatures
Couple Slain; Police Suspect Homicide
Red Tape Holds Up New Bridge
Typhoon Rips Through Cemetery; Hundreds Dead
Man Struck by Lightning Faces Battery Charge
New Study of Obesity Looks for Larger Test Group
#joke
Funny video of the day - Kangoroo feeding time!!
Amy Schumer: Vaginas Are Work
Its work having a vagina. Guys dont think that its work but it is. You think it shows up like that to the event? It doesnt. Every night its like getting it ready for its first Quinceanera, believe me.
Blind Man
Husband and wife are waiting at the bus stop with their nine children. A blind man joins them after a few minutes. When the bus arrives, they find it overloaded and only the wife and the nine kids are able to fit onto the bus.
So the husband and the blind man decide to walk. After a while, the husband gets irritated by the ticking of the stick of the blind man as he taps it on the sidewalk, and says to him, "Why don't you put a piece of rubber at the end of your stick? That ticking sound is driving me crazy."

The blind man replies, "If you would've put a rubber at the end of YOUR stick, we'd be riding the bus ... so shut up."

#joke
An annoyingly self-righteous m...
An annoyingly self-righteous man went to the doctor for a check-up.
He said, "I feel terrible. Please examine me and tell me what's wrong with me."
"Let's begin with a few questions," said the doctor. "Do you drink much?"
"Alcohol?" said the man. "I'm a teetotaler. Never touch a drop."
"How about smoking?" asked the doctor.
"Never," replied the man. "Tobacco is bad, and I have strong principles against it."
"Well, uh," said the doctor, "do you have much sex life?"
"Oh, no!" said the man. "Sex is sin. I'm in bed by 10:30 every night, and I always have been."
The doctor paused, looked hard at the man, and asked, "Well, do you have pains in your head?"
"Yes," said the man. "I have terrible pains in my head."
"OK," said the doctor. "That's your trouble. Your halo is on too tight!"
Flustered
As an instructor in driver education at the local area High School, I've learned that even the brightest students can become flustered behind the wheel.
One day I had three beginners in the car, each scheduled to drive for 30 minutes.
When the first student had completed his time, I asked him to change places with one of the others.
Gripping the wheel tightly and staring straight ahead, he asked in a shaky voice, "Should I stop the car first?"
#joke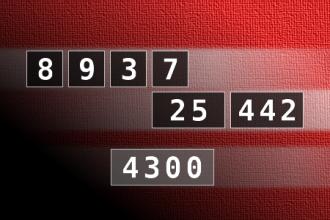 Calculate the number 4300
NUMBERMANIA: Calculate the number 4300 using numbers [8, 9, 3, 7, 25, 442] and basic arithmetic operations (+, -, *, /). Each of the numbers can be used only once.
If you were somehow able to la...
If you were somehow able to land a punch on Chuck Norris your entire arm would shatter upon impact. This is only in theory, since, come on, who in their right mind would try this?
Pope has email
The Vatican has unveiled a email address for the new Pope.
In related news, the Pope has received a confidential financial offer from the President of Nigeria.
Three old men were sitting aro...
Three old men were sitting around and talking. The 80 year-old said, "The best thing that could happen to me would just to be able to have a good pee. I stand there for twenty minutes, and it dribbles and hurts. I have to go over and over again."
The 85 year-old said, "The best thing that could happen to me is if I could have one good bowel movement. I take every kind of laxative I can get my hands on and it's still a problem."
Then the 90 year-old said, "That's not my problem. Every morning at 6:00 am sharp, I have a good long pee. At around 6:30 am I have a great bowel movement. The best thing that could happen to me would be if I could wake up before 7:00 am.
#joke
Chuck Norris once pulled out a...
Chuck Norris once pulled out a single hair from his beard and skewered three men through the heart with it.
Modern Science
Researchers say they've discovered a tree extract that could
help to prevent herpes...
.. Must be a rubber tree...
Shhhh!
A Sunday school teacher asked the children just before she dismissed them to go to church, "And why is it necessary to be quiet in church?"
Annie replied, "Because people are sleeping."
John Mulaney: Benchwarmer Humiliation
I played basketball for five years, and I was a benchwarmer all five years. If you were never a benchwarmer, I cannot express to you the humiliation of, every Saturday morning, putting on a pair of breakaway pants and never having a reason to break them away -- then theyre just pants.
Church members...
Three couples went in to see the minister about becoming new members of his church. The minister said that they would have to go without sex for two weeks and then come back and tell him how it went.
The first couple was retired, the second couple was middle aged and the third couple was newly married.
Two weeks went by, and the couples returned to the minister.
The retired couple said it was no problem at all.
The middle-aged couple said it was tough for the first week, but after that it was no problem.
The newlyweds said it was fine until she dropped the can of paint.
"Can of PAINT!" exclaimed the minister.
"Yeah," said the newlywed man. "She dropped the can and when she bent over to pick it up I had to have her right there and then. Lust took over."
The minister just shook his head and said that they were not welcome in the church.
"That's okay," said the man. "We're not welcome in Home Depot either."
#joke