Q. What word does heavenly ang...
Q. What word does heavenly angels use most often to greet each other?

A. Halo!

At a recent computer expo (COM...
At a recent computer expo (COMDEX), Bill Gates reportedly compared the computer industry with the auto industry and stated "If GM had kept up with technology like the computer industry has, we would all be driving twenty-five dollar cars that got 1000 mi/gal."
Recently General Motors addressed this comment by releasing the statement: "Yes, but would you want your car to crash twice a day?"
Not only that, but....
Every time they repainted the lines on the road you would have to buy a new car.
Occasionally your car would die on the freeway for no reason, and you would just accept this, restart and drive on.
Occasionally, executing a maneuver would cause your car to stop and fail and you would have to re-install the engine. For some strange reason, you would accept this too.
You could only have one person in the car at a time, unless you bought "Car95" or "CarNT". But, then you would have to buy more seats.
Macintosh would make a car that was powered by the sun, was reliable, five times as fast, twice as easy to drive, but would only run on five percent of the roads.
The Macintosh car owners would get expensive Microsoft upgrades to their cars, which would make their cars run much slower.
The oil, gas and alternator warning lights would be replaced by a single "general car default" warning light.
New seats would force everyone to have the same size butt.
The airbag system would say "are you sure?" before going off.
If you were involved in a crash, you would have no idea what happened.
#joke
Funny video of the day - 3,2,1
How many did you catch...
A kind-hearted fellow was walking through Central Park in New York and was astonished to see an old man, fishing rod in hand, fishing over a beautiful bed of lillies.
"Tch Tch!" said the passerby to himself. "What a sad sight. That poor old man is fishing over a bed of flowers. I'll see if I can help."
So the kind fellow walked up to the old man and asked, "What are you doing, my friend?"
"Fishin', sir."
"Fishin', eh. Well how would you like to come have a drink with me?"
The old man stood up, put his rod away and followed the kind stranger to the corner bar. He ordered a large glass of beer and a fine cigar.
His host, the kind fellow, felt good about helping the old man, and he asked, "Tell me, old friend, how many did you catch this morning?"
The old fellow took a long drag on the cigar, blew a careful smoke ring and replied, "You are the sixth today, sir!"
Really funny jokes-Just a drill!
Nicholas and Brenda had been married long. They had a luxurious fishing boat which they often used together, but it was Nicholas who was always behind the wheel operating the boat. He was concerned about what might happen if there was an emergency.
So one day out on the lake, Nicholas suddenly announced to Brenda, "Ok sweetheart, this is an emergency drill. Pretend that I am having a cardiac arrest. You must get the boat safely to shore."
Brenda was initially taken aback, but she soon composed herself and managed to safely drive the boat to shore.
Later that evening, Brenda walked into the living room where Nicholas was watching tv. She sat down next to him, snatched the remote control, switched the channel, and said to him,"OK sweetheart, this is a drill. Pretend I'm having a cardiac arrest. You must set the table, cook dinner, and wash the dishes."
#joke
Blind Man
Husband and wife are waiting at the bus stop with their nine children. A blind man joins them after a few minutes. When the bus arrives, they find it overloaded and only the wife and the nine kids are able to fit onto the bus.
So the husband and the blind man decide to walk. After a while, the husband gets irritated by the ticking of the stick of the blind man as he taps it on the sidewalk, and says to him, "Why don't you put a piece of rubber at the end of your stick? That ticking sound is driving me crazy."

The blind man replies, "If you would've put a rubber at the end of YOUR stick, we'd be riding the bus ... so shut up."

#joke
Flustered
As an instructor in driver education at the local area High School, I've learned that even the brightest students can become flustered behind the wheel.
One day I had three beginners in the car, each scheduled to drive for 30 minutes.
When the first student had completed his time, I asked him to change places with one of the others.
Gripping the wheel tightly and staring straight ahead, he asked in a shaky voice, "Should I stop the car first?"
#joke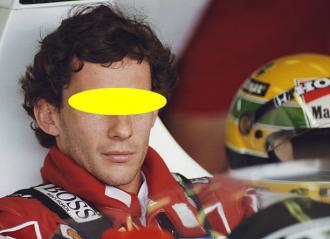 Can you name the athletes by the picture?
Can you name the athletes by the picture?
Myq Kaplan: New Game Show
I have a new idea for a game show for people who are high, and its called Can You Remember What You Just Saw? Thats actually the bonus round. Round one is Can You Describe Whats in Front of You Right Now? OK, you got it? Were going to take it away. What was it? We will not accept awesome.
Chuck Norris doesn't look both...
Chuck Norris doesn't look both ways before he crosses the street... he just roundhouses any cars that get too close.
Two Irishmen, Patrick & Michae...
Two Irishmen, Patrick & Michael, were adrift in a lifeboat following a dramatic escape from a burning freighter. While rummaging through the boat's provisions, Patrick stumbled across an old lamp. Secretly hoping that a genie would appear, he rubbed the lamp vigorously. To the amazement of Patrick, a genie came forth.r>r> This particular genie, however, stated that he could only deliver one wish, not the standard three. Without giving much thought to the matter, Patrick blurted out, "Make the entire ocean into Guinness!" The genie clapped his hands with a deafening crash, and immediately the entire sea turned into the finest brew ever sampled by mortals. Simultaneously, the genie vanished. r>r> Only the gentle lapping of Guinness on the hull broke the stillness as the two men considered their circumstances. Michael looked disgustedly at Patrick whose wish had been granted. After a long, tension-filled moment, he spoke: r>r> "Nice going Patrick! Now we're going to have to pee in the boat."
#joke
Free sex
There was this gas station in "redneck country" trying to increase its sales, so the owner put up a sign saying "Free Sex with Fill-up."
Soon a "redneck" customer pulled in, filled his tank, and then asked for his free sex.
The owner told him to pick a number from (1) to (10), and if he guessed correctly, he would get his free sex.
The buyer then guessed (8) and the proprietor said, "No, you were close. The number was (7). Sorry, no free sex this time but maybe next time".
Some time thereafter, the same man, along with his buddy this time, pulled in again for a fill-up, and again he asked for his free sex.
The proprietor again gave him the same story and asked him to guess the correct number. The man guessed (2) this time, and the proprietor said, "Sorry, it was (3). You were close but no free sex this time".
As they were driving away, the driver said to his buddy, "I think that game is rigged and he doesn't give away free sex".
The buddy replied, "No, it's not rigged -- my wife won twice last week."
#joke
Aaron Karo: New Diet
I was reading about this new diet where youre not allowed to drink alcohol. Well, I read the first sentence at least.
Some Really Good Questions
1. Does a clean house indicate that there is a broken computer in it?
2. Why is it that no matter what color of bubble bath you use the bubbles are always white?
3. Is there ever a day that mattresses are not on sale?'
4. Why do people constantly return to the refrigerator with hopes that something new to eat will have materialized?
5. On electric toasters, why do they engrave the message "one slice?" How many pieces of bread do they think people are really gonna try to stuff in that slot?
6. Why do people keep running over a string a dozen times with their vacuum cleaner, then reach down, pick it up, examine it, then put it down to give the vacuum one more chance?
7. Why is it that no plastic garbage bag will open from the end you first try?
8. How do those dead bugs get into those closed light fixtures?
9. Considering all the lint you get in your dryer, if you kept drying your clothes would they eventually just disappear?
10. When we are in the supermarket and someone rams our ankle with a shopping cart then apologizes for doing so, why do we say, "It's all right?" Well, it isn't all right so why don't we say, "That hurt, you stupid idiot?"
11. Why is it that whenever you attempt to catch something that's falling off the table you always manage to knock something else over?
12. Is it true that the only difference between a yard sale and a trash pickup is how close to the road the stuff is placed?
13. In winter why do we try to keep the house as warm as it was in summer when we complained about the heat?
14. How come you never hear father-in-law jokes?
15. If at first you don't succeed, shouldn't you try doing it like your wife told you to do it? And obviously if at first you don't succeed, then don't take up sky diving!
16. The statistics on sanity are that one out of every four Americans is suffering from some sort of mental illness. Think of your three best friends, if they're okay, then it's you.
#joke
Knock Knock Collection 144
Knock Knock
Who's there?
Ozzie!
Ozzie who?
Ozzie you later!
Knock Knock
Who's there?
Pablo!
Pablo who?
Pablo your horn!
Knock Knock
Who's there?
Pammy!
Pammy who?
Pammy the key, the door is locked!
Knock Knock
Who's there?
Paris!
Paris who?
Paris the thought!
Knock Knock
Who's there?
Parton!
Parton who?
Parton my French!
#joke