9 Months Later
Jack decided to go skiing with his buddy, Bob. So they loaded up Jack's minivan and headed north. After driving for a few hours, they got caught in a terrible blizzard. So they pulled into a nearby farm and asked the attractive lady who answered he door if they could spend the night. "I realize it's terrible weather out there and I have this huge house all to myself, but I'm recently widowed," she explained. "I'm afraid the neighbors will talk if I let you stay in my house."
"Don't worry," Jack said. "We'll be happy to sleep in the barn. And if the weather breaks, we'll be gone at first light." The lady agreed, and the two men found their way to the barn and settled in for the night. Come morning, the weather had cleared, and they got on their way. They enjoyed a great weekend of skiing.
But about nine months later, Jack got an unexpected letter from an attorney. It took him a few minutes to figure it out, but he finally determined that it was from the attorney of that attractive widow he had met on the ski weekend. He dropped in on his friend Bob and asked, "Bob, do you remember that good-looking widow from the farm we stayed at on our ski holiday up north about 9 months ago?"
"Yes, I do." said Bob
"Did you, er, happen to get up in the middle of the night, go up to the house and pay her a visit?"
"Well, um, yes," Bob said, a little embarrassed about being found out "I have to admit that I did."
"And did you happen to use my name instead of telling her your name?"
Bob's face turned beet red and he said, "Yeah, look, I'm sorry, buddy. I'm afraid I did." "Why do you ask?"
"She just died and left me everything."
#joke
Funny video of the day - Pig rescues baby goat
Edward Hale, while chaplain of...
Edward Hale, while chaplain of the U.S. Senate, was asked, "Do you pray for the senators?"
He quickly replied, "No. After getting to know the senators, I pray for the people."
Jared Logan: Tried to Compromise
I recently broke up with my girlfriend. We just didnt have anything in common. But when that happens, you have to try to compromise. I tried to compromise with her. I remember one time I was like, Look, if you go with me to my Lord of the Rings fan fiction meet up group, Ill go with you to this ultrasound thing.
#joke
Quick thinking...
One day, Bubba and Earl were driving down the road, drinking a couple of beers. The passenger, Bubba, said, "Lookey thar up ahead, Earl. It's a po-leece roadblock. We're gonna get busted fer drinkin' these here beers!"
"Don't worry, Bubba," Earl said. "We'll just pull over and finish drinkin' these beers, peel off the labels and stick 'em on our foreheads, then throw the bottles under the seat."
"What fer?" asked Bubba.
"Just let me do the talking, okay?" said Earl. They finished their beers, threw the empty bottles under the seat and slapped the labels on their foreheads.
When they reached the roadblock, the sheriff asked, "Have you boys been drinking?"
"No sir," replied Earl. "We're on the patch!"
Short funny jokes-Handsome face
After accepting an invitation to dance with a rather prematurely balding man, Kate, 25 years of age, wanted to lighten the mood and said, "Well, God was good to you, gave you a handsome face and room for another one."
#joke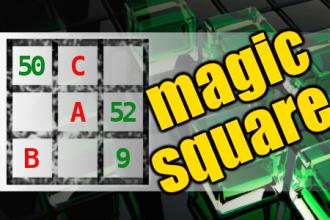 MAGIC SQUARE: Calculate A+B-C
The aim is to place the some numbers from the list (4, 6, 7, 9, 11, 12, 27, 50, 52, 53) into the empty squares and squares marked with A, B an C. Sum of each row and column should be equal. All the numbers of the magic square must be different. Find values for A, B, and C. Solution is A+B-C.
Family Bible
A little boy opened the big and old family Bible with fascination, looking at the old pages as he turned them. Then something fell out, and he picked it up and looked at it closely. It was an old leaf from a tree that had been pressed in between the pages.
"Momma, look what I found," the boy called out.
"What have you got there, dear?" his mother asked.
With astonishment in the his voice, he answered, "It's Adam's Suit!"
#joke
A woman goes into Wal-Mart...
A woman goes into Wal-Mart to buy a rod and reel. She doesn't know which one to get so she just grabs one and goes over to the register. There is a Wal-Mart "associate" standing there with dark shades on. She says, "Excuse me sir...can you tell me anything about this rod and reel?" He says, "Ma'am I'm blind but if you will drop it on the counter I can tell you everything you need to know about it from the sound that it makes." She didn't believe him, but dropped it on the counter anyway. He said, "That's a 6' graphite rod with a Zebco 202 reel and 10 lb. test line...It's a good all around rod and reel and it's $20.00". She says, "Thats amazing that you can tell all that just by the sound Of it dropping on the counter. I think it's what I'm looking for so I'll take it." He walks behind the counter to the register, and in the meantime the woman farts. At first she is embarrassed but then realizes that there is no way he could tell it was her..being blind he wouldn't know that she was the only person around. He rings up the sale and says, "That will be $25.50." She says, "But didn't you say it was $20.00?" He says, "Yes ma'am, the rod and reel is $20.00, the duck call is $3.00, and the stink bait is$2.50."
#joke
Chuck Norris' lucky number is ...
Chuck Norris' lucky number is one, because that's how many tries it takes him to accomplish any task.
Dating a Nun
Did you hear about the guy who tried to date a nun?
He wanted to take her to the county fair, but she declined on account of she had taken a vow abstaining from Carnival pleasures.
- Joke shared by Beliefnet member BeerLover
Sticks and stones may break yo...
Sticks and stones may break your bones, but a Chuck Norris glare will liquify your kidneys.
Best room in the hotel?
The drunk staggered up to the hotel reception and demanded his room be changed.
"But sir," said the clerk, "you have the best room in the hotel."
"I insist on another room!!" said the drunk.
"Very good, sir. I`ll change you from 502 to 555. Would you mind telling me why you don't like 502?" asked the clerk.
"Well, for one thing," said the drunk, "it's on fire."
#joke
Jeff Dunham: Unimpressive Superheroes
Jeff Dunham: I like Aquaman. He can breathe underwater and talk to fish.
Melvin: Yeah, great. He has all the same powers as Spongebob.
Jeff Dunham: How about the Hulk?
Melvin: Why do you like the Hulk?
Jeff Dunham: Well, the angrier he gets, the stronger he gets.
Melvin: Yeah, like every white-trash guy on Cops.
#joke
Get Your Ire Up
Three Englishmen were getting soused in a pub, when they spotted an Irishman sitting off in the corner. To have a little fun, one of them approached him.
"Did y'know that St. Patrick was a sissy?"
"Oh, no, I dinnae know that. Thank ye."
The man returned to his friends, complaining that it hadn't worked. The second decided to try.
"Did y'know that St. Patrick was a transvestite?"
"Oh, no, I dinnae know that. Thank ye."
The second man returned to his friends, amazed that it hadn't worked. The third man knew he had the solution.
"Did y'know that St. Patrick was an Englishman?"
"Oh, no. But that's what y'r friends hae been trying to tell me."
#joke