Funny jokes-My bed
Lucy was sitting on a park bench, when a beggar appeared out of nowhere and said to her, "Sweetheart, let's have some fun!"

Lucy was furious and shouted, "How dare you say such a thing?"

The beggar commented, "Then what are you doing on my bed?"
#joke
Heart Attack
A middle-aged woman had a heart attack and was taken to the hospital. While on the operating table, she had a near death experience. Seeing God, she asked, "Is my time up?"
God said, "No, you have another 43 years, two months and eight days To live." Upon recovery, the woman decided to stay in the hospital and have a facelift, liposuction and tummy tuck. Since she had so much more time to live, she figured she might as well look even nicer. After her Last operation, she was released from the hospital. While crossing the street on her way home, she was killed by an ambulance.
Arriving in front of God, she demanded, "I thought you said I had another 40 years? Why didn't you pull me out of the path of that ambulance?"
God replied, "Girl, I didn't even recognize you."
#joke
Funny video of the day - WIN Compilation July 2012 (2012/07) | LwDn x WIHEL
A lawyer defending a man accus...
A lawyer defending a man accused of burglary tried a creative defense to get his client off the hook. "My client merely inserted his arm into the window and removed a few paltry items. His arm is not himself, so I fail to see how you can punish the whole individual for an offense committed soley by his arm."
"Well put," the judge replied with a grin. "Using that same logic, I sentence the defendant's arm to one year's imprisonment. Your client can accompany the arm or not, as he chooses."
The defendant smiled. With his lawyer's help, he detatched his artificial limb, laid it on the bench and walked out.
Cabbies....
A mother, accompanied by her small daughter, was in New York City. The mother was trying to hail a cab, when her daughter noticed several wildly dressed women who were loitering on a nearby street corner.
The mother finally hailed her cab and they both climbed in, at which point the young daughter asks her mother, "Mommy, what are all those ladies waiting for by that corner?"
The mother replies, "Those ladies are waiting for their husbands to come by and pick them up on the way home from work."
The cabby, upon hearing this exchange, turns to the mother and says, "Ah, C'mon lady! Tell your daughter the truth! For crying out loud... They're hookers!"
A brief period of silence follows, and the daughter then asks, "Mommy, do the hooker ladies have any children?"
The mother replies, "Of course, Dear. Where do you think cabbies come from?"
#joke
Rules Of The South
1. Save all manner of bacon grease. If it can't be fried in bacon grease, it ain't worth cooking, let alone eating.
2. Just because one can drive on snow and ice does not mean we can't stay home the two days of the year it snows.
3. If you do run your car into a ditch, don't panic. Four men in the cab of a four-wheel-drive with a 12-pack of beer and a tow chain will be along shortly. Note: Don't try to help them. Just stay out of their way: This is what they live for.
4. Don't be surprised to find movie rentals and fishing bait in the same store.
5. Remember: "Y'all" is singular.
6. "All y'all" is plural. "All y'all's" is plural possessive.
7. There is nothing sillier than a northerner imitating a Southern accent, unless it is a Southerner imitating a Boston accent.
8. People walk slower here.
9. Don't be worried that you don't understand anyone. They don't understand you either.
10. The first Southern expression to creep into a transplanted Northerner's vocabulary is the adjective "Big ol'", as in "big ol' truck" or "big ol' boy". Eighty-five percent begin their new southern influenced dialect with this expression. One hundred percent are in denial about it.
11. The proper pronunciation you learned in school is no longer proper.
12. "He needed killin'" is a valid defense here.
13. If attending a funeral in the South: remember, we stay until the last shovel of dirt is thrown on and the tent is torn down.
14. If you hear a Southerner exclaim, "Hey, y'all, watch this!" stay out of his way. These are likely the last words he will ever say.
15. Most Southerners do not use turn signals, and they ignore those who do. In fact, if you see a signal blinking on a car with a southern license plate, you may rest assured that it was on when the car was purchased.
16. Northerners can be identified by the spit on the inside of their car's windshield that comes from yelling at other drivers.
17. The winter wardrobe you always brought out in September can wait until November.
18. If there is the prediction of the slightest chance of even the tiniest accumulation of snow, your presence is required at the local grocery store. It does not matter if you need anything from the store, it is just something you're supposed to do.
19. Satellite dishes are very popular in the South. When you purchase one it is to be positioned directly in front of your trailer. This is logical bearing in mind that the dish cost considerably more than the trailer and should, therefore, be displayed.
20. Tornadoes and Southerners going through a divorce have a lot in common. In either case, you know someone is going to lose a trailer.
21. Florida is not considered a Southern state (except Gainesville). There are far more Yankees than Southerners living there.
22. As you are cursing the person driving 15 mph in a 55 mph zone, directly in the middle of the road, remember, many folks learned to drive on a model of vehicle known as John Deere, and this is the proper speed and lane position for the vehicle.
23. You can ask a Southerner for directions, but unless you already know the positions of key hills, trees and rocks, you're better off trying to find it yourself.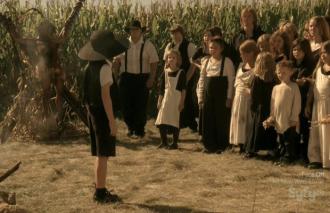 Look carefully the picture a...
Look carefully the picture and guess the movie title.
Family Bible
A little boy opened the big and old family Bible with fascination, looking at the old pages as he turned them. Then something fell out, and he picked it up and looked at it closely. It was an old leaf from a tree that had been pressed in between the pages.
"Momma, look what I found," the boy called out.
"What have you got there, dear?" his mother asked.
With astonishment in the his voice, he answered, "It's Adam's Suit!"
#joke
Rory Scovel: Strip Club
Some friends wanted to go to a strip club. I said, No thanks, its not for me; I dont really enjoy doing it. They said, Well at this strip club you can touch the girls while they dance on you. And I said, Then lets go do that.
A little boy wanted $100....
A little boy wanted $100.00 badly and prayed for two weeks but nothing happened. Then he decided to write GOD a letter requesting the $100. When the postal authorities received the letter addressed to GOD USA, they decided to send it to President Clinton. the President was so impressed, touched, and amused that he instructed his secretary to send the little boy a $5.00 bill. President Clinton thought this would appear to be a lot of money to a little boy. The little boy was delighted with the $5.00 and sat down to write a thank you note to GOD, which read: Dear GOD, Thank you very much for sending the money, however, I noticed that for some reason you had to send it through Washington D.C. and, as usual, those jerks deducted $95.00.
#joke
Time waits for no man. Unless ...
Time waits for no man. Unless that man is Chuck Norris.
Five Jewish Men
Five Jewish men influenced the history of Western civilization.
Moses said the law is everything.
Jesus said love is everything.
Marx said capital is everything.
Freud said sex is everything.
Einstein said everything is relative.

q: What do you get when you c...
q: What do you get when you cross an impressionist painter with a New York City cab driver?
A: You get Vincent Van Go Fuck Yourself.
Top 10 Mom Scoldings in the Bible
10. Sampson, get your hands off of that lion, you don't know where it's been!
9. David, I told you not to play in the house with that string! Go practice your harp. We pay good money for those lessons.
8. Abraham! Stop wandering around the countryside and get home for supper!
7. Shadrach, Meschach and Abendeco! I told you, never play with fire!
6. Cain! Get off your brother! You're going to kill him some day!
5. Noah, no you can' t help them. Don't bring home any strays.
4. Gideon! Have you been hiding in that wine press again? Look at my clothes.
3. James and John! No more burping at the dinner table, please. People are going to call you sons of thunder.
2. Judas! Have you been in my purse again?
1. Jesus! Close the door! You think you were born in a barn.
- Joke shared by Beliefnet member Jalus
#joke
As President Roosevelt said: "...
As President Roosevelt said: "We have nothing to fear but fear itself. And Chuck Norris."
Kyle Grooms: Black Family Skiing
My mother... would save her money and take us skiing on the weekend, which was brave. She took a black family skiing. This was the 80s -- brothers werent skiing, man. People didnt know what we were coming down the mountain. Theyd be looking up, confused, Oh my God, are those bears? I think I see bears skiing down the mountain! Huh, theyre African Americans trying something new. Whats next -- golf?
#joke