Lab mice
Why are they having so much trouble finding a cure for AIDS?
The scientists can't get the little mice to butt fuck.
Submitted by Curtis
Edited by calamjo
Reward
A lady lost her handbag in the bustle of shopping.
It was found by an honest little boy and returned to her. Looking in her purse, she commented: "Hmmm... That's funny. When I lost my bag there was a $20 bill in it. Now there are 20 $1 bills."
The boy quickly replied: "That's right, lady. The last time I found a lady's purse, she didn't have any change for a reward."
Joke of the Day, posted everyday on getfrank.co.nz - Click to see the past weeks worth right here...
#joke
Funny video of the day - Best Fails Of The Week - 3 October 2012 YDL
Really funny jokes-Welcoming the neighbour
Archie, a successful business man becomes fed up with all the stress of big city life and decides to chuck it all. He takes his savings and buys a large ranch in the middle of the outback, just north of Barossa Valley in South Australia.
After a couple of months of enjoying the quietness and solitude he hears the drumming of hoofs outside his home. Seizing his rifle he challenges the man riding up on the horse, "G'day neighbour, hold it right there."
The rider says, "I'm your neighbour, I have a ranch only 20 miles from here, and I want to invite you to a Welcome Party I'm throwing for you next Saturday. There's going to be music, dancing, hugging, kissing, drinking, fighting..… we'll have a great time."
Not wanting to be unfriendly the new rancher lowers the rifle and asks, "How should I dress?"
"Blimey, mate, it don't matter," replied the neighbour, "There's only gonna be the two of us."
#joke
Who takes care of the farm ...
Q. Who takes care of the farm when the farmer is sick?
A. The pharmacist!
An old man lived alone in Idah...
An old man lived alone in Idaho. He wanted to spade his potato garden, but it was very hard work. His only son, Bubba, who used to help him, was in prison. The old man wrote a letter to his son and described his predicament.
Dear Bubba:
I am feeling pretty bad because it looks like I won't be able to plant my potato garden this year. I'm just getting too old to be digging up a garden plot. If you were here, all my troubles would be over. I know you would dig the plot for me.
Love, Dad
A few days later, he received a letter from his son.
Dear Dad:
For heaven's sake, Dad, don't dig up that garden. That's where I buried the BODIES.
Love, Bubba
At 4 a.m. the next morning, FBI agents and local Police showed up and dug up the entire area without finding any bodies. They apologized to the old man and left.
That same day, the old man received another letter from his son.
Dear Dad:
Go ahead and plant the potatoes now. It's the best I could do under the circumstances.
Love, Bubba
#joke
Punished...
One day a little girl came home from school, and said to her mother, "Mommy, today in school I was punished for something that I didn't do."
The mother exclaimed, "But that's terrible! I'm going to have a talk with your teacher about this! By the way, what was it that you didn't do?"
The little girl replied, "My homework."
#joke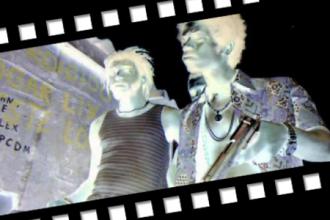 CINEMANIA: Guess the movie title
See negative of movie scene and guess the title. Length of words in solution: 4,2,3
Family Bible
A little boy opened the big and old family Bible with fascination, looking at the old pages as he turned them. Then something fell out, and he picked it up and looked at it closely. It was an old leaf from a tree that had been pressed in between the pages.
"Momma, look what I found," the boy called out.
"What have you got there, dear?" his mother asked.
With astonishment in the his voice, he answered, "It's Adam's Suit!"
#joke
Every time a bell rings Chuck ...
Every time a bell rings Chuck Norris kills a bear.
A professor of chemistry wante...
A professor of chemistry wanted to teach his 5th grade class a lesson about the evils of liquor, so he produced an experiment that involved a glass of water, a glass of whiskey, and two worms. "Now, class. Observe closely the worms," said the professor putting a worm first into the water. The worm in the water writhed about, happy as a worm in water could be. The second worm, he put into the whiskey. It writhed painfully, and quickly sank to the bottom, dead as a doornail. "Now, what lesson can we derive from this experiment?" the professor asked.
Johnny, who naturally sits in back, raised his hand and wisely, responded, "Drink whiskey and you won't get worms."
#joke
Chuck Norris does not beg to d...
Chuck Norris does not beg to differ. Differ begs to Chuck Norris.
Second Honeymoon
The old couple were planning to go on a second honeymoon for their 50th wedding anniversary. The old woman said, "We will go to all the same places that we did on our first honeymoon."
"Uh huh," said the old man.
"We will do all the things that we did on our first honeymoon," said the old woman.
"Uh huh," said the old man.
"And we will make love like we did on our first honeymoon," said the old woman.
"That's right," said the old man, "except this time I get to sit on the side of the bed and cry, 'It's too big, it's too big!'"
#joke
Jessi Klein: You Look A Lot Like...
This co-worker of mine, who I dont know well at all, comes up to me and goes, Hey Jessi, I dont know if anyones ever told you this before, but you look a lot like Anne Frank. I didnt really know where to put that as a remark. But the worst thing is that my first thought was, Was Anne Frank hot?
three men
there were three men on a cliff and what ever they wished for it would come true. so the first guy jumps off the cliff and wishes he was a bird so he could fly home. The second guy wished he was a dolphin so he could swim home then the last guy tripped over a rock, fell off the cliff and said OH CRAP!!!!!
#joke