Too Much Hunting
Saturday morning I got up early, put on my long johns, dressed quietly, made my lunch, grabbed my shotgun and the dog, slipped quietly into the garage to load the truck, and proceeded to back out into a torrential downpour.
There was snow mixed with the rain, and the wind was blowing 50 mph. I pulled back into the garage, turned on the radio, and discovered that the weather would be bad throughout the day.
I went back into the house, quietly undressed, and slipped back into bed. There I cuddled up to my wife's back, now with a different anticipation, and whispered, "The weather out there is terrible."
She sleepily replied, "Can you believe my stupid husband is out hunting in that sh*t?"
#joke
Hilarious jokes-First time at the restaurant
I was nervous the night my husband and I took our three young sons to a restaurant for the first time. My husband ordered a bottle of wine with the meal. When the waitress brought it, our children became quiet as she began the ritual uncorking. She poured a small amount for me to taste, at that moment, our six-year-old piped up, "Mum drinks a lot more than that."
#joke
Funny video of the day - Weightlifting win - lift weight like a BOSS
Q: What sits on the bottom of ...
Q: What sits on the bottom of the ocean and twitches?

A: A nervous wreck!

A pipe burst in a doctor's hou...
A pipe burst in a doctor's house. He called a plumber. The plumber arrived, unpacked his tools, did mysterious plumber-type things for a while, and handed the doctor a bill for $600.
The doctor exclaimed, "This is ridiculous! I don't even make that much as a doctor!."
The plumber quietly answered, "Neither did I when I was a doctor."
Where Is God?
In a certain suburban neighborhood, there were two brothers, 8 and 10 years old, who were exceedingly mischievous. Whatever went wrong in the neighborhood, it nearly always turned out they had had a hand in it. Their parents were at their wits' end trying to control them and after hearing about a priest nearby who worked withdelinquent boys, the mother suggested to the father that they ask the priest to talk to them.
The mother went to the priest and made her request. He agreed, but said he wanted to see the younger boy first and alone. So the mother sent him to the priest.
The priest sat the boy down across from the huge, impressive desk he sat behind. For about five minutes they just sat and stared at each other. Finally, the priest pointed his forefinger at the boy and asked, "Where is God?"
The boy looked under the desk, in the corners of the room, all around, but said nothing.
Again, louder, the priest pointed at the boy and asked, "Where is God?"
Again the boy looked all around but said nothing. A third time, in a louder, firmer voice, the priest leaned far across the desk and put his forefinger almost to the boy's nose, and asked, "Where is God?"
The boy panicked and ran all the way home. Finding his older brother, he dragged him upstairs to their room and into the closet, where they usually plotted their mischief and quickly said, "We are in big trouble!"
The older boy asked, "What do you mean, big trouble?"
His brother replied, "God is missing and they think we did it!"
#joke
Letter from Men to Women
FROM MEN TO WOMEN
GENERAL DISCLAIMER FOR ANY WIVES OR GIRLFRIENDS WHO HAPPEN
UPON A COPY OF THIS:
1) The floor is considered an acceptable clothing storage
location.
2) Never ask me to purchase feminine products. Assume that I
will come home with the wrong thing.
3) When watching TV hugging is always fine because I can
still see the screen. Kissing should only be done during
timeouts and commercials. Questions should also be limited to
this period as you stand a much better chance of getting an
immediate response.
4) When we are watching your show and I change the channels
during a commercial do not hassle me that they are over to
change the channel back. I always know when the timing is
right. Also, when we are channel surfing do not ask me to go
back, there was a good reason why I skipped it.
5) If you need help with the laundry, I am more than
willing to carry it from the bedroom to the washer. In my
mind this is half the chore and I am now free to return to
the couch.
6) If I mention that a male friend of mine is allowed to do
something it is not necessary for you to call his
wife/girlfriend to discuss it.
7) If you don't like the way I am driving close your eyes.
And I would appreciate it if you would refrain from making
that reverse inhaling alarmed noise. I haven't hit anything
yet and if I do it will be your fault.
8) I go clothes shopping to buy, never to look.
9) Just tell me what you want me to wear before I get
dressed. And remember that this takes me less than ten
minutes no matter what the occasion is. After all I am
getting dressed, not getting ready.
10) Don't ask me if I prefer one outfit over another or if a
certain accessory should be worn or not. I consider this a
no win situation and would rather just wait for you to get
dressed while watching TV.
11) If you want me to put the seat down when I am finished
then you should leave the seat up when you are finished. It's
only fair. And stop giving me a hard time about missing the
bowl. What do you expect from an organ that has a brain of
its own.
12) I will cook anything as long as it is on the BBQ.
13) Yelling to me across the house sounds exactly like
stadium crowd background noise to me. I am not ignoring you.
#joke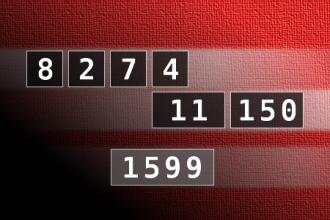 Calculate the number 1599
NUMBERMANIA: Calculate the number 1599 using numbers [8, 2, 7, 4, 11, 150] and basic arithmetic operations (+, -, *, /). Each of the numbers can be used only once.
Old Ladies and the Flasher
Three old ladies are sitting on a park bench when a flasher comes by and opens his trench coat right in front of them.
The first old lady has a stroke, the second old lady has a stroke, but the third old lady can't reach that far.
Family Bible
A little boy opened the big and old family Bible with fascination, looking at the old pages as he turned them. Then something fell out, and he picked it up and looked at it closely. It was an old leaf from a tree that had been pressed in between the pages.
"Momma, look what I found," the boy called out.
"What have you got there, dear?" his mother asked.
With astonishment in the his voice, he answered, "It's Adam's Suit!"
#joke
How many roundhouse kicks does...
How many roundhouse kicks does it take to get to the center of a tootsie pop? Just one. From Chuck Norris.
Confucius Say ...
Confucius say, "When you are angry at neighbor, walk a mile in his shoes. Then you will be a mile away from him, and you will have his shoes!"
A man was walking along a Cali...
A man was walking along a California beach and stumbled across an old lamp. He picked it up and rubbed it and out popped a genie.
The genie said "OK, OK. You released me from the lamp... blah, blah, blah... This is the fourth time this month and I'm getting a little sick of these wishes so you can forget about three. You only get one wish!"
The man sat and thought about it for a while and said, "I've always wanted to go to Hawaii but I'm scared to fly and I get very seasick. Could you build me a bridge to Hawaii so I can drive over there to visit?"
The genie laughed and said, "That's impossible! Think of the logistics of that. How would the supports ever reach the bottom of the Pacific?
Think of how much concrete... how much steel!! No. Think of another wish."
The man said OK and tried to think of a really good wish. Finally, he said, "I've been married and divorced four times. My wives always said that I don't care and that I'm insensitive. So, I wish that I could understand women...know how they feel inside and what they're thinking when they give me the silent treatment... to know why they're crying, to know what they really want when they say 'nothing' ... to know how to make them truly happy."
The genie said, "You want that bridge two lanes or four?"
#joke
This duck walks into a conveni...
This duck walks into a convenience store and asks the clerk, "Do you have any grapes?"
The clerk says no, and the duck leaves. The next day, the duck returns and asks, "Do you have any grapes?" The clerk again says no, and the duck leaves.
The day after that, the duck walks in the store again and asks "Do you have any grapes?" The clerk screams at the duck, "You've come in here the past two days and asked if we had any grapes. I told you no every time that we don't have any grapes!
I swear if you come back in here again, and ask for grapes, I'll nail your webbed feet to the floor!!" The duck left, and returned the next day. This time he asked, "Do you have any nails?"
The clerk replied, "No," and the duck said, "Good! Got any grapes?"
#joke
An elderly man and woman meet ...
An elderly man and woman meet in a bar and get to talking. They are enjoying their conversation so much that, when the bar closes, they decide to continue at the woman's apartment. After a time, things start getting pretty romantic and they wind up in bed. Afterward, they're both laying there, staring at the ceiling.
The old man is thinking... "Gosh, if I had known she was a virgin, I would have been more careful with her."
The old lady is thinking... "Geez, if I had known he could get it up, I would have taken off my panties."
#joke
In the back of the Guinness Bo...
In the back of the Guinness Book of World Records it states "All records are currently held by Chuck Norris, and the records listed in this book are only the records of those people who have come closest to Chuck Norris' records."
Executive recruiting...
One day while walking down the street a highly successful executive woman was tragically hit by a bus and died. Her soul arrived up in heaven where she was met at the pearly gates by St. Peter himself.
"Welcome to Heaven," said St. Peter. "Before you get settled in though, it seems we have a problem. You see, strangely enough, we've never once had an executive make it this far, and we're not really sure what to do with you."
"No problem, just let me in." said the woman.
"Well, I'd like to, but I have higher orders. What we're going to do is let you have a day in Hell and a day in Heaven and then you can choose whichever one you want, to spend an eternity in."
"Actually, I think I've made up my mind; I prefer to stay in Heaven", said the woman.
"Sorry, we have rules..."
And with that, St. Peter put the executive in an elevator and it went down-down-down to hell.
The doors opened and she found herself stepping out onto the putting green of a beautiful golf course. In the distance was a country club and standing in front of her were all her friends - fellow executives whom she had worked with, and they were all dressed in evening gowns and cheering for her.
They ran up and kissed her on both cheeks and they talked about old times. They played an excellent round of golf and at night went to the country club where she enjoyed an excellent steak and lobster dinner.
She met the Devil who was actually a really nice guy (kinda cute) and she had a great time telling jokes and dancing. She was having such a good time that before she knew it, it was time to leave. Everybody shook her hand and waved good bye as she got on the elevator. The elevator went up-up-up and opened back up at the Pearly Gates and she found St. Peter waiting for her.
"Now it's time to spend a day in Heaven," he said. So she spent the next 24 hours lounging around on clouds and playing the harp and singing. She had a great time and before she knew it her 24 hours were up and St. Peter came and got her.
"So, you've spent a day in Hell and you've spent a day in Heaven. Now you must choose your eternity," he said.
The woman paused for a second and then replied, "Well, I never thought I'd say this, I mean, Heaven has been really great and all, but I think I had a better time in Hell."
So St. Peter escorted her to the elevator and again she went down-down-down, back to Hell. When the doors of the elevator opened she found herself standing in a desolate wasteland covered in garbage and filth.
She saw her friends were dressed in rags and were picking up the garbage and putting it in sacks. The Devil came up to her and put his arm around her.
"I don't understand," stammered the woman, "yesterday I was here and there was a golf course and a country club and we ate lobster and we danced and had a great time. Now all there is, is a wasteland of garbage and all my friends look miserable."
The Devil looked at her and smiled. "Yesterday we were recruiting you. Today, you're STAFF."
#joke
Thanksgiving Trio
Three Thanksgiving Jokes:



Last Thanksgiving, I had my chance to do the traditional thing of shooting my own turkey. Man, you should have seen the people scatter in the meat department.


When everyone at the table takes turns saying what they are thankful for, say, "I'm thankful I didn't get caught," and refuse to say anything more.


Keep your eye off the turkey dressing. It makes him blush!