Tough times
A group of friends get together every Friday after work for a drink. One Friday, Jeff showed up late, sat down at the bar, and kicked back his entire first beer in one gulp.
He then turned to his pal Bob and said: "Times are getting tough, my friend. Earlier today my wife told me she's going to cut me back to only two times a week. I can't believe it!"
"You think you've got it bad?" Bob retorted: "She's cut some of us guys out altogether!"
Really funny jokes-Lost in snow
Gina got lost in her car in a snow storm. She remembered what her dad had once told her. "If you ever get stuck in a snow storm, wait for a snow plow and follow it".

Pretty soon a snow plow came by, and she started to follow it. She followed the plow for about forty-five minutes.

Finally the driver of the truck got out and asked her what she was doing.

She explained that her dad had told her if she ever got stuck in the snow, to follow a plow.

The driver nodded and said, "Well, I'm done with Wal-Mart; now you can follow me over to K-Mart."
#joke
Funny video of the day - The Ultimate Girls Fail Compilation 2012
Do you know who I am....
President George W. Bush decides it is time to do some public relations at a local Washington DC nursing home. The President begins his "tour" down the main hallway and passes by a little old man who doesn't seem to notice him.
Sensing this, President Bush backtracks to the resident and asks, "Do you know who I am?"
The little old man looks up from his walker and says, "No, but if you go to the front desk, they will tell you your name."
#joke
Standing At The Gates Of Heaven
Three men were standing in line to get into heaven one day. Apparently it had been a pretty busy day, though, so Peter had to tell the first one, "Heaven's getting pretty close to full today, and I've been asked to admit only people who have had particularly horrible deaths. So what's your story?"
So the first man replies: "Well, for a while I've suspected my wife has been cheating on me, so today I came home early to try to catch her red handed. As I came into my 25th floor apartment, I could tell something was wrong, but all my searching around didn't reveal where this other guy could have been hiding. Finally, I went out to the balcony, and sure enough, there was this man hanging off the railing, 25 floors above ground. By now I was really mad, so I started beating on him and kicking him, but wouldn't you know it, he wouldn't fall off.
So finally I went back into my apartment and got a hammer and starting hammering on his fingers. Of course, he couldn't stand that for long, so he let go and fell -- but even after 25 stories, he fell into the bushes, stunned but okay. I couldn't stand it anymore, so I ran into the kitchen, grabbed the fridge and threw it over the edge where it landed on him, killing him instantly. But all the stress and anger got to me, and I had a heart attack and died there on the balcony."
"That sounds like a pretty bad day to me," said Peter, and let the man in.
The second man comes up and Peter explains to him about heaven being full, and again asks for his story.
"It's been a very strange day.You see, I live on the 26th floor of my apartment building, and every morning I do my exercises out on my balcony. Well, this morning I must have slipped or something, because I fell over the edge. But I got lucky, and caught the railing of the balcony on the floor below me. I knew I couldn't hang on for very long, when suddenly this man burst out onto the balcony. I thought for sure I was saved, when he started beating on me and kicking me. I held on the best I could until he ran into the apartment and grabbed a hammer and started pounding on my hands. Finally I just let go, but again I got lucky and fell into the bushes below, stunned but all right.Just when I was thinking I was going to be okay, this refrigerator comes falling out of the sky and crushes me instantly, and now I'm here."
Once again, Peter had to concede that that sounded like a pretty horrible death.
The third man came to the front of the line, and again the whole process was repeated. Peter explained that heaven was full and asked for his story.
"Picture this," says the third man, "I'm hiding naked inside a refrigerator..."
#joke
Q: What sits on the bottom of ...
Q: What sits on the bottom of the ocean and twitches?

A: A nervous wreck!

Old Ladies and the Flasher
Three old ladies are sitting on a park bench when a flasher comes by and opens his trench coat right in front of them.
The first old lady has a stroke, the second old lady has a stroke, but the third old lady can't reach that far.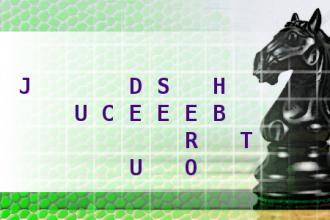 Chess Knight Move
Find the title of novel, using the move of a chess knight. First letter is J. Length of words in solution: 4,3,7.
Family Bible
A little boy opened the big and old family Bible with fascination, looking at the old pages as he turned them. Then something fell out, and he picked it up and looked at it closely. It was an old leaf from a tree that had been pressed in between the pages.
"Momma, look what I found," the boy called out.
"What have you got there, dear?" his mother asked.
With astonishment in the his voice, he answered, "It's Adam's Suit!"
#joke
How many roundhouse kicks does...
How many roundhouse kicks does it take to get to the center of a tootsie pop? Just one. From Chuck Norris.
A Silent Bomb in Church
An elderly couple were in church. The wife leaned over and whispered to her husband, "I just let out a long silent fart... what should I do?"
The husband replied, "Replace the batteries in your hearing aid."
- Joke shared by Beliefnet member eyesoftheworld
#joke
A fellow bought a new Mercedes...
A fellow bought a new Mercedes and was out on the Yellowhead for a nice evening drive. The top was down, the breeze was blowing through his hair and he decided to open her up. As the needle jumped up to 80 mph he suddenly saw a flashing red and blue light behind him.
"There ain't no way they can catch a Mercedes," he thought to himself and opened her up further. The needle hit 90, 100 110 and finally 120 with the lights still behind him. "What in heck am I doing?" he thought and pulled over.
The Mountie came up to him, took his license without a word and examined it and the car. "I've had a tough shift and this is my last pull over. I don't feel like more paperwork so if you can give mean excuse for your driving that I haven't heard before you can go."
"Last week my wife ran off with a cop," the man said, "and I was afraid you were trying to give her back!"
"Have a nice night", said the officer.
#joke
A woman goes into Wal-Mart...
A woman goes into Wal-Mart to buy a rod and reel. She doesn't know which one to get so she just grabs one and goes over to the register. There is a Wal-Mart "associate" standing there with dark shades on. She says, "Excuse me sir...can you tell me anything about this rod and reel?" He says, "Ma'am I'm blind but if you will drop it on the counter I can tell you everything you need to know about it from the sound that it makes." She didn't believe him, but dropped it on the counter anyway. He said, "That's a 6' graphite rod with a Zebco 202 reel and 10 lb. test line...It's a good all around rod and reel and it's $20.00". She says, "Thats amazing that you can tell all that just by the sound Of it dropping on the counter. I think it's what I'm looking for so I'll take it." He walks behind the counter to the register, and in the meantime the woman farts. At first she is embarrassed but then realizes that there is no way he could tell it was her..being blind he wouldn't know that she was the only person around. He rings up the sale and says, "That will be $25.50." She says, "But didn't you say it was $20.00?" He says, "Yes ma'am, the rod and reel is $20.00, the duck call is $3.00, and the stink bait is$2.50."
#joke
Adam Ferrara: Love This Girl
The biggest thing in my life right now is my girlfriend. I love this girl. I know I love her because she told me.
A doctor and a lawyer were att...
A doctor and a lawyer were attending a cocktail party when the doctor was approached by a man who asked advice on how to handle his ulcer. The doctor mumbled some medical advice, then turned to the lawyer and remarked, 'I never know how to handle the situation when I'm asked for medical advice during a social function. Is it acceptable to send a bill for such advice?'
The lawyer replied that it was certainly acceptable to do so.
The next day, the doctor sent the ulcer-stricken man a bill. The lawyer also sent one to the doctor.
Now What? (world's funniest joke)
Two hunters are out in the woods when one of them collapses. He doesn't seem to be breathing and his eyes are glazed. The other guy whips out his phone and calls the emergency services. .
He gasps, "My friend is dead! What can I do?". .
The operator says "Calm down. I can help. First, let's make sure he's dead." .
There is a silence, then a shot is heard. .
Back on the phone, the guy says "OK, now what?" .
This is The "world's funniest joke", as by the THE SCIENTIFIC SEARCH FOR THE WORLD'S FUNNIEST JOKE by Richard Wiseman, of the University of Hertfordshire in 2002
The Winning joke, which was later found is based on a 1951 Goon Show sketch by Spike Milligan
Photo by Rhett Noonan on Unsplash
Happy International Joke Day July the first!
#joke
To Do List
When I returned home from college for a break, I noticed a paper posted on the refrigerator. It listed some goals my dad had set for himself: Help wife more; lose weight; be more productive at work.
I promptly added: "Send Michelle money every month."
A few days later my brother wrote: "Make payments on car for Jason."
Then my boyfriend joined in with: "Buy Tom a Jeep."
Finally my father added a new goal to his amended list: "Wean kids."
#joke