Really funny jokes-No payment for six months
Pete and Gladys were looking at a new living room suite in the furniture store. Pete says to the salesman, "We really like it, but I don't think we can afford it."
The salesman says, "You just make a small down payment... then you don't make another payment for six months."
Gladys wheeled around with her hands on her hips and says, "Who told you about us?"
#joke
Do You Believe?
One summer, a drought threatened the crop in a small town.
On a hot and dry Sunday, the village parson told his
congregation, "There isn't anything that will save us except
to pray for rain. Go home, pray, believe, and come back next
Sunday ready to thank God for sending rain.
The people did as they were told and returned to church the
following Sunday. But as soon as the parson saw them, he was
furious.
"We can't worship today. You do not yet believe," he said.
"But," they protested, "we prayed, and we do believe."
"Believe?" he responded. "Then where are your umbrellas?"
#joke
Funny video of the day - Cotton Candy Pro in China
An Antartian woman came into a...
An Antartian woman came into a bar and asked the bartender for a drink. Then she started to yell, "Yeah!" "Yeah!" Then five more Antartians came in and started to do the same thing. Then three more Antartians came in, and one of them had a Barney puzzle. The bartender asked one of them, "Why are you yelling 'yeah yeah!'?" Then one responded, "We did this puzzle in three hours and it says 2-3 years."
#joke
The meat market
A woman goes into a meat market and asks the butcher why his pork chops are $.99 a pound, when the guy across the street is selling his for $.89.
The butcher says: "Well, then, why don't you go over there and buy his?"
The customer replies: "He doesn't have any left."
"Well, that's nothing," the butcher says: "when I don't have any, I sell mine for only $0.79!"
#joke
LIE DETECTOR ROBOT
Dad buys a LIE DETECTOR ROBOT which slaps people when they lie. He decides to test it at dinner."Son, where were you today?" The son says "at school dad." Robot slaps the son! "OK, I watched a DVD at my friends house!" "What DVD?" "Toy story." Robot slaps the son again! "OK, it was a %&%*o"Dad yells "What! When I was your age I didn't know what %&%* was!" Robot then slaps the dad!Mom laughs "HAHAHA! He's certainly YOUR son." Robot then slaps the mom….
#joke
Only Chuck Norris can prevent ...
Only Chuck Norris can prevent forest fires.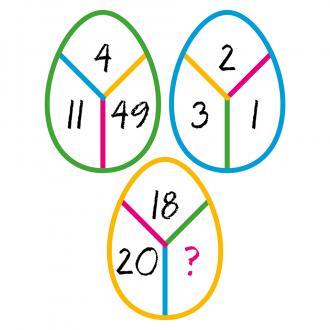 Replace the question mark with a number
MATH PUZZLE: Can you replace the question mark with a number?
The chicken or the egg?
A chicken and an egg are lying in bed. The chicken is smoking a cigarette with a satisfied smile on its face and the egg is frowning and looking a bit pissed off. The egg mutters, to no-one in particular, "Well, I guess we answered THAT question!"
We noticed that all the waiter...
We noticed that all the waiters in this New York restaurant carried two spoons in their vest pocket. Naturally, we were curious. We asked a waiter why.
'Sir, as a result of an efficiency study by the management, it was determined that the most frequently dropped silverware item was a spoon. Therefore, all the waiters carry two spoons so that the item can be instantly replaced.' As he was explaining that we noticed a string hanging out of the fly of his pants. So, we asked about that.
'Sir, that's another efficiency study result. When we have to go to the bathroom, we use the string to pull ourselves out and aim. Therefore, we do not have to stop to wash our hands.' We replied, 'I understand how you can get yourself out and aim, but how do you get yourself back in.' 'Well,' replied the waiter, 'I don't know about the other guys, but I use the two spoons!'
#joke
There was a blonde. She had nev...
There was a blonde. She had never been horseback riding and decided to try, even though she had no prior expierience. So the blonde gracefully mounted the horse. The horse started off at an easy gallop,the blonde thought she was doing quite well. When all of a sudden she began to slip! She tried to grasp the horses mane but it was too slick! So she decided to jump to safety....so she jumped, but her foot was caught in the sturrup! She was at the mercy of the horses feet, and right before she was knocked unconcious.... the manager of wal-mart walked out and turned the horse off
5 shots
One day a guy walks in a bar and asks for five shots of whiskey.
The bartender asks why.
The guy says, "I found out my brother is gay."
The same guy, comes in the next day and asks for ten shots of whiskey.
The bartender asks why.
The guys says, "I found out my other brother is gay."
The next day, the same guy comes in and asks for fifteen shots of whiskey.
The bartender asks why.
The guy says, "I found out my other brother is gay."
The bartender says, "Doesn't anyone like pussy anymore?"
The guy says, "Yeah, my sister."
#joke
Really funny jokes-Facebook Addiction
If you are on Facebook, I am sure you will find this hilarious.
The 76-year-old woman walked down the hallway of Clearview Addictions Clinic, searching for the right department. She passed signs for the "Heroin Addiction Department (HAD)," the "Smoking Addiction Department (SAD)" and the "Bingo Addiction Department (BAD)." Then she spotted the department she was looking for: "Facebook Addiction Department (FAD)."
It was the busiest department in the clinic, with about three dozen people filling the waiting room, most of them staring blankly into their Blackberries and iPhones. A middle-aged man with unkempt hair was pacing the room, muttering,"I need to milk my cows. I need to milk my cows."
A twenty-something man was prone on the floor, his face buried in his hands, while a curly-haired woman comforted him.
"Don't worry. It'll be all right."
"I just don't understand it. I thought my update was LOL-worthy, but none of my friends even clicked the 'like' button."
"How long has it been?"
"Almost five minutes. That's like five months in the real world."
The 76-year-old woman waited until her name was called, then followed the receptionist into the office of Alfred Zulu, Facebook Addiction Counselor.
"Please have a seat, Edna," he said with a warm smile. "And tell me how it all started."
"Well, it's all my grandson's fault. He sent me an invitation to join Facebook. I had never heard of Facebook before, but I thought it was something for me, because I usually have my face in a book."
"How soon were you hooked?"
"Faster than you can say 'create a profile.' I found myself on Facebook at least eight times each day -- and more times at night. Sometimes I'd wake up in the middle of the night to check it, just in case there was an update from one of my new friends in India . My husband didn't like that. He said that friendship is a precious thing and should never be outsourced."
"What do you like most about Facebook?"
"It makes me feel like I have a life. In the real world, I have only five or six friends, but on Facebook, I have 674. I'm even friends with Juan Carlos Montoya."
"Who's he?"
"I don't know, but he's got 4,000 friends, so he must be famous."
"Facebook has helped you make some connections, I see."
"Oh yes. I've even connected with some of the gals from high school -- I still call them 'gals.' I hadn't heard from some of them in ages, so it was exciting to look at their profiles and figure out who's retired, who's still working, and who's had some work done. I love browsing their photos and reading their updates. I know where they've been on vacation, which movies they've watched, and whether they hang their toilet paper over or under. I've also been playing a game with some of them."
"Let me guess. Farmville?"
"No, Mafia Wars. I'm a Hitman. No one messes with Edna."
"Wouldn't you rather meet some of your friends in person?"
"No, not really. It's so much easier on Facebook. We don't need to gussy ourselves up. We don't need to take baths or wear perfume or use mouthwash. That's the best thing about Facebook -- you can't smell anyone. Everyone is attractive, because everyone has picked a good profile pic. One of the gals is using a profile pic that was taken, I'm pretty certain, during the Eisenhower Administration. "
"What pic are you using?"
"Well, I spent five hours searching for a profile pic, but couldn't find one I really liked. So I decided to visit the local beauty salon."
"To make yourself look prettier?"
"No, to take a pic of one of the young ladies there. That's what I'm using."
"Didn't your friends notice that you look different?"
"Some of them did, but I just told them I've been doing lots of yoga."
"When did you realize that your Facebooking might be a problem?"
"I realized it last Sunday night, when I was on Facebook and saw a message on my wall from my husband: 'I moved out of the house five days ago. Just thought you should know.'"
"What did you do?"
"What else? I unfriended him of course!"

#joke
Blonde and Psychiatrist
A blonde is speaking to a psychiatrist.
Blonde, "I'm on the road a lot, and my clients are
complaining that they can never reach me."
Psychiatrist, "Don't you have a phone in your car?"
Blonde, "That was a little too expensive, so I did the next
best thing. I put a mailbox in my car."
Psychiatrist, "Uh ... How's that working?"
Blonde, "Actually, I haven't gotten any letters yet."
Psychiatrist, "And why do you think that is?"
Blonde, "I figured it's because when I'm driving around, my
zip code keeps
changing."
Michael Ian Black: Pills
I dont drink, and I dont do drugs, but Ill take a pill. Ill take any pill, you know what I mean? Cause pills cant hurt me! Cause theyre made by companies.