"I dated a politician...
"I dated a politician over the holidays but when I wrapped myself up as a present, he couldn't cut through the red tape."
Moths
A woman was having a passionate affair with an inspector from pest-control company. One afternoon they were carrying on in the bedroom together when her husband arrived home unexpectedly. "Quick," said the woman to her lover, "into the closet!", and she pushed him into the closet stark naked. The husband, however, became suspicious and after a search of the bedroom discovered the man in the closet. "Who are you?" he asked him.
"I'm an inspector from Bugs-B-Gone," said the exterminator.
What are you doing in there?" the husband asked.
I'm investigating a complaint about an infestation of moths," the man replied.
"And where are your clothes?" asked the husband.
The man looked down at himself and said, "Those little bastards!"
#joke
Funny video of the day - Amazing Futsal goal!
Hilarious jokes-Angry Birds application
A man in Maryland says a flashlight on his iPhone helped save his life after he got lost during a hike. If you think that's cool, this morning the "Angry Birds" app on my iPhone helped save me from three awkward conversations in the elevator.


#joke
A drunken man walked up to a p...
A drunken man walked up to a parking meter and puts in some change. The meter goes up to sixty and he says, "Hey, I lost 100 pounds!"

Little Boy in Thunder Storm
One summer evening during a violent thunderstorm a mother was tucking her small boy into bed. She was about to turn off the light when he asked with a tremor in his voice, "Mommy, will you sleep with me tonight?"
The mother smiled and gave him a reassuring hug. "I can't dear," she said. "I have to sleep in Daddy's room." A long silence was broken at last by a shaken little voice saying, "The big sissy."
#joke
Scary Collection 53
A witch joke
What do you call a witch who drives really badly?
A road hag!
A witch joke
What kind of jewellry do warty witches wear on their wrists?
Charm bracelets!
A witch joke
When should you feed witches milk to a baby?
When it's a baby witch!
A witch joke
Who's the fastest witch?
The ones that ride on a vroom stick!
A witch joke
How do you know when you are in bed with a witch?
She has a big "W" embroidered on her pyjamas!
A witch joke
What do witches ring for in a hotel?
B-room service!
A witch joke
Why do witches fly on broomsticks?
Because vacuum cleaners are too heavy!
#joke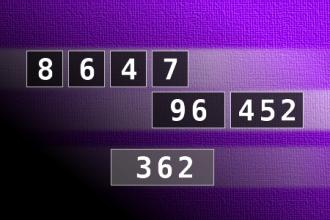 Calculate the number 362
NUMBERMANIA: Calculate the number 362 using numbers [8, 6, 4, 7, 96, 452] and basic arithmetic operations (+, -, *, /). Each of the numbers can be used only once.
Afternoon Quickie
Joe and Wanda had a small apartment in the city and they decided that the only way to pull off a Sunday afternoon quickie with their ten-year-old son in the apartment was to send him out on the balcony and order him to report on all the neighbourhood activities.
To a young boy, they thought, spying would be a lot of fun and would distract him for an hour or so.
The boy began his commentary as his parents put their plan into operation.
"There's a car being towed from the parking lot," he said.
"An ambulance just drove by."
A few moments passed.
"Looks like the Andersons have company," he called out.
"Matt's riding a new bike and the Coopers are making whoopie."
Mom and Dad shot up in bed. "How do you know that?" the startled father asked.
"Their kid is standing out on the balcony too," his son replied.
#joke
Lazy Lesbians
Q: Why are lesbians so lazy?
A: They don't do dick and they always eat out.
The reason newborn babies cry ...
The reason newborn babies cry is because they know they have just entered a world with Chuck Norris.
A drunken man walked up to a p...
A drunken man walked up to a parking meter and puts in some change. The meter goes up to sixty and he says, "Hey, I lost 100 pounds!"
Church Bulletin Bloopers
The Associate Minister unveiled the church's new tithing campaign slogan last Sunday: "I Upped My Pledge - Up Yours."
Our next song is "Angels We Have Heard Get High."
Don't let worry kill you, let the church help.
For those of you who have children and don't know it, we have a nursery downstairs.
This being Easter Sunday, we will ask Mrs. Lewis to come forward and lay an egg on the altar.
#joke
Burglar and an Elderly Woman
An elderly woman had just returned to her home from an evening of church services when she was startled by an intruder. She caught the man in the act of robbing her home of its valuables and yelled, "Stop! Acts 2:38!" (Repent and be baptized, in the name of Jesus Christ so that your sins may be forgiven.)
The burglar stopped in his tracks. The woman calmly called the police and explained what she had done.
As the officer cuffed the man to take him in, he asked the burglar, "Why did you just stand there? All the old lady did was yell a scripture to you."
"Scripture?" replied the burglar. "She said she had an ax and two 38's!"
#joke
A police officer was investiga...
A police officer was investigating an accident on a two-lane, narrow road in which the drivers had hit virtually head-on.
One driver, an extremely elderly woman, kept repeating, "He wouldn't let me have my half of the road!"
After gathering as much information as possible, he angrily approached the other driver, who was examining his own damage. The police officer asked, "That old lady says that you wouldn't let her have her half of the road. Why not?
In exasperation, the man turns from his smashed car and says, "Officer, I would have been HAPPY to give her half of the road --- if she had just let me know WHICH half she wanted!!!!"
#joke
Several cannibals were recentl...
Several cannibals were recently hired by Talk America.
"You are all part of our team now," said the HR rep during the welcoming briefing. "You get all the usual benefits and you can go to the cafeteria for something to eat, but please don't eat any of the other employees."
The cannibals promised to be good. Four weeks later their boss remarked, "You're all working very hard, and I'm satisfied with you. However, one of our secretaries has disappeared. Do any of you know what happened to her?"
The cannibals all shook their heads no.
After the boss had left, the leader of the cannibals said to the others, "Which one of you idiots ate the secretary?"
A hand raised hesitantly, to which the leader of the cannibals continued, "You fool! For four weeks we've been eating Managers and no one noticed anything, but noooooo, you had to go and eat the secretary!"
#joke
Horse for sale...
There was a preacher that was trying to sell his horse. A potential buyer came to the church for a test ride.
"Before you start" the preacher said,"you should know that this horse only responds to church talk. Go is praise the lord and stop is amen."
So the man on the horse says " Praise the lord," and the horse starts to trot. The man again says "Praise the lord," and the horse starts to gallop.
Suddenly there is a cliff right in front of the horse and the man yells "Amen!!!" The horse stops just at the edge of the cliff.
The man wipes the sweat from his brow and says "Praise the Lord."
#joke