Clean jokes-Get better
Harry, after his retirement volunteered to entertain patients in hospitals. He would go from one hospital to another in the city and always carried his guitar with him. He would crack jokes and would sing some funny songs at patients' bedsides.

When he finished at one such hospital, he said to an old man, "I hope you get better."

The elderly gentleman quickly replied, "I hope you get better, too."
#joke
"Two coin collectors ...
"Two coin collectors got together for old dimes sake."
Funny video of the day - Bus vs fire hydrant
Park Bench
Grandpa and Little Johnny are sitting on a bench in the park. Johnny asked, "Grandpa are you going to take that new Viagra?"
Grandpa looks at him and says, "No Johnny, I will not."
"But Grandpa, why?" asks little Johnny.

Grandpa replies, "Because there is no sense in putting lead in your pencil if you have no one to write to."
#joke
The 12-Step Program for Intern...
The 12-Step Program for Internet Addicts
1) I will have a cup of coffee in the morning and read my newspaper like I use to.
2) I will eat breakfast with a knife and fork and not with one hand typing.
3) I will get dressed before noon.
4) I will make an attempt to clean the house, wash the dog, get the kids off to school, all before even thinking of the Internet.
5) I will sit down and write a letter to those unfortunate few friends and family that are Internet-deprived.
6) I will call someone on the phone who I cannot contact via the Internet.
7) I will read a book...if I still remember how.
8) I will listen to those around me and their needs and stop telling them to turn the TV down so I can hear what is happening on the Web.
9) I will not be tempted during TV commercials to check for email.
10) I will try and get out of the house at least once a week, if it is necessary or not.
11) I will remember that my bank is not forgiving if I forget to balance my checkbook because I was too busy on my computer.
12) Last, but not least, I will remember that I must go to bed some time....and the Internet will always be there tomorrow!
#joke
After dating a young lady for ...
After dating a young lady for some time a young man decides it is time to marry her.
He proceeds with all the necessary plans and finally the day comes.
On the day of the wedding the young man has yet to pay the pastor for performing the ceremony. However the pastor has a plan.
The service proceeds as planned the vows are exchanged etc. Now it is time for the groom to kiss his bride. The pastor sees this as the perfect opportunity to ask to be paid. He pulls the young man aside and asks him. Can you please pay me?
Not wanting to create a seen the young man asked. How much do I owe you?
The pastor thinks quickly and replies, pay me according to your wife's beauty.
The young man discretely pulled out five dollars and gave it to the pastor.
Although annoyed by this, the pastor continues the ceremony and says; you may now kiss the bride. At this point the veil is lifted from the brides face to allow the groom to kiss her. As the groom is about to kiss his new bride the pastor interrupts and promptly hand the groom four dollars and fifty cents.
#joke
Signs Your Wife Might Be Having An Affair With Santa . . .
Instead of mailing your kids letters to santa, she just stuffs them in her bra
She smells kinda like a combination of peppermint sticks and reindeer chow
For christmas, your kids get something called "The Your Daddy SUCKS Doll"
She refers to your bed as "Santa's Workshop"
Paramedics had to use the jaws of life to jar her outta the chimney
When you ask for sex she says: "Not tonight--visions of sugarplums are dancing in my head"
FLEX WORDLE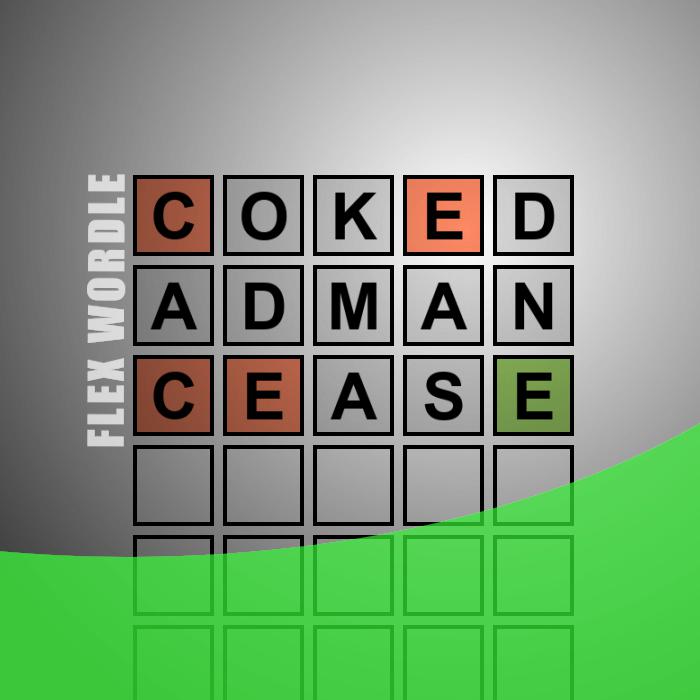 Guess the
WORDLE
in 3 tries. After each guess, the color of the tiles will change to show how close your guess was to the solution.
Constantly Complaining About The Temperature
A customer was bothering the waiter in a restaurant. First, he asked that the air conditioning be turned up because he was too hot, then he asked it be turned down cause he was too cold, and so on for about half an hour.
Surprisingly, the waiter was very patient, he walked back and forth and never once got angry. So finally, a second customer asked him why he didn't throw out the pest.
"Oh, I really don't care or mind," said the waiter with a smile. "We don't even have an air conditioner."
#joke
Man from Bandoo
There once was a man from Bandoo
Who fell asleep in a canoe
He dreamed of Venus
And played with his penis
And woke up with a hand full of goo
Greeting the Queen
Q: What's the difference between greeting the Queen of England and greeting Bill Clinton?
A: You only have to get down on one knee to greet the queen.
Chuck Norris can speak braille...
Chuck Norris can speak braille.
Show-and-Tell
A kindergarten teacher gave her class a "show and tell" assignment. Each student was instructed to bring in an object to share with the class that represented their religion.

The first student got up in front of the class and said, "My name is Benjamin and I am Jewish and this is a Star of David."The second student got up in front of the class and said, "My name is Mary. I'm a Catholic and this is the Crucifix."

The third student got in up front of the class and said, " My name is Tommy and I am Baptist and this is a casserole."
#joke
A man sits down at a bar and o...
A man sits down at a bar and orders a double martini. After he finishes, he peeks inside his shirt pocket, then orders another. After he finishes that, he again peeks inside his shirt pocket and orders another double martini. The barman says: "I'll bring you martinis all night but why do you look inside your shirt pocket before you order a refill." The customer replies: "I'm peeking at a photo of my wife. When she starts to look good, I know it's time to go home."
#joke
A woman goes into a dentist...
A woman goes into a dentist's office, and after her examination, the dentist says, I'm sorry to tell you this, but I am going to have to drill that tooth.
Horrified, the woman replies, Oh, no! I'd rather have a baby.
To which the dentist replies, Make up your mind, I have to adjust the chair.
#joke
Bill Gates Can Choose His Punishment
Bill Gates suddenly dies and finds himself face to face with God. God stood over Bill Gates and said, "Well Bill, I'm really confused on this one. It's a tough decision; I'm not sure whether to send you to Heaven or Hell. After all, you helped society enormously by putting a computer in almost every home in America, yet you also created that ghastly Windows '95 among other indiscretions. I believe I'll do something I've never done before; I'll let you decide where you want to go."
Bill pushed up his glasses, looked up at God and replied, "Could you briefly explain the difference between the two?" Looking slightly puzzled, God said, "Better yet, why don't I let you visit both places briefly, then you can make your decision. Which do you choose to see first, Heaven or Hell?"
Bill played with his pocket protector for a moment, then looked back at God and said, "I think I'll try Hell first." So, with a flash of lightning and a cloud of smoke, Bill Gates went to Hell.
When he materialized in Hell, Bill looked around. It was a beautiful and clean place, a bit warm, with sandy beaches and tall mountains, clear skies, pristine water, and beautiful women frolicking about. A smile came across Bill's face as he took in a deep breath of the clean air. "This is great," he thought, "if this is Hell, I can't wait to see heaven."
Within seconds of his thought, another flash of lightning and a cloud of smoke appeared, and Bill was off to Heaven. Heaven was a place high above the clouds, where angels were drifting about playing their harps and singing in a beautiful chorus. It was a very nice place, Bill thought, but not as enticing as Hell.
Bill looked up, cupped his hands around his mouth and yelled for God and Bill Gates was sent to Hell for eternity.
Time passed, and God decided to check on the late billionaire to see how he was progressing in Hell. When he got there, he found Bill Gates shackled to a wall in a dark cave amid bone thin men and tongues of fire, being burned and tortured by demons.
"So, how is everything going?" God asked.
Bill responded with a crackling voice filled with anguish and disappointment, "This is awful! It's nothing like the Hell I visited the first time!! I can't believe this is happening! What happened to the other place....with the beaches and the mountains and the beautiful women?
"That was the demo," replied God.
#joke
An elderly woman walked into t...
An elderly woman walked into the main branch of Chase Manhattan Bank building holding a large paper bag in her hand. She told the young man at the window that she wished to take the 3 million dollars she had in the bag and open an account with the bank. She said that first, though, she wished to meet the President of Chase Manhattan Bank due to the large amount of money involved.
The teller seemed to think that was a reasonable request and, after opening the bag and seeing the bundles of $1,000 bills which amounted to $3 million, he phoned the President to make the appointment for the woman.
The woman was escorted upstairs to the President's office. Introductions were made and she said that she liked to get to know the people she did business with on a more personal level. The bank President then asked how did she come into such a large sum of money.
"Was it an inheritance?" he asked.
"No" she answered
"Was it from playing the Stock Market?" he inquired.
"No", She replied
He was quiet for a moment, trying to figure out how the elderly lady came into such a large sum of money.
"I won it by betting" she stated.
"As in horses?"
"No", she replied, "I bet on people."
Seeing his confusion, she explained that she would bet on different things with people. All of a sudden she said, "I'll bet you $25,000 that by 10 o'clock tomorrow morning your balls will be square."
The bank President figured that she must be off her rocker and decided to taker her up on the bet. He didn't see how he could lose. For the rest of the day, he was very careful. He decided to stay home that evening and take no chances, since there was $25,000 at stake.
When he got up in the morning and took his shower, he checked to make sure everything was okay. There was no difference in his scrotal appearance. He looked the same as he always had. He went to work and waited for the woman to come in at 10 o'clock, humming as he went. He knew, this would be a lucky day-how often did he get handed $25,000 for doing nothing?
At 10 o'clock sharp the woman was shown into his office. With her was a man. Then the bank President asked what the other man was doing in the office with her, and she explained to the President that he was her Lawyer and she always took him along on bets when large sums of money was at stake.
"Well", she asked, "What about our bet?"
"I don't know how to tell you this", he answered with a smile, "But I'm the same as I've always have been, only $25,000 richer."
The lady seemed to accept this, but requested that she be able to see for herself. The bank President thought that this was a reasonable request and dropped his trousers. She instructed him to bend over, and she grabbed a hold of him. Sure enough, everything was fine. His balls were not square.
The bank President then looked up and saw the Lawyer standing across the room banging his head against the wall.
"What's wrong with him?", he asked.
"Oh, him", She answered, "I bet him $100,000 that by 10:30 this morning I'd have the President of the Chase Manhattan Bank by the balls."
Join us on WhatsApp