The high price of romance!
A husband had been away for a few months and had a romantic evening planned for he and his wife. He sent the two older kids to the movies but could not persuade the youngest boy to go along.
Finally he makes a deal with the boy. If the boy will go sit on the curb in front of their house, the father will give the boy $5 bucks for every man he sees go by in a red hat.
A while later the little boy comes running into the house and bangs on the bedroom door and shouts:
"Dad, if you think your getting screwed in there, you'd better come outside, there's a Shriner's convention going past."
#joke
"The ancient Romans o...
"The ancient Romans only gathered once a week, because that was enough forum."
Funny video of the day - Amazing policewoman!
Old Goat
The young couple invited their aged parson for Sunday dinner.
While they were in the kitchen preparing the meal, the minister asked their son what they were having.
"Goat," the little boy replied.
"Goat?" replied the startled man of the cloth, "Are you sure about that?"

"Yep," said the youngster. "I heard Pa say to Ma, 'Might as well have the old goat for dinner today as any other day.'"
#joke
Funny jokes-Senior management
A man has spent many days crossing the desert without water. His camel dies of thirst. He's crawling through the sands, certain that he has breathed his last, when all of a sudden he sees an object sticking out of the sand several yards ahead of him. He crawls to the object, pulls it out of the sand, and discovers what looks to be an old brief case. He opens it and out pops a genie. But this is no ordinary genie. He is wearing a Senior Manager ID badge and a dull grey suit.
"Well" says the genie. "You know how it works. You have three wishes."
"I'm not falling for this." says the man. "I'm not going to trust a Senior Manager."
"What do you have to lose? You've got no transportation, and it looks like you're a goner anyway!"
The man thinks about this for a minute, and decides that the genie is right.
"OK, I wish I were in a lush oasis with plentiful food and drink."
POOF The man finds himself in the most beautiful oasis he has ever seen. And he is surrounded with jugs of wine and platters of delicacies.
"OK, kid, what's your second wish."
"My second wish is that I were rich beyond my wildest dreams."
POOF The man finds himself surrounded by treasure chests filled with rare gold coins and precious gems.
"OK, kid, you have just one more wish. Better make it a good one!"
After thinking for a few minutes, the man says: "I wish that no matter where I go beautiful women will want and need me."
POOF He is turned into a tampon.
The moral of the story?
If a Senior Manager offers you anything, there's going to be a string attached.
#joke
Q. Why did Mrs. Smokey the Bea...
Q. Why did Mrs. Smokey the Bear divorce Smokey the Bear?
A. Because every time she got hot, he'd beat her with a shovel!



The Resume Bloopers
These are taken from real resumes and cover letters and were printed in Fortune Magazine:
1. I demand a salary commiserate with my extensive experience.
2. I have lurnt Word Perfect 6.0 computor and spreadsheet progroms.
3. Received a plague for Salesperson of the Year.
4. Reason for leaving last job: maturity leave.
5. Wholly responsible for two (2) failed financial institutions.
6. Its best for employers that I not work with people.
7. Lets meet, so you can ooh and aah over my experience.
8. You will want me to be Head Honcho in no time.
9. Am a perfectionist and rarely if if ever forget details.
10. I was working for my mom until she decided to move.
11. Failed bar exam with relatively high grades.
12. Marital status: single. Unmarried. Unengaged. Uninvolved. No Commitments.
13. I have an excellent track record, although I am not a horse.
14. I am loyal to my employer at all costs... Please feel free to respond to my resume on my office voice mail.
15. I have become completely paranoid, trusting completely no one and absolutely nothing.
16. My goal is to be a meteorologist. But since I possess no training in meterology, I suppose I should try stock brokerage.
17. I procrastinate, especially when the task is unpleasant.
18. As indicted, I have over five years of analyzing investments.
19. Personal interests: donating blood. Fourteen gallons so far.
20. Instrumental in ruining entire operation for a Midwest chain store.
21. Note: Please don't miscontrue my 14 jobs as job-hopping. I have never quit a job.
22. Marital status: often. Children: various.
23. Reason for leaving last job: They insisted that all employees get to work by 8:45 a.m. every morning. Could not work under those conditions.
24. The company made me a scapegoat, just like my three previous employers.
25. Finished eighth in my class of ten.
26. References: None. I've left a path of destruction behind me.
#joke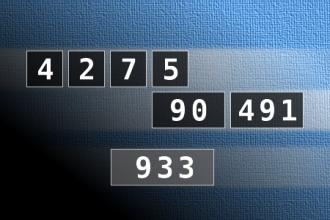 Calculate the number 933
NUMBERMANIA: Calculate the number 933 using numbers [4, 2, 7, 5, 90, 491] and basic arithmetic operations (+, -, *, /). Each of the numbers can be used only once.
If Dr. Seuss was a technical writer
What if Dr. Seuss was a technical writer? Here are several examples of what he may write to help you resolve your computer problems.
If a packet hits a pocket on a socket on a port, And the bus is interrupted as a very last resort, And the address of the memory makes your floppy disk abort, Then the socket packet pocket has an error to report!
If your cursor finds a menu item followed by a dash, And the double-clicking icon puts your window in the trash, And your data is corrupted 'cause the index doesn't hash, Then your situation's hopeless, and your system's gonna crash!
If the above doesn't help with your computer troubles, perhaps this will.
If the label on the cable on the table at your house, Says the network is connected to the button on your mouse, But your packets want to tunnel on another protocol, That's repeatedly rejected by the printer down the hall.
And your screen is all distorted by the side effects of gauss So your icons in the window are as wavy as a souse, Then you may as well reboot and go out with a bang, 'Cause as sure as I'm a poet, the sucker's gonna hang!
When the copy of your floppy's getting sloppy on the disk, And the microcode instructions cause unnecessary risc, Then you have to flash your memory and you'll want to RAM your ROM. Quickly turn off the computer and be sure to tell your mom!
#joke
Helisoft
A helicopter was flying around above Seattle when an electrical malfunction disabled all of the aircraft's electronic navigation and communications equipment.
Due to the clouds and haze, the pilot could not determine the helicopter's position. The pilot saw a tall building, flew toward it, circled, and held up a handwritten sign that said "WHERE AM I?" in large letters. People in the tall building quickly responded to the aircraft, drew a large sign, and held it in a building window. Their sign said "YOU ARE IN A HELICOPTER."
The pilot smiled, waved, looked at his map, determined the course to steer to SEATAC airport, and landed safely. After they were on the ground, the copilot asked the pilot how he had done it.
"I knew it had to be the Microsoft Building, because they gave me a technically correct but completely useless answer."
#joke
Chuck Norris was banned from c...
Chuck Norris was banned from competitive bullriding after a 1992 exhibition in San Antonio, when he rode the bull 1,346 miles from Texas to Milwaukee Wisconsin to pick up his dry cleaning.
The only sure things are Death...
The only sure things are Death and Taxes...and when Chuck Norris goes to work for the IRS, they'll be the same thing.
Ever since we got married...
Ever since we got married, my wife has tried to change me. She got me to stop drinking, smoking and running around until all hours of the night. She taught me how to dress well, enjoy the fine arts, gourmet cooking, classical music, even how to invest in the stock market."
"Sounds like you may be bitter because she changed you so drastically," remarked his friend.
"I'm not bitter. Now that I'm so improved, she just isn't good enough for me."
#joke
Ron White: Death Penalty in Texas
In Texas, we have the death penalty and we use it. If you come to Texas and kill somebody, we will kill you back.
Tom Papa: No Time for Romance
This is the romantic story of my life; the woman Im going to marry. Romance till the end of time. But then you have kids and pets and in-laws and mortgages and all this other crap. Theres no time for romance. We are now business partners in this awful non-profit organization.
Remember how...
A couple who'd been married for over 50 years was sitting on the sofa, when the wife said, "Dear, do you remember how you used to sit close to me?"
He moved over and sat close to her.
"Dear," she continued, "do you remember how you used to hold me tight?"
He reached over and held her tight.
"And," she went on, "do you remember how you used to hug me and kiss me and nibble on my ear?"
With that, her husband got up and started to walk out of the room.
"Where are you going?" she asked.
"Well," answered the husband, "I have to get my teeth."
#joke