Funny jokes-Learning customs
Sun Wen from China decides to move to Australia after having spent most of his life in China. He moves to a small Australian town in the countryside.

Shaun, the Aussie guy next door decides to welcome him, so he walks up the drive but finds Sun Wen running around his front yard chasing some hens. Thinking it must be some Chinese custom and not wanting to interrupt, he decides to welcome his neighbor some other time.

After two days, he thinks of trying again, but before ringing the bell, he looks through the window and sees Sun Wen urinate into a mug and then drink it. A little dazed and not meaning to interrupt another, 'Chinese custom', he decides to give it a try after a couple of days.

Another two days go by, and Shaun feels it's high time that the new neighbor be given a warm welcome. So he goes next door, only to find Sun Wen leading a bull under a tree and drawing his face really close to the bull's back side.

Shaun can't contain himself anymore, so he goes up to Sun Wen and says, "Mate, you sure have some strange customs in China. I came to welcome you thrice - each time I found you doing strange things. First, you were chasing some hens, then I saw you p*issing in a mug and drinking it and today, I find you drawing your face so close to the bull's hind side, I was afraid it would crap on you."

Sun Wen is surprised and says, "Pardon me sir, you no understand, these not Chinese customs, these Australian Customs."

"What?" says Shaun, "How on earth can these be Australian customs?"

Sun Wen replied, "Of course they are. Travel agency man tell me if I want to become true Australian, I must be good at chasing chicks, drinking p*ss (booze) and listening to bull-sh*t."
#joke
"The debate about unm...
"The debate about unmanned aircraft strikes just keeps droning on."
Funny video of the day - Crazy Gymnastics Skills
The Pickle
There was a guy on the beach with about 25 gorgeous chicks swarming all around him.
Seeing this, a second guy strolls on up to him and asks, "What's your secret?"
The guy whispers, "All you gotta do is stick a pickle in your pants."
In a fluorish, the second guy runs off and stuffs a pickle in his pants. But when he returns to the shore, he soon discovers that every single girl that looks his way, runs off screaming in bloody terror. Confused, he hurries over to the first guyand desperately asks, "Why are all the girls running away from me?"
The first guy looks up and replies, "The pickle's on the wrong side."
#joke
Little voices...
A guy goes into a bar and orders a beer. As he takes a sip of his beer, he hears a tiny little voice say: "Nice tie." He looks around but sees no one. He take another sip of his beer and hears: "A nice shirt, too." Again he looks around and sees no one.
He signals the bartender over, and hesitantly explains that he's hearing voices talking to him... "Of course," smiles the bartender. "It's the peanuts -- they're complimentary."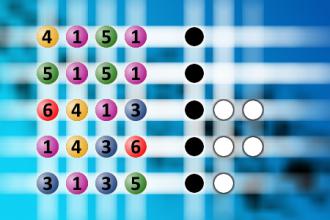 Which is a winning combination of digits?
The computer chose a secret code (sequence of 4 digits from 1 to 6). Your goal is to find that code. Black circles indicate the number of hits on the right spot. White circles indicate the number of hits on the wrong spot.
Count from one to ten. That's ...
Count from one to ten. That's how long it would take Chuck Norris to kill you...47 times.
Answering Machine Message 233

(Drunken voice:) You have reached Bob's hotline. We are not able to respond due to uninevitable circumcisions. But if you leave your name and noomber, we won't be in wonder... pa-a-a-a!


David Alan Grier: Stopped Smoking Reefer
I stopped smoking reefer because I started thinking, if great men throughout history had smoked reefer, no tellin what would have happened. Like if somebody like Martin Luther King Jr. had smoked reefer, he would have been giving speeches like, I had a dream, but the hell if I could remember what it was about. It was either about freedom or Fritos.
#joke
Ant and a grasshopper
THE ORIGINAL VERSION
The ant works hard in the withering heat all summer long, building his house and laying up supplies for the winter. The grasshopper thinks he's a fool and laughs and dances and plays the summer away. Come winter, the ant is warm and well fed. The grasshopper has no food or shelter so he dies out in the cold.
MODERN CANADIAN VERSION
The ant works hard in the withering heat all summer long, building his house and laying up supplies for the winter. The grasshopper thinks he's a fool and laughs and dances and plays the summer away. Come the winter, the shivering grasshopper calls a press conference and demands to know why the ant should be allowed to be warm and well fed while others are cold and starving.
The CBC shows up to provide pictures of the shivering grasshopper next to the ant in his comfortable home with a table filled with food. Canadians are stunned by the sharp contrast. How can it be that, in a country of such wealth, this poor grasshopper is allowed to suffer so?
Then a representative of the NAGB (The national association of green bugs) shows up on The National and charges the ant with green bias, and makes the case that the grasshopper is the victim of 30 million years of greenism. Kermit the Frog appears on the Nature of Things with the grasshopper, and everybody cries when he sings "It's not easy being green.
"Jean Chretien makes a special guest appearance on the CBC Evening News to tell a concerned public that they will do everything they can for the grasshopper who has been denied the prosperity he deserves by those who benefited unfairly during the Reagan/Thatcher summers. Sheila Copps exclaims in an interview with Peter Mansbridge that the ant has gotten rich off the back of the grasshopper, and calls for an immediate tax hike on the ant to make him pay his "fair share."
Finally, the Liberals draft the "Economic Equity and Anti-Greenism Act," retroactive to the beginning of the summer. The ant is fined for failing to hire a proportionate number of green bugs and, having nothing left to pay his retroactive taxes, his home is confiscated by the government. John Turner gets his law firm to represent the grasshopper in a defamation suit against the ant, and the case is tried before a panel of federal hearing officers that Chretien appointed from a list of single-parent welfare moms who can only hear cases on Thursday's between 1:30 and 3 PM.
The ant loses the case.
The story ends as we see the grasshopper finishing up the last bits of the ant's food while the government house he's in, which just happens to be the ant's old house, crumbles around him since he doesn't know how to maintain it.
The ant has disappeared in the snow.
And on the TV, which the grasshopper bought by selling most of the ant's food, they are showing Jean Chretien standing before a wildly applauding group of liberals announcing that a new era of "fairness" has dawned in Canada.
#joke
Stuff Happens
Tao: Stuff happens.
Catholicism: If stuff happens, you deserved it.
Protestantism: Let stuff happen to somebody else.
Judasim: Why does stuff always happen to us?
Islam: Stuff happens according to the will of Allah.
Buddhism: The stuff is an illusion.
Zen: What is the sound of stuff happening?
Hinduism: This stuff happened before.
Mormonism: This stuff should multiply.
Baha'i Faith: Stuff happens in a progressive manner.
Agnosticism: I'm not sure about this stuff.
Atheism: That stuff about the stuff is all just made up stuff.
Jonestown: Forget about the stuff and just drink the Kool-Aid.
- Joke shared by Beliefnet member mytmouse57
#joke
Gabriel Iglesias: Tear It Up
Im a big boy, but I can get jiggy with it. Ladies, I will go to dance clubs, and I will tear it up hardcore for a good 30 seconds.
Arj Barker: Never Drive on Grass
I never smoke grass and drive my car because, for one thing, no matter how many letters I write to the road commissions, they still refuse to start designing highways with second-chance exits.