Eye doctor
Sandra visited an Ophthalmologist for her eye check up.

The doctor asked her to read some letters with her left eye while asking her to keep the right eye covered.

Sandra was so confused on which eye was which that the frustrated eye doctor took a paper bag, made a hole in it, covered up the appropriate eye and asked her to read the letters.

He saw that Sandra had tears in her eyes.
"Hey," said the Ophthalmologist, "there's no need to get sentimental about getting glasses."

"Its not that," said Sandra, "Well, I kind of had my heart set on wire frames."
Jeb and Jethro live in the hil...
Jeb and Jethro live in the hills, about 5 miles outside of town. Jeb asks Jethro to go in to town to pick up some lumber. Jethro walks the 5 miles to town to the local
lumberyard.
"Jeb says we're gonna need some 4 x 2's" Jethro tells the yardman.
"Do you mean 2 x 4's?" asks the yardman.
"Well, I don't rightly know, I better go ask Jeb" says Jethro and walks the 10 miles to the hills and back to town.
"Jeb says we're gonna need 2 x 4's" Jethro tells the yardman.
"Now, how many 2 x 4's will you need?" asks the yardman.
"Well, I don't rightly know, I better go ask Jeb." says Jethro, and again walks the 10 miles to the hills and back to town.
"Jeb says were gonna need about 40 of 'em" Jethro tells the yardman.
"Now, how long will you need them?" asks the yardman.
"Well, I don't rightly know, I better go ask Jeb" says Jethro and yet again walks the 10 miles to the hills and back to town.
Upon returning Jethro says to the yardman, "Jeb says you better give 'em to us for a while . . . we're gonna build a barn."
#joke
Funny video of the day - Best Fails of the Week 4 April 2013
Haiku
Three things are certain: Death, taxes, and lost data. Guess which has occurred. Everything is gone; Your life's work has been destroyed. Squeeze trigger (yes/no)? I'm sorry, there's -- um -- insufficient -- what's-it-called? The term eludes me. Windows NT crashed. I am the Blue Screen of Death. No one hears your screams. Seeing my great fault Through darkening blue windows I begin again. The code was willing, It considered your request, But the chips were weak. Printer not ready. Could be a fatal error. Have a pen handy? A file of that size It must be very useful. But now it is gone. Errors have occurred. We won't tell you where or why. Lazy programmers. Server's poor response Not quick enough for browser. Timed out, plum blossom. Chaos reigns within. Reflect, repent, and reboot. Order shall return. Login incorrect. Only perfect spellers may enter this system. This site has been moved. We'd tell you where, but then we'd have to delete you. Wind catches lily scatt'ring petals to the wind: segmentation fault. ABORTED effort: Close all that you have. You ask way too much. First snow, then silence. This thousand dollar screen dies so beautifully. With searching comes loss and the presence of absence: "My Novel" not found. The Tao that is seen Is not the true Tao, until You bring fresh toner. The Web site you seek cannot be located but endless others exist. Stay the patient course Of little worth is your ire The network is down. A crash reduces your expensive computer to a simple stone. There is a chasm of carbon and silicon the software can't bridge Yesterday it worked Today it is not working Windows is like that. To have no errors Would be life without meaning No struggle, no joy. You step in the stream, but the water has moved on. This page is not here. No keyboard present Hit F1 to continue Zen engineering? Hal, open the file Hal, open the damn file, Hal open the.....please Hal Out of memory. We wish to hold the whole sky, But we never will. Having been erased, The document you're seeking Must now be retyped. The ten thousand things How long do any persist? Netscape, too, has gone. Rather than a beep or a rude error message, These words: "File not found."
Serious error. All shortcuts have disappeared. Screen. Mind. Both are blank.
#joke
"Mischievous lambs po...
"Mischievous lambs post their videos on Ewe Tube."
Used Car
It was a small town and the patrolman was making his evening rounds As he was checking a used car lot, he came upon two little old ladies sitting in a used car. He stopped and asked them if they were stealing the car. They said "Heavens no, we bought it."
He said, "Then why don't you drive it away".
Each of the women said "We can't drive".
The officer momentarily shook his head and then asked "Then why did you buy it?"
They answered, "We were told if we bought a car here, we'd get screwed, so we are just waiting.
#joke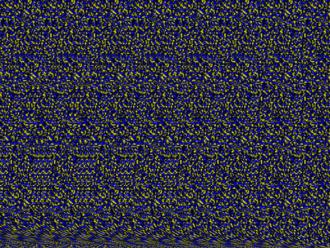 What hides this stereogram?
Stereogram - 3D Image
Before he forgot a gift for Ch...
Before he forgot a gift for Chuck Norris, Santa Claus was real.
Types of Undergarments
A man walked into the ladies' department of a Macy's and shyly walked up to the woman behind the counter and said, "I'd like to buy a bra for my wife."
"What type of bra?" asked the clerk.
"Type?" inquired the man. "There is more than one type?"
"Look around," said the saleslady, as she showed a sea of bras in every shape, size, color and material. "Actually, even with all of this variety, there are really only four types of bras," she replied. Confused, the man asked what the types were. The saleslady replied, "The Catholic type, the Salvation Army type, the Presbyterian type, and the Baptist type. Which one do you need?"
Still confused, the man asked, "What is the difference between them?"
The lady responded, "It is all really quite simple...the Catholic type supports the masses, the Salvation Army type lifts up the fallen, the Presbyterian type keeps them staunch and upright, and the Baptist type makes mountains out of molehills."
#joke
Scent Makes You Gamble

The following is supposedly a true story. To be included, besides being true, the story is most likely strange, weird, surprising, or funny.
Monday, December 7, 1992
In September, the Smell & Taste Treatment and Research Foundation reported the development of an odor that makes gamblers bet more. In a study in Las Vegas, slot machines outfitted to emit the odor racked up 45 percent more business.
The neurologist who conducted the study predicted that the scent will become widely used in Las Vegas.


Todd Barry: Book Lights
They sell book lights now, a little spotlight you attach to your book. You know, I actually thought about buying one of these, and then I remembered, I own a lamp.
Chuck Norris can win a game of...
Chuck Norris can win a game of Connect Four in only three moves.
Jump Rope
Did you hear the joke about the jump rope? Neah! Skip it!
A police officer pulls over a ...
A police officer pulls over a speeding car. The officer says, "I clocked you at 80 miles per hour, sir."
The driver says, "Gee, officer, I had it on cruise control at 60, perhaps your radar needs calibrating."
Not looking up from her knitting the wife says sweetly from the passenger seat, "Now don't be silly, dear, you know that this car doesn't have cruise control."
As the officer writes out the ticket, the driver looks over at his wife and growls, "Can't you keep your mouth shut for once?"
The wife smiles demurely and says, "You should be thankful your radar detector went off when it did."
As the officer makes out the second ticket for the illegal radar detector unit, the man glowers at his wife and says through clenched teeth, "Darn it, woman, can't you keep your mouth shut."
The officer frowns and says, "And I notice that you're not wearing your seat belt, sir. That's an automatic $75 fine."
The driver says, "Yeah, well, you see officer, I had it on, but took it off when you pulled me over so that I could get my license out of my back pocket."
The wife says," Now, dear, you know very well that you didn't have your seat belt on. You never wear your seat belt when you're driving."
And as the police officer is writing out the third ticket the driver turns to his wife and barks, "WHY DON'T YOU SHUT THE HELL UP??"
The officer looks over at the woman and asks, "Does your husband always talk to you this way, Ma'am?"
"No, officer. Only when he's been drinking"
#joke