"The winter drive-by ...
"The winter drive-by shooting was a slay ride."
Sausage Factory
There once was a man who owned a sausage factory, and he was showing his arrogant preppy son around his factory. Try as he might to impress his snobbish son, his son would just sneer. They approached the heart of the factory, where the father thought, "This should impress him!" He showed his son a machine and said "Son, this is the heart of the factory. With this machine here we can put in a pig, and out come sausages.
The prudish son, unimpressed, said "Yes, but do you have a machine where you can put in a sausage and out comes a pig?"

The father, furious, thought and said, "Yes son, we call it your mother."
#joke
Funny video of the day - Key Largo Wedding Lightning Strike
Really funny jokes-Reservations for a table
James arrived at a popular restaurant and was dismayed to find it very crowded. Approaching the hostess James asked, 'Will it be long?'
The hostess, seemingly ignoring James, continued writing in her reservations book.
Thinking she had possibly not heard him the first time, James decided to ask again. 'How much time is the wait for a table?'
Looking up from her book, the hostess smiled and said, 'Oh, only about ten minutes. We will inform you when your table is ready.'
A short time later, James heard an announcement over the intercom system, 'Willette B. Long...... Willette B. Long, your table is ready.'
#joke
A guy walks into a bar, sits a...
A guy walks into a bar, sits at the counter and said "Drinks, everybody on me, even you bar tender" on my tab. Every one got a drink and thanked the man. After a while he man said "Drinks, everybody on me, even you bar tender. Put it on my tab." Everybody got their drinks and thanked the man. The bar tender pulled the man to the side and asked him "You know this is going to be a lot of money, can you pay for this? The man said "No". The bar tender took the man in the back, beat him up, and threw him out the back door. The man brushed himself off, and went back into the bar. He sat down and said "Drinks, everybody, on me. Except for you bartender, you don't know how to act when you get drunk
#joke #walksintoabar
The Buddhist Hotdog Vendor
A Buddhist approaches a hotdog vendor and says: "Make me one with everything."
He gives the vendor a $20 bill and waits. Finally he says: "Where's my change?"
Says the vendor: "All change must come from within."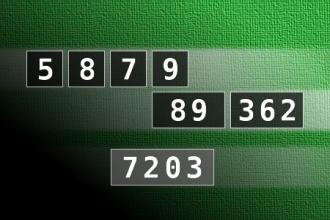 Calculate the number 7203
NUMBERMANIA: Calculate the number 7203 using numbers [5, 8, 7, 9, 89, 362] and basic arithmetic operations (+, -, *, /). Each of the numbers can be used only once.
Clinton Poll
Time magazine sent a survey to women in Arkansas, asking for their opinions on the Clinton Sex Scandal. One of the questions: Would you ever have an affair with Bill Clinton? The results were staggering!
5% — No
3% — Yes
92% — Never Again
Some people get lucky and kill...
Some people get lucky and kill two birds with one stone. Chuck Norris once killed four birds with half a stone. What's that? You say there's no such thing as half a stone? The four dead birds didn't think so either.
Bird Jokes 02
Q: What do parrots eat?
A: Polyfilla!
Q: What do you give a sick bird?
A: Tweetment!
Q: What bird tastes just like butter?
A: A stork!
Q: What's another name for a clever duck?
A: A wise quacker!
Q: Which bird is always out of breath?
A: A puffin!
Q: What's got six legs and can fly long distances?
A: Three swallows!
Q: What is a duck's favorite TV show?
A: The feather forecast!
Q: What do you get if you cross a parrot with a shark?
A: A bird that will talk you ear off!
Q: What do you call a crate of ducks?
A: A box of quackers!
#joke
You might be a redneck if 66
You might be a reneck if...
You have to check your coke can before you take a drink just in case you have mistaken it for your spit can.
You have accidentally taken a drink from your spit can.
Your wife asks you what you want to be when you grow up.
You see a forest fire and think 'Bar-bee-Q'.
You've ever strained your tea through a flyswatter.
Your mother is hairier than your father.
Instead of flossing you use a plunger.
You take the back window out of your pickup because it's easier to chuck the empty beer cans in the back that way.
When the back fills up with empty beer cans, you get another pickup and start all over again.
Your grandma can bench press a ruck axle.
Bumper Stickers 17
"Women who seek to be equal to men lack ambition."
"It's as BAD as you think, and they ARE out to get you."
"If you don't like the news, go out and make some."
"I Brake For No Apparent Reason."
"When you do a good deed, get a receipt, in case heaven is like the IRS."
"Sorry, I don't date outside my species."
"I may be fat, but you're ugly - I can lose weight!"
"No Radio - Already Stolen"
"Few women admit their age, Few men act it! "
"I don't suffer from insanity, I enjoy every minute of it!"
#joke
If you work in an office with ...
If you work in an office with Chuck Norris, don't ask him for his three-hole-punch.
Religious battle golf #joke #humor
The Pope met with the College of Cardinals to discuss a proposal from Shimon Peres, the former leader of Israel. "Your holiness," said one of the Cardinals, "Mr. Peres wants to determine whether Jews or Catholics are superior, by challenging you to a golf match." The Pope was greatly disturbed, as he had never held a golf club in his life.
"Not to worry," said the Cardinal, "we'll call America and talk to Jack Nicklaus. We'll make him a Cardinal, he can play Shimon Peres... We can't lose!" Everyone agreed it was a good idea. The call was made and, of course, Jack was honored and agreed to play.
The day after the match, Nicklaus reported to the Vatican to inform the Pope of his success in the match. "I came in second, your Holiness," said Nicklaus.
"Second?!!" exclaimed the surprised Pope. "You came in second to Shimon Peres?!!"
"No," said Nicklaus, "second to Rabbi Woods."
#joke
Years ago someone in Californi...
Years ago someone in California hollered "Gold," and people drove from all directions. That's the way they still drive in California.
Human Equation
Mom + Dad - Rubber = U