Really funny jokes-The excuse
Aron goes to see his supervisor in the front office.

"Boss," he says, "we're doing some heavy house-cleaning at home tomorrow, and my wife needs me to help with the attic and the garage, moving and hauling stuff."

"We're short-handed, Aron" the boss replies. "I can't give you the day off."

"Thanks, boss," says Aron, "I knew I could count on you!"
#joke
"Some clockmakers are...
"Some clockmakers are normal, but others are a little cuckoo."
Funny video of the day - Urban Water Slide
Q. What do you call a bug with...
Q. What do you call a bug with manners?
A. A lady bug
The traveling salesman
The traveling salesman's car broke down in the country and he knocked on the farmhouse door. When the farmer opened the door, the salesman said, "Sir, my car has broken down, and I was wondering if you might be able to put me up for the night?"
The farmer said, "Why, sure, but you will have to sleep with my son."
The salesman hesitated then said, "Excuse me, sir, but I think I'm in the wrong joke."
#joke
Scary Collection 02
A Halloween joke
What do witches eat at Halloween?
Spooketti, halloweenies, devils food cake and booberry pie!
A vampire joke
What's Dracula's car called?
A mobile blood unit!
A werewolf joke
What do you call a hairy beast with clothes on?
A wear-wolf!
A witch joke
Why did the witch go over the mountain?
Because she couldn't go under it!
A skeleton joke
Why didn't the skeleton want to play football?
Because his heart wasn't in it!
A cannibal joke
Why was the cannibal looking peeky?
Because he had just eaten a Chinese dog!
A wizard joke
If a wizard was knocked out by Dracula in a fight what would he be?
Out for the count!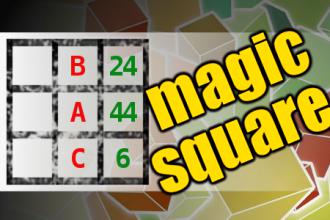 MAGIC SQUARE: Calculate A+B*C
The aim is to place the some numbers from the list (6, 7, 13, 17, 18, 24, 43, 44, 50, 72) into the empty squares and squares marked with A, B an C. Sum of each row and column should be equal. All the numbers of the magic square must be different. Find values for A, B, and C. Solution is A+B*C.
Partial disability
A man was being interviewed for a job. "Were you in the service?" the interviewer asks.
"Yes, I was a Marine," responds the applicant.
"Did you see any active duty?"
"I was in Vietnam for two years and I have a partial disability."
"May I ask what happened?"
"Well, I had a grenade go off between my legs and I lost both testicles."
"You're hired. You can start Monday at 10 a.m."
"When does everyone else start? I don't want any preferential treatment because of my disability."
"Everyone else starts at 7 a.m., but I might as well be honest with you. Nothing gets done between 7 and 10. We just sit around scratching our balls trying to decide what to do first."
Her husband had been slipping ...
Her husband had been slipping in and out of a coma for several months yet she stayed by his bedside every single day. When he came to, he motioned for her to come nearer. As she sat by him, he said, "You know what? You have been with me all through the bad times. When I got fired, you were there to support me. When my business fell, you were there. When I got shot, you were by my side. When we lost the house, you gave me support. When my health started failing, you were still by my side. Well, now that I think about it, I think you bring me bad luck!
#joke
10 Things You Never Hear in Church
1. Hey! It's my turn to sit in the front pew!
2. I was so enthralled, I never noticed your sermon went 25 minutes over time.
3. Personally I find witnessing much more enjoyable than golf.
4. I've decided to give our church the $500 a month I used to send to TV evangelists.
5. I volunteer to be the permanent teacher for the Junior High Sunday School class.6. Forget the denominational minimum salary. Let's pay our pastor so he can live like we do.
7. I love it when we sing hymns I've never heard before!
8. Since we're all here, let's start the service early.
9. Pastor, we'd like to send you to this Bible seminar in the Bahamas.
10. Nothing inspires me and strengthens my commitment like our annual stewardship campaign!
#joke
There are no races, only count...
There are no races, only countries of people Chuck Norris has beaten to different shades of black and blue.
Chuck Norris, who had grown ti...
Chuck Norris, who had grown tired of easy victories in fights, once fought himself to the death and won.
Patton Oswalt: Romantic Comedies
Every romantic comedy should just be called, Trying to F**k.
Anger versus Exasperation
A young girl who was writing a paper for school came to her father and asked, "Dad, what is the difference between anger and exasperation?"
The father replied, "It is mostly a matter of degree. Let me show you what I mean."
With that the father went to the telephone and dialed a number at random. To the man who answered the phone, he said, "Hello, is Melvin there?"
The man answered, "There is no one living here named Melvin. Why don't you learn to look up numbers before you dial".
"See," said the father to his daughter. "That man was not a bit happy with our call. He was probably very busy with something and we annoyed him. Now watch…."
The father dialed the number again. "Hello, is Melvin there?" asked the father.
"Now look here!" came the heated reply. "You just called this number and I told you that there is no Melvin here! You've got lot of guts calling again!" The receiver slammed down hard.
The father turned to his daughter and said, "You see, that was anger. Now I'll show you what exasperation means."
He dialed the same number, and when a violent voice roared, "Hello!"
The father calmly said, "Hello, this is Melvin. Have there been any calls for me?"
#joke
A man got really drunk one nig...
A man got really drunk one night in his local pub. The barman refused to serve him any more alcohol and told him he should be heading home. The man thought this was a good idea so he stood up to leave but fell over straight away. He tried to stand up again but only fell over again. He thought if only he could get outside and get some fresh air he'd be grand. So he crawled outside then tried to stand up and fell over again. In the end after falling over lots more he decided to crawl home. When he got back to his house he pulled himself up using the door handle but as soon as he let go he fell over again. He had to crawl up the stairs and managed to fall over onto the bed and fell asleep. When he finally woke up the next morning his wife asked him what he was doing at the pub last night. He denied it but she said, "I know you were there..." he maintained his innocence until "...the barman rang to say you forgot your wheelchair again...."
#joke
Hiring An Accountant
Kowalski, fresh out of accounting school, went to a interview for a good paying job. The company boss asked various questions about him and his education, but then asked him, "What is three times seven?"
"Twenty-two," Kowalski replied.
After he left, he double-checked it on his calculator (he knew he should have taken it to the interview!) and realized he wouldn't get the job.
About two weeks later, he got a letter that said he was hired for the job! He was not one to look a gift horse in the mouth, but was still very curious.
The next day, Kowalski went in and asked why he got the job, even though he got such a simple question wrong. The boss shrugged and said, "Well, you were the closest."
#joke